Here we are at the end sports fans. Not the end of Triplemania Week mind you; that still has a few more days to go! It is however the end of the History of Triplemania series, which I was able to extend for one more day but now must come to its rightful conclusion. Hey all good things have to come to an end right? Well except for Triplemania itself; that will go on for forever.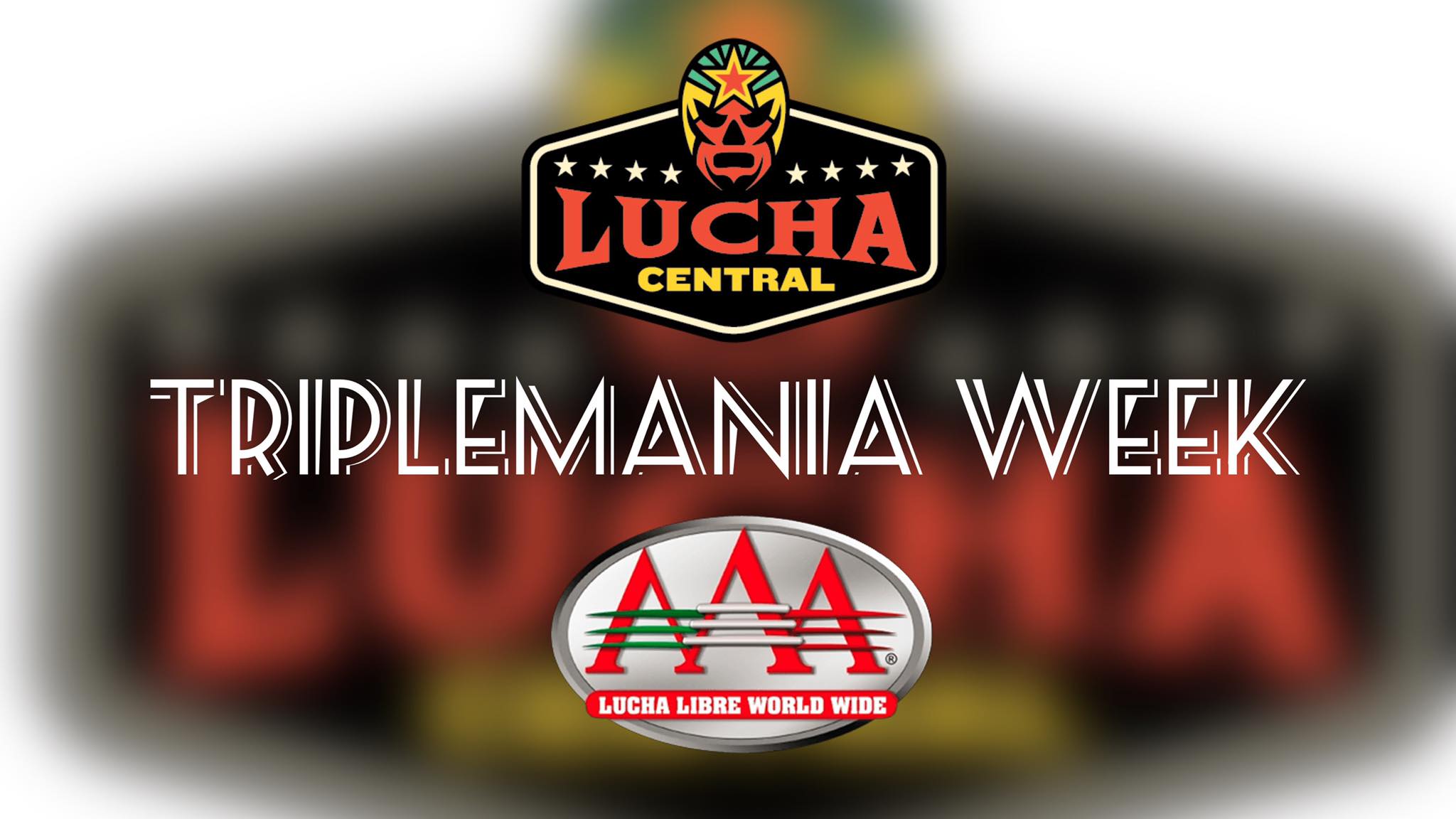 To close out this series we're now going to take a look at, well, the most recent Triplemania's. On the one hand that's a great thing because they're the freshest shows in everyone's minds and several of them, the last two in particular, have gone down as some of the best offerings AAA has ever produced for Triplemania. In between them though are some of the lowest of lows for Triplemania; one show was so bad that it wasted a dream match and set back AAA's US expansion several years, and another featured the triple header of a performer intentionally injuring an opponent in the ring, an all time terrible match that featured the head of another promotion working intoxicated, and commentary so bad you'd have to hear it to believe it. And then there were shows that were nowhere near as bad and also not all that great either. It was a period where AAA lost their way, lost a bulk of their roster, and then found themselves (and said roster) again. And it all began in 2014, which is where we pick this story back up.
History of Triplemania Part 4: 2014 to Present
It was a good time to be AAA as 2014 rolled in. Seven years after their founder and promoter Antonio Pena had passed away, the promotion found itself in a much better place than most expected under the leadership of Marisela Pena Roldan, Joaquin Roldan and Dorian Roldan and the creative stewardship of AAA legend and Pena protege Konnan. Sure it wasn't perfect; the promotion relied heavily on invasion angles, the Roldans weren't always as hands off as they should've been, the chaos and disorganization of Pena's AAA had carried over into the new leadership and while business was good, it was still light years away from the golden days AAA had experienced when they first arrived in the early 90's. As such, the next few years would be about expansion, specifically into the United States. While AAA had run shows on and off in the states (mostly the west) since their days of dominance in Los Angeles, a deal with a newly formed TV station called the El Rey Network, owned by film director Robert Rodriguez, would open the door for them present their talent to a whole new audience just shortly after Triplemania XXII. And as luck would have it, AAA's plan to expand also coincided with three top lucha libre stars who had crossed over into the US suddenly becoming available within a one year span.
By the time he was released from WWE in the late winter of 2014, the former Mistico/Sin Cara was…well it could've been better. When he joined WWE in 2011 he was the toast of the lucha libre world; the biggest lucha libre draw of the last decade, the man who helped save CMLL and all that jazz. People were hyped for his WWE run is the point and by the end of it, thanks to a whole ton of botches, Cara's own arrogance on certain matters (refusing to learn English or change up his style even slightly) and WWE, once again, not having a single clue on how to use a luchador, his star had fallen so far that it was hard to believe he was the same guy that once revitalized Arena Mexico. Alas he still had name value in his home country and with his bridges with CMLL still burned AAA was able to scoop him up and repackage him under the name Myzteziz. If nothing else here was a really talented luchador, in his own environment with a clean slate, who could provide AAA with fresh matchups for its own talent and revitalized old rivalries between Myzteziz, Perro Aguayo Jr. and the recently signed Averno. Myzteziz' most popular programs in CMLL, not counting Negro Casas, had involved those two and because CMLL had never resolved either there was plenty of directions AAA could take those feuds. 
Of course poor Myzteziz, just days before his Triplemania debut, wound up being overshadowed by the news of Alberto El Patron's firing from WWE. It's been a minute since you've heard this story so let me refresh your memory; Alberto, the best pushed luchador in WWE since Eddie Guerrero who still found a way to be misused (WWE is really, REALLY bad with luchadores), had been fired by WWE just ten days before Triplemania XXII after an incident at WWE catering where he slapped a WWE employee for supposedly making a racist remark. This was a controversial moment that, as per usual, made WWE look bad and, surprisingly given everything has happened since, made Alberto look great; fans in the US and especially Mexico took his side and he quickly became something of a hero for standing up against intolerance. Almost immediately rumors abounded that he would be showing up at Triplemania (like Myzteziz, Alberto had burned his bridges with CMLL, where he had once worked as Dos Caras Jr.), though many thought WWE's traditional 90 day non compete clause would stand in the way. Shockingly that did little to stop what AAA had planned, which is why Triplemania XXII opened with Alberto making his AAA return to much fanfare. 
Alberto's return kicked off what would be an overall successful Triplemania on August 17 (beginning the trend of Triplemania taking place in August), albeit with some blemishes. The show was supposed to feature Jeff Jarrett (for reasons AAA still won't explain to me) and Ricochet, then a hot star on the independents, only for both to miss the show due to travel issues. The AAA Reina de Reinas Championship match between long time champion and top luchadora Faby Apache and Taya Valkyrie featured Faby being…some would say rough and others would say brutal; either way she took unnecessary liberties with Taya in the ring, resulting in Taya getting bloodied up. AAA would also try out English commentary for the first time on this show, hiring the legendary Hugo Savinovich and Vampiro for the job; the result would begin a five year trend of Triplemania English commentary ranging from somewhere between unintentionally comical to "GRODD OH GRODD WHY AM I LISTENING TO THIS SHIT?!" And the main event was inexplicably this four way Copa Triplemania match between Cibernetico, Dr. Wagner Jr., Myzteziz and Perro Aguayo Jr. that pretty much existed to give four big names something to do. Some of these things were smaller than others, but they were indications of bigger problems that would come back to haunt AAA in the next few years.
Nevertheless the positives on this night outweighed the negatives, starting with AAA once again drawing 21,000 plus for the show. And aside from the main event and six way hair vs. mask steel cage match that saw Averno, Chessman and El Mesias tangling with a spent Electroshock (not that he had much on his best day), a cold Blue Demon Jr. and a way too long in the tooth La Parka, the matches were pretty strong and most importantly either built to bigger matches down the road or showcased new talent. The opener, an Antonio Pena Special, featured the continued rivalry between Super Fly, now a rudo, and his former good friend Aero Star, a AAA undercard veteran known for his innovative high flying and his love for jumping off the highest places possible; the two would settle their differences in December when Aero Star would unmask Super Fly in a great match. Taya and Faby, unnecessary stiffness aside, was a strong match that saw Taya finally win the Reina de Reinas Championship, the first step in cementing her as the top female in Mexico. The semi-main event, and quite frankly the match that should've headlined this show, was an awesome brawl between Texano Jr., now the AAA Mega Champion and one of AAA's top rudos, against Los Psychos Circus' Psycho Clown. Los Psychos Circus, which also featured Monster and Murder Clown, had grown in popularity since debuting back in 2007, largely thanks to a strong feud with Los Perros del Mal, and Psycho, the son of Brazo de Plata (Super Porky) and member of the legendary Alvarado family, had separated himself from his partners as a potential mega star in the making. His feud with Texano, both an offshoot of Los Psychos Circus vs. El Consejo (the CMLL invading stable!) and a spiritual successor to the trios feud involving their fathers (Brazo de Plata had been a member of Los Brazos, who feuded with Los Misioneros de la Muerte, the legendary trio featuring El Texano) was meant to catapult him to the next level and his victory would ultimately serve as the first step towards Psycho dominating the Triplemania main event scene for the next several years.
The best match on the show however belonged to a ten way undercard match that, in retrospect, was to serve as the springboard eight of the guys into top spots in AAA. The match, a unification match of the AAA Cruiserweight Championship and the AAA Fusion Championship, featured Perros del Mal member and AAA Cruiserweight Champ Daga, AAA Fusion Champ Fenix, Drago (a dragon inspired luchador in for Ricochet), crazy man Joe Lider, Bengala (underrated lucha libre hero and Pro Wrestling NOAH standout Ricky Marvin), crazy punk rocker Australian Suicide (I'll let you guess where he's from), the always on the cusp Jack Evans, his tag partner Angelico, the former CMLL star El Hijo del Fantasma and Pentagon Jr., a repackaged Dark Dragon created to be a rival for Octagon Jr. (WWE's Kalisto, who left soon after). These ten tour the house down in a high flying spectacle that only AAA could provide, bolstered by the fact that this was an elimination rules match. In the end Fantasma would outlast all the rest, beating Angelico to unite the titles and start an AAA World Cruiserweight Championship reign that would last for over two and a half years. In the end though all ten (well maybe not Joe Lider) walked out of this match bigger stars than they walked in and in the days following Triplemania the talk was of Psycho vs. Texano Jr., Alberto's return and budding feud with Perro Aguayo Jr., the stunning end of the show reveal of Rey Mysterio Jr., still under contract with WWE (though trying to get out) announcing to the Triplemania audience they'd be seeing him real soon and those ten luchadores in the Cruiserweight match. Just incredible stuff. 
So yeah; things were looking great coming out of Triplemania. AAA suddenly had Alberto El Patron and Myzteziz, with Rey Mysterio Jr. on the way; three bonafide lucha libre superstars with US exposure and, in the case of Mysterio, superstardom. Psycho Clown was now a budding superstar. Texano Jr., despite his loss, remained strong. Angelico, Evans (who again, was a decent deal in AAA already), Daga, Drago, Fantasma, Fenix, Pentagon and Suicide all came out poised to make the leap, and several of them would soon see their profiles raised by Lucha Underground, AAA's collaboration with the El Rey Network that debuted in the fall of 2014 and soon became a cult favorite of hardcore wrestling fans. A strong core roster featuring the likes of Aguayo, Averno, Chessman, Parka, El Mesias and others remained. It really felt like AAA was poised to take a leap in 2015, both in Mexico and elsewhere. Instead it turned out to be one of the more disappointing years in AAA history, much of it of their own doing, though the downfall can likely be traced back to one of the most tragic events, not just in lucha libre history, but in wrestling history.
On March 21, 2015, the world lost Perro Aguayo Jr., who died while taking part in a match for the Tijuana promotion The Crash, where he teamed with Manik (TJ Perkins) to take on Rey Mysterio Jr. (now back in Mexico) and Extreme Tiger. I will spare you the details other than to say it was devastating; Aguayo was only 35 years old, still in his prime, still the leader of arguably the most popular stable in Mexico and beloved by almost everyone who knew him. In fact, as big of a loss as he was to AAA in regards to future plans (he was expected to heavily factor in to programs with Alberto and Myzteziz), it was an even bigger loss emotionally, as Aguayo served as a mentor and close friend to several of AAA's younger talents such as Pentagon, Fenix, Fantasma and Taya Valkyrie. Mysterio, who many falsely accused of being responsible for Agayo's death, was so shaken that he briefly considered retiring before deciding to continue on. Some of what you'll read next was likely inevitable even if Aguayo had survived, but there is no doubt that his death that night had a profound effect, in the worst possible way, on AAA and lucha libre that year and for a few years after. 
In the face of Agayo's tragic and untimely death, AAA began plotting out Triplemania XXIII and, on paper, found a match worthy of the show and then some. Dating back to when he had been the top star in CMLL, Myzteziz had long been considered "the next Rey Mysterio", due to his high flying prowess and his drawing ability. When the two finally wound up in WWE at the same time and even worked together as a tag team, it seemed only a matter of time that WWE would do a big match between them; in fact it was long rumored that Vince McMahon, in an effort to set the record for most masks worn in a single setting in the Guinness Book of Records, planned on having the two wrestle in a mask vs. mask match at Wrestlemania. Injuries from Mysterio and Myzteziz' failed run ultimately torpedoed those efforts, and now with both men in AAA it would allow the promotion to deliver the dream match WWE never could. With Mysterio vs. Myzteziz booked as the main event (in a legit dream match, albeit with no stipulation), AAA next moved to put Triplemania XXIII on PPV. Not iPPV; actual honest to Grodd PPV in the US. AAA clearly believed that Myzteziz vs. Mysterio would be a game changer for them and that, coupled with an undercard featuring several talents hot off of Lucha Underground (which would close it's critically acclaimed first season with an outstanding Ultima Lucha event just days before Triplemania), seemed to indicate that they were onto something.
Instead the show was a disaster, in almost every facet of the word. The PPV broadcast, notably on the English side, suffered from audio and video issues throughout the night, only clearing up towards the end. When they could be heard, fans wished announcers Hugo Savinovich (still miscast as an English speaking announcer) and especially Matt Striker couldn't be heard. The undercard matches ranged from middling to mesmerizingly awful; many felt the strong undercard talent AAA had, most of whom appeared on Lucha Underground were wasted, with Drago appearing in an underwhelming Antonio Special opener while dynamic talents Angelico, Evans, Fantasma, Fenix and Pentagon being stuck in a cage match where they couldn't really do dives (fans also reported having issues seeing through the cage). Meanwhile Psycho Clown, only a year removed from his big break with Texano (also trapped in that previously mentioned cage match), teamed with Los Psychos Circus teammates Monster and Murder Clown to take on a long past their primes Los Villanos (Villano III, Villano IV and Villano V) in a match so bad it is considered by some to be one of the worst matches ever. Like in the history of the universe. It wasn't just bad either; it was disgraceful, considering that poor Villano III was in no condition to wrestle. In the end the show was only able to salvage some of its dignity thanks to its two top matches; a solid hair vs. hair match between Alberto El Patron and Brian Cage, a future AEW star who had gotten into AAA through Lucha Underground (where he had performed exceptionally) and had gotten over working a pro Trump gimmick in Mexico, and yes, the main event between Myzteziz and Mysterio. Try as the event did to dampen the dream match, the two did in fact tear the house down in a match that, with distance, is truly great and probably would've been received far better on any show other than this. Alas even those two matches could do little to mask the fact that Triplemania XXIII wasn't just a disappointment; it was a failure.
Just like that AAA's expansion into the US, in a major way at least, was stopped dead in its tracks…and that was the least of AAA's issues. While the relationship between Konnan and the Roldans had always been rocky, Triplemania XXIII proved to be a breaking point as Konnan received the bulk of the blame for the shows' failure (despite the fact that much of the show wasn't what Konnan originally planned). Months later Konnan would be relieved of his duties as booker in AAA; he would soon after join The Crash as booker, beginning a near two year feud between AAA and Konnan where the latter was highly critical of the promotion publicly. Konnan was not the only one to bolt either. In October both Alberto El Patron and Myzteziz, now a rudo and building towards a mask vs. mask match with Mysterio, suddenly left AAA; Alberto for a WWE return that would begin his downfall into disgrace and Myzteziz to Lucha Libre Elite and by extension CMLL, making his return. In November Cibernetico, the long time AAA stalwart, officially departed, also for Elite and CMLL. Early 2016 brought another departure, with polarizing luchadora Sexy Star (then AAA Mixed Tag Team Champion with Pentagon) leaving in February. But the biggest blow, at least in terms of long term growth, was the departure of Fenix, a Konnan loyalist, in the summer of 2016, just before he scheduled for Triplemania XXIV. As if things weren't bad enough for AAA, the departures brought accusations and rumors of how they treated their talent, the shows got worse and somehow it was only going to get even dicier from here.
First though there was Triplemania XXIV, a show that was simultaneously far better than Triplemania XXIII and somehow still kind of a disappointment. The show, held on August 28 in Arena Ciudad de Mexico yet again, tried to make up for the loss of talent in the last year by loading up on Lucha Underground talent, notably matching Johnny Mundo up against Pentagon in a Latin American Championship match, pitting LU talents Dr. Wagner Jr., Cage and Texano against each other in a three way match for the Mega Championship and doing a special LU showcase match with Rey Mysterio Jr.,Prince Puma (Ricochet) and El Dragon Azteca Jr. taking on Marty the Moth, Mil Muertes and Matanza. Somehow all these matches disappointed; Pentagon and Mundo didn't click (and the match result annoyed fans after Pentagon lost to Mundo with the help of Taya), the three way Mega Championship match whelmed and the LU showcase featured Vampiro overshadowing all the competitors at the commentating booth (once again helmed by Huge Savinovich and an even worse Matt Striker than the year before), as well as AAA paying so little attention to the match that the competitors all walked out during Vamp's entrance. The undercard thankfully made up for the other flaws, with Daga and Australian Suicide having a captivating ending to an otherwise so-so Copa Triplemania, Faby and Mary Apache traded stiff shots with Averno and Chessman and a four way AAA Tag Team Championship match that saw Angelico and Evans defend against Aero Star and Drago, El Hijo del Fantasma and Garza Jr. and Matt Cross and Paul London, tore the house down. Like I said; mixed bag.
What ultimately got the show over the finish line was, inexplicably, a main event that most hardcore lucha libre fans were dreading. Earlier in the year AAA had brought in Pagano, a death match specialist out of Ciudad Juarez, presumably to feud with Pentagon. Instead he wound up feuding with Psycho Clown over who the better clown was. The two battled in hardcore matches throughout the year building to a mask vs. hair match in the main event of this show. Despite the fact that none of those previous matches were well received, this match somehow worked, largely due to Psycho Clown's charisma, effort and ability to keep Pagano (a hard working but extremely limited worker) from completely going off the rails. But the big story wasn't Psycho Clown winning; it was what happened after the match, when Dr. Wagner Jr. (who had attacked Psycho during the match) made an offer to Psycho for a mask vs. mask match at Triplemania next year, which Psycho accepted. That match, a battle between AAA's popular top star and one of the greatest luchadores of all time, would be massive; so massive that not a single solitary person believed it could happen, largely because no one could fathom that a) the build could last for the year and b) that either Psycho or Wagner (more so Wagner) would agree to lose their mask. Amazingly AAA not only pulled off the build (which, let's be real; didn't need much) but also managed to pull of the match, a move that would pretty much turn out to be the only net positive for AAA heading into Triplemania XXV.
Why is that? Because August 2016 to August 2017 was somehow even worse for AAA than the previous year. First there was personal loss; Joaquin Roldan, at the relatively young age of 63, passed away on April 8, 2017, the second passing of an AAA promoter in the past ten years. Then there was the continued talent loss. In October of 2016 Jack Evans, one of AAA's most consistent performers of the last decade, was fired after having the unmitigated gall to say La Parka was no longer a great wrestler while otherwise praising him (while Angelico held on for another year, Evans' release and injuries effectively kneecapped him and he'd be a nonfactor for the rest of his AAA tenure). In January of 2017 a small exodus occurred that saw Pentagon, Daga and Garza Jr. (Angel Garza in WWE) bolt from AAA the night after Guerra de Titanes and show up in The Crash alongside Fenix. Mysterio, already taking fewer dates with AAA, quietly disappeared. 
The messiest departure came in the form of Taya leaving in the early summer of 2017, brought along by new AAA booker Vampiro. Brought in around the springtime, Vampiro focused AAA's product on two things; Lucha Underground talent (what remained in AAA at least) and himself, which drew the ire of both talent and fans. In the most Vamp move ever, he would claim that Taya no showed a date in early July (one Taya was never booked for) and stripped her of the title; soon after Taya would quit over the handling of a situation, a smooth move by Vamp considering a) Taya was one of their best remaining talents (coming off a tremendous match with Ayako Hamada no less) and b) her fiance, Johnny Mundo, just happened to be the guy AAA strapped the rocket too, putting the Mega Championship, Latin American Champion and Cruiserweight Championship on him at Rey de Reyes in March. Now Taya was gone, Mundo was ticked off and the Vamp-Taya-Mundo saga morphed into a bizarre worked shoot angle where no one to this day is sure what was real, what wasn't real and what benefit AAA actually got out of it. Actually I can answer that; they got no benefit. This story blew up so much, especially in the states, that it became the talk of the town going into the twenty-fifth anniversary of Triplemania. Fortunately AAA still had Wagner vs. Psycho, easily the biggest match in lucha libre in 2017, and with the match following the highly anticipated Floyd Mayweather-Conor McGregor fight on Mexican TV, AAA expected to do some of the biggest numbers in history.
Alas, Triplemania XXV is a difficult show to rank, mainly because there's the Psycho-Wagner match and then there's everything else. And everything else was pretty much a dumpster fire that would make Triplemania XXIII feel sympathy. In fairness, this show, on August 27 in Arena Ciudad de Mexico, did have more good matches on it. A pre-show dark match featuring future stars Angelikal (now Myzteziz Jr.), Tiger Boy, Villano III Jr., Angel Mortal Jr. (now La Parka Negra) and the ultra exciting Hijo del Vikingo proved to be incredibly exciting and a sneak peak at AAA's future. The Antonio Pena special in the opening slot was entertaining. Aero Star did another death defying leap in a solid four way tag title match won by Monster and Murder Clown, now rudos after betraying Psycho Clown a year earlier. And the three way ladder match between Johnny Mundo, El Hijo del Fantasma and Texano Jr. was pretty good by itself. 
But none of these were good enough to block out the blights. Vampiro seemingly popped up for no reason at all throughout the show, and his beat down of Mundo after the ladder match overshadowed everything that came before. Sexy Star, brought back to win the AAA Reina de Reinas Championship after the Taya incident, capped off a truly terrible four way luchadoras match by inexplicably injuring Rosemary's arm for no reason. The only plus side to the whole thing is that it effectively ended Sexy Star's career in mainstream wrestling. The English announcing, featuring future GCW commentator Kevin Gill, was among the worst bits of commentary in the history of wrestling, so bad it made Striker and Hugo from the past two years look like Excalibur and Chuck Taylor at PWG. And the Copa Triplemania, meant to celebrate AAA's history, made absolutely no sense, was won by a positively glacial La Parka and featured the return of Jeff Jarrett, the then GFW/Impact president who was clearly shown to be intoxicated as he made his entrance (throwing tortillas at the crowd because of course) and as he wrestled (Jarrett was thankfully fired from GFW soon after, though that somehow didn't stop AAA from using him). So yeah; this show was on the whole an abomination…except for the main event.
In terms of in ring work, Psycho Clown vs. Dr. Wagner Jr. wasn't exactly Rey Mysterio vs. Prince Puma from Ultima Lucha Dos. It also didn't need to be; the emotion of the moment, the drama in one of the two biggest stars in AAA losing their mask, the Arena Ciudad de Mexico atmosphere and the fact that the match did end up being the most watched lucha libre match in years (in fact, it was the most watched match in North America in nearly thirty years if I recall correctly) made it the spectacle everyone hoped the match would be. And while it wasn't a super match, it was very well done, featuring one of Wagner's last great in ring performances and another killer performance from Psycho, cementing himself as AAA's top star and, quite frankly, the only bright spot AAA had in an otherwise dim world. It's certainly a good thing he ended up winning the match too, much to the shock of everyone who hadn't been spoiled by a flyer released by a local promoter a few days earlier advertising an unmasked Wagner. Still Wagner's unmasking was a cool, emotional moment, Wagner became an overnight celebrity in the wrestling community because of his ageless appearance without the mask (he also got paid $250K for losing his mask; Wagner won big while losing) and Psycho became a made man. The match that AAA had built up for the entire year did turn out to be a major success; it would've been nice if the rest of the show hadn't been one of the most horrifying experiences in AAA history, but at least the thing AAA needed to work worked.
Fortunately, as they say, once you hit bottom there's nowhere to go but up. AAA hadn't quite hit bottom yet; that would come in the late winter/early spring of 2018, when AAA's shows (now available on Twitch worldwide) were so bad that it legit may be some of the worst wrestling I've ever seen. AAA was in need of something different and, after two years of making all the wrong decisions, the Roldans (particularly Dorian) realized this. While Marisela and Vampiro shared a ton of blame for AAA's poor quality and even worse talent relations over the last two years, Dorian, now the public face of AAA after his father's death, bore the brunt of it and rightfully so; he had appeared over his head in many decisions, played a big part in the destruction of Lucha Underground (which at this point was on fumes, all the momentum from 2014-15 squandered) and just came across as generally unlikeable. So how did it all change? Amazingly, he seemed to realize all of this. And upon coming to terms with this reality and resolving to, at least publicly, change things up, he reached out to Konnan. The AAA legend and former booker's stint with The Crash, while producing strong shows, ultimately failed to bring in many eyeballs due to The Crash's inability to find consistent streaming, and Konnan would leave the promotion early in 2018. That departure prompted Konnan and Dorian (who Konnan had directed most of his viatrol towards) to reconnect and make amends, and after a disastrous string of shows in March it became an open secret that Konnan would be returning to AAA as booker with full control (which, for the most part, turned out to be true). 
I'm not one to say one move can change everything…but yeah, this move changed everything. It wasn't a seamless transition mind you; Vampiro remained in AAA with some input, and thus some of the shows felt like a mishmash of Konnan and Vampiro booking colliding; the big angle upon Konnan's return, a stable called MAD (taken from a group Konnan was part of for the MDA promotion in Monterrey), failed to take off despite featuring returning talents Juventud Guerrera, Jack Evans, Killer Kross (Karrion Kross in NXT) and Teddy Hart among others; and yet again AAA turned to Jeff Jarrett, the same guy who worked drunk at Triplemania a year ago, and made them AAA Mega Champion. But the flaws were largely overtaken by the positives, as AAA shows improved thanks to better angles and matches (largely bolstered by the pushing of young talent and opening matches designed to be absolutely crazy) and a deal with Lucha Libre Elite (somehow still alive) that brought back in talent such Black Taurus and Laredo Kid. But the biggest boon of Konnan's return was that it brought back Fenix, Pentagon and even LA Park. This was notable because all three were also working CMLL at the time, something that would've closed them off in the past. This time AAA didn't care; Fenix and Pentagon had become such stars since leaving (both as singles competitors and as the tag team the Lucha Brothers) and Park had become one of the hottest stars in wrestling thanks to his feud with Rush. The risk was worth it, and Triplemania XXVI would wind up being booked around Fenix going after Jeff Jarrett for the AAA Mega Championship and a four way Poker de Ases, mask vs. mask vs. mask vs. mask cage match between Pentagon, LA Park, Psycho Clown and another bright spot from the dark years, El Hijo del Fantasma. 
From a drawing standpoint, Triplemania XXVI, taking place on August 25, suffered from the largely lackluster two years of AAA, drawing only 13,500 fans. But while the show would feature a truly embarrassing performance from Vampiro on commentary (overshadowing an improved Matt Striker), the show by in large was great, with only an AAA Cruiserweight four way in the pre-show (featuring talent like Shane Strickland, ACH and Sammy Guevara) and an abysmal lumberjack match between Los OGT's (Averno, Chessman and Super Fly) against Evans, Guerrera and Hart disappointed. Everything else was sublime. The pre-show once again featured a crazy opening match with a mixture of young talent like Aramis and Dragon Bane and established high flyers such as Freelance and Latigo. The four way Mixed Tag Team title match, anchored by charismatic dynamos Nino Hamburguesa and Big Mami, was quite entertaining, though not quite as bonkers as a four way tag team ladder match that saw Aero Star/Drago, Andrew Everett/DJZ (Joaquin Wilde), MexiBlood (Bandido and Flamita) and Golden Magic/Laredo Kid go full Mad Max: Fury Road in arguably the match of the night. Inexplicably, a three way trios match featuring the underwhelming exotico team of Maximo, Mamba and Pimpinela Escarlata) delivered, largely due to the talented rudo team Poder del Norte (Carta Brava Jr., Mocho Cota Jr. and Tito "Not that Tito" Santana) and a thrown together Puma King/Hijo del LA Park/Taurus team. Even more inexplicable, a lucha extrema trios match featuring Pagano, a broken down Joe Lider and La Mascara (one of the worst signings AAA would ever make) wound up as a show stealer; I personally credit that to a rejuvenated Texano Jr., an improved Murder Clown (who really turned the corner up turning technico in early 2018) and Rey Escorpion, an incredibly underrated luchador who had debuted at Triplemania the year before and who was finally given something to show off his skill. For the first time in years, the undercard of Triplemania actually delivered.
And then the three big headliners delivered too. A feud leftover from the Vampiro era, Faby Apache put her hair on the line against the mask of Lady Shani, a Taya protege who had grown to become a really solid, hard hitting luchadora (eventually she would also add an impressive maestra technique to her game). While the the match wasn't quite on the level of some of their previous encounters, the match was overall very strong and more importantly ended with Shani picking up the biggest win of her career and shaving Faby's head. The semi-main, a four way for the Mega Championship featuring Jarrett, Fenix, Cage and Rich Swann (added to get Impact talent on the show and because Jarrett-Fenix would've been…yeah) was better than expected and featured the frightening/comic moment of a Fenix dive that took him into the stands and wiped out Marisela Pena. Fortunately that didn't lead to a booking change on the fly, and ultimately Fenix won the Mega Championship with an assist from Wagner, getting payback on Jarrett after Double J had screwed him out of the Mega Title at Verano de Escandalo in June. Finally, the main event, once the cage, Psycho Clown and Pentagon departed, turned into a great brawl between Park and Fantasma which ended with Park taking Fantasma's mask. It would turn out to be a fitting end for Fantasma's Triplemania run; the second generation luchador would spend a few more months in AAA before finally heading to WWE, where he now wrestles as NXT Cruiserweight Champion Santos Escobar. At least we'll always have Fantasma's son doing the throat slash at Park after the match.
For the first time in awhile, things felt good again in AAA and they'd only get better; in the next year, in addition to their partnership with MLW and their never ending friendship with Impact, AAA would partner up with the newly formed All Elite Wrestling, a move that would set up a tremendous cross promotion feud and several other intriguing possibilities. Meanwhile guys like Laredo Kid, Taurus and Vikingo, with Konnan's backing, suddenly became must see talent, with Vikingo and Laredo in particular tearing the house down at a AAA event in June of 2019. All of these pieces would play a part in Triplemania XXVII and all were exciting; the main event however would be one that most people were iffy on. After unmasking Fantasma at Triplemania XXVI, LA Park was approached by Dr. Wagner Jr. (his long time rival) about a hair vs. mask match at Triplemania XXVII, similar to what AAA had done with Wagner and Psycho two years prior. The problem was that Park bailed on AAA later in 2018, taking the match off the table. So AAA turned to a less exciting legend; Blue Demon Jr. The veteran luchador had worked on and off AAA over the last several decades and was a big star, but he was nowhere near the star power of Park and weirdly had very few big matches or high drawing singles matches to his name. AAA went with the feud anyway and to their credit Wagner and Demon did a commendable job building up to the show. Even still, no one could anticipate just what the two would deliver come August 3, 2019.
Separate from the main event, Triplemania XXVII was a tremendous show. For the first time…ever, the English commentary, done by Joe Dombrovski and Matt Striker, was just as strong as the Spanish commentary done by Jose Manuel Guillen and Hugo Savinovich (finally in his best role after AAA put him with Jose two years earlier). Once again the undercard delivering, starting with Lady Maravilla and Villano III Jr. upsetting Big Mami and Nino Hamburguesa in four way tag action for the Mixed Tag Team Championships; the finish was part of a year long love triangle between Mami, Maravilla and Hamburguesa that would eventually pay off tremendously at Guerra de Titanes in December. For the second straight year, Mamba, Maximo and Pimpinela Escarlata once again had a better than expected match, thanks again to Poder del Norte and the Los Jinetes del Aire trio, anchored by Vikingo and including Myzteziz Jr. and the new Octagon Jr., the former Golden Magic who had turned the corner following a pair of singles matches against Fenix and Pentagon in late 2018. Pagano won Copa Triplemania and was immediately attacked after by a returning LA Park. Tessa Blachard, before the controversy of racism came out, won the AAA Reina de Reinas Championship in a ladder match remembered for Chik Tormenta nearly killing herself on a bump and for leading to Taya (back in the fold) taking the title from Tessa a month later at AAA's Invading NY show. That match by the way would be the weakest match on this show; goes to show how strong this Triplemania was.
And then came the headliners. In quite a coup for AAA, the promotion was able to lure former UFC Champion, and lucha libre fan, Cain Velasquez into wrestling for a match at Triplemania. Trained by former Lucha Underground star and SoCal wrestling legend Vinnie Massaro, Cain formed a dream team alliance with Psycho Clown and AEW's Cody Rhodes to take on Rey Escorpion, Killer Kross and Taurus. The match blew away expectations, with Cain showing incredible potential while working with Taurus (his first of two strong performances with the luchador) that ultimately led to him being signed, and ruined, by WWE months later. AEW surfaced again in the semi-main; the Young Bucks and Lucha Brothers, after having feuded in AEW and AAA all year, tangled again, only this time Pentagon and Fenix were joined by Laredo Kid (now the hottest he had ever been) while the Bucks were joined by Kenny Gorram Omega, making his AAA debut. The match, a rematch from AEW's Fyter Fest, suffered from a lack of heat but was overall a ton of fun, gave Team AAA a big win and most importantly set up Omega vs. Fenix for the AAA Mega Championship months down the line. As for the main event…well to put it frankly, it was an absolute classic. Against all odds and expectations, Wagner and Demon had one of the most memorable Triplemania main events of all time, an old school brawl that made up for its lack of wrestling with blood, storytelling and some outstanding use of a hammer. It was so great that even Blue Demon Jr.'s son messing up spots at the end couldn't ruin the finish. In the end Wagner lost his hair (extensions. Let's be real now), Blue Demon Jr. got his career defining match and AAA, for the second straight year, delivered an unforgettable Triplemania. 
That now brings us to the present! It's been about a year and a half since Triplemania XXVII and well, things haven't changed much for the promotion, largely because there's been a pandemic and they haven't been able to run shows. The big things were Omega defeating Fenix at Heroes Inmortales in October (in an unforgettable match) to win the AAA Mega Championship, AAA finally luring over Rush to join forces with rival LA Park (with the eventual goal to set up the long awaited mask vs. hair match between them), Laredo Kid disappearing for months to film a reality show, Big Mami and Lady Maravilla had an Apuesta to remember and AAA, once the pandemic hit, resorted to taping several empty arena shows for a tournament called Lucha Fighter, before taking another hiatus before returning this past fall for the AutoLuchas show, a drive in show concept that wound up, like many things AAA related, exceeding expectations. Also in between AAA once again explored the concept of expanding Triplemania with the Triplemania Regia show in Monterrey last December, taking place out of the Estadio de Beisbol Monterrey. The show drew a respectable 15,000 fans and was an overall decent show (if nowhere near as good as Triplemania proper), though Omega's Mega Championship match with Dragon Lee received considerable praise. AAA had planned for another Triplemania Regia thing year, which was also dashed with the pandemic.
It's all led to Triplemania XXVIII this Saturday night, December 12, once again Arena Ciudad de Mexico. This will be a historic Triplemania for sure; it'll be the first Triplemania (proper) to take place in December, it will be the first Triplemania to take place with no fans and it will feature the first collaboration as part of AAA's new partnership with Marvel. Yes; that Marvel. Meanwhile Pagano and Chessman will collide in what should be a wild hair vs. hair headliner, LA Park and Psycho Clown will meet in trios action, the luchadoras will have what should be a show stealing Copa Triplemania match and Omega, the talk of the town these days, will defend his title against Laredo Kid (finally) in a match that may be the beginning of a storyline involving Omega winning many, MANY world titles. Even without fans it feels like a show Antonio Pena would be proud of. But then again I'd think he'd be proud overall of what his dream has become. Certainly Triplemania, like the promotion that houses it, hasn't been perfect; sometimes it's even been outright been embarrassing. But so has Wrestlemania, Wrestle Kingdom, Bound for Glory, the Aniversario and Starrcade back in the day, and just like those shows Triplemania has also enthralled, entertained and provided numerous moments lucha fans will never forget. In reality the only dream it never fulfilled of Antonio Pena's was seating that 130,000 crowd at Estadio Azteca, and who knows what could happen in the future; the only thing that's sure about lucha libre is nothing's for sure. But at least Pena and his family, with an assist from Konnan and countless others, did fulfill one vision. When Pena first conceived the idea of Triplemania, he envisioned it as lucha libre's version of the Super Bowl, of Wrestlemania. Twenty seven years later and twenty seven Triplemania's in, that is exactly what AAA's biggest show has become. And it's likely just the beginning.
Please change disks to continue…
© 2020 Lucha Central 
Folks! We invite you to also follow us through our official social media accounts: 
RELATED NOTE: Triplemania Week: The History of Triplemania Part 3