In case you missed it yesterday, I started a brand new limited series called The History of Triplemania, which takes you through, if you haven't guessed it yet, the history of Triplemania! Wonder what gave it away.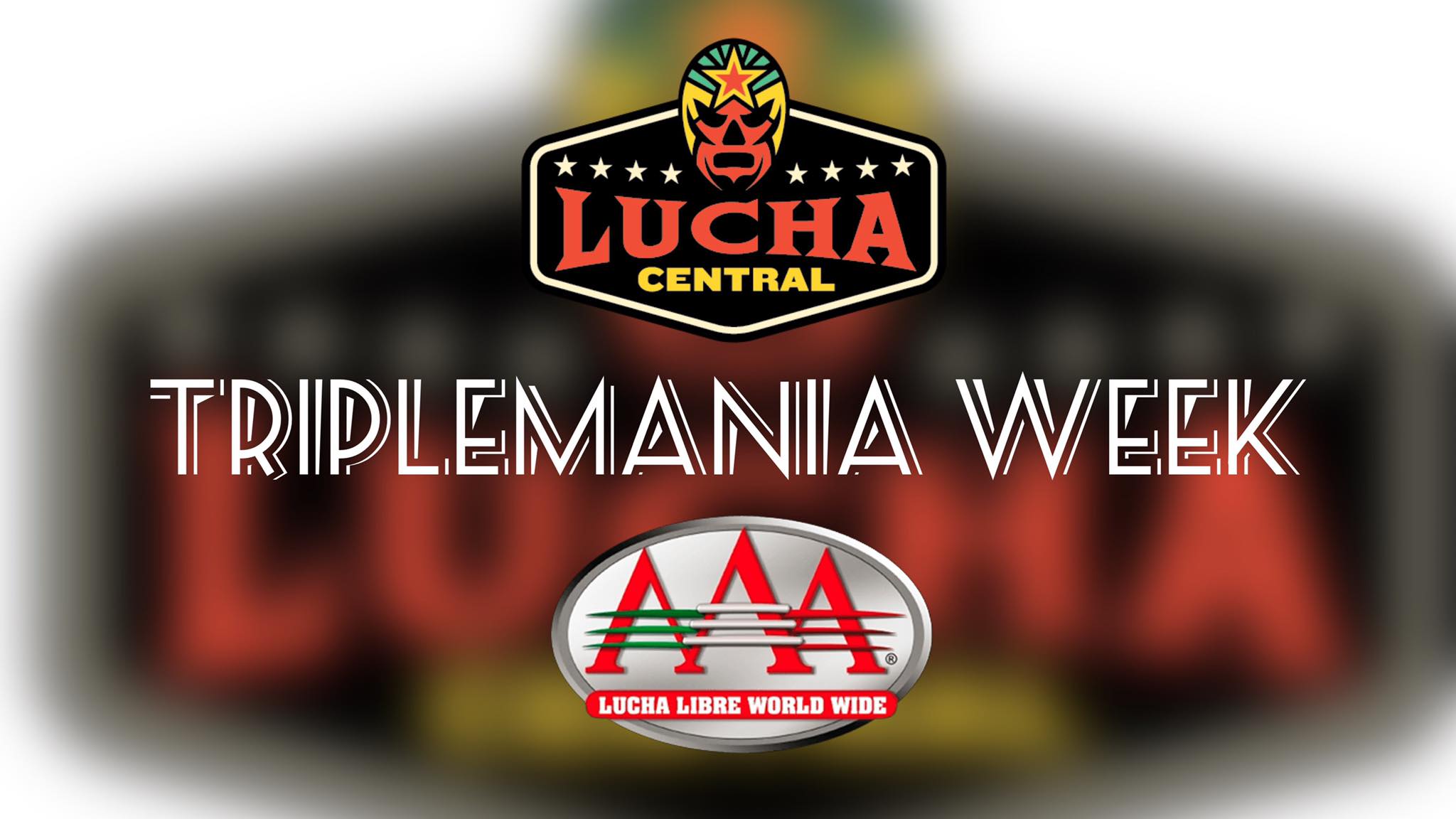 All things considered yesterday was quite fun, as we got to take a look through some of the early years of AAA's biggest show, including some of the biggest and best events AAA has put on. It's going to be a little bit different today, mostly because this era of Triplemania takes place in a time where people weren't paying attention to AAA. Whereas early to mid 90's AAA was the fresh new product in lucha libre (and even crossed over to the US briefly) and AAA now has become more accessible due to the internet, streaming and what have you, late 90's/early 2000's AAA is a largely forgotten time. Some of that is lack of access, some of it is because these shows, on the whole, aren't on the level of the Triplemania's that came before and after but a lot more of it is because, as we talked about yesterday, AAA went from riding high in the early years to getting shot down following the Triplemania IV-A fiasco and the subsequent fallout. That being said, the story of these Triplemania's are important, not just because the story would be incomplete without them but because it shows AAA's slow, but steady climb back up, thanks to the development of new stars, old stars returning and fresh new matchups. It also underscores the flaws of AAA during this time; a stagnant creative, an overreliance on multi-man matches on Triplemania just to get people on the show (an issue that still exists today) and, in case you haven't noticed, there's been a lack of talk about luchadoras on Triplemania to this point (that'll change today…but not by much). It's a mixed bag when it comes to this era of Triplemania, but it was one that was necessary after a two year stretch of shows where the brand Triplemania came crashing down to earth. And that, friends, is where we pick up.
History of Triplemania Part 2: 1998-2006
1998 was the beginning of a new era for AAA, mainly because they had no choice. While the rest of the wrestling world was on fire, AAA was still reeling from the end of a golden age that had come to a screeching halt two years earlier in 1996. Many of the stars Antonio Pena had brought with him from CMLL were now gone, having left for Konnan's Promo Azteca promotion (seen as a gateway for luchadores into WCW) or gone back to CMLL. Disorganization and poor promotion had hindered AAA in key moments, particularly when they tried to expand Triplemania to North America in 1996. A working relationship with WWE that was supposed to help the former compete with WCW and give AAA access to big WWE stars instead ended faster than the marriage of Kenny Chesney and Renee Zellweger. And most importantly Pena, the creative dynamo behind AAA's tremendous first several years, had become stagnant as a booker, relying on worn out feuds and storylines. The salad days were through and it was time for AAA to do what the New York Jets do, seemingly every year, and rebuild. Unlike the Jets however, Pena still had some pieces to work with.
While many luchadores had left AAA for greener pastures, there were still several that did stick around. Top stars like Heavy Metal, Latin Lover and Octagon stuck with the promotion and remained viable attractions, if not on the level of a Konnan or El Hijo del Santo. Despite being well into his 50's, Perro Aguayo remained a beloved special attraction and his son, Perro Aguayo Jr., was quickly growing into a top level superstar despite being only 18 years old. Blue Demon Jr., son of the legendary Blue Demon, provided AAA with a name, if not necessarily a luchador of pronounced skill. New stars such as Los Vipers, a stable consisting of Mosco de la Merced II, Psicosis II, Histeria and their leader, an imposing, impressive looking brute named Cibernetico, were growing in popularity. Winners, the former hearthrob technico, was repackaged as Absimo Negro, a masked rudo who shot fire out of an aresol can and who devestated his opponents with the Martinete (Tombstone Piledriver) a move banned in Mexico. And in perhaps his most controversial move, Pena took gimmicks he had created like La Parka, Psicosis, Mascara Sagrada and others and recast the roles. Some, like the numerous Mascara Sagrada's, came nowhere near to matching their predecessors. Some, like Psicosis II, would have respectable runs. Ultimately none were nearly as successful as the second La Parka; a long time luchador who had previously worked for AAA under the name Karis la Momia, the new Parka (originally known as La Parka Jr.) proved to be a capable, if not complete, replacement for the original, and would go on to be one of AAA's biggest draws for the next 20 plus years.
Armed with this combination of new stars and old reliables, AAA's Triplemania VI served as the official new era start for AAA's marquee event. It was…so-so. Set on June 7, 1998 in Chihuahua City, the show displayed the lack of depth on the AAA roster, as only five matches were booked (the second lowest in show history behind the disastrous Triplemania IV-A). And while the action was solid and showcased many of the stars AAA was slowly developing, the card suffered from the lack of a true Triplemania match, especially when you consider the main event was a hair vs. hair match between Metal and a dude named Kick Boxer. Wonder what his gimmick was. To his credit, Pena tried to add stakes to the match by a) putting it in a cage, b) putting the hair of Metal's father, referee Pepe Casas, and rudo referee El Tirantes on the line and c) putting Metal in Uma Thurman's Kill Bill tracksuit two years before Thurman wore it. Nevertheless it was hard to get as invested in the potential of two referees having their head shaved (even though Tirantes was as hated a rudo as they came in Mexico at the time) when previous Triplemania's had featured some of the biggest matches in lucha libre history.
Even weirder was that Pena booked the feud to continue for the next year, booking Kick Boxer to win this match (after Metal, foolishly, decided against climbing out of the cage to free his tied up father, despite his father telling him to climb out of the cage!) in order to set up a match at Triplemania VII. That show, taking place in Madero on June 11, was simultaneously a bounce back from the previous year and another sign that it was going to be a slow process back. While the show drew a respectable 13,000 (up in fact from when AAA ran Triplemania IV-C in Madero in 1996), it was several thousand less than Triplemania III-C only four years earlier. On top of that the card mostly felt like a regular show; the most interesting match in fact was an intergender bout between Pentagon (the second incarnation) taking on Xochitl Hamada (Gran Hamada's daughter). While women had wrestled on Triplemania before, Hamada's match here represented, easily, the highest position for a luchadora on AAA's big show to this point. 
Aside from that the show was littered with tons of multi-person matches, a main event (El Cobarde II, Octagon and Perro Aguayo vs. El Texano, Perro Aguayo Jr. and Sangre Chicana) that felt like six top stars thrown together for the sake of it, and the continuation of Heavy Metal-Kick Boxer that was pretty much a carbon copy of last year's match, save for the involvement of Thai Boxer and Felino, Metal's brother who had jumped from CMLL to AAA. Beyond that the tag match featured the same stipulation as last year (Pepe's hair vs. Tirantes' hair), this time with Metal and Felino winning to take Tirantes' hair. The feud ultimately concluded in September of that year, with Metal finally taking Kick Boxer's mask and sparing us from a third straight year of the duo duking it out at Triplemania. Felino meanwhile would be back in CMLL by the beginning of 2000; only the WWE-AAA alliance lasted shorter than his AAA run. On the plus side he did get to work AAA, CMLL, WCW (at their Festival de Lucha tapings) and WWE (Super Astro tapings) all in 1999, making him likely the only luchador in history to accomplish that feat. 
With two straight ho hum Triplemania's in the books (technically four if you count Triplemania V-A and V-B), Pena began to think a bit ambitiously again. He likely had to think long and hard because with AAA's popularity down in both Mexico and especially the US (even Los Angeles was a nonstarter for the promotion at this point), a big stadium or high concept Triplemania seemed out of the question. So Pena looked at another option; Japan. While AAA had used several Japanese talents in the past (most notably Gran Hamada, Jushin Thunder Liger and Koji Kanemoto's version of Tiger Mask at Triplemania II-B) and several AAA talents had worked in Japan, the promotion had only done one show in Japan associated with the AAA banner; a January 14, 1995 show in Hiroshima. As such it was a relatively fresh idea and with a decent lucha libre fan base in Japan thanks to the lucha inspired talent like Liger, Tiger Mask, Hamada and Ultimo Dragon, it seemed to be a pretty safe gamble. And so Triplemania VIII became only the second Triplemania to take place outside of Mexico.
Let's get the bad news out of the way first; Triplemania VIII, to this day, remains the lowest drawing Triplemania of all time, drawing only 1,700 fans to Korakuen Hall. Of course Korakuen Hall, at most, can seat only a little over 2,000, so the show was effectively a sell out for AAA and nowhere and is pretty much the lowest drawing show by default. Most importantly though the show, taking place on July 5th, 2000 and kicking off a AAA tour of Japan, was a return to form in terms of in ring quality. While it lacked a big match, the show made up for it with strong matches, including a fun match between Oscar Sevilla and the ultra talented Gran Apache (who would soon become AAA's head trainer, helping mold the modern generation of AAA stars), appearances by future Japanese stars Naomichi Marufuji, Minoru Tanaka, Genki Horiguchi and Yoshinobu Kanemaru, and a fun main event that saw Hector Garza (back in AAA after leaving WCW), Jushin Thunder Liger, Latin Lover and Octagon defeat Abismo Negro, Cibernetico, Electroshock and Shiima Nobunaga, who you may know today as Dragon Gate legend CIMA. All things considered the show was a return to form and, at least initially, represented the possibility of AAA growing in Japan. Naturally that was stopped dead in its tracks by the rest of the tour; shows in Kobe and Nagoya drew abysmally and plans for AAA to tour Japan in 2001 were quickly nixed. It would be four years before AAA would return to the country.
With Japan and the US now both off the table, Pena then went for a big swing; a return to Plaza de Toros for Triplemania IX. It had been eight years since AAA shocked the world by selling out the world's largest bullring and Pena, even if he couldn't draw the 48 to 50,000 to the building he did the first time, aimed to deliver a memorable, high drawing show. There was just one problem; his new stars weren't quite on the level needed to draw that a major presence to Plaza de Toros and despite the closing of WCW months earlier and Promo Azteca three years earlier, most of the talent that left him had still yet to return, either going to CMLL or just wanting nothing to do with Pena and AAA. As such Pena dipped into the past for his headliner, booking a three way hair vs. hair vs. hair dog collar match between El Cobarde II, Sangre Chicana and Pirata Morgan. A bonafide lucha legend who had also gained fame in Japan working Tiger Mask II (Mitsuharu Misawa) in the 80's, Morgan had worked AAA on and off since their formation but had only worked Triplemania once, teaming with Fishman and Fuerza Guerrera in a losing effort against Rey Misterio Sr., Rey Mistero Jr. and Toreo at Triplemania II-C. The presence of him, fellow legend Chicana and well respected veteran Cobarde, in a double gimmick match no less, seen by Pena as a solid draw. Instead Triplemania IX proved to be disappointing even by lowered standards; the May 24 (or May 26; different sources list different dates) drew only 10,000 fans, likely hurt by AAA's overall lack of momentum and the fact that Morgan had already lost his hair several times prior to the bout, making the strong possibility he'd lose feel hollow. The show overall was also a struggle; the biggest highlights were the opening Mini-Estrellas bout, and a four way Poker de Ases match between Heavy Metal, Hector Garza, Latin Lover and Perro Aguayo Jr., only the four best young stars in the promotion (Lover won the match). It also served as the first occasion of a concept AAA would use again for Triplemania XXVI some seventeen years later, to much better results. 
With that focus turned to Triplemania X, a show you would think was pretty important given it was the 10th Anniversary of when AAA started cranking out these bad boys (which makes it all the more odd AAA ran Plaza de Toros for IX instead of X). And Pena did indeed go big for the show, booking three Apuesta matches overall, the most notable being Octagon vs. Pentagon. As Octagon's popularity soared in the 90's, Pena decided to create a villain for Octagon named, you guessed it, Pentagon, a dark reflection of AAA's top hero. Even though AAA was now on the third incarnation of the Pentagon character, the feud between him and Octagon still had legs and Pena decided to bring it to a head at Triplemania X, booking them to lose a Revelos Increibles tag team match against Mascara Sagrada (the fourth version) and Mascara Malgina (an evil Sagrada clone), where the losing team would have to face off in a mask vs. mask match. It worked; the fans packed the Convention Center in Madero (the last Triplemania to take place in Madero to date) on July 6th to see Octagon finally slay his rival and unmask him, easily the best end to a Triplemania X anyone could ask for at the time. The rest of the show was mostly just there, with the only thing of note being Perro Aguayo Jr.'s final Triplemania appearance for eight years. The budding superstar, still only 23 years old, would make the jump to CMLL a year later, and in the process would become one of the biggest rudos in lucha libre as the leader of the popular Perros del Mal stable. 
One would expect that the closing of one of AAA's longest running storylines, along with the loss of a young top star, would perhaps usher in a new, fresher approach to Triplemania XI a year later. In the words of Jon Moxley, NOPE! As it turns out, the most interesting about the eleventh edition of Triplemania was that it would be the first of four Triplemania's in five years that would be hosted by Naucalpan's El Toreo. AAA had used the bullring (and site of many famous lucha libre moments, including El Santo's last match) for Triplemania V-B back in 1997, but it would be Triplemania XI that would cement El Toreo as Triplemania's primary home for the next few years, not to mention their return to prominence. Alas that prominence was a year away; this show, held on June 15th, 2003 in front of a respectable crowd of 15,000, was pretty much more of the same from the last few years. There were some cool moments, such as the return of former stars Juventud Guerrera, Super Calo and Lizmark, the Triplemania debut of El Zorro and a four way Mixed Tag Title match featuring future stars Lady Apache, Faby Apache and Tiffany. Though not quite there yet, their presence (as well as luchadoras being featured Revelos de Atomicos match in the opener), showed that luchadoras were finally beginning to leave their mark on AAA's big event. There was also, and I cannot believe I'm saying this, a moment where in a brawl backstage Antonio Pena got LIT ON FIRE by Absimo Negro. I'm not sure what to add to that, other than it's real, it did happen and I can only imagine the heat that gave to Negro and Cibernetico (also involved in the brawl) going forward. Alas the headlining match was yet another multi-man match with no stakes, and the big Apuesta match (a four way hair match) featured Heavy Metal and three old dudes in El Texano, Sangre Chicana and Pirata Morgan, with Morgan once again losing his hair. Riveting stuff.
So Triplemania XI wasn't exactly an interesting show, give or take some fire. Fortunately it gave way to a far more interesting and successful Triplemania XII a year later, as Pena and AAA's years of building up new stars finally paid off. The show was built around two matches; first a retirement match between two brothers, the robotic looking (and working Electroshock) and Charly Manson, a dude who took the name of the notoriously evil cult leader but dressed like American shock rocker Marilyn Manson. That match would serve as the appetizer for the main course; a mask vs. mask match between AAA's biggest hero, La Parka, and it's biggest villain, Cibernetico. In terms of technical mastery the match didn't appear to be a must see; Parka, while a capable worker, was never considered a great one and Cibernetico had long been considered limited. What they lacked in in ring skill however they both made up for in larger than life charisma and, unlike some of the other Triplemania headliners in recent years, a strong program with legitimate, honest to Grodd stakes. Between that and the personal Manson-Electroshock feud, it's little wonder why Triplemania XII drew a strong 18,988 to El Toreo on June 20, 2004.
Also fortunate for AAA was that the show delivered, particularly the top two matches. Manson and Electroshock, the latter never really known for his wrestling ability, put on an emotionally charged brawl that at one point featured their distraught mother at ringside begging for them to stop. Manson would ultimately prevail to seemingly end Electroshock's career, but the technico was spared by his wife, Lady Apache. Apache, who had earlier in the show brawled with Juventud Guerrera during a Zorro-Mr. Aguila match, pleaded with Manson to spare Electroshock's career and take her hair instead. Manson, I guess in a moment of empathy (or maybe he just really wanted her hair?) agreed, and Electroshock would also end up shaving his head in solidarity with Apache. It was a cool moment that you'd figure would be impossible to top, only for Parka vs. Cibernetico to do just that in one of the wildest main events known to man. There's overbooking, there's extreme overbooking and then there's this match, one that featured liberal amounts of interference from members of AAA and La Secta Cibernetica (Cibernetico's new stable), Antonio Pena chasing down an ambulance on a motorcycle, a brawl in the street where Pena would finally get his revenge on Absimo Negro for last year's burning, stage dives and did I mention interference?! Perhaps the most shocking development was that Parka would ultimately win the match with a roll up; I guess everything else was so bombastic they had to settle for something simple! In any event it worked, Cibernetico lost nothing losing his mask (in fact, he somehow looked even more imposing) and Triplemania XII, at least financially, stood out as a return to form.
Things were only going to get better for AAA and Pena as they rolled towards Triplemania XIII. With WCW and Promo Azteca further in the rearview mirror, WWE not showing major interest in luchadores (aside from Rey Misterio) and only CMLL to worry about, several more of the big stars that left AAA in the late 90's were now starting to come back. This included Konnan; years after his falling out with Pena, the former friends reconnected after AAA started working with Total Nonstop Action (TNA) wrestling and led to Konnan returning to AAA in 2004. Not long after saw the return of Psicosis, a move that suddenly gave Pena the enticing matchup of Psicosis I vs. Psicosis II to play with. Separate from that was the arrival of Vampiro Canadiense (or as his friends call him, Vamp), the long time CMLL and WCW star who finally bolted to AAA in 2005. Though it had been a decade since their peaks, long time lucha fans remembered that Konnan and Vampiro had been the two biggest stars in lucha libre in the early to mid 90's (Konnan carrying AAA, Vampiro carrying CMLL) and that there was real life animosity between the two. It was a dream match in many regards, and combined with Psicosis vs. Psicosis, it represented the perfect one two punch for Triplemania XIII and a great follow up to last year's craziness.
In the end, it turned out to be more of a mixed bag. Financially Triplemania XIII, held on May 15, 2005 in La Plaza de Toros in Guadalajara, was a massive success; the show drew 22,129 fans, the highest attendance for Triplemania in a decade and, at the time, the second highest attendance for a Triplemania of all time, only behind the first. That's good! The show itself however was a mixed bag. Aside from the top two matches the show was, once again, largely built on trios matches just to get people on the show. Psicosis vs. Psicosis II, rightfully built up to a ladder match for the rights of the Psicosis name, was as crazy as one would hope, only for it all to be negated on a terrible finish that saw Histeria, Psicosis II's partner, lay out both men to claim the rights to the Psicosis name for himself. Yeah; I don't get it either. Nothing on the show summed it up more than the Konnan/Vampiro match. On the one hand, it did work for what they were trying to do, as the match was appropriately heated thanks to interference from Psicosis and X-Fly on Konnan's behalf. On the other hand the match was an overbooked mess and for the most part not in a good way. I'd hazard to say it accomplished what it set out to do, but in terms of the final result of dream matches, Konnan vs. Vampiro was by far a more successful draw than it was a well worked match.
With Konnan vs. Vamp in the books and the Psicosis angle dropped once the original Psicosis joined WWE later in 2005 (along with fellow AAA stalwart Juventud Guerrera), Pena decided the focus on Triplemania XIV would once again fall to La Parka and Charly Manson. The latter would this time square off with rival (and future partner) El Zorro in a last man standing, hair vs. hair steel cage match that also apparently involved the Mexican National Heavyweight Championship. A whole lot going on there! Meanwhile Parka, continuing his feud with La Secta Cibernetica, squared off against a monster known as Muerta Cibernetica. What the masked Cibernetica lacked in star power compared to Cibernetico he more than made up for with tremendous wrestling ability, which may have had something to do with the fact that he was actually Ricky Banderas/El Mesias/Mil Muertes under that mask. Recruited specifically by Cibernetico to get rid of Parka once and for all, the feud would culminate at Triplemania XIV in a mask vs. mask match.
Once again, Pena's formula of a big Manson semi-main and a big Parka main event paid off, as Triplemania XIV, back in the Naucalpan El Toreo, drew 18,000 on June 18, only slightly below the strong number in the same building two years before. The show was also an improvement of last year's offering, even if the undercard once again felt a little "get as many people on the card as possible. " On the plus side, it did feature Laredo Kid's Triplemania debut. The story however was the two headliners; Parka vs. Cibernetica was a solid overall main event and another strong win for Parka, though the most important part may have been Cibernetica unmasking as El Mesias, leading to what would go on to be a tremendous decade plus run for him in AAA. But the show was stolen, yet again, by Manson, who tore the house down with El Zorro in a wild, borderline barbaric cage match that is now remembered as one of Triplemania's best brawls. Much like Parka, Manson was once again victorious, taking both Zorro's hair and the Mexican National Heavyweight Championship to boot. Yet again, the one two Manson/Parka punch paid off.
Unfortunately Triplemania XIV would prove to be the last Triplemania Antonio Pena would ever book. Less than four months later, on October 5, Pena would die of a massive heart attack at only 55 years old. The tragedy was a definite end of an era for AAA and left the promotion at a crossroads; for better or worse, Pena had been the only booker and promoter AAA had known during its 14 year history. With Pena now gone, the promotion fell to the hands of his family; sister Marisela Pena Roldan, Pena's brother-in-law (Marisela's husband) Joaquin Roldan and Pena's nephew (Marisela and Joaquin's son) Dorian Roldan. Together these three, with assistance from Konnan and Vampiro on the booking side, would go on to shape a new era of AAA, and Triplemania, for the next decade and beyond. But that is for part three.
Please change disks to continue…
© 2020 Lucha Central 
Folks! We invite you to also follow us through our official social media accounts: 
RELATED NOTE: Triplemania Week: The History of Triplemania Part 1