Man; hard to believe that we're nearly halfway through Triplemania week huh? Time flies when you're having fun, watch Dark and Impact at the same time and spending the whole day working on your History of Triplemania series that you inexplicably decided to do because you wanted to have no personal time again. Did I say that out loud? Shit; probably should've just led off with the fact that the History of Triplemania is now going to be a four part limited series, with Part 4 being released tomorrow. That's the power of Triplemania week.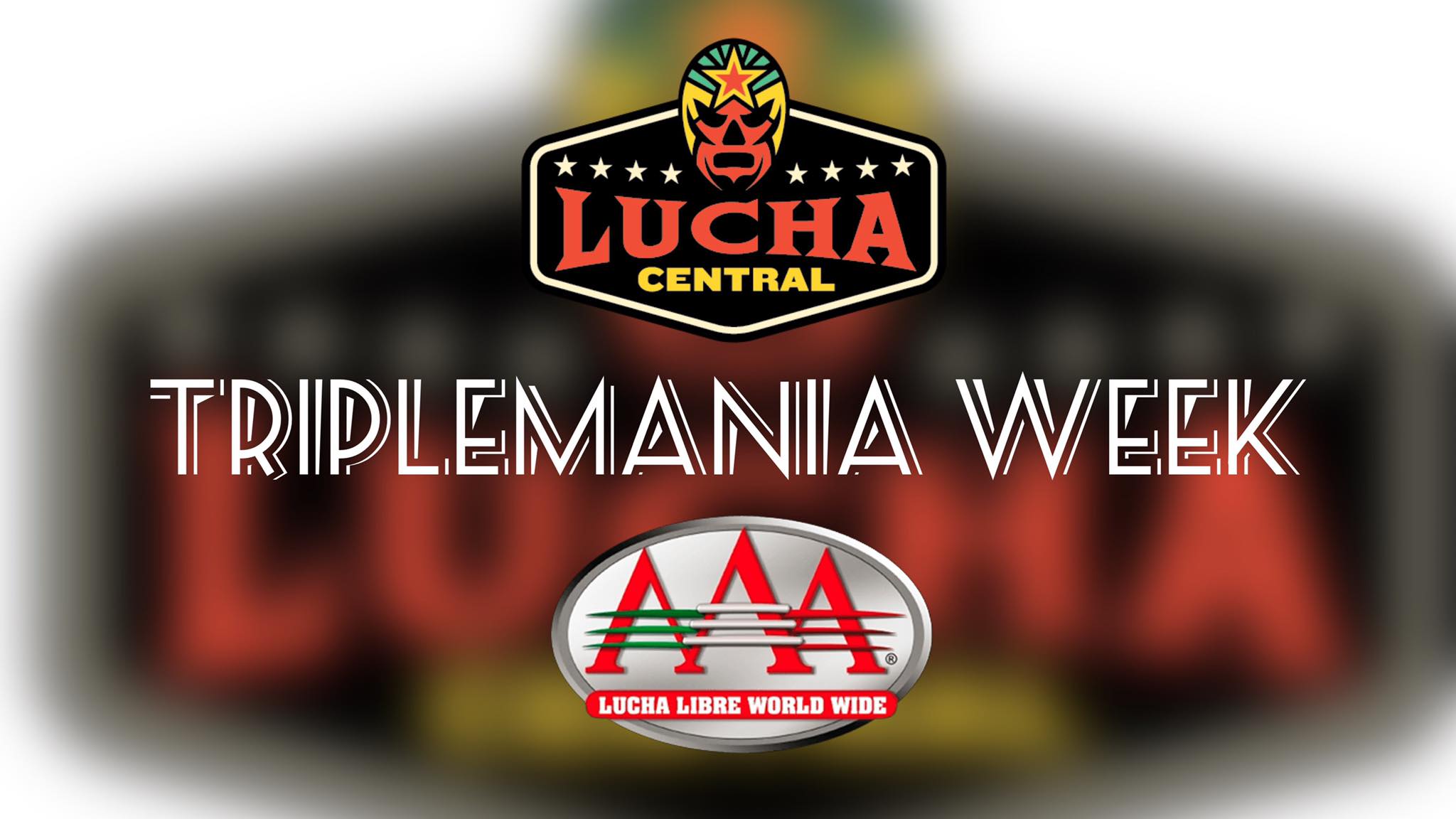 This is now a critical point of our journey through Triplemania's storied history; where we last left off AAA had experienced a massive loss in Antonio Pena's death and was now faced with the prospect of new management for the first time ever. It could've been very easy for things to go south and while that would eventually happen, the next seven years, and thus the next seven Triplemania's, went off largely without a hitch. We got dream matches, an overabundance of invading stables, some of the greatest matches in Triplemania history and most importantly for AAA big business, in large part thanks to Pena's successor on the creative side, returning stars and the new owners proving to be, at least at first, competent enough to not let things get out of control. But first they needed to take the painful step of taking over following Antonio Pena's death. And that is where our story picks back up.
History of Triplemania Part 3: 2007 to 2013
Let's start with a simple statement; 2007 was, to quote Jane Lynch in Talladega Nights, the beginning of a new age. It's not like AAA had no experience with that; the promotion was forced to transition following a talent exodus to Promo Azteca in 1996. But this was different; this saying goodbye to the only person to ever run AAA in favor of new management. It was all the more difficult considering Antonio Pena, AAA's founder, booker, promoter, hadn't decided to retire but tragically died young at the age of 55. Sadly this was not the first time in wrestling history something like this had occurred; in fact, it hadn't even been eight years since Giant Baba, the founder, booker and promoter of All Japan Pro Wrestling had passed away at the relatively young age of 61, leaving control of the promotion to his wife, Motoko, and his top star, Mitsuharu Misawa. Thus it was short enough to remember that that leadership ended in disaster, with a disillusioned Misawa ultimately leaving All Japan, along with half the roster, to form Pro Wrestling NOAH, a move that All Japan still hasn't entirely recovered from to this day. Given AAA's penchant for disorganization and chaos, it wasn't entirely out of the realm of possibility that the same thing could happen here with Pena's sister, brother-in-law and nephew now in charge.
It's not entirely clear how much experience Marisela Pena Roldan, Joaquin Roldan and their son, Dorian Roldan, had in the wrestling business prior to Pena's death, though it had been known that Pena had been mentoring them in running the promotion in the years prior. Nevertheless all three were thrown into the deep end, especially Dorian, who at 22 years old (his birthday was a mere 10 days after his uncle's death) became the youngest person to have a position of power in wrestling since Shane and Stephanie McMahon a decade earlier. Ultimately the three decided to split responsibilities; Marisela would manage the finances of the promotion while Joaquin and Dorian would be the operation managers. That left the Roldans only needing a creative force to help put together their onscreen product and fortunately for them, that person was already there. Having reconciled with Pena in 2004, lucha libre and AAA legend Konnan had returned to the promotion and picked up where he left off in the mid 90's, serving as Pena's right hand man in creative. He was the natural, and quite frankly, the only choice for the role to run creative while the Roldans ran the business. What could possibly go wrong?! A lot actually but we'll cover that later.
This brings us to Triplemania XV, the fourth Triplemania to take place in Naucalpan's El Toreo in the last five years and the first Triplemania to occur without Pena in charge. The show, taking place on July 15, 2007, was a mixture of building to the future with a bizarre dream match thrown in. The headlining match, a trios match featuring Charly Manson, Chessman and Cibernetico (Los Hells Brothers) taking on El Mesias (over his Muerta Cibernetica gimmick), Kenzo Suzuki of WWE fame and Sean Waltman (X-Pac), was part of what would become one of AAA's longest running feuds between AAA and La Legion Extranjera. The brainchild of Konnan (who was the group's onscreen leader), La Legion was a group of rudos, mostly made up of foreign talent, working with Konnan to overthrow the Roldan's and take control over AAA. The angle, while in the beginning stages here, would become a major factor in AAA, and Triplemania in general, over the next several years. It was hot enough at this stage that the main, alongside another La Legion match in the semi-main spot (featuring La Legion members Ron Killins, Sabu, Rikishi and Headhunter A defeating The Animal, Latin Lover, La Parka and El Zorro) and father-son street fight between Juventud Guerrera and Fuerza Guerrera, helped make Triplemania XV was yet another strong show attendance wise, drawing 19,000. Ironically enough none of those matches would turn out to be the highlight; that would be a Revelos Suicidas match in the middle of the show that featured Gran Apache and Laredo Kid taking on Super Calo and Super Fly; the latter team lost and was forced to duke it out immediately in a mask vs. mask match. Twelve years after Super Calo emerged the victor over Winners in a somewhat similar situation (give or take a victory and two other Triplemania shows), the luchador would lose his mask to Super Fly in a tremendous match, one that's arguably still the highlight of Super Fly's career. 
With their feet officially wet, the Roldans and Konnan moved forward with the La Legion storyline over the next year, establishing Cibernetico, once the top rudo, as the top technico in the fight against the invading stable. El Mesias had originally been La Legion's top luchador, but the situation changed after El Zorro, one of AAA's top technicos, turned rudo and aligned with La Legion in late 2007. The situation all built to Cibernetico winning the AAA Mega Championship at the 2008 Rey de Reyes from Mesias, at that point kicked out of La Legion, while Zorro won the Rey de Reyes tournament, effectively making him the number one contender. The feud was hot in more ways than one; months before Rey de Reyes Zorro and La Legion had put Cibernetico through a flaming table, an moment that wasn't out of the ordinary other than the fact that Cibernetico legitimately suffered second degree burns from the incident (something that, you'll be shocked to learn, wasn't planned). Needless to say it was a great headliner for the first Triplemania to take place in the Palacio de los Deportes arena in Mexico City, beginning a run of Triplemania's in Mexico City that have lasted till this day. But it was far from the only reason why Triplemania XVI drew 19,000 on June 13, 2008.
You may recall the times the involvement of luchadoras at Triplemania has been touched on; that's because it's been only once or twice. Prior to Triplemania XVI the involvement of luchadoras on AAA's biggest show consisted of appearances in mixed tags, multi-person matches known as the Antonio Pena special (basically an atomicos match featuring teams consisting of a luchadora, a luchador, a mini and an exotico) or an intergender match involving Xotichil Hamada. Besides that there had never been a big Triplemania match involving two luchadoras; that all changed at Triplemania XVI when Faby Apache took on her sister, Mary, in a hair vs. hair match. The feud served as the culmination of one of AAA's longest running and best storylines revolving around, what else, forbidden romance. Three years earlier Faby had fallen in love with the popular luchador Billy Boy; nice right? Unfortunately Faby's father Gran Apache wasn't a fan of Billy Boy and, because this is lucha libre, showed his disapproval by beating the tar out of poor Billy every chance he got. Faby sided with Billy, Mary sided with their father, and the feud continued to build steam until it was determined that a match between Faby and Mary (easily the two best luchadoras in AAA and, arguably, two of the best women's wrestlers in the world at the time) was worthy of an Apuesta match at this Triplemania. Without question, it represented the biggest match to involve luchadoras in AAA to this point.
As if there wasn't going enough with Triplemania XVI (new venue, big feuds, first time ever Apuesta), the show would end up facing direct competition from CMLL, who held their Infierno del Ring event that same night, also in Mexico City. As noted above, the competition did little to prevent AAA from drawing a second straight 19,000 plus house for their big show. In the main event Cibernetico overcame pretty much every obstacle possible to defeat El Zorro, scoring a massive win for AAA. In the semi-main La Legion gained a victory of their own after Bobby Lashley, AAA defector Electroshock and Kenzo Suzuki defeated Chessman, La Parka and a debuting Silver King, the legendary luchador who had once worked for CMLL, WCW, New Japan and All Japan. Mesias, separated from the La Legion stuff, satisfied fans of lucha extrema with a wild brawl against Vampiro that only disappointed when the match went to a draw. The undercard would feature the first, and only, AAA appearance of Bryan Danielson, teaming with La Legion members Jack Evans and Teddy Hart, a situation that would lead to the AAA announcers hysterically, and incorrectly, calling Danielson "Teddy Jack." And Faby Apache vs. Mary Apache was the best thing on the show, a bloody, brilliant brawl where true love prevailed and Faby defeated her older sister. The match, and the emotional post match where the Apache's reconciled and Billy Boy finally was accepted remains one of the most enduring moments in Triplemania history. Naturally Billy Boy would later turn on Faby, allowing the feud to continue for several more years. The lesson, as Nazareth would say, is love hurts.
It wasn't all good times for AAA during this time however. One of the original matches scheduled for Triplemania XVI had involved long time AAA star Abismo Negro likely taking on former Los Vipers stablemate Mr. Niebla, after Los Vipers had kicked Negro out in favor of Niebla (the feud largely involved an Abismo Negro lookalike, Black Mass, causing friction due to his similarities with Negro). The match was ultimately changed to a multi-man cage match featuring Negro and a team against Los Vipers, only for Negro to be taken off the card entirely. It would be his last association with anything Triplemania; less than a year later, on March 22, 2009, Abismo Negro tragically passed away at the age of 37, having drowned in a river in Sanola after he got off a bus taking him towards Mexico City; reports are he had become panicked and agitated during the drive. It was a huge blow to AAA, not only to lose a talented star but a luchador who had been important to the company's history, first as the charismatic hero winner and later as the tremendous, Martinete loving rudo. The promotion has continued to honor Negro since, and he would eventually be inducted into the AAA Hall of Fame at Triplemania XXI in 2013.
With more than two years of AAA vs. La Legion dominating AAA's main event scene, Triplemania XVII was deemed the perfect event to blow the whole thing off. But how would they do it? Big Apuesta match? A giant singles match for control of the company? Nope; try a five on five, six sides of steel cage match with control of AAA on the line. Frankly this probably was a better idea than just a straight one on one match with a similar stip, especially since it allowed many, many people to be involved, though some of them will definitely throw you. The La Legion team would consist of Chessman (another AAA defector), Electroshock, Kenzo Suzuki, Silver King and, get ready for this one, Teddy Hart. Yes; somehow Teddy Hart has headlined as many Triplemania's as Rey Mysterio Jr. He also has the leg up on prison appearances from what I hear. The AAA side was just as wild. Future AEW star Jack Evans, once a La Legion member, defected to AAA and found himself in this match, giving him just as many Triplemania headlining matches as Mysterio. Vampiro, always up for a feud with Konnan, was also slotted in, alongside AAA lifers La Parka and Octagon. But the final name was the real doozy; El Hijo del Santo, who hadn't appeared in AAA for nearly fifteen years, was brought back in for this match in order to defend AAA's honor. When the stakes are that high, you have to go out and get the biggest name you can find I suppose. That wasn't just the case in the main event either. At the 2009 Rey de Reyes months earlier, AAA scored an enormous coup when Dr. Wagner Jr., the long time top CMLL star and one of the biggest names in lucha libre, jumped to the promotion. Refusing to join La Legion, Wagner instead set his focuses on the Mega Championship and El Mesias, who had won the title in December. Once again, AAA had a solid one two punch for their big show.
All of this made it more surprising when Triplemania XVII, held on June 13, 2009 in Palacios de la Deportes, drew below expectations. While attendance was set up for lower than previous years due to the addition of video screens and such, the show's 16,000 plus attendance figure was still below a sellout, a disappointing number considering the main event and Wagner's Triplemania debut. It was all the more disappointing because the show was, once again, highly entertaining. The opener featured the Triplemania debut of Los Psychos Circus, a stable that would go on to have many significant moments going forward (especially one member). The talented Extreme Tiger would win the AAA World Cruiserweight Championship in a four way match that would spark a long running feud with La Legion member Alex Koslov. Marco Corleone (the former Mark Jindrak), who also jumped from CMLL at the same time as Wagner, made his only Triplemania appearance, teaming with Latin Lover (the only partner a ladies man like Marco could have!) in a losing effort against Joe Lider and Nicho el Millonario (Psicosis). 
Meanwhile Wagner's AAA debut was a booming success, as he and Mesias went nearly forty minutes in one of the greatest matches in Triplemania history, with Wagner winning the Mega Title. And the main event was exactly what you'd have expected; tons of heat, tons of emotion, an El Zorro technico turn, Joaquin Roldan (by now a character on AAA) using a kendo stick and special guest referee Cien Caras. In the end AAA prevailed and won control of their promotion for good; naturally La Legion, despite temporarily disbanding, would return soon after anyway and continue to feud with AAA. Santo, for his part, never appeared in AAA again after negotiations broke down, and the two would actually end up in court for many years after over his appearance on this show. Oddly enough that was only one of the many backstage controversies regarding this show, as Silver King, Konnan and Evans nearly all were kept off; King for wearing his mask after he lost it decades ago, Konnan and Evans for getting into a legit backstage brawl with Juventud Guerrera months earlier. As always, chaos was king in AAA, which would play in heavily to Triplemania XVIII next year where AAA would put on one of the biggest main events in, quite frankly, lucha libre history.
One of the big controversies in early AAA that led to many top talents leaving and never returning was Pena's handling of trademarks over gimmicks he had created. The most notable revolved around the original La Parka; when Parka had bolted AAA in 1996 for Promo Azteca and WCW, Pena, as you all know, gave the La Parka gimmick to another luchador. This practice was done with several other characters but only La Parka II would wind up becoming a star, albeit not quite one on the original Parka's level. After Promo Azteca folded in 98 and Parka left WCW in 2001, Pena blocked Parka from using the La Parka name when he attempted to go to CMLL. Legal issues followed and as a result the original La Parka changed his name to LA Park. The move angered many (as Park was one of the most popular luchadores in the world) and it seemed like Park would never step foot into AAA again. But after Pena's death in 2006 and Park's subsequent firing from CMLL in 2008 following a wild brawl with Dr. Wagner Jr. at the 75th Aniversario, the door creaked open just a bit and less than two years later, at the 2010, there was LA Park in the ring, aligning himself with La Legion and confronting his replacement. For the next several months AAA built the tension between these two (as if they even needed to do that given the history and stakes) and in May it was officially announced that LA Park would take on La Parka in the Triplemania XVIII main event; the winner would get the rights to the La Parka name. Couple that with the fact that Parka and Park were, respectively, two of the biggest lucha libre stars of the past two decades and that AAA had yet another ace up their sleeve coming out of the match, things were looking up for June 6, 2010.
Let's be real here; while there was certainly other stuff of note to take place at Triplemania XVIII (an all luchadoras trios match, the appearance of TNA stars Beer Money and Christopher Daniels, NOAH stars Atsuhi Aoki and Go Shiozaki, Jack Evans winning the AAA Cruiserweight Championship, Wagner's second Mega Championship win), this was all about Park vs. Parka. That was the match that drew 17,500 to Palacio de los Deportes that night and, a decade later, it remains the show's legacy. It's not entirely a good legacy either, thanks to a finish that could best be described as Good, Bad and Ugly. The bad was the involvement of Joaquin and Dorian Roldan; Dorian had become an onscreen character at the time as a rudo with La Legion, rebelling against his parents. Thus he had accompanied Park to the ring while Joaquin accompanied Parka; this all set up Dorian then turning on Park after Park went after his father with a chair and I know; I'm having trouble keeping up myself. The good was the arrival of Los Perros del Mal, the enormously popular CMLL stable led by Perro Aguayo Jr. and featuring legendary talent like Damian 666 and Halloween; all three (and several others) made their return at the end of the show to align with Park and set up AAA's new biggest storyline, AAA vs. Perros del Mal, going forward. The ugly was a repeat of the Psicosis-Psicosis II match from years earlier where the stipulation was rendered meaningless by the overbooked result (which did result in a Park victory for those wondering). Once again AAA had hyped up someone definitely getting the rights to their character and once again the situation resolved itself with a screwy finish where nothing really changed. Hence the polarizing finish, unless your love for Park decking Joaquin Roldan with a chair really puts things over the top for you.
The match itself though? Legendary. Park, who like Minoru Suzuki and Elizabeth Hurley seems to only get better the older he gets, channeled a decade plus of rage into what might still be the performance of his life. Think about what ground that covers! He struck down on Parka in this match with great vengeance and furious anger, absolutely annihilating his poor counterpart for the bulk of the match's near thirty minute run time. To his credit though Parka took this beating, dished out some decent work of his own and it would be tough to argue that this match wasn't the highlight of his own career. The match is legit so great and so heated (with the Palacio de los Deportes crowd firmly on LA Park's side because, hey, it's LA Park) that even with the convoluted ending the match remains one of the best things Triplemania has ever offered. And while he had several Triplemania matches before and since this one, perhaps no bout quite sums up the LA Park experience like this one; a few years ago someone involved with putting this match together, while bemoaning the change in the finish, proclaimed that, despite Park's outspoken tendencies, that at the end of the day "this is f**king LA Park man. He's one of the greatest of all time." Then this person went on to gleefully describe how Park beat the crap out of Parka for a half an hour. Needless to say the match and Park's performance, warts and all, lives long in the memory of lucha libre fans.
Coming out of this show, especially with the ending, the plan was definitely for Los Perros del Mal to be AAA's biggest rival heading into next year's Triplemania. Ultimately that didn't end up happening, as soon after Perros del Mal aligned with La Legion to create the ultimate "uber" rudo stable, La Sociedad. That feud would indeed take focus for Triplemania XVIX, mainly through La Sociedad's friendship with AAA's buddy promotion TNA. The promotions had parted ways years earlier following Konnan's departure and subsequent discrimination lawsuit with TNA (and actually led to TNA working with CMLL for a time) but by 2011 AAA and TNA were back on good terms and the latter's presence on this show was massive. Jeff Jarrett, in the first of many Triplemania appearances that would leave fans extremely baffled and incredibly confused, would take on El Zorro for the AAA Mega Championship. The Beautiful People and Mickie James teamed with Sexy Star in an undercard match. Abyss and Mr. Anderson, a team that could only exist in AAA, would challenge the AAA Tag Team Champions Jack Evans and Extreme Tiger. In what looked like a cool match on paper, AAA would decide their first ever Latin American Championship in a headlining match between Dr. Wagner Jr. and Rob Van Dam. Far more interesting however were two undercard feuds; first there was Los Perros del Mal members Damian, Halloween and X-Fly (the only appearance of the stable on the show) and their long simmering feud between Los Psycho Circus members Monster, Murder and Psycho Clown; finally there was "f**ing LA Park", back for more a year later and this time in a hot feud with El Mesias that would culminate in a mask vs. hair match on this show. Ironically the Park-Mesias feud featured an undercurrent of tension within La Sociedad; Park had wanted a title shot against Sociedad member El Zorro and had failed to get it no matter how many times he took Mesias, a top challenger for the Mega Title, out. 
Businesswise Triplemania XIX actually turned out to be a bigger success than Triplemania XVIII, drawing 17,900 fans to the Palacios de los Deportes. Quality wise it was not quite on the same level. Most of the matches were forgettable, some of the results were baffling (see; Jeff Jarrett beating El Zorro for the Mega Championship) and the Wagner-Rob Van Dam match was a middling near seventeen minute affair. The card was salvaged however by the Perros del Mal-Psychos Circus match, a wild lucha extrema bout where Perros del Mal emerged with as the inaugural AAA Trios Champions, and of course, Park vs. Mesias. Ever one for the big moment, Park put on another off the charts performance and Mesias, arguably AAA's MVP prior to Park's arrival, was more than up to the task of match his opponent. Park would win to shave Mesias' head in a match that I'd dare say should've closed this show. Alas.
That brings us to Triplemania XX in 2012, a milestone show for AAA, representing the twentieth edition of their biggest show. Given the occasion AAA decided to move out of Palacio de los Deportes for this show, moving instead to Arena Ciudad de Mexico, a state of the art, brand spanking new arena that could seat upwards of 22,000 fans. To fill arena AAA built the show around three main event angles, one midcard bout, a surprising Octagon rudo turn (though that angle would wind up lower in the card) and yet another case of "someone invading AAA!" This time though it was CMLL…well not really. After luchadores Texano Jr., Toscano (Tarzan Boy), Mortiz, Semental (now known as Black Taurus) and others bolted CMLL in late 2011, AAA decided to package them as an invading stable called El Consejo. Get it? Because CMLL's name is Consejo Mundial de Lucha Libre?! Others such El Hijo del Fantasma (get used to his name) joined the group, although hilariously the group's defacto leader would be Mascara Ano 2000 Jr., a luchador who wasn't working for CMLL when he jumped (he had in fact been working the independents and the International Wrestling Revolution Group, IWRG, out of Naucalpan). Nevertheless he was pushed as the biggest star of the group, perhaps to capitalize off his father's involvement in the very first Triplemania and began a rivalry with Dr. Wagner Jr. and a reformed Silver King, Wagner's brother. In a testament to Wagner's popularity and a strong angle that called back to Mascara Ano 2000 breaking a bottle over Perro Aguayo's head, the feud actually grew to be hot enough that it was seen as a pretty decent Triplemania headliner overall.
The semi-main involved Perro Aguayo Jr., making his official Triplemania in ring return after missing the 2011 show due to complications from a surgery to remove a benign tumor in his stomach. He had feuded with Jack Evans throughout 2012, but later set his sights on the AAA Mega Champion El Mesias, a fitting matchup that would pit AAA's top rudo going up against AAA's top technico for the heavyweight title. Adding to the occasion was Aguayo's father, Perro Aguayo, being inducted into the Hall of Fame that night. Meanwhile the AAA vs. La Sociedad angle continued, with a recently turned LA Park joining Electroshock to take on La Sociedad members Jeff Jarrett (ugh) and, unbelievably, Kurt Angle. That TNA working relationship did have its perks I guess. The match was largely built around Park's feud with Jeff Jarrett, a feud that caused Park to leave La Sociedad, and also the ongoing Cats in the Cradle drama between Joaquin and Dorian. The stakes this time were raised though; if La Sociedad won, Joaquin would lose his hair and if Park and Electroshock won, Dorian would lose his hair. A smaller scale Apuesta situation also took place on the midcard, as three teams of enemies (Joe Lider and Nicho el Millonario, Extreme Tiger and Halloween, Jack Evans and Teddy Hart) and one random team (Chessman and Juventud Guerrera) took part in a four way steel cage match; the last team left in the cage would be forced to face off later in the show in a hair vs. hair match (or in Halloween and Tiger's case, hair vs. mask). Adding to the drama was that the three enemy teams had once been official tag teams; Halloween and Tiger had once both been members of La Familia de Tijuana, Jack Evans and Teddy Hart had been The Hart Foundation 2.0 and Lider and Nicho had once been the longest reigning AAA Tag Team Champions as La Hermandad 187. The feud between the latter two had become especially heated, likely because both guys were (and still are) nuts and also because Lider burnt some of Nicho's face off, leading to him adopting the Psicosis gimmick (and mask) yet again.
So did the show live up to the Triplemania XX hype? Amazingly yes; the show, the first Triplemania to take place in August (August 5, 2012 to be precise) drew an impressive 21,000 plus for the first Arena Ciudad de Mexico Triplemania, the highest drawing Triplemania since Triplemania XIII in 2005. The undercard, fortunately overachieved; particularly impressive was some of the performances in the opener (the famous Antonio Pena special), which featured Faby Apache, Octagoncito and exotico legend Pimpinela Escarlata teaming with a young high flyer named Fenix to wrestle Sexy Star, Mini Charly Manson, Yuriko and another young talent named Dark Dragon. You may know him by another name, though I dare not reveal it yet. While the two had wrestled on Triplemania XIX a year ago in a Dark match, Triplemania XX marked their formal debut, the first of many big moments for two luchadores who would soon become the biggest crossover stars in lucha libre a few years later. 
Lider and Nicho, predictably, lost the cage match and, also predictably, had a delightfully violent hair vs. hair match that saw Nicho win, shave Lider's head and then continue brawling with him afterwards anyway. Rudo Octagon was betrayed by El Consejo after losing their Atomicos match, but refused to align with La Parka. LA Park and Electroshock beat Jarrett and Angle in an overbooked brawl that was then topped by a ridiculous post match where Dorian and Joaquin appeared to reconcile, Joaquin then said Dorian didn't have to shave his head, only for Dorian, Angle and Jarrett to swerve on him and shave his head, leading to LA Park being disgusted afterwards (in fairness, he wasn't alone). And El Mesias retained against Aguayo (who had been accompanied to the ring by Taya Valkyrie, a name to remember!) in a bloody brawl, featuring an angle involving Aguayo's Perros del Mal teammate Hector Garza and Mesias' former ally turned enemy turned ally again Cibernetico that would ultimately lead to the main event of Triplemania XXI. Somehow all that nuttiness was toppled by a main event that was overbooked, overstuffed, at times defied logic and amazingly gets better every time I see it. With the help of Mascara Ano 2000, a betrayal by Silver King (revealing himself as the mastermind behind El Consejo all along), a young Hijo del Dr. Wagner, a beer bottle and one of the most insane crowds you will ever see (let's just say garbage was thrown), Dr. Wagner Jr. defeated Mascara Ano 2000 Jr. in a wildly entertaining affair that quite frankly may be the most impressive thing Wagner has ever done, given the limitations of his opponent (a big reason why it was overbooked!). All in all Triplemania XX was AAA through and through; completely and utterly insane, seemingly on the verge of going off the rails and somehow delivering anyway.
The same can not be said for Triplemania XXI, a show that, if you took a look at the card, looks unimpressive and then somehow gets less impressive when you see it. The show, once again in Arena Ciudad de Mexico and back in June (June 16) was basically a one match card, built around the long running feud between Cibernetico and Perro Aguayo Jr. The situation had been particularly strong since Triplemania XX, where Cibernetico accompanied El Mesias for his match with Aguayo and then taunted and attacked Aguayo and his father afterwards. The match, with a hair vs. hair stipulation, was a strong headliner and it needed to be, as the rest of the card was saw Dr. Wagner Jr. stuck with Electroshock, La Parka and Octagon (reunited and it felt so good) to take on the prehistoric team of El Canek, Mascara Ano 2000, Universo 2000 and Villano V, Blue Demon Jr. defeating El Mesias for the Latin American Championship (WHAT?!), Jeff Jarrett beating Los Psychos Circus in trios action (DOUBLE WHAT?!) and a strange Mega Championship situation that saw Heavy Metal, working his first Triplemania since Triplemania XII, beat Chessman to earn a title shot against Texano Jr., which Metal subsequently lost. Perhaps the most interesting match, outside of the main event, was a four way tag team title match that featured teams like Daga and Psicosis, Drago and Fenix and Jack Evans with a young Negro Navarro trainee named Angelico. Five of those talents would go onto be important for the next several years of AAA; naturally the winner team was DTU head honcho Crazy Boy and Joe Lider, still crazier than ever. In the end Aguayo would take Cibernetico's hair in the main event and the less said about this show, the better.
While Triplemania XXI left a bit to be desired, on the whole there was a lot to be happy about for AAA regarding Triplemania over the past seven years. The promotion had lost their only booker/promoter, was forced to stick three people into high level positions who had little to no experience and managed to not only keep business afloat but with Triplemania managed to grow the brand, managing to consistently draw 16,000 plus over the seven year period and producing shows that, if not always great, were certainly memorable (and most were in fact great). It goes to show how strong a job Konnan did on the creative side of things and how the Roldans, at that time, knew enough to keep things rolling in a positive direction. Little did they know the biggest challenge of their tenure was around the corner. Over the next seven years AAA, and Triplemania, would deal with the aftermath of an initially successful crossover into the US, the return of several big stars, one of the biggest disasters in the history of Triplemania, a crippling departure, a tragic death, a talent exodus and two long years of a product that Vince McMahon would look upon in horror before AAA returned to form. It's the tale of how Triplemania got to the year 2020…and it's a tale to be told in Part 4.
Please change disks to continue…
© 2020 Lucha Central 
Folks! We invite you to also follow us through our official social media accounts: 
RELATED NOTE: Triplemania Week: The History of Triplemania Part 2