It's Triplemania season…in December. I know; I'm still getting used to it too. Regardless of whether it's April, May, June, July, August or December, Triplemania season is always an exciting time, largely because AAA always seems to deliver a major show that, if nothing else, is something you won't forget any time soon (though for the last years it's certainly been for the better). As such I thought it would be nice to do a little something as we head closer to the big show, which is why I'm going to spend all week writing about Triplemania related things. It's a series I'd like to call Triplemania Week. I had a sign made and everything.
To kick off Triplemania Week, I thought it would be nice to take a look at the history of Triplemania itself. It is after all the biggest event of AAA's calendar year and an event so entwined with both the greatest moments in the history of the promotion, and some that Dorian Roldan and company would like you to forget. So for the next couple of days I will be taking you on a journey (to the best of my ability) through the history of Triplemania, from the first few shows up until Triplemania Regia last year. It should be one hell of a ride, especially since it begins with a series of Triplemania shows that, to this day, are considered some of the best lucha libre AAA has ever put forth. And with that, our story begins. 
History of Triplemania Part 1: 1993 to 1997
Much like most things AAA, the story of Triplemania begins with a man you've probably heard of named Antonio Pena. A former luchador who most notably worked as Kahoz and Espectro Jr., Pena retired in 1986 in order to transition into a backstage role with EMLL (Empressa Mexicana de Lucha Libre, now known today as Consejo Mundial de Lucha Libre, aka CMLL). By the early 90's Pena had worked his way to a top position in EMLL's booking committee alongside Juan Herrera. Sounds good right? Not so fast my friend! This will come as little shock to people who have followed the promotion over the years, but the now CMLL wasn't exactly with the times in the early 90's; in fact the most modern thing they did at the time was changing the name from EMLL to CMLL. As such Herrera and CMLL owner Paco Alonso preferred a traditional approach to lucha, with a focus on heavyweights, two out of three falls matches and traditional storytelling, as opposed to Pena's more modern outlook. Realizing he was never going to get to attempt his vision of lucha libre, Pena made was on the surface seemed to be a gamble and left CMLL in March of 1992. As it turns out it wasn't a gamble at all; quietly Pena had been negotiating with the TV network, Televisa, since the fall of 1991 to start a new lucha libre promotion which, you guessed it, was AAA. Somehow the news stayed secret even after Pena left (all while quietly building a talent roster with the help of CMLL top stars, and Pena loyalists, Octagon and Konnan) and by May of 92 AAA was officially announced. Armed with the Televisa deal and a good chunk of CMLL's roster, AAA immediately took off and by the end of 1992 had created the biggest shift lucha libre had seen since the formation of the Universal Wrestling Association (UWA) to compete with CMLL back in 1975. 
And yet despite the first year success, built around the Televisa deal, a more modern style of lucha consisting of high flying and creative storylines, and a group of stars such as Konnan, Octagon, Mascara Sagrada, Los Hermanos Dinamitas, Perro Aguayo, El Hijo del Santo, Blue Panther and countless others, Pena was still thinking bigger. The then 42 year old promoter's ultimate goal was to do to lucha libre what Vince McMahon did with American wrestling; make it bigger than anyone could possibly dream. As such Pena decided to come up with lucha libre's answer to Wrestlemania, combining the name of that show with AAA's name. That's right; that is why Triplemania is called Triplemania. Only in lucha libre. As if that weren't enough though, Pena decided this show couldn't just be held anywhere. No, it needed to be held in Mexico City's Plaza de Toros. Built in the 1940's, the Plaza de Toros wasn't just a big bullring; it was the biggest bullring in the world, seating over 41,000 fans. And Pena, after only a year of promoting AAA (albeit with a great TV deal and a hot product) was looking to hold his big show in this building and sell it out. To put it bluntly, that is some Francis Ford Coppola shit right there.
Fortunately, as you've probably picked up, Pena was a smart dude and new that this show wasn't going to sell on brand recognition. So he built the show around two long running feuds with major stipulations. The first was a hair vs. mask match between the masked Mascara Ano 2000 and Perro Aguayo. MA2K (as the kids call him) was at the time one of the most despised rudos in lucha libre as a member of Los Hermanos Dinamitas with his brothers, Universo 2000 and Cien Caras. As such he was the perfect opponent for Aguayo, the former UWA rudo who had gone from feuding with El Santo to becoming one of the most beloved technicos and biggest draws Mexico had ever known. It was a match that could've main evented any show but for this event it needed a match just as big. Pena found it in the form of Caras vs. Konnan, the continuation of a feud that had started years ago in CMLL when Caras and Konnan traded the newly formed CMLL World Heavyweight Championship. This match however wouldn't be for a title, a mask or hair; instead both Konnan and Caras would be putting their careers on the line. While not uncommon in lucha libre at the time, the stipulation was rare enough that Pena and AAA were able to advertise it as a first time stip. And with the involvement of Konnan, at the time so big that if Hulk Hogan had been in Mexico he would've tried to Starrcade 97 him, Pena believed it would be the perfect hook to draw fans.
He was right. The first Triplemania, which took place on April 30, 1993, was not only a huge success but it remains perhaps the greatest achievement in the history of the promotion. Against all odds the Plaza de Toros not only sold out (the number is said to be between 48 to 50,000 fans) but several thousand fans were actually turned away, forced to watch the show in the parking lot via giant TV's AAA installed. Best of all the show was great, bolstered by a show stealing undercard match between Lizmark and a young up and coming luchador named La Parka and the MA2K-Aguayo match, which remains one of the most heated, emotionally charged, great brawls in the history of the promotion. But Pena's best trick was saved for the main event, where his ambitions, forward thinking and ability to come up with tremendous finishes came together to create one of the most memorable moments in Triplemania history. As Konnan and Cien Caras brawled in and out of the ring, fans quickly noticed that Jake "The Snake" Roberts, former WWE star, was sitting at ringside. The story was Roberts had bought a ticket to the show and was there as a fan; shockingly this turned out to be not be the case, as Roberts got involved with both Caras and especially Konnan during the match. It all came to a head at the climax, as a scuffle between Roberts and Konnan distracted the latter, already down one fall, and allowed him to be counted out, giving Caras the win. Just like that Konnan's career was "over" (much to the dismay of many teary eyed Plaza de Toros) and Roberts was responsible, instantly making himself the biggest rudo in lucha libre. Just like that Pena had established a new top bad guy, written off his top star so Konnan could go pursue an acting career (like I said; Konnan was HUGE at the time) and AAA's next big feud was set up for when Konnan eventually returned four months later.
So you may be thinking that Konnan vs. Jake Roberts at Triplemania II was the plan at this point. Well you'd be correct. What you probably wouldn't guess is that Triplemania II would in fact be two shows. Yes AAA was doing the "big shows over multiple days" thing long before it was cool! In truth Pena had wanted to do this concept for the first Triplemania, doing two shows (Triplemania I-A and I-B) before building to a third show with the biggest match possible. The idea fell through the first year, but for Triplemania II Pena was able to implement it, with the plan being Konnan vs. Roberts, hair vs. hair at Triplemania II-C, while Triplemania II-A and B would be headlined by other featured programs as Konnan and Roberts battled in multi-man matches. And so would begin the short tradition of Triplemania being stretched out over multiple weeks and multiple shows. 
At least for this year though the strategy worked. While Triplemania II-A, B and C's combined attendance failed to match Triplemania I's record, the three shows still drew a combined 38,700 fans (in buildings far smaller than Plaza de Toros), with only Triplemania II-A, taking place in a venue in Aguascalientes that's either a Baseball Stadium or Plaza de Toros 'La Monumental', failing to draw well below what AAA expected. Much like the first Tripelmania the shows ranged from memorable to great. Triplemania II-A would feature the debut of Miguel Perez Jr. (who would go on that you to be the first luchador to work Triplemania and the CMLL Aniversario in the same year, a feat only accomplished by three other luchadores since), the continuation of the long running Dinamitas-Los Payasos feud (which would end at Triplemania II-C with the Dinamitas finally defeating the evil clowns) and a highly controversial hair vs. hair main event between Heavy Metal and Jerry Estrada that featured Estrada making an entrance with a live cougar. Oh and there's also the fact that Metal lost the match via, then Pena suddenly restarted the match, Metal than won the match and Estrada then refused to have his head shaved midway through having his head shaved! To this day the true story isn't entirely known. The most accepted version is that Metal, who was originally supposed to win, was caught doing something by Pena the night before the show, leading to the result being changed in Estrada's favor. Upon Metal's emotional reaction to the loss however, Pena then came out and on the fly reversed the decision, leading to Metal's win and Estrada's subsequent reaction. In the end both men got suspended for a bit and aren't you really glad you learned this story?!
Not to be overshadowed, Triplemania II-C was also pretty wild, featuring Blue Panther winning the Mexican National Middleweight Champion from Octagon after the latter was unable to compete following a legit car accident, and the conclusion of the Konnan-Roberts saga in a match where Konnan prevailed, shaving Roberts' head in one of the most heated matches you'll ever find. Somehow all of that paled in comparison to Triplemania II-B, a show that many, including Wrestling Observer Newsletter editor Dave Meltzer, consider to be the best Triplemania of all time (fun fact; Meltzer attended the show live). Among the highlights of this show were the Triplemania debut of future top star (and star of the Academy Award nominated film Roma) Latin Lover, Rey Misterio Jr. and Juventud Guerrera battling it out in undercard trios action, a strong main event between Konnan, former rival Caras and Aguayo taking on Roberts, Perez and Love Machine, a show stealing atomicos match that saw New Japan stars Jushin Thunder Liger and Tiger Mask (Koji Kanemoto edition) team with El Hijo del Santo and Octagon to take on Blue Panther, La Parka, Psicosis and some guy named Eddy Guerrero, and the now lost legendary mask vs. mask match between Mascara Sagrada and Black Cat. Even if none of the shows equaled the massiveness that was Triplemania I, Triplemania II was overall a booming success that, combined with AAA's conquering of the Los Angeles market and the critical acclaim of the legendary When Worlds Collide show later that year, helped make 1994 the promotion's peak year.
Naturally, Pena was already thinking of something bigger, centered around his top star and the hottest tag team in Mexico. As Konnan was having one of his biggest programs ever with Roberts, Love Machine Art Barr and Eddy Guerrero were taking off as Los Gringos Locos, a cocky, brilliant pro-USA tag team/stable (Black Cat, Perez and Roberts were also part of the group) that ultimately served as precursor to the Perros del Mal's/Los Ingobernables' of the world. By the time Barr and Guerrero lost their hair to El Hijo del Santo and Octagon in the legendary When Worlds Collide Apuesta, the group was so hot that Konnan had come aboard, shockingly turning rudo to join the stable and feud with old partner Aguayo (the decision was controversial on and offscreen, as supposedly Barr and Guerrero had objected to Konnan joining). The alliance wasn't to be long lived though as Pena had plotted out a course that would see Barr and Guerrero turn on Konnan, leading to a feud that would culminate in a hair vs. hair match between Barr and Konnan at Triplemania III. And this wasn't going to take place in just any old building; in fact, Pena dreamed of it taking place in Estadio Azteca, the home of the Mexican National Football team, the largest stadium in Mexico and a place capable of holding up to 130,000 plus. In short, Pena was looking to both top Triplemania I and prove his critics (most of whom believed it would be difficult to sell out Azteca) wrong by putting on the biggest event in the history of lucha libre.
Whether it would've been or not we'll never know as, tragically, the plans never came to pass. Just seventeen days after When Worlds Collide, the 28 year old Barr died at his home (no cause of death has ever been conclusively confirmed, though it's believed he died from a heart attack brought on by drug use). Less than a month after his death Mexico was hit with the Mexican Peso Crisis, which effectively devalued the peso to the point that AAA could no longer afford to use stars like Guerrero or Roberts on a regular basis (Guerrero would work only ten matches for AAA in 1995, while Roberts wouldn't work again for AAA until 1997). With Barr dead and Guerrero now unavailable, Los Gringos Locos ceased to be and Pena's dream of Triplemania III in Estadio Azteca would remain just that; a dream. While the idea of having a major lucha show in Estadio Azteca has been floated ever since, there has been no major effort to hold a lucha libre event since Pena's initial plan; it's also unknown how far along Pena got with that plan.
With his original plans no longer possible, Pena was forced to pivot with Triplemania III, which like Triplemania II would be split into three shows. While there are rumors that Triplemania III-A and B were originally scheduled for early April, only to be postponed till June, there's not enough evidence to suggest that AAA was that disorganized (yet) with their big shows. Regardless of whether they were or weren't, Triplemania III-A, B and C proved to be just as successful as its predecessors. III-A, taking place on June 10th in a sold out Plaza de Toros de la Concordia in Orizaba, Veracruz, was headlined by a the Mini-Estrellas division, a concept that Pena is credited with bringing to the forefront of lucha libre while he was still with CMLL. The thirteen luchador Apuesta cage match, which featured the legendary Mascarita Sagrada and Jerrito Estrada among others, proved to be a success and to date remains the only time the Mini-Estrellas have headlined a Triplemania in any capacity. 
Just a week later on June 18th, Triplemania III-B would follow in the footsteps of Triplemania II-B in delivering a show stopping event. The show, in front of 19,500 in Tonala, Jalisco produced another great Mini-Estrellas match (this time in Atomicos form), the impressive debut of Perro Aguayo Jr. in a "Olympic Style" match against Juventud Guerrera, a heated double title tag team match that saw Konnan and Perro Aguayo Sr. (friends again) taking on UWA World Heavyweight Champion Cien Caras and IWC Heavyweight Champion Mascara Ano 2000 and a Santo/Octagon/Misterio/Parka vs. Panther/Pentagon/Psicosis/Fuerza Guerrera match that almost matched the insanity of Triplemania II-B's show stealing classic. Oh and there was also the main event, a program that carried the Triplemania III shows despite featuring the most unlikely of participants.
To say that future WCW luchador Super Calo and Winners were no names would be highly inaccurate; both were widely respected young luchadores by 1995 and had in fact been part of what some thought was the best AAA match in history in 1993, when they teamed with Rey Misterio Jr. in a crazy match against Heavy Metal, Psicosis and Picudo. Even still their feud with Angel Mortal (father of current AAA luchador La Parka Negra) and the wonderfully named Marabunta, while heated, wasn't exactly something one would say was on the same level as say Cien Caras vs. Konnan, Perro Agayo vs. MA2K, Konnan vs. Roberts or even Sagrada vs. Black Cat. And yet Pena went with it anyway as the cornerstone of Triplemania III, and did so by adding a twist; instead of just doing a regular mask vs. mask tag match, Pena created a tournament. It would begin at Triplemania III-A in a Revelos Increibles (technicos team with rudos) match that would pit Calo and Mortal against Winners and Marabunta; the winning team would move on to a mask vs. mask match at Triplemania III-B while the losers would face off immediately in a mask vs. mask match. Winners and Marabunta would prevail at III-A, followed by Calo immediately beating Mortal in a short match to unmask him. A week later Winners would defeat Marabunta in a bloody, epic match to unmask Marabunta and set up a scenario no one saw coming; Super Calo and Winners, best friends and tag team partners, going one on one with their masks on the line at Triplemania III-C on June 30th in Madero. 
As with every other Triplemania to this point, the show once again delivered critically and commercially, as 16,300 came to see Calo and Winners square off in another outstanding match, complete with several jaw dropping dives and high drama. In the end Super Calo emerged victorious (easily the biggest win of his career), and despite the nature of the match retained his friendship and partnership with Winners, who didn't mind being unmasked all that much. And why would you when you looked liked a cross between Chris Pine and that guy who hits on Dawn from Buffy the Vampire Slayer in Eurotrip? Ultimately the loss proved to be a turning point for the better in Winners' case, as a year later Pena would repackage the young luchador into a gimmick that would ultimately make him one of the most famous performers in AAA history. 
AAA remained strong for the rest of 1995 and Pena began to plot his next move for Triplemania. And for the first time, at least in the history of the big show, Pena would make a huge mistake. As AAA had been on a roll during the 1992-1995 period, the company proved it could run successful shows not only in Mexico but also in the US; in particular their shows in Los Angeles had proven to be huge draws. As such Pena decided it was time to have a Triplemania in the United States. The problem; he decided to hold it in Chicago, Illinois. The idea wasn't completely without merit, as AAA had run two shows previously in Chicago (including one show in the Rosemont Horizon) that had drawn decently. But compared to LA, where AAA's hold on the market was far stronger (even in 1996, a few years after their peak), the decision to hold Triplemania IV-A in the midwest was strange. To make matters worse, AAA's penchant for disorganization (a problem that has dogged the promotion since its formation) reared its ugly head in a big way for this show. For starters, the advertising for the show was nonexistent, brought on by poor local promotion by AAA's associates in Chicago. Then there was the false advertising of stars. In the lead up to the show AAA had advertised appearances by Rey Misterio Jr., Psicosis and Eddy Guerrero; the problem is none of the three ever planned on attending, as Misterio was getting married the night before the show, Psicosis was part of said wedding party as Misterio's best man and Guerrero…well he was flat out never contacted. Despite this AAA continued advertising the three anyway, knowing they would be unavailable. Throw in more no shows by other talent and AAA was forced to heavily rewrite the show the day of; the 20 luchadores used on the show represents the lowest number of luchadores to appear on Triplemania.
It will thus shock you to learn that Triplemania IV-A, held on May 11, 1996, was by all accounts a disaster the likes of which prequel era George Lucas couldn't imagine. Only 2,676 fans showed up to the 9,000 plus seat International Amphitheater, where they witnessed a below average four match show headlined by Konnan and Perro Aguayo defeating Pierroth Jr. and Cien Caras in a Lumberjack match; once a hot feud, the Konnan-Caras program was too long in the tooth for Mexican fans, let alone fans in Chicago. AAA retreated back to Mexico for Triplemania IV-B and IV-C but the damage had been done; aside from a strong Rey Misterio-Juventud Guerrera "winner gets the loser's car" match on IV-C, the fourth Triplemania proved to be a low moment for both AAA and it's major show. On the plus side, all footage of Triplemania IV-A is thought to be lost, so we can effectively pretend (much like AAA has) that the show doesn't exist.
Somehow the rest of 1996 wasn't much better. Pena had begun to alienate most of his roster, especially when he began playing hardball with trademarks for gimmicks he had come up with; as a result stars like La Parka and Mascara Sagrada would depart the promotion, leading to Pena recasting the roles and starting long running disputes between the sides (the same scenario would eventually repeat itself with stars like Psicosis, Mosco de la Merced and Histeria). A falling out between Pena and Konnan, his top star and right hand man, led to the latter leaving AAA and forming his own promotion, Promo Azteca; in an eerie repeat of 1992, Konnan would take a bulk of Pena's roster with him, largely thanks to Konnan's relationship with WCW (who had signed Konnan in early 96); in effect, Promo Azteca replaced AAA as the place to go promotion for luchadores wanting to break through into the US. By the end of 1996 AAA, while not down for the count, had gone from the darling of lucha libre to arguably the third promotion in Mexico, behind Promo Azteca (bolstered by a TV Azteca deal) and CMLL, rejuvenated by El Hijo del Santo's return, rudo turn and feud with long time rival Negro Casas. As such it made to Pena making a decision that can best be summed up by this gif of the Grail Knight.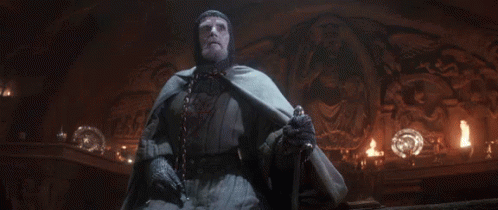 You may remember that AAA and WWE (then WWF) actually worked together, most notably at the 1997 Royal Rumble in San Antonio where there were three dark matches featuring luchadores (Blue Demon Jr., Octagon, Tineablas Jr.,Heavy Metal and Mascarita Sagrada were among the talented involved) and Royal Rumble appearances by Cibernetico, Pierroth Jr., Latin Lover and Mil Mascaras (who hysterically eliminated himself because that's Mil Mascaras for you). The plan not only called for WWE to use AAA talent on their TV (hoping to replicate what WCW had done using luchadores in their Cruiserweight Division) but for AAA to gain access to WWE talent for big events like Triplemania and no I can't keep a straight face either. Shocker of all shockers this beautiful friendship didn't last; WWE, who were as clueless regarding lucha libre in 1997 as they are today, put absolutely no thought into booking any of the lucha talent available (and didn't seem to care when they were in the ring) and AAA ultimately never got any WWE talent to come in and work shows for them. By the time Triplemania V rolled around in the spring, the partnership between the two had fizzled out like three day old Sunkist.
So what is there to make of Triplemania V-A and B? Honestly; not a whole lot. While AAA had wisely learned to just stay in Mexico this time around, it couldn't have been more apparent that the promotion had cooled. Taking place on June 13th, 1997 in the Tijuana Plaza de Toros, Triplemania V-A drew only 6,000 fans to watch retread matches like Rey Misterio vs. Juventud Guerrera (remember when that happened a year ago?) and a Jake Roberts return that had nowhere near the buzz of his 93-94 run. Not only was AAA caked in ice but it was clear that Pena had lost his mojo as well, relying on feuds and stars long past their sell by date. Triplemania V-B, taking place only five days in later in Naucalpan's El Toreo, wasn't that much better, featuring no notable matches outside of a mask vs. mask trios cage match between Los Payasos (a formerly popular trio a few years earlier that had also cooled off) and a team of Mascara Sagrada Jr. (a replacement for the original Sagrada), La Calcana and Super Muneco. In many ways Triplemania V was a transition period for both AAA and the Triplemania brand, and while it was nowhere near the disaster that Triplemania IV-A was, the event was so…ordinary that it has largely been forgotten. Today it is most notable for being, until 2019, the last Triplemania to be presented in multiple parts. 
So that's the first five years of Triplemania, a period that saw the highest of highs, bad luck, an excruciating low and by the end a period of transition out of the golden age and into a new place, one that would involve new stars, more memorable moments (good and bad) and eventually Triplemania without its creator. But that is for next time.
Please change disks to continue…
© 2020 Lucha Central 
Folks! We invite you to also follow us through our official social media accounts: