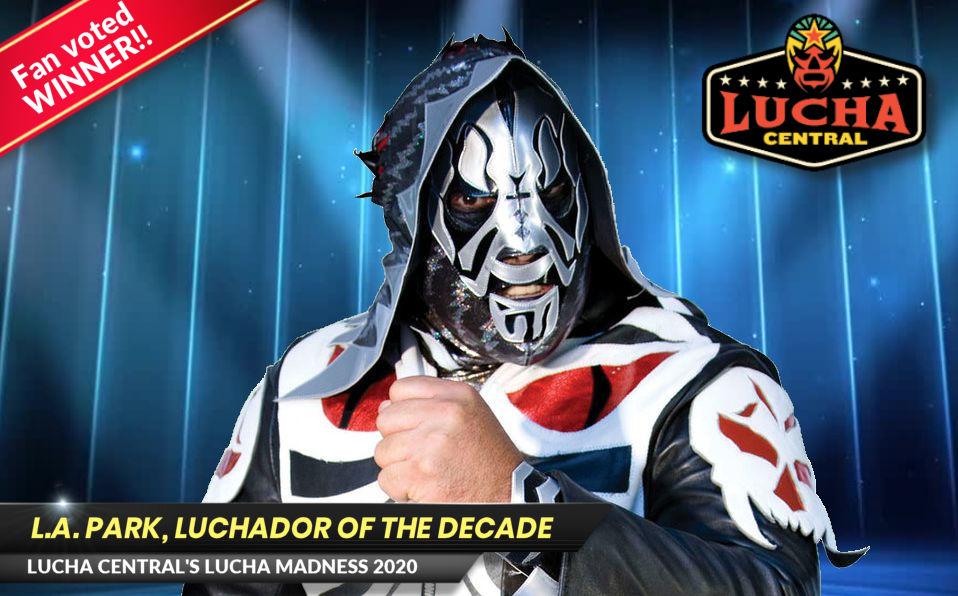 It should be pretty apparent given the photo used for this article so we'll just cut to the chase; ladies, gentlemen, lucha fanatics of all kinds, your 2020 Lucha Madness Champion and Luchador of the Decade, as voted by you the fans, is none other than L.A. Park! A celebratory gif in the Chairman's honor!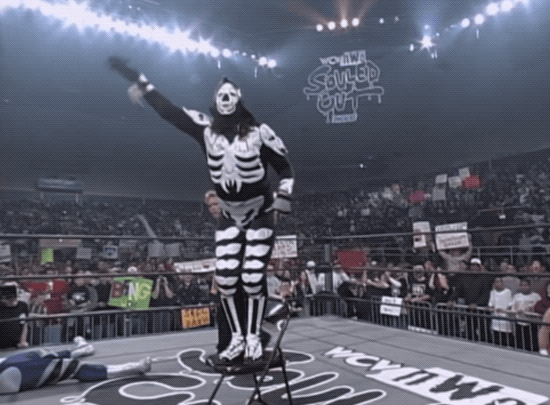 The number one seed out of the Black Shadow Region, Park becomes the first number one seed to win Lucha Madness (last year's Lucha Madness Champion, Andrade, was a third seed). He was one the big favorites going into the tournament and in hindsight it's easy to see why as Park dominated almost every match up. Park's first three match ups, against Trauma II, Titan and Mistico, were all routs, with Park even defeating Titan with 100% of the vote, a Lucha Madness first. The only challenge came in the form of Pentagon Jr., who took Park to the limit in one of the closest match ups of the tournament, before Park slid by him by a 51% to 49% margin. In the Final Four Park easily defeated long time rival Dr. Wagner Jr. with 90% of the vote, moving on to face Bandido in the Finals. The Ring of Honor star and seventh seed out of the Blue Demon Region had been the surprise of the tournament, defeating the likes Atlantis, Dragon Lee and Rey Mysterio along the way. But even he was no match for Park, who jumped out early and never relinquished control, winning with 69% of the vote. Oddly enough it was the second lowest margin of victory for Park in this tournament, a sign of just how much fan support he received.
It goes without saying that every luchador in this field had an argument for being named Luchador of the Decade and Park was no exception, astonishing considered that most casual fans would suggest his career peaked 25 years ago with his Lucha Libre AAA and WCW runs. Park began this decade strong by returning to Lucha Libre AAA for the first time since the 90's, where he kicked things off by having a memorable feud with the second La Parka that culminated in the now famous Triplemania XVIII main event. Subsequent feuds and matches with El Mesias and old rival Wagner also proved to be strong before Park departed Lucha Libre AAA in 2013. It appeared at that point that Park had settled into the role of "highly sought after lucha legend on the indies", making only brief appearances for Lucha Libre AAA and CMLL in between and while growing a highly touted feud with CMLL star Rush. That all changed in 2018 when Park, along with the Lucha Brothers (Pentagon Jr. and Rey Fenix), became the first luchadores in decades to be main event stars for both Lucha Libre AAA and CMLL at the same time, headlining or semi-headlining Triplemania XXVI and CMLL's 85th Aniversario respectively. Of the three, only Fenix, who won the Lucha Libre AAA Mega Championship while still wrestling on CMLL TV, arguably came close to besting Park. And even then it was a stretch, as Park's CMLL run of classic trios and singles matches against Rush and his Los Ingobernables faction coupled with a great performance in the Triplemania main event (where he unmasked current WWE star El Hijo del Fantasma) was so strong that many considered him to be the best wrestler in the world. Even after politics ultimately kept each run from being greater than they already were, Park closed the decade well thanks to a hot run in the United States promotion Major League Wrestling, where he headlined their first ever PPV in 2019 in a classic brawl with MLW Champion Jacob Fatu.
Lucha Central congratulates L.A. Park and his fans on winning both the Lucha Madness tournament and Luchador of the Decade honors! With that, Lucha Madness will now go into hibernation but it shall return next year. Will Park be able to defend his title? We'll all find out next March when the madness is embraced once again and we look for the next Lucha Madness Champion.
By Eric Mutter © 2020 Lucha Central
RELATED NOTE: Match of the Day: Konnan Vs. La Parka (1998)