After almost 5 years of working relationship, CMLL ended its talent exchange alliance with Ring of Honor. communicated through a brief press release. La Seria y Estable made the announcement official through a brief press release.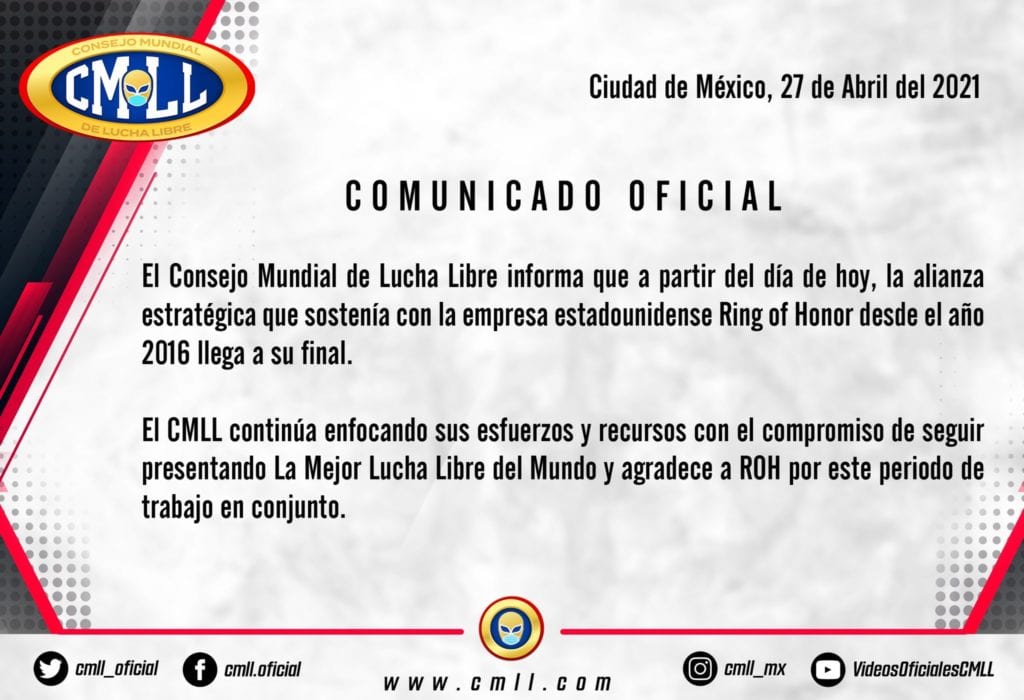 "CMLL reports that as of today, the strategic alliance that it had with the American company Ring of Honor since 2016 comes to an end.
CMLL continues to focus its efforts and resources with the commitment to continue presenting The Best Lucha Libre in the World and thanks ROH for this period of joint work". 
In mid-2016 CMLL announced that it would start working with Ring of Honor through a talent exchange alliance, for which luchadores such as Stuka Jr., Dragon Lee, Ultimo Guerrero, Okumura, Rush, Atlantis, among others, could debut at the events by Ring of Honor.
The Briscoe Brothers, Matt Taven and Flip Gordon arrived at the Arena Mexico representing Ring of Honor and participated in some of the most important CMLL shows such as the Anniversary Show and the Grand Prix International Tournament.
In February of this year CMLL renewed its alliance with New Japan Pro Wrestling, this being its only alliance with an international company.
Folks! We invite you to also follow us through our official social media accounts:
© 2021 Lucha Central 
RELATED NOTE: CMLL Arena Mexico 65th Anniversary Show Results (04/24/2021)
CMLL Arena Mexico 65th Anniversary Show Results (04/24/2021)