EDITOR'S NOTE: The views expressed in this article are those of the author and do not necessarily represent those of Lucha Central and Masked Republic.
On Thursday afternoon, in between some shitposting that made him the talk of the internet, AEW's Tony Soprano, Tony Khan, managed to unveil his most shocking tweet of the day when he announced that Rocky Romero would be facing top CMLL star Mistico on next week's episode of AEW Rampage. It was so surprising that when a friend initially told me, I thought he was trying to pull a fast one on me. But it was real, and before long I was like everyone else, pondering whether this meant AEW and CMLL were beginning a working relationship, and if AEW was about to kick Lucha Libre AAA's ass to the curb. But it wasn't long before another thought entered my mind; holy shit, Mistico is about to wrestle on American TV once again.
Now I could be wrong, but I'm not sure many grasped just how significant that. Don't get me wrong, there were plenty who thought this moment was huge, but it was mostly due to the fact that it involved CMLL and AEW working together, and whether this was the beginning of a working relationship or a one-off, not the match itself. That loses sight, however, of just how big it is that Mistico happens to be the guy in his spot. It does make some sort of sense when you think about it, given that Mistico is the most notable name from CMLL to have wrestled in a major US promotion. But that's also what makes this so huge because it was that previous run that, for all intents in purposes, nearly destroyed a Hall of Fame career.
You're reading this article on Lucha Central right now, so many of you know the story of how Luis Uribe, the son of Dr. Karonte and nephew of lucha legend Tony Salazar received the Mistico gimmick, the kayfabe protege of lucha libre priest, and inspiration for the misguided film Nacho Libre, Fray Tormenta, as a 22 year old in 2004. You also know how he almost immediately became the biggest star in lucha libre since Konnan and Vampiro in the 1990s, setting Arena Mexico attendance records, having legendary battles with Hijo del Perro Aguayo, Black Warrior, Negro Casas, and Volador Jr. all while influencing a generation of luchadores with an innovative high flying style. In a profession where lucha libre is constantly overshadowed by the American, Japanese, and sometimes even British scene, Mistico became the one who broke the mold, being named the biggest draw in wrestling for the 2000-2009 decade, and to date becoming the only luchador to ever win the Wrestling Observer Newsletter's Wrestler of the Year award. This man wasn't just having a Hall of Fame career; he was having one of the greatest careers in the history of lucha libre.
And then it all changed in 2011 when after years of courtship, WWE finally signed Mistico and brought him to the US, under the name Sin Cara. Three years later, the all-time great legacy Mistico had built was gone, replaced instead by a highlight reel of botches, social media mockery, and accusations that Mistico had refused to learn English or adapt his style for the American audience. Of course, the fact that Mistico received the bulk of the blame for his failings was as ridiculous as WWE's decision to try and force him to be something he wasn't, made even more ridiculous because WWE only signed him because of how unique and special he was. But back then, the spotlight on WWE's misuse of luchadors wasn't as prevalent as it is now. nor were fans as exposed or educated to lucha as they are now. As such, the only thing that mattered to US fans was that Mistico, to many, failed, and he failed as spectacularly as one possibly could in a major position.
It would've been a fall from grace for anyone, but given that Mistico was a performer who was, for the closest followers of wrestling, someone who was at the very top, it was as if he plummeted off the mountain at 100 miles per hour, like he was Hans Gruber at the end of Die Hard. That reality was reflected in Mistico's subsequent performances too, particularly a one-year run in Lucha Libre AAA under the name Myzteziz from 2014 to fall 2015 that was, at best, uninspired, and worst, lifeless. By the time he jumped back to CMLL through the promotion's relationship with Lucha Libre Elite, this time as Caristico, a combination of his famous and infamous personas, it was almost like looking at the skeleton of Mistico, the mystique and magic stripped away, likely forever.
Really, for all intents and purposes, it should've been. After all, how many actually are able to scale the mountain once again after falling from the bottom? As it turned out though, as Mistico continued to appear in CMLL, and eventually was fully reintegrated into the promotion after Lucha Libre Elite went the way of Game of Thrones: The Final Season, it became apparent that, as a performer, Mistico still had something. Sure, the star power had been neutered by the WWE run, younger luchadors had surpassed Mistico's high-flying skill, and Mistico's increasing need to pose for the fans long after the show bordered on bizarre and unintentionally hilarious. But slowly and surely, Mistico proved there was still some gas in the tank; he returned to the top of the CMLL card, he returned to Japan via FantasticaMania, he interacted with the second Mistico (something that may have helped, given most people's negative reactions to his successor), and even returned to the US on occasion for Ring of Honor. At worst, even if Mistico hadn't salvaged his Hall of Fame status, he had at least returned to respectability and legendary status in Mexico…until it all changed again when the second Mistico left CMLL, changed his name to Dralistico, and allowed the original to get his old name back.
Many think the most important aspect of lucha libre is the mask, and in fairness, it probably is. But goodness gracious me does there seem to be just as much power in one's name, as the legal battles Lucha Libre AAA and CMLL have had with the likes of L.A. Park, Octagon, Mascara Sagrada, and so on have proven. When Mistico dropped Caristico in favor of his classic persona in August 2021, it was as though he went an overnight course correction; the old baggage was gone, and all was right in the world again. It was, for both Mistico and CMLL. After years of stagnancy for both, Mistico's return to the old ways coincided with CMLL finding its own way; two years later, "the serious and the stable" is the hottest it's been in some time. And while there are many reasons as to why, at the forefront is none other than Mistico. In many ways, it's like 2006 Mistico all over again, as he wrestles in front of packed Arena Mexico audiences, delirious for him once more as he's delivered top-tier matches with the likes of Titan and Virus, even if he has adapted his high flying act to a more hybrid, crowd-pleasing style. It's a big reason why Mistico would ultimately secure that Wrestling Observer Hall of Fame induction last year, and a big reason some believe that Mistico is worthy of being in the conversation for Wrestler of the Year this year, nearly 20 years after he won it.
Think about all that now as you consider the upcoming match with Romero. This is a man who had it all, lost it all, and against all odds, somehow got it all back. And will now have a chance to right the biggest wrong of his career by putting on a show in front of a US wrestling audience. Not only that, he will get to do it his way; whatever one wants to say about AEW, come Rampage, they will not tell Mistico to "work for the American audience" like WWE did 13 years ago. Even in his early 40s, you will get the authentic Mistico experience, the way it should've been if stubbornness and arrogance hadn't gotten in the way instead. This story isn't just remarkable; it's the stuff of legend, the kind of thing that secures Mistico in that realm of the El Santo's, the Blue Demon's, the El Solitario's, and the numerous icons of lucha libre lore.
And look, I understand why Mistico's story has gotten lost in the shuffle so far. The idea that AEW and CMLL, arguably the two best promotions at putting on big shows right now, working together long-term is positively mouth-watering, especially if it leads to the long-awaited Danielson–Blue Panther match both men and many fans, want. But as Mistico vs. Rocky Romero gets closer and closer to reality, don't lose sight of how extraordinary it is that Mistico finds himself here once again. For all intents and purposes, he was finished; a punchline, a washout, an internet meme. Not anymore. As they say in The Replacements, every man dreams. Mistico is living it.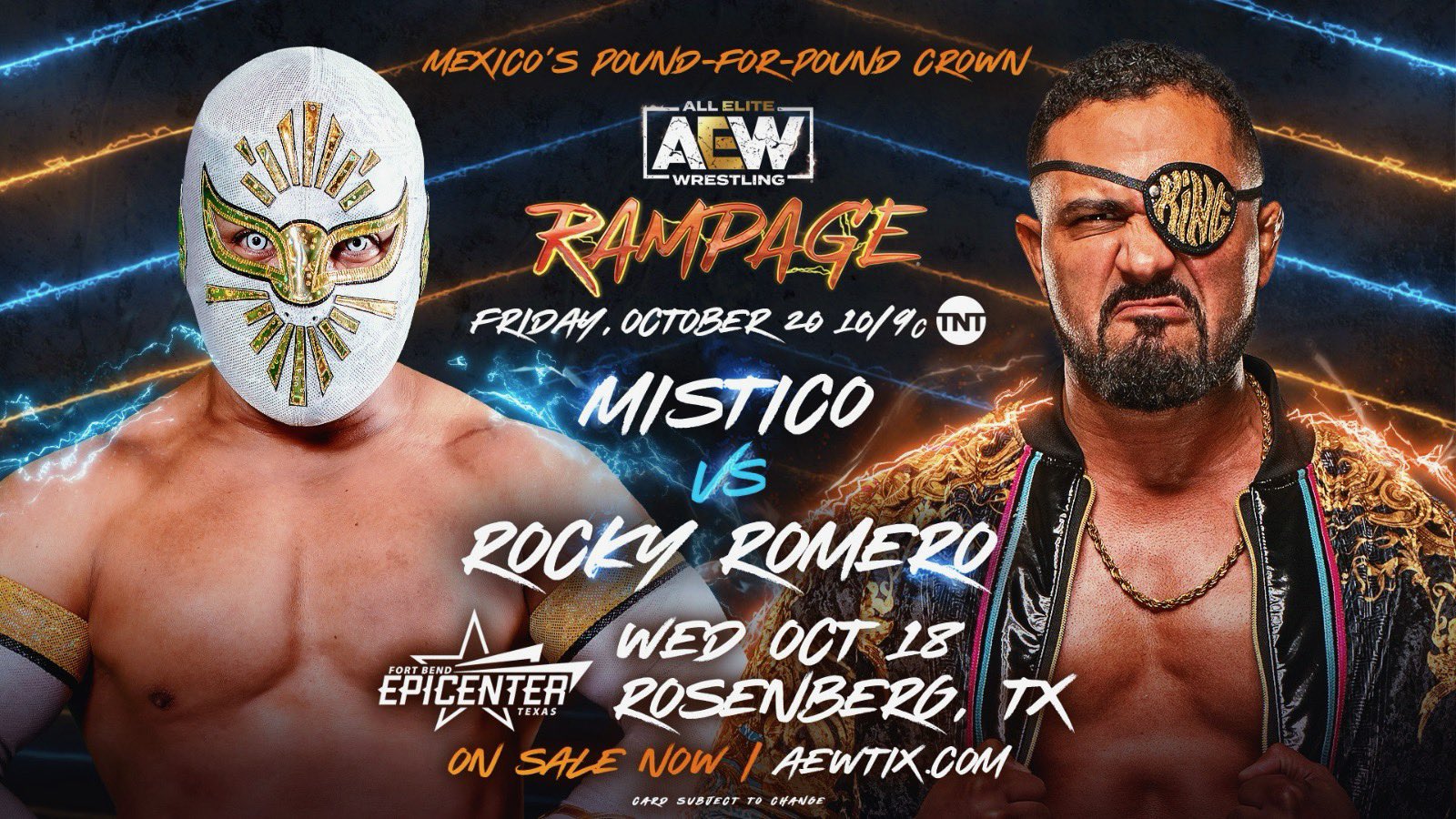 Please change disks to continue…
Folks! We invite you to also follow us through our official social media accounts: 
© 2023 Lucha Central