June 9, 2022 – Philadelphia, PA
Masked Republic's Expo Lucha® arrives at the 2300 Arena (formerly the ECW Arena) in Philadelphia this Saturday night. The event, which is taking place at the very same arena where Rey Mysterio and Psychosis altered the course of wrestling history when their lucha libre style blew the minds of ECW fans, is both an homage to the great luchadores of the 1990s and early 2000s and a showcase of the long lasting influence that era.
The stacked card was originally only to be available to see in person at the arena, but now, due to worldwide fan requests, Masked Republic has teamed with FITE to stream the show live worldwide for only $14.95.  English commentary for the event will be provided by the current voices of Lucha Libre AAA PPVs on FITE, Joe Dombrowski and Larry Dallas.
In the main event, two of the top luchadores on the planet today, Laredo Kid and and Dragon Lee go mano-a-mano.  If their previous encounters in tag matches in Lucha Libre AAA are any indication, this one could main event in any promotion on the planet.
The face of the later years of lucha libre in ECW and former WWE "Mexicool", The Insane Luchador, Super Crazy, will go one-on-one with the greatest Japanese luchador of all time, Ultimo Dragon. The former J-Crown holder and holder of dozens of championships around the globe also opened the Toryumon GYM and promotion which fused lucha libre with Japanese pro wrestling and ushered in a new era of hybrid pro wrestlers and inspired a generation who is now inspiring one of their own.
Perhaps the ECW-launched lucha revolution of the 90s would not have happened without Psychosis being the ultimate opponent for Rey Mysterio. For Under The Influence, Psychosis was asked to pick a modern day luchador he thought best embodied the spirit he and Rey brought to the 2300 Arena and he has selected Lucha Libre AAA's Drago Kid (a.k.a. Astrolux) with whom he will team to take on ECW & WCW lucha star Damain 666 and his partner Demus (who at one point was considered Damian's rather large mini counterpart and is now Astrolux's most bitter rival).
The Pro Wrestling Revolution Jr. Heavyweight Title is on the line as 2nd generation superstar and former CMLL standout Super Astro Jr. defends in a 4 Way War against Gringo Loco, Aeroboy and ASF.
A mixed tag 3 Way Dance will see Lady Maravilla & Sam Adonis vs. Keyra & Mr. Iguana vs. Reina Dorada & Papadon.
Lucha libre arriving in the ECW Arena would change the face of independent wrestling in the United States as well as wrestlers started to want to emulate and train in the lucha libre style. California and the Philadelphia Tri State Area were the most prolific and the east coast based Chikara promotion brought in trainers from Mexico to provide a proper education. A young rookie named Lince Dorado would be part of Masked Republic's 2007 Viva La Lucha television pilot and in 2016, he would sign to WWE where he was featured on both RAW and Smackdown for five years before asking to be released from his contract.  Now, wrestling by his own rules, Dorado has been showing off the ECW inspired spirit he's always had- which is good, because this Saturday night he'll be up against two extremely tough opponents in Black Taurus and Arez.  And, Lince has chosen his former Chikara rostermate, Frightmare, as his partner for this war.
The PPV event will kick off with a traditional trios match off lucha infused talents as three modern day Chikara stars Ultimo Ant (formerly Green Ant) and The Air Show (RAZERWYNG & MACH.10) take on Azriael, Smiley & Decimus.
*card subject to change*
For more details on Expo Lucha including links to purchase tickets to the convention on Saturday and Sunday or the evening live shows, visit ExpoLucha.com. (Non-convention, event only tickets can also be purchased at 2300Arena.com/events).
To order the PPV on FITE, download the FITE app on your phone, tablet or smart TV or visit FITE.tv's Under The Influence of Lucha Libre event page.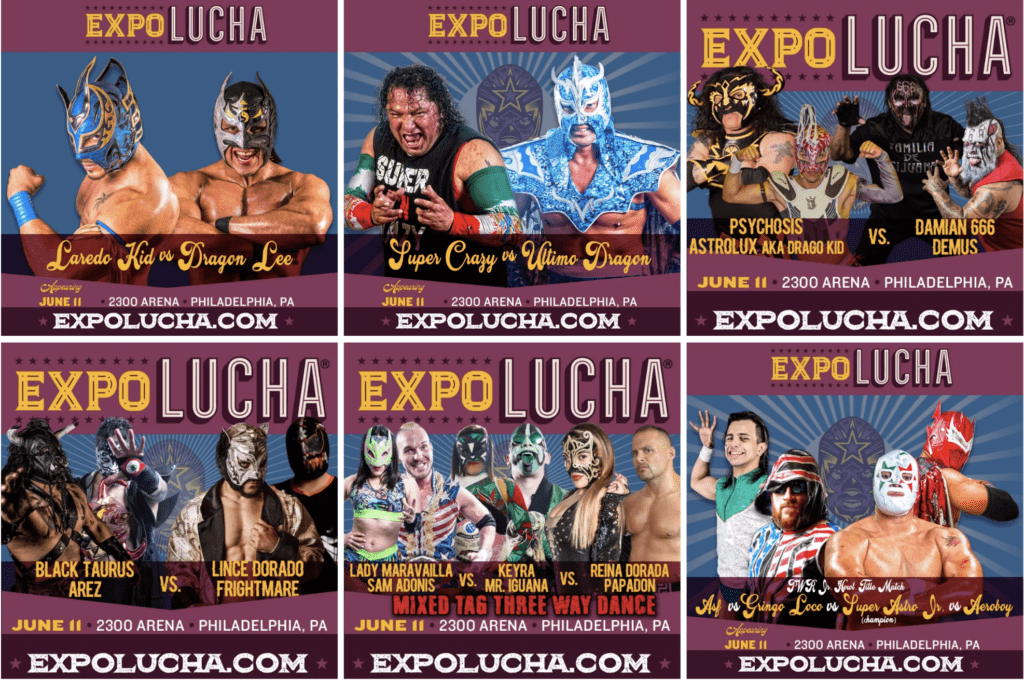 PHOTO: Expo Lucha / Masked Republic
Folks! We invite you to also follow us through our official social media accounts:
© 2022 Lucha Central
RELATED NOTE: Expo Lucha Philadelphia – Less Than Two Week Away! New Talent & Matches Announced
Expo Lucha Philadelphia – Less Than Two Week Away! New Talent & Matches Announced