IWRG held La Jaula de las Locas at Arena Naucalpan in Naucalpan, Estado de Mexico, in which Main Event, Jessy Ventura won the Zorayita's hair in a Steel Cage Match. Diosa Atenea, Sussy Love, Diva Salvaje, Diosa Quetzal, Mary Caporal, Estrella Divina, Bengalee and Zoy Raymunda also participated.
IWRG paid tribute to the memory of Pasion Kristal.
Guerrero Maya Jr., Hijo del Fishman & Mascara Sagrada Jr. defeated Fresero Jr., Demonio Infernal & Fulgor in a 6-Man Tag Team Match. Guerrero Maya Jr. had not appeared at the Arena Naucalpan since 2009.
Blackgoncito, Fly Warrior & Toxin defeated Freelance, Mexica & Mini Rey Misterio in a 6-Man Tag Team Match.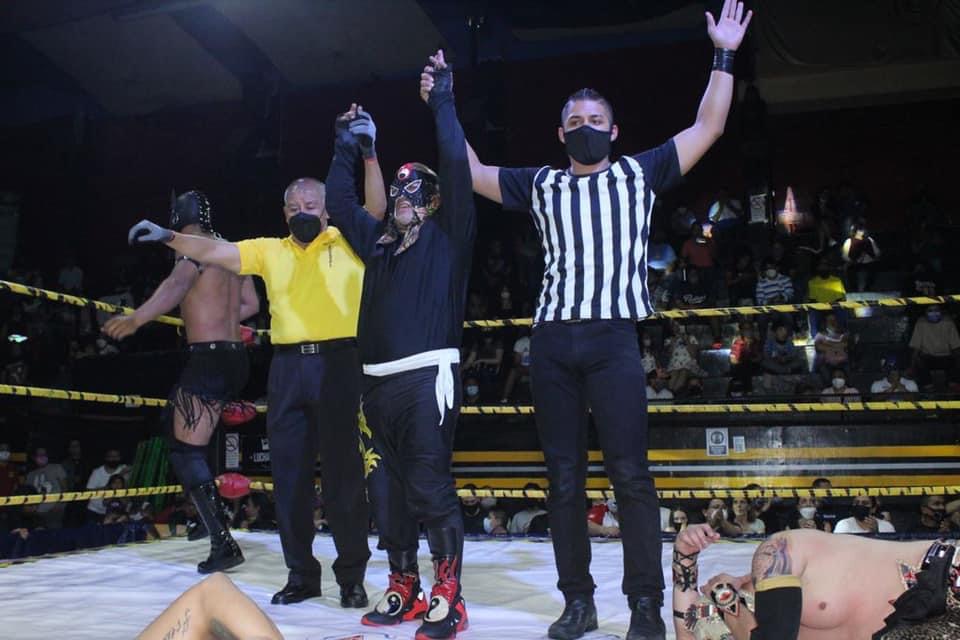 PHOTO: IWRG 
Results: 
– Main Event Match: Jessy Ventura defeated Zorayita (Steel Cage Match)
Escape order: 
Mary Caporal
Bengalee
Sussy Love
Diosa Atenea 
Diosa Quetzal 
Zoy Raymunda
Diva Salvaje 
Estrella Divina
Jessy Ventura 
– Fifth Match: Guerrero Maya Jr., Hijo del Fishman & Mascara Sagrada Jr. defeated Fresero Jr., Demonio Infernal & Fulgor (6-Man Tag Team Match)
– Fourth Match: Blackgoncito, Fly Warrior & Toxin defeated Freelance, Mexica & Mini Rey Misterio (6-Man Tag Team Match)
– Third Match: Black Terry & Karaoui defeated Avisman & Eragon (Tag Team Match)
– Second Match:  Aster Boy, Legendario, Puma de Oro defeated Dick Angelo 3G, Rey Halcon & Tonalli (6-Man Tag Team Match)
– First Match: El Bendito defeated Hellboy (Single Match)
Folks! We invite you to also follow us through our official social media accounts:
© 2021 Lucha Central
RELATED NOTE: IWRG Thursday Night Show at Arena Naucalpan Results (06/03/2021) 
IWRG Thursday Night Show at Arena Naucalpan Results (06/03/2021)