The Mexican promotion DTU announced a collaboration alliance with the Mexican-American promotion Guerreros Azteca Wrestling (GAW), which will begin on June 17 with the DTU A Cielo Abierto a closed-door show.
This announcement was made on DTU's official Facebook fan page through a press release, in which DTU points that its main interest is to bring quality lucha to all corners of the world.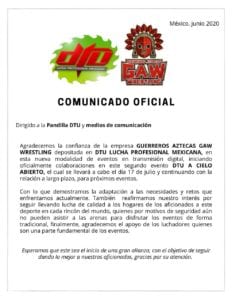 GAW arrived to Mexico in June 2019, to later join the association Promotores Asociados de Lucha Libre (PALL).
© 2020 Lucha Central.
RELATED NOTE: DTU Rancho de Mexico Results (06/12/2020)