CMLL held its special Dia del Padre Live Show at the Arena Mexico in Mexico City, in whose Main Event, NGD retained the CMLL World Trios Championship after beating and the CMLL World Tag Team Champions Caristico & Mistico and NWA World Historic Welter Champion Volador Jr. in a Title Match. Sanson got the first successful title defense of the NGD after applying an effective torture rack powerbomb over Mistico.
PHOTO: CMLL / Alexis Salazar 
Hechicero, Gemelo Diablo I & Gemelo Diablo II defeated Los Cancerberos del Infierno by disqualification in a 6-Man Tag Team Match. El Pequeño Maestro stripped El Alquimista del Ring of his mask, causing the rudo team to be disqualified.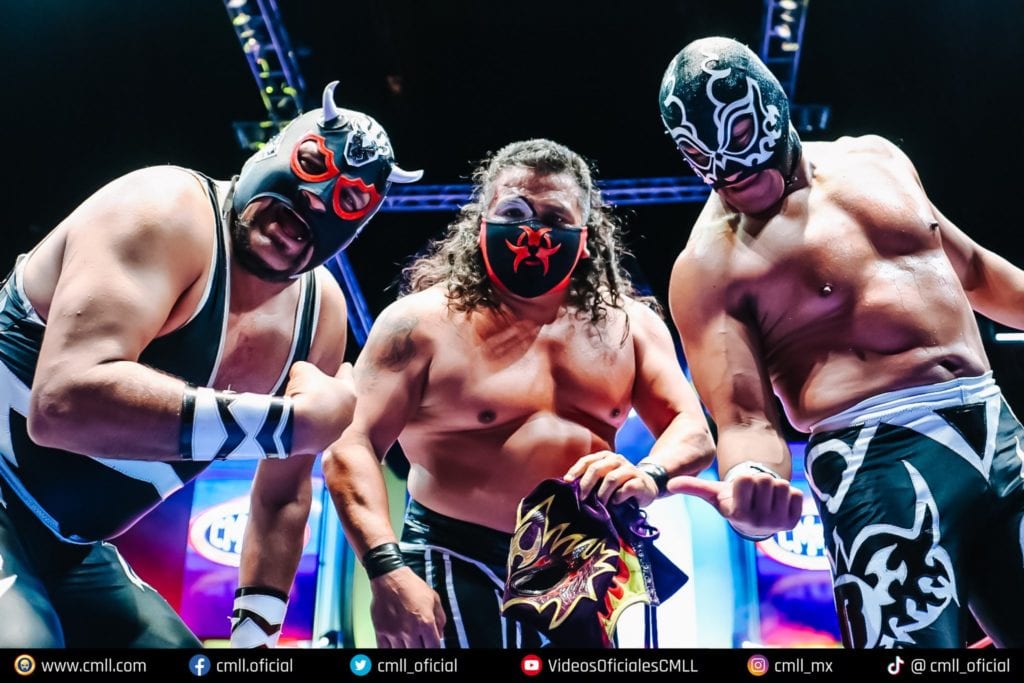 PHOTO: CMLL / Alexis Salazar 
The Legends of Lucha Libre superstar Felino Jr. & Luciferno defeated Flyer & El Audaz by pinfall in a Tag Team Match. In a backstage interview, Felino Jr. challenged Flyer to a Title Match for the Mexican National Tag Team Championship.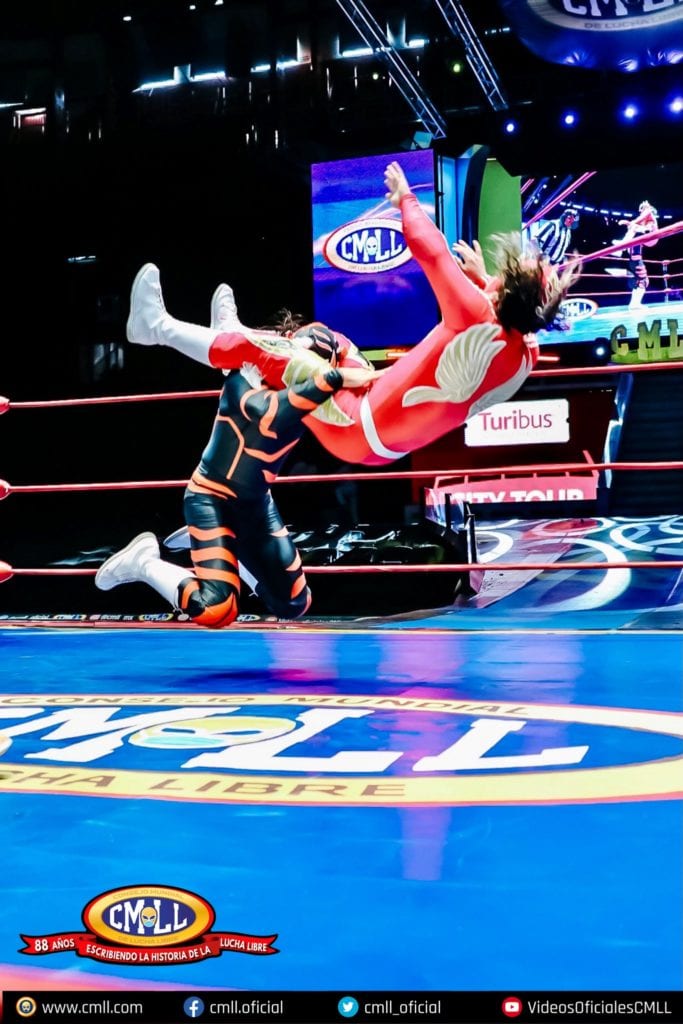 PHOTO: CMLL / Alexis Salazar 
Results: 
– Main Event Match: NGD (Sanson, Cuatrero & Forastero) defeated Caristico, Mistico & Volador Jr. (CMLL World Trios Championship Match)
– Fourth Match: Hechicero, Gemelo Diablo I & Gemelo Diablo II defeated Los Cancerberos del Infierno (Virus, Raziel & Cancerbero) by disqualification (6-Man Tag Team Match)
– Third Match: Legends of Lucha Libre's Felino Jr. & Luciferno defeated Flyer & El Audaz (Tag Team Match)
– Second Match: Marcela & Mystique defeated Amapola & La Infernal (Tag Team Match)
– First Match: Universo 2000 Jr. & El Sagrado defeated Peggaso & Stigma (Tag Team Match)
Folks! We invite you to also follow us through our official social media accounts:
© 2021 Lucha Central 
RELATED NOTE: CMLL Spectacular Friday Live Show at the Arena Mexico Results (06/18/2021) 
CMLL Spectacular Friday Live Show at the Arena Mexico Results (06/18/2021)