This coming Friday, November 27, CMLL will hold the 12th edition of La Leyenda Azul tournament in which 16 luchadores will participate. In the last broadcast of the CMLL Informa newscast, the participation of Diamante Azul, Sanson, Blue Panther Jr., Forastero, Angel de Oro, Niebla Roja, Guerrero Maya Jr., Vangellys, Ephesto, Cuatrero, Cancerbero, El Valiente, Kraneo, Stuka Jr., Rey Bucanero and El Terrible was confirmed.
Rey Bucanero (2006) and Diamante Azul (2012) are the only participants who have previously won the tournament, seeking their second conquest this year. This tournament returns to action after three years of absence, in the last edition held in 2017, Rush was proclaimed the winner after beating Euforia.
The Spectacular Friday Show returns to the iPPV through the Ticketmaster Live system, in whose main Event Ultimo Guerrero will defend the CMLL World Heavyweight Championship against Euforia in a Title Match.
In the Special Match, Blue Panther & Black Panther will face El Felino & Tiger in Dynasties Match.
The actions will begin with a Champion Vs. Champion Match between the CMLL World Women's Champion Princesa Sugehit and the Mexican National Women's Champion Reina Isis.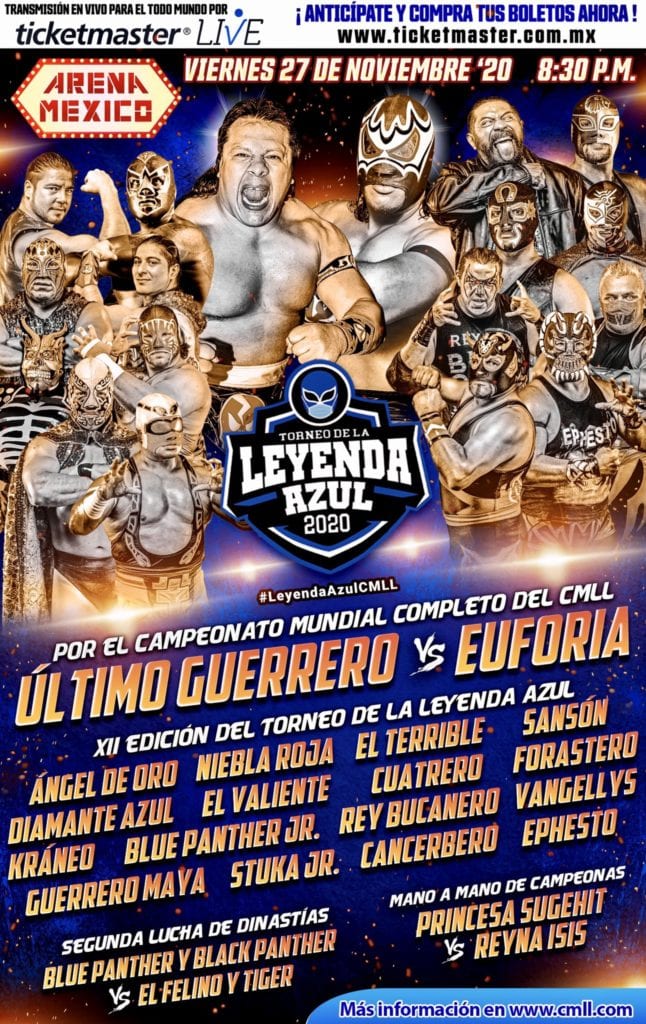 © 2020 Lucha Central
Folks! We invite you to also follow us through our official social media accounts:
RELATED NOTE:CMLL Dia de Muertos Show at Arena Mexico Results (10/30/2020)  
CMLL Dia de Muertos Show at Arena Mexico Results (10/30/2020)