IT'S TIME! IT'S TIME! IT'S AEW DARK: ELEVATION REVIEW TIME! Grodd bless Vader for a catchphrase that I can now shamelessly use for this column intro. Hey; when the show you're reviewing features a Wrestling Society X rematch out of Kevin Kleinrock's dreams between Jack Evans and Matt Sydal, you have to go big. Especially when the rest of the show was more "decent" than good prior to that excellent main event. And now I'm giving stuff away like I'm James Harden lobbing a pass five feet over Kevin Durant's head. Let's get this review on the road.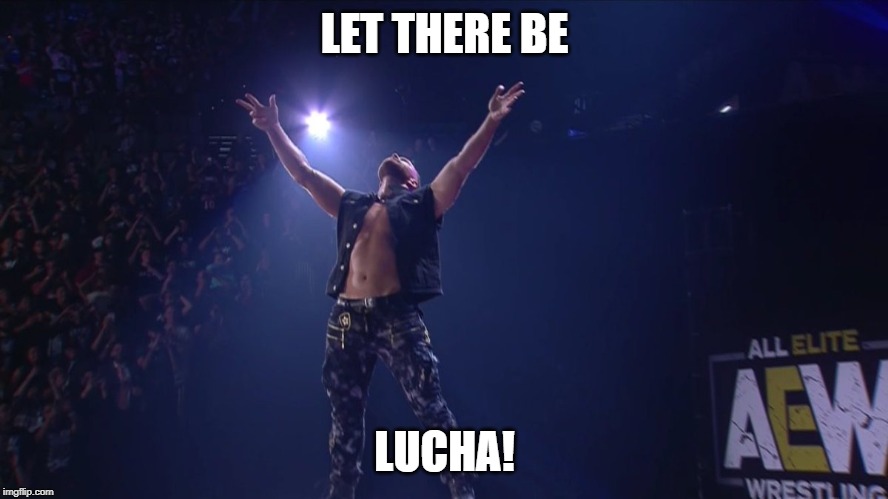 Cash Wheeler & Dax Harwood (FTR) defeated Jorel Nelson & Royce Issacs after Harwood pinned Nelson with a Reverse Figure Four. This was an absolute delight. It was basically an old school tag team match worked with a new school speed and it completely clicked. You can tell that FTR loves working with Nelson and Issacs because they gave them a lot to work with and both guys looked great. Their tag work was simple but smooth and their individual work was on the spot, with Nelson in particular showing some great explosiveness. And of course FTR was on the ball as they usually are. If you like NWA/WCW style tag matches, this was for you. Frankly if you like wrestling, this was for you. Really good stuff. *** ¾
Nyla Rose defeated Delmi Exo after pinning Exo with the Beast Bomb. Not since an NCAA tournament has a person/team from Rhode Island been dealt with so quickly. You hate to see it. Of course it was the right result; Nyla is coming for Britt Baker, who's only the AEW Women's Champion, and she should be running everyone over enroute to that. She did just that, getting in there, hitting two moves and then the Beast Bomb. So long and good night poor Delmi Exo. *
Anthony Bowens & Max Caster (The Acclaimed) defeated Baron Black & Tamilian Vineesh after Caster pinned Vineesh with the Mic Drop. This was a tough one for Black and Vineesh, who not only had to get insulted by a Caster rap but also got beat up while Caster was doing the rap! Ben Simmons hasn't been served as bad in the past day than those two were. I didn't mean that Ben! Still think you'll be great!
This match rotated between being a squash when Vineesh was in the ring and into something more competitive when Black was in the ring. On the one hand that sucks for Vineesh, who legit had as many offensive moments as Ben Simmons last night and spent all of the match getting whacked. On the other hand Baron Black is the man and always should have more to do, so the extended sequence of offense he got was a ton of fun. Meanwhile Caster has gotten a lot smoother in the ring and Anthony Bowens remains one of the more underrated talents in AEW. There's some serious breakout potential from him (and Caster, but we already knew that). Solid match. ** ¼ 
Brian Pillman Jr. & Griff Garrison defeated Milo Beasley & Ray Beez (Bums R Us) after Pillman pinned Beez with a Dropkick/Spinebuster combination. This match started competitive and then went south for the bums faster than when the Brooklyn Dodgers got moved to LA. Get it? Cause Brooklyn called the Dodgers "da bums?" Tough crowd. The good news at least is that Beasley and Beez looked good when they got on offense, and actually had some innovative team work. In the end though this was all about getting Garrison and especially Pillman some momentum prior to Pillman's big match with Miro next week. All in all it's just another competitive squash in the wall. * ¾ 
Kris Statlander defeated Renee Michelle after pinning Michelle with the Big Bang Theory. Highlight of this match was Trent? coming out wearing silver space SHORT SHORTS! The things we do for Kris Statlander. This was a solid, fun effort from both women. Renee Michelle has been hit or miss in her Dark/Elevation appearances and this was a hit, arguably her best work in AEW not counting the Thunder Rosa match she had. She reacted well to Statlander's shenanigans, sold well and has some nice kicks. And Statlander was awesome, delivering some great strikes of her own and some really smooth wrestling. She was great already but she's definitely turned a corner since coming back from the injury. I dare say a borderline good match. ** ¾ 
Taz and Powerhouse Hobbs cut a promo on Hangman Page ahead of their match this Saturday. Good work from Hobbs and Taz. Shocking I know. Taz cutting a great promo is completely unheard of!
Matt Hardy defeated Jora Johl after Hardy pinned Johl with the Twist of the Fate. Of course the biggest thing about this match wasn't the action, but that TH2 ARE OFFICIALLY PART OF THE HARDY FAMILY OFFICE! They came out with the group and everything, which means they're in. Big get for Matt Hardy; not only does he get the best tag team in AEW, he also gets the best dancing wrestler since Alex Wright in Angelico. That's why he's the king maker!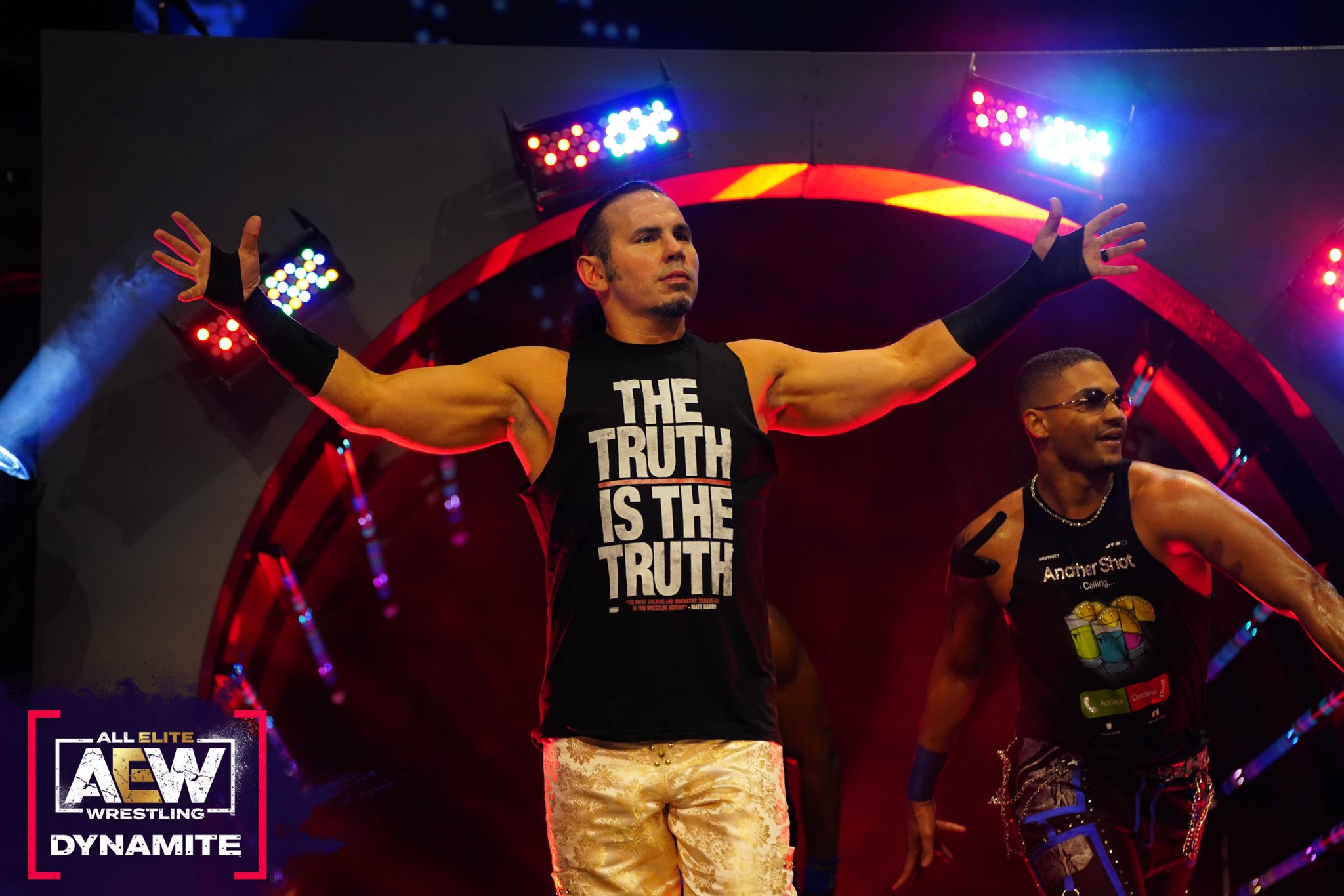 This was another solid match. We've actually see Johl in AEW before as Robo; I'm not sure what the name change was all about but he was good when we last saw him and he did well here, breaking out a nice Michinoku Driver. Hardy even seemed up for this one, openly mocking Christian Cage by doing some of his moves and even pulling out, and this is true, a Superplex. Considering Matt has trouble moving at times I'm not sure it's smart to do that move on Elevation, but he did so more power to him. After the match Hardy offered Johl a spot in the HFO at the ground level, basically as their young boy. He also insulted him and insinuated Johl would be sent back to India if he didn't start making moves soon. Interesting segment and hopefully it's something followed up on because Johl is a good talent who could use a shot. ** ½ 
Shawn Spears & Wardlow (The Pinnacle) defeated Kal Herro & Ryzin after Wardlow knocked Ryzin with the Knee of Doom that killed that one guy a few weeks ago. Enjoyable squash. Shawn Spears, who at this time last year could've been put with Fenix and I wouldn't have cared, is more interesting than ever with this new psychotic character and his work pops a lot better as a result. He had some nice sequences with Herro, an OVW talent who likes to carry around a fanny pack (which Spears rifled into the seats), while Wardlow basically just came in to wipe Ryzin off the face of the earth. And hey, who better than Ryzin, AEW Dark/Elevation squash extraordinaire, to make Wardlow look good after his loss to Jake Hager this past Friday? Exactly the match it should've been. * ¾ 
Powerhouse Hobbs defeated Darian Bengston after pinning Bengston with the Emerald Frosion. The only way Bengston could've been embarrassed anymore is if he played for the 76ers. Just total annihilation here from Hobbs, who did his deal of slamming Bengston nine times before forgoing the tenth and finishing Bengston off. And Bengston…well he sold well I guess. What can you do when you're in there with Powerhouse Hobbs?! Another match that was exactly what it needed to be. WATCH YOURSELF HANGMAN! * ½ 
Jade Cargill defeated Robyn Renegade after pinning Renegade with the Jaded. Tony Schiavone called it the Glamslam, which I guess gives Beth Phoenix some of that residuals Mark Sterling was talking about Jade making before the match. That promo basically lasted two times longer than the match, and was also better than the match. Sterling is so great in the manager role and Jade is great playing off him. Hey I'd probably play off Sterling well too if he got me the spokesperson spot for someone (in Jade's case it was the Black News Channel). After that it was basically Jade hitting two moves and sending Renegade to the showers. *
Jora Juhl got some promo time! He bemoaned Matt Hardy being an asshole, but said working for AEW and Tony Khan was his dream which is why he will consider Matt's offer. Guess we'll get that answer in a week or so.
Eddie Kingston & Penta El Zero Miedo defeated Fuego Del Sol & Vary "Still Not Juventud Guerrera" Morales after Pentagon pinned Fuego after breaking his arm with the arm breaker. Only poor Fuego Del Sol would fall victim to a move that hasn't broken an arm since Lucha Underground. The man has no luck at all! Another fun squash. We got some nice lucha libre from Pentagon, Fuego and Morales here and Eddie also took the opportunity to throw Morales and Fuego around a ton. It's nice to see Pentagon and Eddie back together again; it be nicer to see them teaming with their respective partners (Fenix and Jon Moxley) but we'll take what we can for now. Good squash. * ¾ 
Jungle Boy defeated Cezar Bononi after pinning Bononi with a Lariat to the back of the head. Jungle Jack initially had the Snare Trap locked in when the Wingmen tried to interfere, which of course didn't work and led to Jungle Boy getting the pin instead. Sadly Avalon held it together afterwards and thus didn't give us this reaction again. Cezar Bononi has had some good matches on AEW Dynamite with some top talent, but this was by far his best match since joining AEW. I was very impressed with this bout. Bononi obviously has his limitations at his size, but Jungle Boy can work with almost everyone and these two worked a bout that both played to Bononi's strengths while also testing him a bit. He passed, with some nice new moves thrown in that Jungle Boy sold brilliantly for. And Jungle Boy was able to get all his usual offense in as well, another sign of Bononi's improvement. A very good match and definitely the best match Bononi has ever had.. *** ½ 
Matt Sydal defeated Jack Evans after pinning Evans with the Lightning Spiral. I can safely say that this result has left me feeling an emptiness I have not felt since they canceled Angel all those years ago. This calls for an Ishii picture!
I have to admit this was not a perfect match, if only because Kris Kloss and Lizzy Valentine weren't here to take part in this mini Wrestling Society X reunion AEW put on here. Beyond that this was longer and, at the risk of hurting poor Kevin's feelings, dare I say better than that great three minute sprint those two had to kick of WSX all those years ago. It started strong, built and built and built, featured an Ode to Blitzkrieg or two and wound up being the best match on the show. The chemistry Jack and Sydal had years ago was still around, and between Sydal's improvement in every facet of the game and Jack being, well, Jack, the only question was whether they'd get enough time. They did, they tore it up and aside from the lack of Kloss, Valentine, explosive cages and New Found Glory it felt like I was right back in that WSX Bunker. It was so good it makes you wonder how AEW only just got to it now! At least they did get to it I suppose. A great way to close the show. ****
That's game sports fans. I'm off to play video games and do nerd shit. TILL WE MEET AGAIN (SPIDER-MAN)!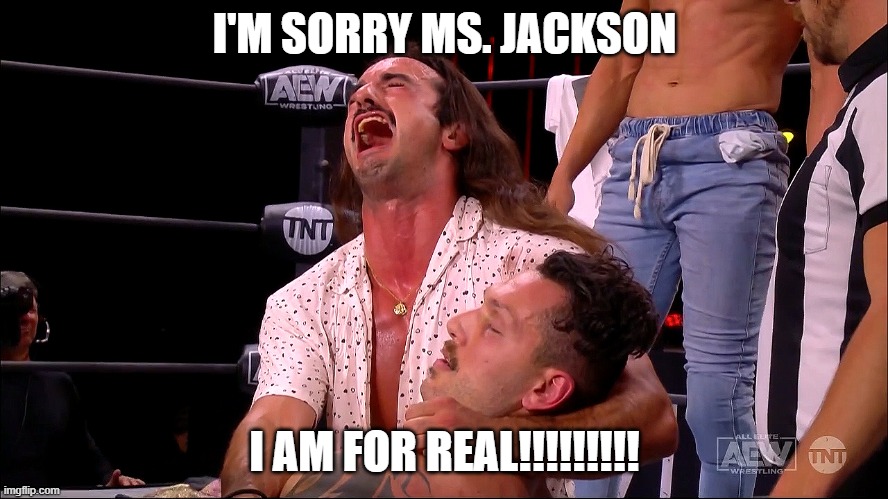 Please change disks to continue…
Folks! We invite you to also follow us through our official social media accounts:
© 2021 AEW
RELATED NOTE: AEW Dark: Elevation Episode 15 (06/21/2021)