It's Monday and you know what that means; a short intro paragraph for the AEW Dark: Elevation review so I can get out of here and watch TV while booking TEW. Did I do this gimmick last week? Who cares; we're talking TEW! This time I'm doing a Stampede Wrestling revival, the only place we can get the Camikaze push the wrestling world truly needed. But you don't want to hear about that; you want to hear about Elevation, a fun show with a great match, two good matches, Rey Fenix as Terror Purpura, a great video package and best of all, Kris Statlander. Let's review.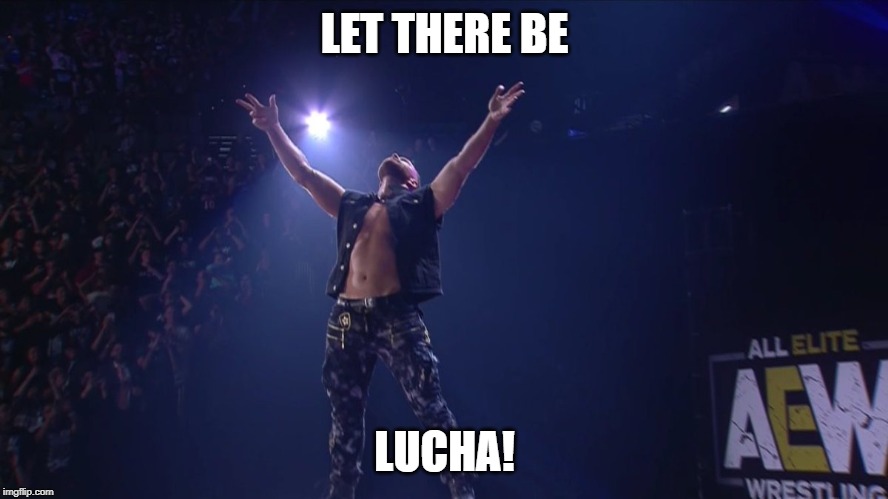 Rey Fenix defeated Chuck Taylor, aka "YA BOY! BIG DUST!", after pinning Taylor with a posing Crucifix Roll Up following Taylor getting distracted by Pentagon kicking Orange Cassidy in the face. Again. It's becoming a tradition unlike any other, AEW's own version of The Masters. Stay on target Cult! This was a very good match, as expected. Nice back and forth, the usual great offense from Fenix despite him making himself 5% less cool by dressing like Billy Zane in The Phantom and Big Dust hung with him well. People forget this but Taylor got lucha libre training under Skayde, so he's more than capable of working Fenix' more complicated spots, as seen by the cool German Suplex sequences at the mid point. Fenix trying his rope spots, only for Taylor to drag him off the ropes and hit him with Soul Food was also really clever. Very good stuff; this probably would've gotten over even more than Pentagon and Trent did if they ran it last Wednesday instead. *** ½ 
Lil Ziggler defeated Ryzin after pinning Ryzin with the Rude Awakening. Going into this match I was asking myself why did this match exist? Now that this match is over and done with I have another question.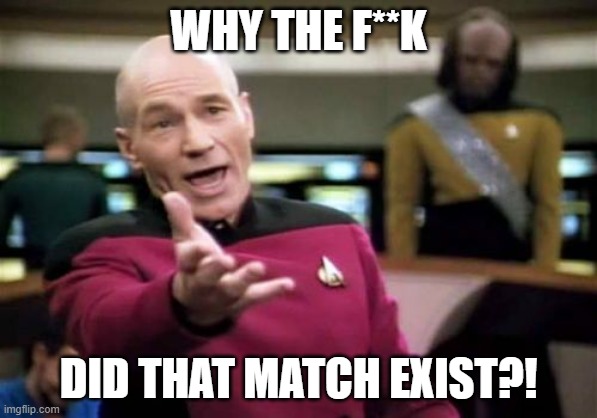 Seriously; what was the thought process on this one? Not only was the match boring but it was also bad! There was one spot in this match where Cezar Bononi grabbed Ryzin while he was hitting the ropes, stopping him in his tracks…and then Lil Ziggler attempted a dropkick everywhere. Somewhere Luchasaurus was in disbelief over this. Throw in the usual uninspiring work from Lil Ziggler (who, in case you've forgotten, is Ryan Nemeth), Ryzin getting little to do and the interference from Bononi, a returning Peter Avalon and JD Drake (who really should've been the guy in this match instead) and this was a waste of time. DUD
Orange Cassidy defeated Dean Alexander after pinning Alexander with the Orange Punch. Alexander came out for this match dressed like a character from Undercover Brother. Why? Don't ask me! Fortunately he lasted about as long as Stewie Griffin in the sack, as Orange dodged, ducked, dipped, dove and dodged, then hit the Orange Punch and wrapped this up. Exactly what it needed to be. * ½ 
Backstage Lil Ziggler, Peter Avalon and Cezar Bononi got JD Drake to try on a silk shirt. Somehow this all worked because a) Lil Ziggler and Bononi (in particular) are way more entertaining characters than they are wrestlers and b) JD Drake is the man. At the end they did a secret handshake with their pinkies. I laughed!
Anthony Bowens & Max Caster (The Acclaimed) defeated Adrian Alanis & Liam Grey (Skulk) after Caster pinned Grey with the Mic Check Elbow Drop. THE ACCLAIMED IS BACK IN ACTION!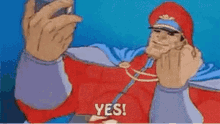 This match was fine, though the best part was, as per usual, Platinum Max's pre-match rap where he obliterated Ben Askren and named dropped Dr.Fauci. Classic Platinum Max! After that it was some good wrestling from Bowens, looking sharp in his return, okay wrestling from Max and not a lot from Alanis and Grey. They were apparently a tag team from EVOLVE that was pretty good, but while Grey sold well and showed some athleticism I can't say I was overly impressed. Alanis in particular had some offense that could best be described as iffy. Maybe it was a bad night though so we'll see if they get used some more going forward. In any event this was solid but nothing more. ** ¼ 
Alex Reynolds and Five did a promo hyping up their match with Ethan Page and Scorpio Sky later, with Five being the butt of the joke before he actually made some points! Even Reynolds was shocked. Good stuff.
Nick Comoroto defeated VSK after pinning VSK with an absolutely awesome Military Press Powerslam. Boy did Comoroto and VSK combine to make that move look impressive. And then they went and did it again right after the match too! This was a Grade A squash. VSK, a really underrated Dark regular (mostly underrated cause he gets run over all the time) was actually got some offense in before getting mauled, and he did a hell of a job making Comoroto look good. Comoroto is no slouch himself though, and he continues to impress the more we see of him. If only all squashes were like this. **
This week's Rising Star segment focused on Leyla Hirsch and, like every other week, was a knockout segment. Leyla took us through her entire history, from being born in Russia, being adopted and coming to America, discovering pro wrestling, getting into amateur in high school and then getting her foot in the door into pro wrestling at age 18. wXw and Stardom are brought up we even get some clips from Bloodsport with Leyla wrestling Lindsay Snow. Awesome, awesome segment.
Leyla Hirsch & Ryo Mizunami defeated Amber Nova & Diamante after Leyla submitted Nova with the Cross Armbar. Diamante attacked Leyla after the match and that match was, coincidentally, announced for next week's Elevation. That Tony Khan does move fast huh? This was a borderline good match. There were a few sloppy spots here that kept it from being good but overall there was a lot I liked. For one I will always applaud Leyla Hirsch and Ryo Mizunami teaming together; they've only teammed twice and they already feel like a winning team. Great chemistry, Leyla looks to be having the time of her life; it's a winner. It didn't hurt though that Diamante was involved, having another strong performance (maybe Ivelisse as holding her back?) while Amber Nova had a more impressive performance here than she did in either of her previous singles matches. Again, not the cleanest match but overall this was a good time. ** ¾ 
Kris Statlander defeated Tesha Price after pinning Price with the Big Bang Theory. Have I mentioned how happy I am that Kris Statlander is back? No? Well then allow me to take the moment to let you all know that I am over the moon that Kris Statlander has returned to us. A world without one of the two greatest aliens in wrestling history is one I don't want to be in! Also, the other great wrestling alien is exactly who you think it is.
This was a strong squash. Tesha Price was in her element here, yelling, screaming and getting obliterated by Statlander, who like Britt Baker appears to have come back better than she was before she got hurt. And may I remind you that Statlander was an absolutely awesome wrestler prior to her ACL injury. It can only get better for her now that she's looking super smooth and pulling out cool new moves like that STO Backbreaker and the German Suplex into the corner. Definitely a good sign for her match with Penelope Ford this upcoming Wednesday. A good time for a squash match. * ¾
Ethan Page & Scorpio Sky defeated Alex Reynolds & Five (Dark Order) after Page pinned Five with the Ego's Edge. Very good match; I dare say this was the best bout Scorp and Page have had together since becoming a team. Perhaps it had something to do with them a) getting the time to work a good match and b) having a good team to work against. Turns out teaming together works out well for Five and Reynolds. The former got to sell a lot in the Tsuyoshi Kikuchi role while also getting some nice bursts of offense here and there, and Alex Reynolds, usually in that role when teaming with John Silver, actually got to do a hot tag and looked really explosive. And he looked good! Helps that he's a good worker. Sky and Page didn't have as much flash but they were very smooth and they're so great at being arrogant heels it's hard not to get invested. Certainly a good sign for when they get to do more serious stuff with Darby Allin coming up. Not far behind the Fenix-Big Dust opener. *** ½ 
Big Swole & Red Velvet defeated Madi Wrenkowski & Nyla Rose after Velvet pinned Rose following a Nyla Rose Beast Bomb on Wrenkowski. BETRAYAL IN THE TAG MATCH! Let's be real, Wrenkowski should've seen it coming after a) Vickie Guerrero badmouthed her while making the introductions and b) Nyla treated her the way like the younger sibling she wished would go away throughout the match. Well it was fun while it lasted I suppose. Actually it was. Red Velvet and Wrenkowski worked alright together in their limited time and Big Swole, sporting a new short haircut that legit makes her the coolest person in AEW, looked really good. She and Nyla in particular worked well together, with Swole pulling out a few new tricks. Solid stuff! Hopefully Nyla destroying Wrenkowski next week will be just as good and longer! **
Matt Sydal defeated Joey Janela after pinning Janela with the Lightning Spiral. The Bad Boy had been hyping this match up over the last few days on Twitter and I can see why because this was GREAT. It was as if the Janela from GCW transported out of one of those classics he had with Lio Rush and into this bout. You know; give or take a few jumps off a rooftop.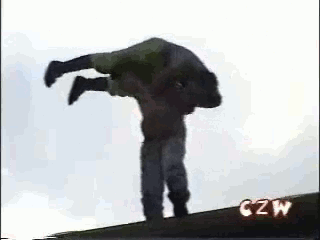 But yes; really strong main event and not a surprise given who was involved. The biggest surprise was probably that it was a straight wrestling match as opposed to a stunt show, but it really isn't if you've followed either guy recently. Janela is more than capable of great chain wrestling and the works, and he showed off that skill here while also breaking out a killer apron brainbuster, a horrifying snap Death Valley Driver (does anyone do that better than Joey?) and bumping his ass off. Sometimes he did that too well, like on that Sydal SPIKE HURRICANRANA! I can only imagine Fenix watching that move backstage, determined to now top it. Hopefully he'll try with Sydal, who he has still yet to wrestle in AEW and really should wrestle because Sydal remains one of the best around, whether he's flying around or just flat out wrestling like he was here. Not the kind of great match most would expect from these two, but a great match nonetheless. Hopefully we get to see it again some time. ****
And that'll do it sports fans. I'd say I was off to watch Donovan Dickhead make an ass of himself, but I instead of Person of Interest to watch, where Jim Caviezel will make an ass of himself. So either way I'm seeing a dumb white guy make an ass of himself. TILL NEXT TIME, a random picture of Western Canadian wrestling legend Sydney Steele. BOOK THIS MAN!
Please change disks to continue…
Folks! We invite you to also follow us through our official social media accounts:
© 2021 AEW
RELATED NOTE: AEW Dark: Elevation Episode 7 (04/26/2021)