It's Monday and you know what that means; an AEW Dark: Elevation review where I rush through the intro so I can wrap this bad boy up and get to the good stuff. What is the good stuff; an NHL video game on my Playstation 4. I'm just being honest here sports fans! Also, this show was among the weaker entries of the recently formed Elevation, even as it featured one of the two best matches in the show's short history. What match was it? Let's review and find out! See what I did there? DID YA??!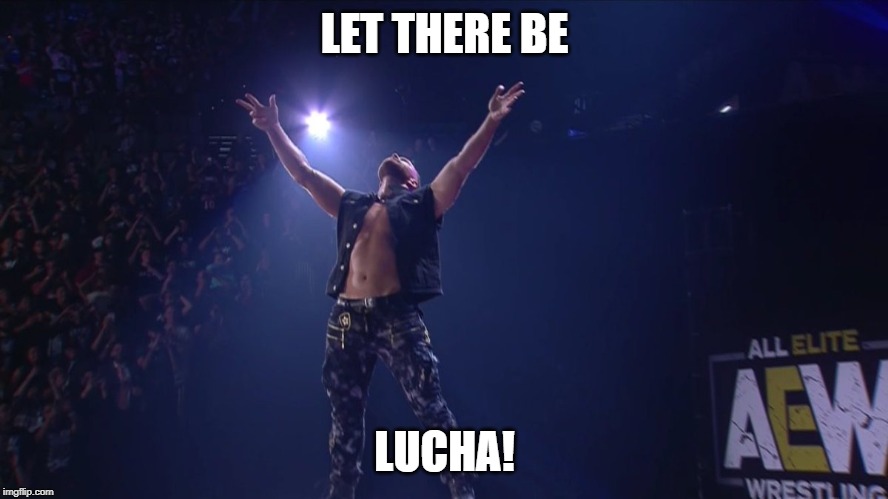 Hangman Page defeated Spencer Slade after pinning Slade with a pop up Powerbomb. Ever hear of The Who song "A Quick One, While He's Away"? That was this match, only no one was away. Hangman got in there, he gave Slade a few moves, then he owned his ass and was drinking beers like it was no thing. The most noteworthy aspect of the match was Paul Wight informing us of Slade's backstory, which came with the revelation that he was born deaf and that he wants to inspire others with disabilities to follow their dreams. Very cool stuff. Hopefully the guy gets more opportunities to show what he can do going forward. * ¼ 
Dr. Britt Baker DMD defeated Tesha Price after submitting Price with the Lockjaw. The more I watch Tesha Price and this new "batshit crazy" gimmick she's got the more I want to see her go to BASED CHOCOPRO and throw down with Psycho Chie. Imagine the screams, the crazy eyes, THE BACK BUMPS! 
Stay on target Cult. This match was actually among the highlights of the show. It wasn't quite good enough to be a truly good match but definitely in the borderline category. Price isn't the most consistent worker but she's capable and under this new gimmick really seems to hit more than miss. And Britt Baker was the perfect opponent for her, a nice cool and cerebral performer to slow things down before Price ramped up the energy again. I thought they clicked very well, I thought Baker looked great yet again (her confidence is at an all time high in the ring right now) and this was a solid watch, maybe even a bit better. ** ¾ 
Jungle Boy & Luchasaurus (Jurassic Express) defeated Jay Leon & Midas Black after Jungle Boy pinned both Black and Leon after hitting Black with a reverse AA on top of Leon. Highlight of this one was when Luchasaurus was beating up Leon so badly that Jungle Boy made the same face Adonal Foyle made after that famous Baron Davis dunk. I popped big for that one. Otherwise this was Jurassic Express running Leon and Black over before the cool finish. Definitely the right decision given that Jungle Boy is about to headline with Darby Allin this Wednesday on AEW Dynamite: Raiders of the Lost Female Demo. I'll see myself out. * ½ 
Angelico & Jack Evans (TH2) defeated Andre Montoya & Vary "No, it was the guy who looks like me that Jack Evans beat up at that AAA show one time" Morales after Angelico submitted Montoya with the Navarro Death Roll. Solid match right here and not because it allowed me to make the joke about Jack once beating up Juvy at a AAA show. You know, because Morales is Juvy's long lost son. Beyond that it was a good matchup because Angelico and Jack are, as you know, well versed in lucha and that is Montoya and Morales' specialty. They both worked hard, got some good stuff in and then took their lumps from Angelico and Jack, with the former dishing out his great submissions while Jack decided tonight was a good night to perform a standing Ode to Blitzkrieg off the apron. When you're Jack Evans, this is what you do. Good win for TH2. Now let's get them on TV again please! ** ½ 
Paul Wight sat down with The Acclaimed for one of these Elevation spotlight segments. As always this was a standout part of the show. The Acclaimed were in character for a decent part of it but they also touched upon their real life story, particularly Bowens, who talked about representing the LGBT community and having the carrot dangled in front of him a ton before AEW called. They also talked about how Tony Khan put them into a tag team when they were previously singles stars on the indies. Great stuff.
Brian Cage & Ricky Starks (Team Taz) defeated Mike Magnum & Stone Rockwell after Starks pinned Rockwell after Rochembeu. Can't believe I lived long enough to see Stone Rockwell bring in Romancing the Stone gimmick to AEW. You hear that Alex Wright? THERE IS STILL TIME FOR A COMEBACK! If Stone Rockwell can make AEW, so can you.
This was solid. We had a little bit of the tension between Cage and Ricky but for the most part the two were on the same page and Cage even did Ricky a solid by letting him get the win at the end. Both guys were good (when are they not?), Rockwell did a solid job selling for them and on offense and Mike Magnum…was also there. It happens. Really the big thing coming out of this match was me wondering if maybe both Cage and Ricky are going babyface with Taz kicking them both out, as opposed to Cage leaving and feuding with Ricky. I guess we'll see! In any event this did its job. ** ¼
Abadon defeated Skye Blue after pinning Blue with the Cemetery Drive. Got to love that MCR reference! I loved it more than this match at least. I don't want to say it was terrible but it was mostly definitely not a good mix. I think Abadon has shown a ton of improvement and she wasn't bad here, but she should be with some more experienced talent and Skye Blue isn't that. And it's not like what I've seen from Skye Blue is bad either; she just wasn't the right choice for this match. As such we got a lot of mediocre wrestling, some great character work from Abadon and a pretty forgettable match. * ½ 
Orange Cassidy defeated Prince Kai after pinning Kai in three seconds with the Beach Break. This was basically Kai getting the long heel introduction, posing for the nonexistent crowd, turning around and then getting dropped like a rap single on Twitter. Honestly; it was a good call. Not that Kai is bad, but not all these matches need to go five minutes and this guy heeling it up followed by Cassidy beating him quickly works both to get Kai his commupance and Cassidy a win that fits him. The only thing missing was Big Dust, Shitty Greg and STATLANDER celebrating at ringside. NR
Isaiah Kassidy & Marq Quen (Private Party) defeated Alex Reynolds & Colt Cabana (Dark Order) after Kassidy pinned Cabana with a roll up. Good match. For a while I was questioning Private Party turning heel a couple months ago, mainly because all the best stuff they do is high flying. As heels they've toned that down and at times come off as just another team. Fortunately they picked up the pace later in the match, with Marq Quen especially reminding us why he's a really electric talent. Reynolds was very good on the other side and Cabana is always an entertaining watch, and a great older talent for Private Party to work with. Private Party stealing the win was a nice touch too. Enjoyable tag. ***
Thunder Rosa defeated Shawna Reed after pinning Reed with a Fire Thunder Driver. In the past week Shawna Reed has drawn both Britt Baker and Thunder Rosa. Talk about a tough break huh? That's like the 2021 Cubs playing…well anyone right now. Hold the phone now while I go stare into a mirror and cry.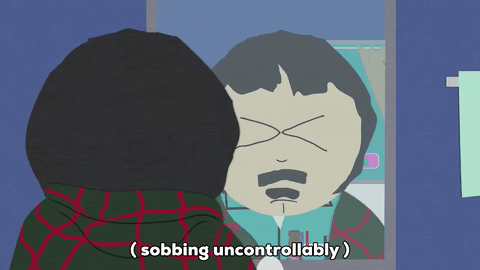 This was a full throttle squash and honestly that was for the best. I've had friends tell me that Shawna Reed has potential and, all due respect to her and them, I have to question if they have a depth perception problem. She showed very little against Britt Baker last week on Dark (easily the worst match Baker has had since coming back from injury) and it's clear someone noticed the same thing backstage because aside from a few stomps and one submission, she spent this match getting owned by Rosa. Fortunately Rosa is great and her offense looks great, so the match was a fun squash. * ½ 
Chuck Taylor & Trent (Best Friends) defeated Hayden Backlund & Kit Sackett after Trent pinned Backlund with a Piledriver. All you need to know about this match is that it went about two minutes and there was no STATLANDER at ringside. Ergo this match was no good; HOW CAN YOU NOT HAVE OUR ALIEN OVERLORD KRIS STATLANDER AT RINGSIDE?! Fortunately Shitty Greg and Big Dust finished off Sackett and Backlund quickly so we didn't have time to dwell on this colossal mistake. Fun fact; Backlund is apparently related to Bob! In case you didn't know. *
Leyla Hirsch & Ryo Mizunami defeated Madi Wrenkowski & Nyla Rose after Leyla submitted Wrenkowski with a Cross Armbar. This match began with Leyla coming out wearing the Mizunami style sunglasses and ended with her and Mizunami doing a cool ass handshake. These are all signs they will be a regular team and I would like to announce that I FULLY ENDORSE THIS IDEA! I don't ask for much but if anyone at AEW is reading this (HA!) please; keep this duo together. And also give them longer matches than this one. The work here was solid, with Leyla and Mizunami already showing off some nice double teams while Nyla getting all flustered by Mizunami being Mizunami was great and Wrenkowski was as solid as always. A few more minutes and this could've been good. Alas it was solid but short, with a really great idea in the form of this new team.. ** ½
Austin Gunn defeated Aaron Solow after pinning Solow with the Quickdraw. The match was fine but the result was highly curious. I understand Solow is an undercard guy and Austin Gunn is someone AEW wants to book eventually but I don't know about having someone from the Factory lose a match like this, even on Elevation, to a lower level Nightmare Factory guy. Not only does it kind of defeat the purpose of the feud but it makes Lee Johnson or Dustin Rhodes beating Solow when they return a little less special (unless they just bypass him I suppose). I don't know; I just found this to be a questionable decision. The in ring work was fine, but the finish brings it down for me. **
Ethan Page & Scorpio Sky defeated Carlie Bravo & Dean Alexander after Scorp submitted Alexander with a Heel Lock. Another squash and one of the least impressive ones on the show. It wasn't anything really to do with Scorp or Page either, though this wasn't the best night of Scorp's career. We forget, because Alexander and especially Bravo, look so good most of the time that they're still relatively new. As such they're prone to some iffy moments here and there and Bravo's bumping in this match was overall very poor, particularly when taking a kick from Scorp and a Shoulder Block from Page. It's matches like this that really make you hope they get to whatever they're doing with Page and Scorp sooner than later because this just felt like them spinning their wheels. *
Backstage Austin Gunn cut a nice promo about QT Marshall breaking up the Nightmare Family before Billy Gunn came in to calm his son down. QT then came in to try and reason with Billy, Billy called bullshit and QT laid him out with a punch. Simple but effective way to set up QT vs. Billy Gunn I'm guessing, in a match where the booking hopefully goes better than Austin-Solow did.
Kenny Omega, Konosuke Takeshita and Michael Nakazawa defeated Danny Limelight, Matt Sydal and Mike Sydal after Takeshita pinned Mike with a German Suplex. Remember last week when Limelight and Takeshita had the best match in Elevation history? Tonight they had, at worst, the second greatest match in Elevation history. It may have even been the best. I will let you know next week after I have reviewed the tape of both matches and squealed at that Danny Limelight Tornado DDT some more.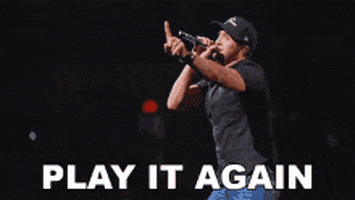 This was EXQUISITE stuff. You know it has to be when Kenny Omega and Matt Sydal are in the match and are respectively the third and fourth best parts. Certainly you can quibble with Nakazawa's presence (he basically existed here for his comedy spots) and Mike Sydal, while good, isn't at the level of the other four. But Nakazawa didn't bring the match down, Mike worked his ass off and had a great performance, Matt was Matt, Omega was Omega and once again Limelight and Takeshita were awesome. Takeshita is so effortlessly good at everything (including, as it turns out, high flying) and this week he broke out a gnarly lariat that surely gets the Ishii seal of approval, followed later by a COAST TO COAST DROPKICK! In case you're wondering, Takeshita is 6'2 and at least 230 lbs. And here he is doing Coast to Coast's like he's Star Jr. in an empty Arena Mexico.
It was one hell of a performance, which makes it all the more impressive that Danny Limelight walked away from this match as the star. Boy he was great. Some of it was definitely that he was working with top tier talent but I think it's pretty clear at this point that Limelight himself is in that league. He and Takeshita have an effortless chemistry that shone through yet again, and his stuff with Omega (who sold for him tremendously, much to the chagrin of Ryan Satin and his beard barber I'm sure) was mindbogglingly good. Like did you see that Tornado DDT? DID YOU SEE IT?! Must see stuff. All apologies to my guy Baron Black and JD Drake, but this performance right here seals Danny Limelight as the King of AEW Dark till further notice. I don't make the rules here! Just an awesome match that, quite frankly, raised this show up. Hopefully we get more Limelight in key spots and hopefully we can get this pandemic over and done with so Takeshita can come back soon. He is a superstar in the making for AEW when he returns. **** ¼ 
And with that I'm off to win the Stanley Cup with the Maple Leafs. Till next time, I leave you with what Emmett Milbarge says when he hears Edith Surreal's music.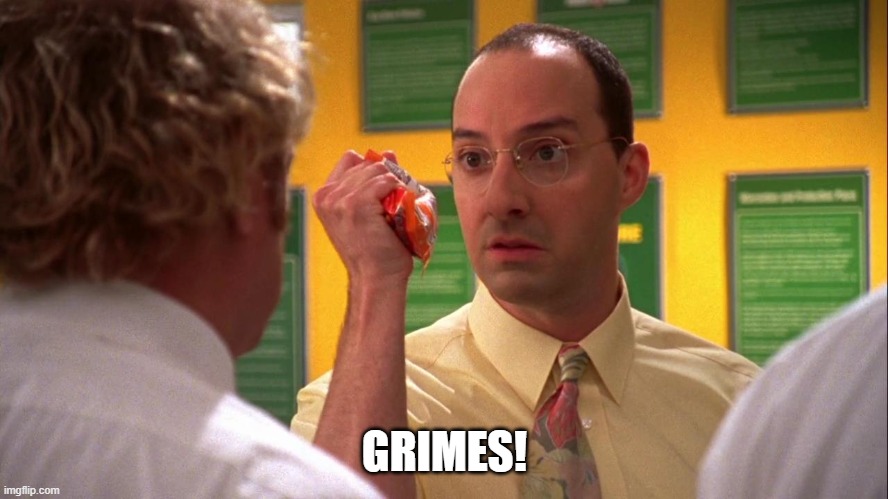 Please change disks to continue…
Folks! We invite you to also follow us through our official social media accounts:
© 2021 AEW
RELATED NOTE: AEW Dark: Elevation Episode 6 (04/19/2021)