It's Monday night, AEW Dark: Elevation just wrapped a good but long, LONG show and I have some NHL to play. In other words we're keeping this intro paragraph shorter than Big E vs. Apollo Crews! Never fear though; the rest of this review will be worthwhile, considering this match featured only the best match in the history of Elevation. What was it? Read on to find out!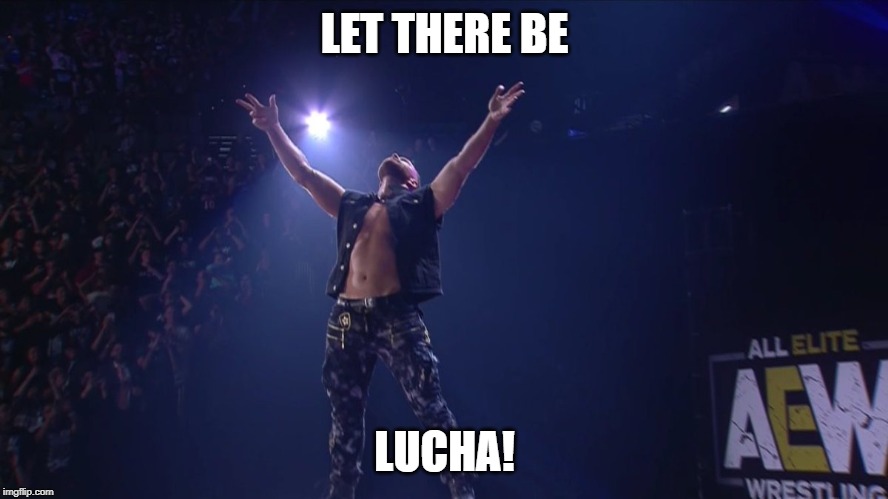 Ten defeated Zack Clayton after submitting Clayton with the Master Lock. This match started with Clayton demanding Justin Roberts introduce him as…the biggest star from New Jersey I believe? First off, let me laugh even harder if that is true. Second, I missed it because I was too busy listening to Bobby Lashley pretend that he enjoyed being in the company of Ryan Satin. Somewhere a poor life decision was made and I'm not sure by whom.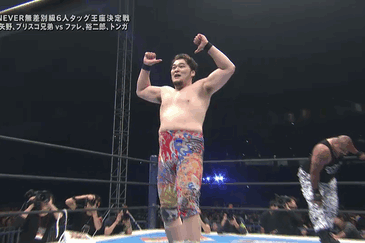 This was a solid if forgettable start to the show. Clayton has appeared on Dark before and like the previous times was merely fine. I guess they'll be giving him a bit of a run here with this new gimmick but unless he starts showing more he's more than likely to find himself in the Lil Ziggler unit as JD Drake's bagboy before long. Ten worked hard as always and there were a few good moments in here, but he's not the guy to be getting a good match out of Zack Clayton at this stage of the game. Nothing you need to go out of your way to see, although it was far from the worst thing on the show. **
Miro defeated Hayden Backlund after submitting Backlund with Game Over. Fun fact; Hayen Backlund is related to Bob Backlund. I guess this match was thus his homage to Bob getting wiped off the face of the earth by Diesel all those years ago because Miro just killed this poor boy. Honestly I was more intrigued by the lack of Penelope and the Kipper at ringside. Are they just quietly parting ways from Miro or will there be a follow up? Interesting stuff there. Anyways, this did its job and Miro looked dominant. Now in the words of GIl Mars after Irwin Wayfair's presentation, next. * ½ 
Hikaru Shida & Tay Conti defeated Katalina Perez & Leila Grey after Shida pinned Grey with a Katana. Good squash. Grey and Perez actually got to do a bit more than Backlund, although Backlund got to do absolutely nothing so anything would've been improvement. Mostly this was all about Shida and especially Conti looking dominant, which they did thanks to some nice double teams and some devastating pump kicks. They also teased that eventual Conti-Shida match with Conti staring at the bout after the match, which Shida acknowledged but in a friendly way. It's all about the competition! * ¾ 
Angelico & Jack Evans (TH2) defeated Carlie Bravo & Dean Alexander after Angelico submitted Alexander with the Navarro Death Roll. A TH2 VICTORY!
Watching this match made me realize just how much Angelico and Jack Evans are like Johnny Mundo and that guy who hangs out with him every Monday Night. Those two may not be pushed all that much but they're exactly the type of guys you'd count on to get the most out of whatever situation. Angelico and Jack are the same and it showed here; Dean Alexander would not have looked as good as he did on his hot tag if he were working with, say, the Gunn Club. Angelico and Jack sold their asses off for him, and Bravo during his brief offense, and as a result the two youngsters looked pretty good. Obviously there wasn't a ton for this to be a good match but between their efforts and Angelico and Jack being Angelico and Jack this was a solid match. And yes; some of this is definitely because I may or may not be the only person in Rhode Island to own a TH2 shirt. ** ¼ 
Dasha Gonzalez interviewed Thunder Rosa, who launched into a verbal attack on Diamante. I may or may not have ripped off that line from a TEW mod. Good stuff from Rosa to hype the match later. 
Orange Cassidy defeated John Skyler after pinning Skyler with the Beach Break. This was a borderline match that I was ready to declare good before it ended abruptly. The first half of the match was all about Cassidy psyching out Skyler by being…well himself, followed by Skyler actually turning the tide with a great slingshot spear and getting a heat segment. That was nice to see after Skyler was on the shelf for so long with a leg injury, and this was among his best performances on one of the Dark's. Credit to Cassidy for working hard and giving Skyler a ton to work with. Bonus points to the post match where Kris Statlander tried to lift Cassidy up on her shoulders and nearly succeeded. Have I mentioned how happy I am that Statlander is back? ** ¾ 
This week's Rising Star segment focused on "The Captain" Shawn Dean. Amazing segment talking about his background in the Navy, making a go of wrestling in Georgia while his daughter was in Chicago, making his way to AEW and getting signed to AEW after being fired from his other job. These segments are among the best things AEW delivers every week and there's not enough buzz for them.
Konosuke Takeshita defeated Danny Limelight after pinning Limelight with a Deadlift Wheelbarrow German Suplex. I had no idea who Konosuke Takeshita was a few days ago; he is one of the top stars of the Dramatic Dream Team (DDT) promotion in Japan, a guy who has wrestled the likes of Baliyan Akki and El Generico and one of the best in the world according to my pal Eric Brown. After watching this match, I am proud to report that is an accurate statement.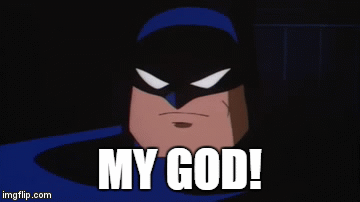 This match is what we call too good for AEW Dark: Elevation. Holy smokes. Takeshita, who by the way is only 25 years old, walked right in the door and immediately looked like someone who should be a player. Like Kazuchika Okada he is a heavyweight with off the charts athleticism, great power, impeccable timing, tremendous physical charisma; whatever you're looking for, Konosuke Takeshita has IT. He also had the perfect opponent in Mr. AEW Dark Danny Limelight, who played heel in this match to perfection (especially once the crowd started siding with Takeshita) and still found time to do things that shouldn't be possible. I get why this match wasn't on Dynamite but hot damn it should've been on Dynamite. Easily the best match in the shirt history of AEW Dark: Elevation. **** ¼ 
It's hard to top Konosuke Takeshita, but Joey Janela and Sonny Kiss tried with a backstage promo where Sonny convinced Joey to give up the chance to have his nipples sucked by two girls in order to wrestle Ethan Page and Scorpio Sky. Grodd bless you Joey! 
Cash Wheeler & Dax Harwood (FTR) defeated Jay Lyon & Midas Black after Wheeler pinned Midas after a Spike Piledriver. All of the Pinnacle was at ringside to watch this. A really strong squash match. Cash and Dax are so good at this tag team thing that even in a one sided match they make simple stuff look spectacular, and Lyon and Black sold like gangbusters for them. There was also some nice signs from Black during his brief hot tag, so perhaps there's something more to be discovered from them as time goes on. Good stuff for what it was. * ¾ 
PAC & Rey Fenix (Death Triangle) defeated Andre Montoya & Vary Morales after Fenix eviscerated Montoya with a Frog Splash. Mind you this was after PAC and Fenix collectively wiped Montoya off the face of the earth with some double teams that got me even more hyped for that Young Bucks match on Wednesday. So at least poor Montoya fell for something worthwhile I suppose! This was an even better squash than the FTR match. Some of it was because Montoya and Morales were really good in the spurts they got; both meshed well for Fenix (who based well for them) and Morales showed some more high flying than usual. In the end though this was about PAC and Fenix looking awesome and they looked awesome. With time they might even be better than OH MY GRODD I CAN'T BELIEVE I NEARLY SAID THAT! Let's move on and just say this a Grade A squash. **
Dante Martin defeated Baron Black after pinning Black with a gravity defying 450 Splash. I'll admit I was distracted a ton during this match fantasizing about a potential Konosuke Takeshita vs. Baron Black match. How can we make this happen? WHEN CAN WE MAKE THIS HAPPEN?!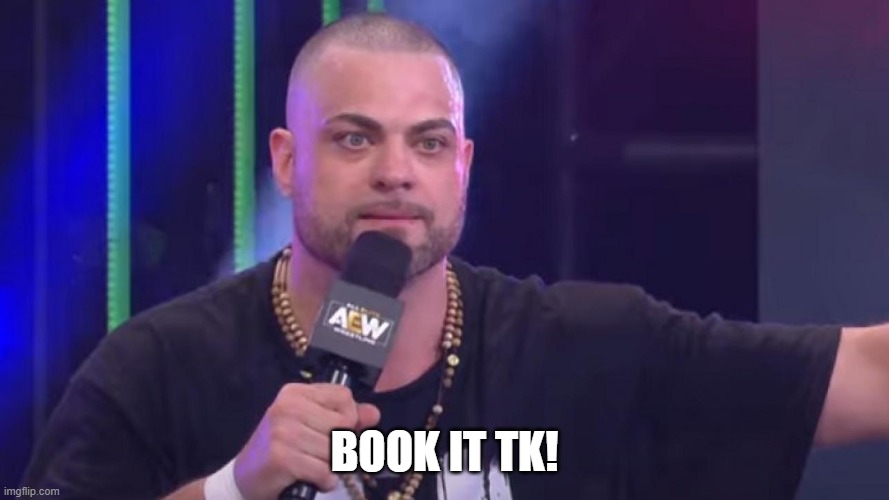 This was a good match that in a few years will be even better. They had some tremendous ideas in this match that didn't quite come together, with Dante trying to flip out of a Avalanche German Suplex to land on his feet followed by him flipping out of a T-Bone Suplex to land on his feet; both times he didn't quite stick the landing. They were such impressive attempts though that they stood out, and Martin's athleticism in other aspects coupled with Black's great overall ability made this a fun watch. Not perfect but the effort was there and the overall work was enough to make this a good match. ***
Ethan Page and Scorpio Sky are overlooked and are not gonna take it anymore! And just to add to their gripes, this is all I'll say about their decent promo. 
Dr. Britt Baker DMD defeated Skye Blue after pinning Blue with the Curb Stomp. A borderline good match thanks to Britt Baker just being so ridiculously good these days. Skye Blue, who worked a few of GCW's Collective shows over the weekend, was actually pretty decent here but there were definitely rough edges to her game and there definitely a few moments where she was shaky. Fortunately Baker has come so far in the past year that she was able to keep things on the track, string together a few strong sequences around what Blue could do well (strikes) and then finish it off. Then she cut another strong promo afterwards to further her quest towards becoming women's champion. All and all a good segment and a solid match. ** ¾ 
Nick Comoroto & QT Marshall (The Factory) defeated Andrew Palace & Cole Karter after QT pinned Karter with the Diamond Cutter. Honestly, shouldn't DDP be coming back to take the Diamond Cutter away from QT now that he's gone evil? Just a thought. Another thought; The Factor's new logo looks like the logo Sega will use for their next console that will never be made. And now I've upset myself.
Another strong squash. This is the night of strong squashes huh? Comoroto was an absolute beast in this match; it's as if turning heel suddenly made him an even better worker (and he was already improving at a rapid rate). He bulldozed Palace and Karter (who sold really well for the beast man) and all QT needed to do was get in, throw a few punches, one Diamond Cutter and hit "DA PAY WINDAH!" Is that how they say it? Anyways, did what it needed to do. * ½ 
Mike Sydal defeated Michael Nakazawa after pinning Nakazawa with a Bridging Roll Up. Every show needs a weak spot and this match was that. And yes it was Michael Nakazawa's fault. He wasn't terrible, but he did turn this match into a comedy bout and as such some spots were fun and others were meh. At least it allowed Paul Wight to have some of his best moments at commentary calling Nakazawa's silliness. Mike Sydal was legit solid in this match and did what he could to salvage it, but there was only so much he could do. As the Canadians would say, eh. * ¼ 
PAC and Rey Fenix promised to lay out the Young Bucks this Wednesday and walk out new AEW Tag Team Champions. If only. 
Leyla Hirsch defeated Shanna after submitting Shanna with a Cross Armbar. I was really enjoying this…and then it ended, so it topped out as a borderline match. Perhaps there will be more though as Shanna, in Vegeta gear no less, was far more aggressive than usual and seemed to be going heel after the match by being a sore loser. Let's hope show because what they showed here was very strong. Nice chain wrestling from Shanna, good counters, Leyla's mat work was on point and the finish, with Leyla getting the arm bar after reversing a powerbomb into a hurricanrana, was very cool. It just needed more time! ** ¾ 
Konosuke Takeshita was backstage for an interview where Kenny Omega interrupted, causing me to have heart failure over the thought of Takeshita vs. Omega! Alas it was all to set up Takeshita teaming with Michael Nakazawa against the Sydals next week. On the one hand it means more Nakazawa. On the other hand it means Takeshita will be doing stuff with Matt Sydal and really, how can one be upset about that? It be like getting mad at Francis Ford Coppola for casting Denzel in Megalopolis. Free casting idea for you right there Francis!
Penta El Zero Miedo defeated Brandon Cutler after pinning Cutler after a Package Piledriver. Poor Cutler; not only did he eat this Package Piledriver, but Pentagon got him with the armbreaker, busted his nose up AND chewed on his ear after the match while PAC and Fenix posed. Why was he eating Cutler's ear? It's Pentagon; you don't ask Pentagon why he does the cool shit he does.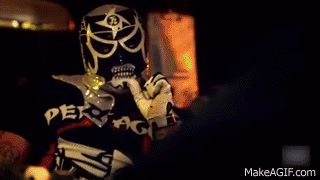 This was good. Shocking I know considering Pentagon's involvement; his usual charisma was on display, he showed some of his improved high flying and his overall game remains as strong as ever. Brandon Cutler was good too! I know some people think he's bad because…I'm not really sure, but he's been a consistently strong performer when asked and stayed with Pentagon every step. Strong, well done professional wrestling that also set up some more heat for the Death Triangle-Young Bucks match on Wednesday. *** ¼ 
Thunder Rosa defeated Diamante after pinning Diamante with a Fire Thunder Driver. This was a struggle and I mean in that in a good way! Not everything came off perfectly but this felt like a back and forth fight where both Diamante and Rosa were giving everything they had to win. The selling in this match was particularly strong, with Rosa working over the left arm of Diamante all match and Diamante really getting it over by struggling with her strikes (she's left handed) throughout the match. There were some nice strikes, great submission work from Rosa, some really good reversals (Rosa getting out of the Code Red was really well done); just really good wrestling. Yet another strong performance for Rosa and easily Diamante's best work on her own since she came to AEW. Very good match. *** ½ 
Ethan Page & Scorpio Sky defeated Joey Janela & Sonny Kiss after Page pinned Kiss after an Ego's Edge. Hope poor Janela didn't lose out on that nipple play because of losing this match. At least the match was good! Like the Dante Martin/Baron Black match there were a few things that could've gone smoother, with some of Sonny Kiss' offense not going quite as planned. Sonny worked hard as always though and had some good moments to go along with the lesser ones, while Joey Janela was really good on offense and selling and Ethan Page and Scorpio Sky were just all around solid. I'm still not sure about the two as a team long term and they need to get going on Dynamite soon but it's at least working so there is that. Also; still no more teasing of Joey and Sonny splitting up. I guess maybe that was dropped. Who knows?! Good match, though on the lower end. ***
Chuck Taylor & Trent (Best Friends) defeated Cezar Bononi & Lil Ziggler…I mean Ryan Nemeth after Trent pinned Lil Ziggler after Strong Zero. Best Friends are back, AND IT'S FOUR WAY HUG TIME BABAY! 
I'd call this a borderline good match, if only because Big Dust did a double sledge for the Strong Zero instead of the usual footstomp. What gives Chuck?! Otherwise this is a very solid showing. I don't need to see Lil Ziggler on Dynamite but in this role he is more than acceptable as a heel who gets some offense in, sells well and ultimately loses. Bononi is solid as his heavy as well and working with Trent in this match really helped him look a lot smoother than usual. Overall Trent was the story of this one though. This was his first match back from his torn triceps and he looked just as good as he did when he left; it's as if he was never hurt at all. That's good because he's one of the more underrated workers in AEW and with him back and Orange and Statlander with them the Best Friends should have no issue getting momentum back. A solid close to the show. ** ¾ 
There you have it sports fans. The plan is to resume my ChocoPro viewing this weekend so you will see me for that. TILL THEN, a photo.
Please change disks to continue…
Folks! We invite you to also follow us through our official social media accounts:
© 2021 AEW
RELATED NOTE: AEW Dark: Elevation Episode 5 (04/12/2021)