If, like me, you were not a fan of Lucha Libre AAA's Rey de Reyes event just a few weeks ago in February, boy do I have good news for you in the form of Lucha Libre AAA's first show from Monterrey's Showcenter Complex! Lucha Libre AAA will be running out of this building throughout the year as part of a monthly tournament they're running, and if tonight is any indication, these Showcenter shows should be a dandy. Gone was the chaos and never ending stream of interference laden matches from Rey de Reyes, replaced with seven matches that all ranged from acceptable to superb, with Hijo del Vikingo delivering yet another memorable main event. There were still angles, surprises and even a return in between, but ultimately nothing overshadowed the in ring action or the effort, which was strong throughout. Memo to Lucha Libre AAA; more of this the rest of the year! This was the kind of show that made me feel like I was watching the Lucha Libre AAA of 2019 again; let's hope the right people realize that and move forward with efforts like this. But we can worry about the future later. For now, let's relive this fun show.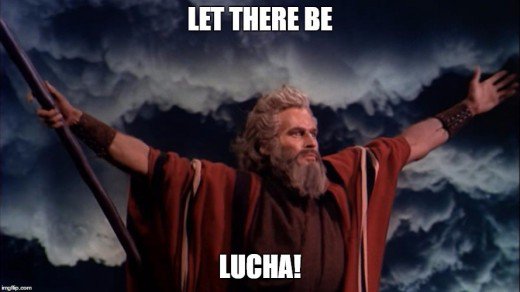 Legends of Lucha Libre's Lady Maravilla defeated Reina Dorada after pinning Dorada with a German Suplex. I'll be honest sports fans; my expectations for this one were lower than the NXT 2.0 demo usually is. I've heard of Reina Dorada, but this was my first time seeing here and people smarter than me had some serious questions about what she'd bring to the table. As it turns out, what she brings to the table is just fine. Her and Maravilla largely kept it simple, sticking to strikes and some chain wrestling, and the result was a match that exceeded my expectations. Maravilla deserves a ton of credit for that; she was hitting hard all match and her dropkick in the ropes was just sublime. But while I wouldn't say Reina Dorada stood out as a break out star, she more than held her own and showed enough promise that I wouldn't be upset if Lucha Libre AAA brought her back. A better than expected opener. ***
Hey, it's Legends of Lucha Libre's Laredo Kid! He came out to thank the Monterrey fans for coming out to the show, before being interrupted by Antifaz del Norte. I know what you're thinking; who the hell is Antifaz del Norte? Well, he's a former Lucha Libre AAA and CMLL luchador who disappeared from the mainstream scene in 2008, and has mostly stuck to his native Monterrey since. He has history with Laredo though, and came out to both praise Laredo and see if Laredo wanted to a)  team with him and b) defend the Lucha Libre AAA World Cruiserweight Championship against him.. Laredo seemed receptive to both ideas, which means he's either getting betrayed later or things will be just fine. I'd bet my ice cold Sunkist it's the former.
Dinamico & Emperador Azteca defeated Baby Extreme & Dulce Canela after Dinamico pinned Baby Extreme with a Crucifix Destroyer. This was actually the precursor to the madness, as after the match several luchadores from cult lucha organization RIOT Lucha Libre came out to attack everyone and start an invasion angle! Excuse me; everyone but Baby Extreme, who wisely joined up with them. Konnan then came out to cut a promo on them and challenge them to an Lucha Libre AAA Vs. RIOT match on the next Show Center show. The fact that he didn't end up revealing himself as the leader of this invading group will go down as one of the most shocking moments in lucha libre history. The Codeman and Vampiro would've been all over that shit!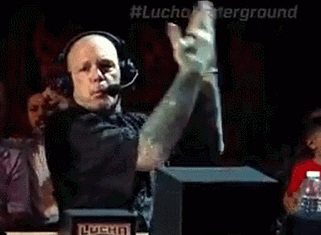 As for the match, it rocked and rolled! Originally a trios match featuring Kommander (who wasn't on the show) and Mamba (who was moved up), this was precisely the kind of match you'd expect from this spot in the card and exactly the kind of match that was missing from Rey de Reyes a few weeks ago. These four went out there with something to prove and it was nonstop action from the word go. All four luchadores were excellent (with Baby Extreme perhaps standing out just a bit more thanks to a nonstop aerial assault), but the match really hummed when Canela paired out with Azteca and Extreme with Dinamico. All the pairings were strong, but those particular pairings got the match off to a strong start and it never let up. If you love dives and cool post match angles, this one was a winner. *** ¾ 
Black Taurus defeated El Hijo de L.A. Park after pinning Baby Park with some sort of Avalanche Sitout Spinebuster type thing? I don't know what it was, but it ruled ass, and was a fitting conclusion to one hell of a match. If you ever want a better example of how great worker Taurus is, watch this match. That's not a knock against Hijo de LA Park; he's a much better worker than he gets credit for and he more than held up his end of the bargain here. But he was also notably doing moves (a splash to the floor, the Code Red, a Super Rana) that he either rarely does or rarely does smoothly, and that's a sure fire sign at how much the presence of Taurus matters. He is so great and so reliable that he can raise the confidence of his opponents to step up their game, and that's what we saw from Baby Park here. It also doesn't hurt that Taurus is himself a beast on offense, and looked great destroying Park throughout. And if that's not enough, after the match Taurus started attacking Baby Park, prompting actual L.A. Park and L.A. Park Jr. to make an appearance, leading to Taurus being powerbombed through a tray. A TRAY! You got ti hand it to L.A. Park; he always has wonderful toys to put people through. Here's hoping it leads to a Park–Taurus match, which has a chance to be even better than this was. ****
Chik Tormenta defeated Estrellita after pinning Estrellita with the Styles Clash. This match was fascinating, in that it was all over the place. There were times where things came off really well and then there were times like that pinning sequence in the middle Tormenta tried where it seemed her and Estrellita were as in synch as an old WCW PPV's sound on Bilibili. Overall I'd say the good did outweigh the bad, but there was enough sloppiness that I can't call this a good match. Even still, it exceeded expectations. Estrellita offered next to nothing the last time I saw her in CMLL, and her effort here was vastly superior; she even had a strong shotgun dropkick now. I guess I would've just preferred less of her offense and more of Tormenta (who felt like she had barely anything to do); better yet, maybe even a different opponent for Tormenta! Alas it wasn't to be, although again, this was nowhere near a disaster. ** ½ 
Cibernetico came out to cut a promo. He mentioned Pagano, Konnan, something about being the Main Man; you know, the Cibernetico greatest hits. Of course Ciber is great on the mic so it was all in all a good segment, and was a nice breather in between matches.
Cuatrero, Forastero and Sanson (NGD) defeated Laredo Kid, Myzteziz Jr. and Octagon Jr. after Sanson submitted Myzteziz Jr. with a Cloverleaf Leg Lock. The Dinamitas continued their attack after the match, prompting Antifaz del Norte to return the ring with the largest set of pliers you've ever seen to run them off. That's right; you are now living in a world where Antifaz del Norte was all nice to Laredo Kid earlier in the show, and then didn't betray him afterwards! WE ARE THROUGH THE LOOKING GLASS HERE PEOPLE!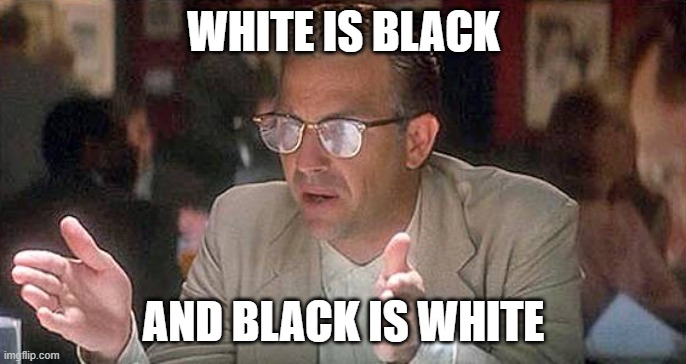 This was very good, borderline great stuff here. In fact my main criticism is that it should've gotten even more time! This felt like two teams that were really clicking with each other, and a few more minutes would've made this stand out even more. Even still, this was strong stuff and easily one of the best pieces of work the Dinamitas have had since joining Lucha Libre AAA. Granted, I feel they've been way better in Lucha Libre AAA than they were in their last few years in CMLL (at least from an effort standpoint), but this was a step above even some of their Poder del Norte stuff. You can credit the pacing of the match (much faster than a usual NGD match) and some crisp work from the technicos. Laredo Kid is always great, Octagon Jr. continued his strong recent run (though he left the Split Legged moves at home) and this was among one of the more polished Myzteziz Jr. performances in recent memory. Of all people, the Dinamitas are who he clicks with best; who knew?! I liked Taurus-Baby Park better, but this was very good. *** ¾ 
Mamba, Mr. Iguana and Niño Hamburguesa defeated Abismo Negro Jr., Latigo and Toxin (Los Vipers) after Hamburguesa pinned Abismo and Toxin after a Frog Splash. A bunch of stuff then happened after the match, including Estrellita attacking the technicos, Taurus attacking her, the Parks attacking Taurus and then Los Vipers (along with Cibernetico) making the save to make sure L.A. Park didn't CHOP TAURUS' BALLS OFF WITH BOLT CUTTERS! Only in Lucha Libre AAA sports fans. If you take away the fact that Los Vipers inexplicably lost this match, the post match and the match itself were all good fun. Of course you can't escape that Los Vipers inexplicably took the L here, continuing to make them look lame. I get Cibernetico is the main guy, but sooner or later the group should start winning consistently on these shows, no? The only plus side is they were very entertaining on the way to defeat I suppose, especially when it involved Abismo working with Mr. Iguana or all three Vipers hitting Yezka (Iguana's lizard) with moves. Throw in Hamburguesa working hard, Mamba doing enough and some spectacular stuff from Iguana in the end and this, along with the post match angle, may have been enough to get the bad taste of the weird result out of your mouth. ***
Hijo del Vikingo defeated Flamita after pinning Flamita with an Inverted 450 Splash. I will describe this match with words in a moment sports fans, but first, allow these gifs to give you an idea of how I felt about what happened in the ten minutes these two threw down.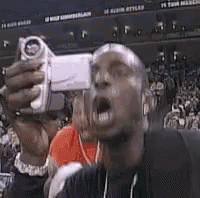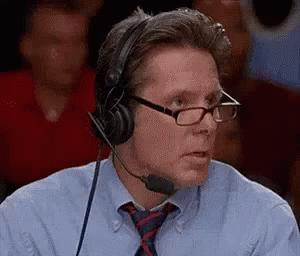 So yeah; this was absolute insanity and an absolutely incredible match. Furthermore, it was the second straight incredible Vikingo match where something was going against him. Against Johnny Superstar at Rey de Reyes Vikingo braved rainy conditions to pull off one of the more incredible finishing sequences ever. Tonight he went out there on a bum foot (an injury expected to keep him out for weeks) and further cemented his claim as the best wrestler alive. And I'll be damned if Flamita, in a "don't forget I'm one of the best luchadores alive" performance, wasn't right there with him. The match began with a Flamita spear to the floor and just continued from there; we got in and out DDT's, Shooting Star Presses off the apron and to the floor, Flamita working over Vikingo's bad leg and the match's centerpiece moment that saw Vikingo his a double jump springboard Poison Rana that was quickly followed by a double knee strike in the corner and a Brillo 450 onto the ramp. And again; Vikingo did this on a legitimately injured foot. One good leg, no good leg, rain, shine, it doesn't matter. Nothing can stop Hijo del Vikingo right now as he continues to prove that he's not just the best luchador in the world, but dare I say the best wrestler in the world. Huge props to him and to Flamita; it's almost a shame that Vikingo's excellence will be the story again because Flamita was right there with him and is more than capable of working at this level consistently himself. In the end these two delivered lucha libre excellence, and closed the first strong Lucha Libre AAA show of 2022 in style. **** ½ 
There you have it sports fans. I will see you next Friday for CMLL's Homenaje a Dos Leyendas. That's right; I'm going to be watching CMLL again. Grodd help us all. TILL THEN!
Please change disks to continue…
Folks! We invite you to also follow us through our official social media accounts:
© 2022 Lucha Central 
RELATED NOTE: Lucha Libre AAA Gira Aniversario XXX in Ciudad Madero Quick Results (03/05/2022) 
Lucha Libre AAA Gira Aniversario XXX in Ciudad Madero Quick Results (03/05/2022)