Just when you thought we were stuck with dumb CMLL shows for the foreseeable future, in road AAA on that white horse to save the day once again! This past weekend the promotion announced that tonight's AutoLuchas show, the last one scheduled at this moment, would stream for free on Facebook, and would be Dia de Muertos themed, which made sense because today was, you guessed it, Dia de Muertos! The result was exactly what you'd expect from AAA; a great atmosphere, a great Dia de Muertos inspired set (complete with a great dance by a skeleton dude) and a really fun show with three matches you should give a look. In other words, it was like the CMLL Dia de Muertos show…if it didn't suck more than Limp Bizkit album. If by chance you missed it all because you were watching Coco (which I will be watching as soon as this column is done), here's the greatness you missed.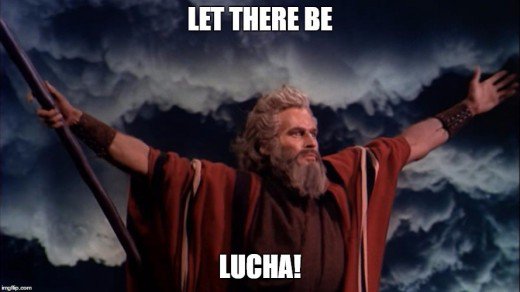 Hades & La Parkita defeated Lady Maravilla & La Parkita Negra after Hades pinned Parkita Negra with a Wheelbarrow Suplex. This match was super fun. It got a bit out of control at times, with Hades and Parkita Negra trying a few things that didn't quite go smoothly, while La Parkita was definitely a step or two behind the other three luchador(a)s in this match. Overall though this ruled. Hades and Lady Maravilla were the stars; Maravilla in particular oozed charisma throughout (her Dia de Muertos costume was tremendous to boot) and she's seemingly taken Keyra's spot of delivering vicious head kicks. For example.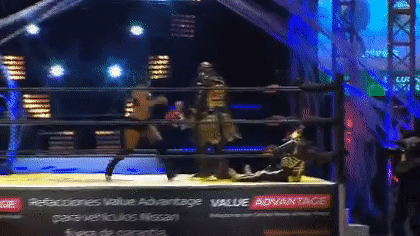 You know what; we need to see that again. But this time we need to see it…in slow motion!
Then there was Hades, who made up for not jumping off the screen charisma wise like Maravilla by legit jumping off the screen. AAA has a ton of great luchadoras but they're mostly great at stiff strikes and submissions. Then we have Hades, who spins so much her favorite Helen Hunt movie must be Twister. Yes I know that sucked; just watch the gif while I see myself out.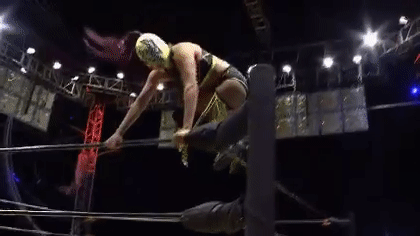 Meanwhile Parkita Negra was also very strong, especially as a base, and La Parkita did at least have a cool dive. The post match was especially brutal, with Maravilla and Parkita Negra laying out the technicos (with an assist from La Hiedra) with a vicious chair shot to Hades and a Martinete to Parkita. As it turns out that post match beat down was the set up for something in the next match, so it wasn't even completely random! Not quite great but a legit good match; Hades has some serious star potential. *** ¾
Lady Shani defeated La Hiedra and Big Mami after submitting La Hiedra with…I'm not even sure what it was. An armbar variation? It ruled that's all I know. This was an average match, which was expected given that Big Mami was involved. I love her, but she's best used in a comical, story driven setting and this match was trying to be a regular wrestling match. As such her spots were a little sloppy. As per usual she tried hard though, and both Hiedra and Shani were very good, with Shani's maestra spots in the end in particular coming off very well. After the match we had Lady Maravilla coming out to deliver more chair shots to assist La Hiedra, so it looks like there's an alliance between those two. That or Maravilla just wanted to hit people hard with chairs again. Could be either or honestly. ** ½
Carta Brava Jr. & La Parka Negra defeated Dinastia & Maximo after Parka Negra pinned Maximo with a Swing Bottom. It says something about the match when the highlight was Parka Negra's entrance, where he presented commentator Jose Manuel Guillen with a human heart, followed by Jose's attempt to get rid of said heart!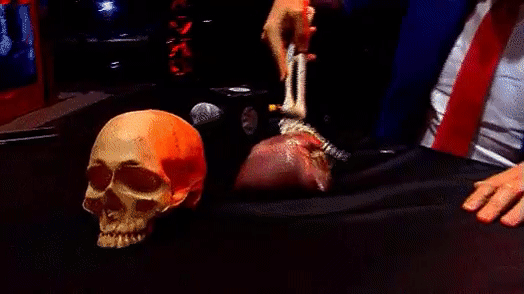 Beyond that this was the weakest match on the show. It wasn't awful but it was definitely lacking something, especially when it appeared that Maximo, generally the weakest part of any match he was in, was one of the strong points. Carta Brava Jr. and Parka Negra are great luchadores but they seemed to be in cruise control here, and Dinastia was a notch below them. Dinastia is a weird one; he can be great and he can also have extreme off nights and this was the latter. * ¾
Laredo Kid defeated Myzteziz Jr. and Octagon Jr. after pinning Myzteziz Jr. with a 450 Splash. This match was GREAT. It didn't quite have the craziness to match the Laredo Kid-Octagon Jr. match from a few weeks ago and there was a few iffy moments, but at worst it was just a notch below. Laredo Kid continues to be one of the best wrestlers in the world today and he was top notch again here, smooth as silk and delivering the highlight of the match with a Springboard Super Rana while Octagon Jr. was trying to walk the ropes. Octagon Jr. was once again in fine form and while Myzteziz Jr. had the roughest moments, he also had an insane sequence early on where he hit a spinning headscissors to send Laredo to the floor, an insane tope suicida through the turnbuckle and a great Sasuke Special. IN RAPID SUCCESSION! All in all it was tremendous. Laredo's future match with Kenny Omega for the AAA Mega Championship was hyped often by Hugo Savinovich, and Laredo cut a promo on Omega in the post match. **** ¼
Chessman defeated Texano Jr. and Psycho Clown after fouling Texano with a low blow. The finish sucked…and that was pretty much the only thing about this that did. Boy did this exceed expectations, largely because this match was build around Psycho, THE ACE, being awesome. This was one of the best performances I've ever seen from him, and that's saying something because this guy has headlined Triplemania's and unmasked Dr. Wagner Jr. Of course he wasn't doing 4 dives in those matches, including this gem!
But yes, this was the Psycho Clown Experience and it was a great one. It didn't hurt that he was in there with two of his best opponents in Chessman and Texano either. Neither guy did a whole lot other than take Psycho's offense, but they were great punching bags and only Rey Escorpion does a better job at meshing with The Ace. In the end it really was just the finish that prevented this from being truly great; I get why they went with Chessman winning (he has a feud with Pagano after all) but they could've picked something better than something we see on CMLL every week. Oh well. Laredo Kid ran out afterwards to save Psycho, a cool moment, followed by Chessman and Pagano promos. *** ¾
That'll do it sports fans. See you soon!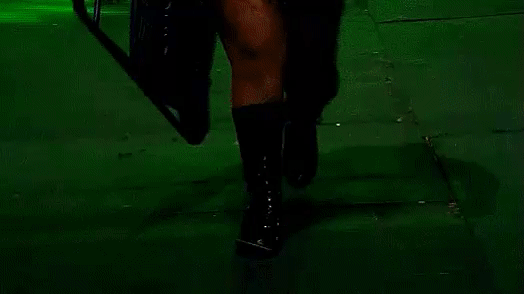 Please change disks to continue…
Folks! We invite you to also follow us through our official social media accounts:
RELATED NOTE: Lucha Libre AAA Announces Partnership with Marvel, Triplemania XXVIII (Tentatively) Scheduled for December
Lucha Libre AAA Announces Partnership with Marvel, Triplemania XXVIII (Tentatively) Scheduled for December