Lucha Libre AAA is back! No really; they mean it this time. After postponing a virtual press conference earlier in the week, Lucha Libre AAA popped up today with a rescheduled presser to confirm that their Auto Luchas shows will indeed be starting up, as first reported earlier this week by Record. Taking place at the Autodromo Hermanos Rodriguez in Mexico City, the drive in shows will start on October 3rd and continue on October 4th, October 10th and October 11th. No other dates have been listed yet.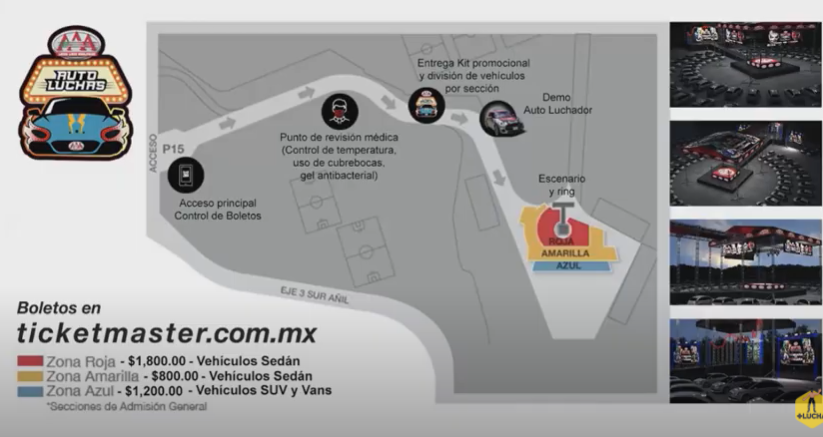 With much of the Auto Luchas concept already known after Lucha Libre AAA first introduced the idea a few months ago, today's presser involved little of new information. The most notable reveals were that the ring would be on a 360 degree stage, 250 cars would be permitted per show and that there would be three Auto Lucha shows per day, meaning there will be 12 Lucha Libre AAA shows in total by the end of October 11th. All the shows will be taped and the 8 P.M. C.T. show on October 3rd will stream live over Lucha Libre AAA social media, making it the first live Lucha Libre AAA event since February. Little information was given how safety precautions and it will be interesting to see how Lucha Libre AAA handles things in the wake of CMLL's COVID-19 outbreak this past week. Lucha Libre AAA's Dorian Roldan confirmed several stars for these shows, including Psycho Clown, Chessman, Lady Shani (all three appeared on this presser), the Legends of Lucha Libre stars Laredo Kid and Pentagon Jr. The latter would appear to be a difficult get given his ties to All Elite Wrestling, but Lucha Libre AAA's Auto Luchas schedule doesn't conflict with any potential Dynamite tapings, opening the door for one half of the Lucha Libre AAA World Tag Team Champions to appear. No cards were announced.
As stated, Lucha Libre AAA Auto Luchas will begin on October 3rd and one show will stream live. Lucha Central will provide coverage for said event and will provide updates on any changes.
©  2020 Lucha Central
Folks! We invite you to also follow us through our official social media accounts: 
RELATED NOTE: Lucha Libre AAA Announces Auto Luchas, Triplemania Postponed.
Lucha Libre AAA Announces Auto Luchas, Triplemania Postponed