Discover the important events that occurred on this date in the lucha libre history
1963: El Hijo del Santo was born in Mexico City.
1987: El Hijo del Santo won the Espanto Jr.'s hair in a Mask vs. Hair Match at the Auditorio Municipal in Torreon, Coahuila.
1992: Sangre Chicana & El Sanguinario won the Latin Lover & Polimero Espacial's masks in a Mask vs. Hair Math at the Plaza de Toro Monumental Monterrey in Monterrey, Nuevo Leon.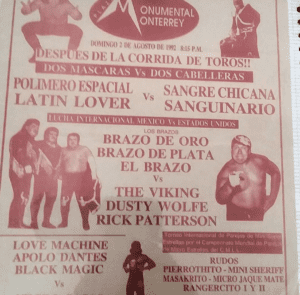 1996: Guerrero de la Muerte won the CMLL World Welterweight Championship after beating Mascara Magica at Arena Mexico in Mexico City.
Folks! We invite you to also follow us through our official social media accounts:
© 2023 Lucha Central 
RELATED NOTE: This day in lucha libre history… (August 1)