Robles Promotions regresa al Gimnasio Olímpico Juan de la Barrera de la Ciudad de México este sábado 25 de diciembre en punto de las 17:30 hrs. con el evento Lucha de Gran Altura, con la cual tirará la casa por la ventana para celebrar el Día de Navidad coronando a su primer Campeón Mundial de Peso Completo, cuyo portador saldrá del duelo eliminatorio entre Blue Demon Jr., el puertorriqueño Carlito, la superestrella de Legends of Lucha Libre Penta Zero M, Texano Jr., Electroshock y un Luchador Sorpresa, el cual procede de la WWC de Puerto Rico. 
También se llevará a cabo una batalla campal, la cual contará con la participación de grandes exponentes de la lucha libre mexicana e internacional como la superestrella de Legends of Lucha Libre Rey Fénix, Dralistico, Super Nova, La Máscara, Hijo de Dos Caras, Charlie Rockstar, Fresero Jr. y muchos más.
Además, estará en juego el Campeonato Mundial de Tríos de Robles Promotions.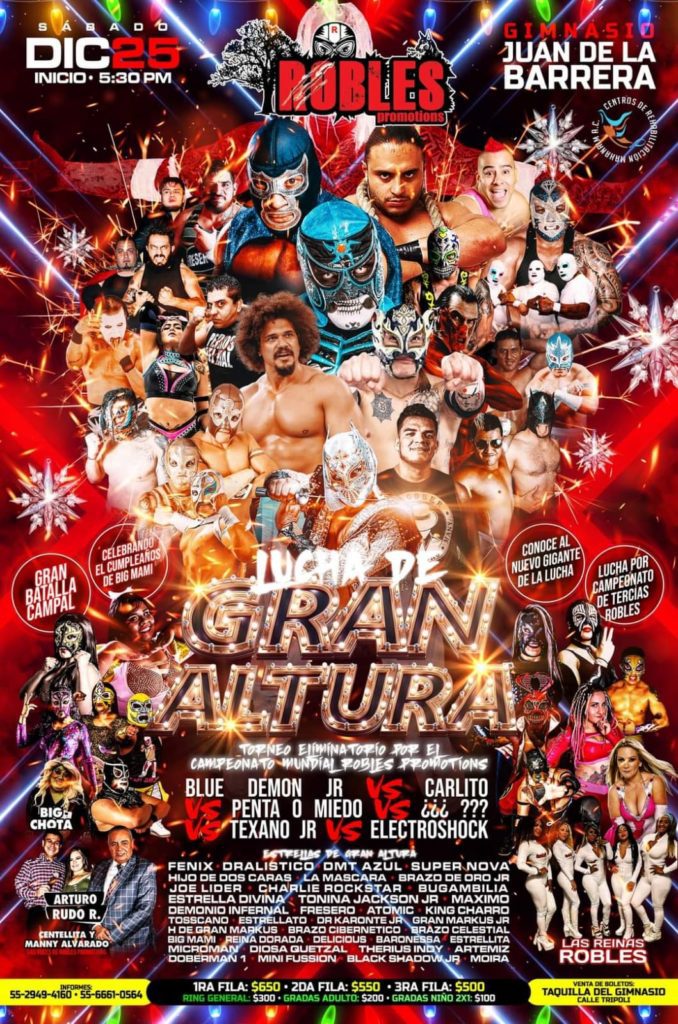 FOTO: Robles Promotions
© 2021 Lucha Central 
¡Amigos! Los invitamos a que también nos sigan a través de nuestras cuentas oficiales en rede sociales: