Being stuck home in quarantine may mean no lucha libre events to attend, but it has not slowed down the fandom from finding ways to get creative in the meantime.
This past Monday, The Mask Cast with Dos Hermanos Lucha debuted on the Lucha Central Podcast Network and is a great new way to learn about how the brothers, and others, have built their epic mask collections plus get tips on how to build your own.
Also this week, many of the mask collectors in the International Lucha Libre Fans group on Facebook got together – virtually – to create a very cool "Pass The Fandom" video – taking the "Don't Rush Challenge" craze to a whole new lucha level.
Check out the video here in our ¡Los Mejores Videos de la Semana! section of the videos page!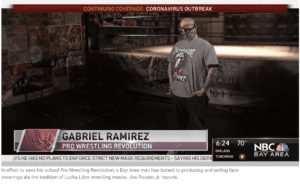 And finally, Pro Wrestling Revolution promoter Gabriel Ramirez, co-host of the Straight Outta The Bodega podcast on the Lucha Central Podcast Network received local news coverage in the San Francisco Bay Area for the incredible masks being created by his Lucha-Masks.com.  Incredibly cool personal protection masks made with lucha libre mask materials by a professional mask maker in Guadalajara, MX, fans across the world can now purchase official PPE style masks of Penta Zero M, Rey Fenix, Perros del Mal, LA PARK and more on the site.  Check out the news story here.