What's better than reviewing AAA sports fans? How about reviewing AAA ON SPACE?! Alright that's just an excuse to be cheesy; it's good to review AAA at any time. Nevertheless they can only be seen on Space through totally on the up ways, which is how I watched tonight's really good show. We got two good matches, Villano III Jr. saying he wants to go after Octagon Jr. and, as becoming a recurring theme in AAA, one delightfully gonzo five way match for a trophy. What do I mean by that? READ ON TO FIND OUT! Let's review.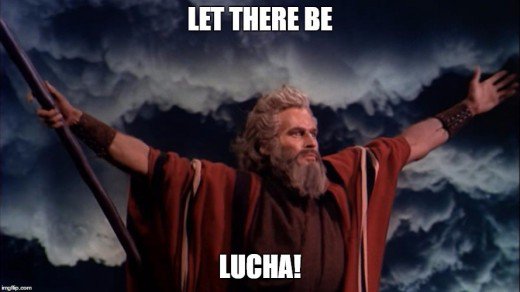 Venenoide defeated Aracno after pinning Aracno with a move that curiously looked a lot like the Rodeo Driver. If I didn't know any better, I'd say Venenoide was Taurus. Oh wait; that's because he is.
Yes the Marvel/AAA partnership is still a go, yes Taurus and Hijo del Vikingo were the two luchadores essaying Venenoide and Aracno in this match and yes, you did see two women dressed as superheroes (Flammer and the new Sexy Star) get involved towards the end of the match. Picadura Letal and Arana Voladora are their names by the way. Get past all of that and you'll find yourself with a pretty good Vikingo-Taurus match! They've done better than this and the gimmicks do seem to be constricting to a degree (especially on Vikingo, who seemed tame here) but this is still two luchadores with great chemistry who are incapable of having anything less than good. This match was no exception. As Venenoide, Taurus was in particular really strong, at home with the persona as much as his usual gimmick while still working a well rounded match. It wasn't as great as it could've been, but there was neat stuff here and this was overall pretty good. *** ½ 
Hijo del Vikingo defeated Aramis, Abismo Negro Jr., Latigo and Villano III Jr. after pinning Aramis with an Imploding 450 Splash to win Copa Perro Aguayo Jr. I seem to recall there being a previous Copa Perro Aguayo Jr. but this was for sure the first one in awhile. It was also easily the best one. Holy smokes what a match this was! Every name in this (except maybe Abismo Negro Jr.) made this match look promising and they delivered. The pace was positively Fury Road esq and the wrestling was top notch, as well as relatively smooth save for one or two moments. Abismo Negro Jr. was indeed the weakest in the match but he was no detriment and obviously had his best performance since adopting the character, finally rediscovering his basing ability. Latigo was awesome in every facet of the game. Villano III Jr. worked a tremendous match and then found some time to do his death spot, taking an Astros Whip from Latigo ONTO THE RING APRON! That was madness. Somehow all three were outshown by Aramis and Vikingo (doing double duty). The two were magic at every moment of the match and particularly together, having a great back and forth early on and closing the match strong. I'm not sure what else you could want from this if you're a lucha libre fan. Well other than appearances from Fenix and Laredo Kid I suppose. Short of that this was high octane, awe inspiring lucha with great pacing, tremendous spots and things you wouldn't believe. As Yoda would say, top tier lucha this was. **** ½ 
Monsther Clown, Murder Clown and Psycho Clown (Los Psycho Circus) defeated Rey Escorpion, Sam Adonis and Texano Jr. after Monsther and Psycho pinned Texano and Escorpion with stereo School Boys. You'll never believe this but Sam Adonis walked out on his non La Empresa partners! Also there was a post match attack, a table that wouldn't break and THE ACE doing this.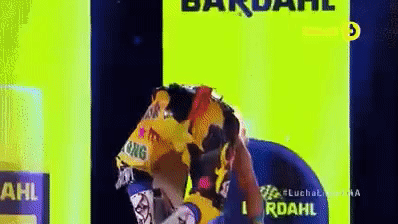 This was an enjoyable AAA main event, though it was very, VERY much an AAA main event; rudos got heat to start, technicos made the comeback, back and forth they went before something screwy happened at the finish. In between there were weapons and blood; like I said, a very AAA main event! Overall though, save for a few sloppy moments, it was well done. Sam Adonis didn't get to do a ton but he was solid when in there and I'm happy he didn't worth with his partners given that La Empresa was very clearly anti-AAA at Rey de Reyes (and that includes the rudo stables). Escorpion and Texano were very strong (it's amazing how much more interesting Texano is now compared to a year ago), Monsther and Murder were solid and THE ACE was THE ACE! He was particularly good with Escorpion (as they always are) and the way they were feuding with a Triplemania presser around the corner you'd be forgiven for thinking that might be the main match at the big show. It likely won't be but it's something. In the end this won't be remembered in three weeks but for the AAA main event style I'd say it barely crossed the line of being "good", and probably would've gotten over great with a crowd. ***
And there you have it sports fans. I'm off the watch ChocoPro JUST FOR FUN! Till we meet again.
Please change disks to continue…
Folks! We invite you to also follow us through our official social media accounts:
© 2021 Lucha Central
RELATED NOTE: Lucha Libre AAA Lucha por la Identidad de Mexico Show in Cholula Results (05/08/2021)
Lucha Libre AAA Lucha por la Identidad de Mexico Show in Cholula Results (05/08/2021)