The new promotion in Mexico Federation Wrestling announced that their debut show will be next June 19 through PPV, whose card will be headed by the Legends of Lucha Libre superstars Rush and Dragon Lee. The Former CMLL and WWE superstar Andrade will also be part of the project.
The former ROH World Champion Matt Taven and PJ Black will make their return to Mexico accompanied by two luchadores sorpresa. While in the women's division the AEW superstars Tay Conti and Red Velvet will make their debut before Mexican fans.
This new promotion will be headed by Damiana Vicenzo La Patrona, who promised to bring to Mexico the best elements worldwide, including the Legends of Lucha Libre superstar Penta Zero M and Rey Fenix.
The Federation Wrestling's debut PPV will cost $17 USD. Click here to buy the PPV. 
Card: 
Rush, Andrade, La Bestia del Ring & Luchador Sorpresa Vs. Matt Taven, PJ Black, Luchador Sorpresa & Luchador Sorpresa (8-Man Tag Team Match) 
Penta Zero Miedo & Rey Fenix Vs. Dragon Lee & Bandido (Tag Team Match) 
Torneo Copa Federación Wrestling: 20 luchadores in action
Tay Conti, Red Velvet & Luchadora Sorpresa Vs. Ayako Hamada, Miranda Alize & Zeuxis (6-Woman Tag Team Match) 
Rey Horus Vs. Flamita Vs. Luchador Sorpresa (3-Way Match) 
Futuro & Brillante Jr. Vs. Shocko & Barrabas (Tag Team Match)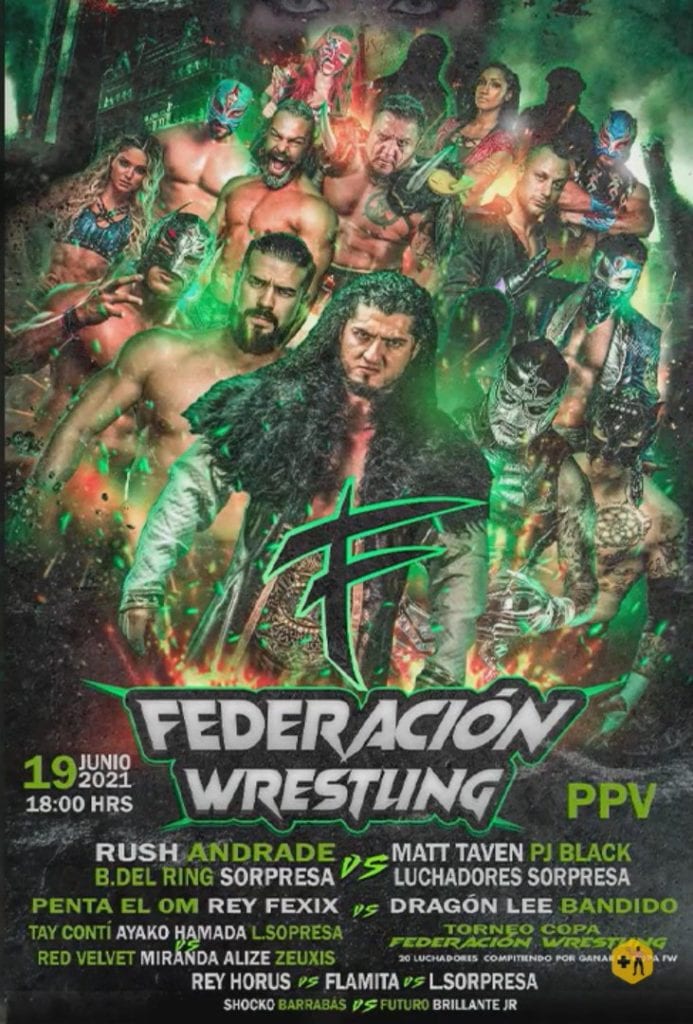 Folks! We invite you to also follow us through our official social media accounts:
© 2021 Lucha Central