San Diego, CA & Orlando, FL – October 13, 2020
This past Saturday, thousands and thousands of fans attended – virtually – Masked Republic and FanGirl Brand Management's Expo Lucha®: Virtual presented by Pinfinity.
The seven hour event featured never before streamed matches with many of today's hottest stars including The Lucha Brothers, Penta Zero M & Rey Fenix, Laredo Kid, Black Taurus, Salina de la Renta, Jack Evans, TJP, Flamita and Rey Horus plus legends including Psychosis, Juventud Guerrera and reuniting for the first time in nearly twenty years Mr. Aguila (Essa Rios) and Amy Dumas (Lita)!
The entire event can now be viewed on demand on YouTube and Facebook. 
In addition to the matches recorded last year at Expo Lucha: San Diego, Expo Lucha: Virtual brought nearly four hours of original content in the form of panels including:
Officially Licensed Lucha Libre – The Pop Insider's James Zahn sat down with Masked Republic President & COO Kevin Kleinrock to talk about all of the amazing officially licensed products the company has released under its Legends of Lucha Libre brand and beyond over the past year. Then the two drop news of a plethora of new products including many that went on sale online during the panel. And, Kleinrock broke news of new signees to Masked Republic for intellectual property representation including the legendary El Matematico, two of today's most in-demand female talents, Christi Jaynes and Salina de la Renta, and two of the most influential Japanese wrestlers who embraced the lucha libre style Ultimo Dragon and the Great Sasuke. These stars join the recently announced Vampiro and Cassandro as having officially licensed products on the way.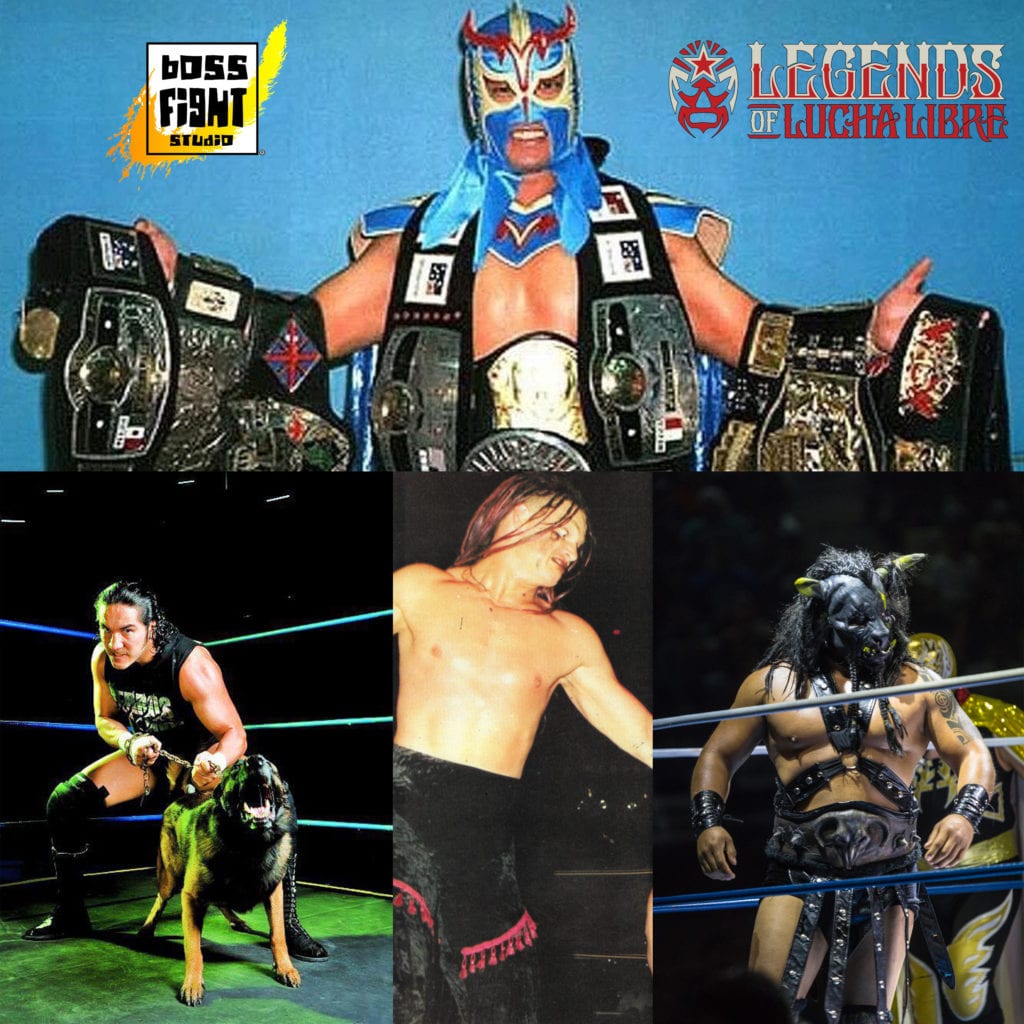 Lucha Underground Panel: Konnan with Masks, Mats & Mayhem – He was there before it started, but then things didn't go quite according to plan. For the first time ever, Lucha Underground star, agent and would-be writer Konnan goes in-depth about his own experiences and opinions on the groundbreaking Robert Rodriguez and Mark Burnett TV series. Lucha Central Podcast Network's Mats, Masks & Mayhem may bring you inside perspectives on the series each and every week, but they've never had an episode like this as the master of the verbal gem who always keeps it 100 does not disappoint!
Boss Fight Studio Updates & Reveals – The mind blowing line of Legends of Lucha Libre action figures and collectibles' lead designer and Boss Fight Studio partner, Erik Araña, is joined by his Lucha Libre Figures and Facts co-host Jefry Toon for updates on the previously announced releases as well as dropping brand new images of the Fanaticos line's first wave (Taya Valkyrie, mid-90s Juventud Guerrera, Penta Zero M and Rey Fenix), the jaw dropping Mystery Mascaras first wave plus find out what lucha stars will be featured in Fanaticos Wave 2.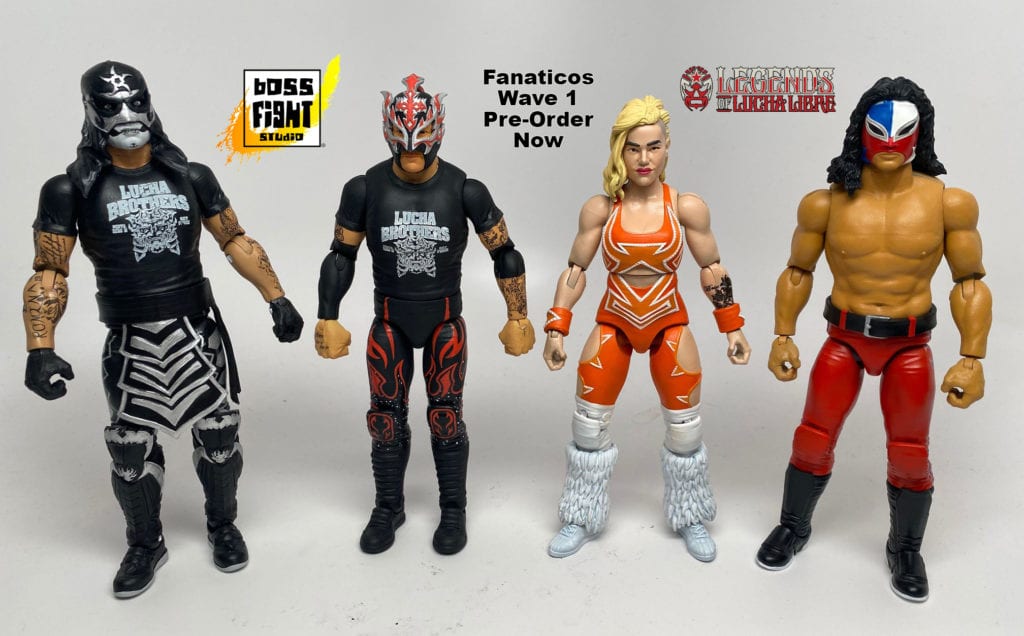 Over the last three years, Expo Lucha has established itself as the premiere event for officially licensed lucha libre product reveals and this year was no different. New announcements included:
Legends of Lucha Libre Trading Cards from Rocket Ink Studios: These premium collectors card packs will include hit/chase autograph cards, sketch cards and the ultimate prizes – special cards redeemable for an actual autographed lucha mask from Penta Zero M, Rey Fenix, Solar and more.  Pre-order now at RocketInkStudios.com.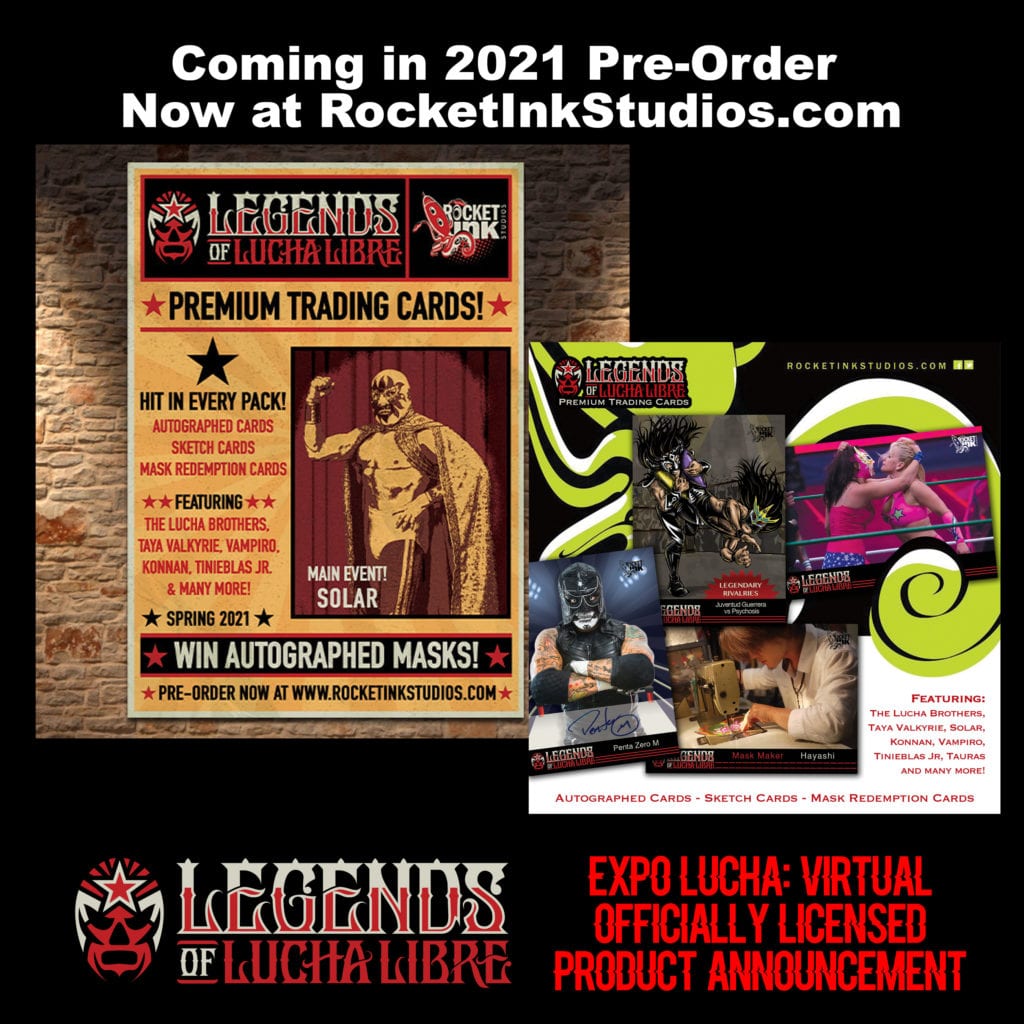 Legends of Lucha Libre posters from Poster Foundry: Holy flashback!  Huge 80s style wall posters up to 3 feet tall and available with six different finishes including canvas prints and framed. Prices start at only $7.99 and are shipping now from PosterFoundry.com/luchalibre.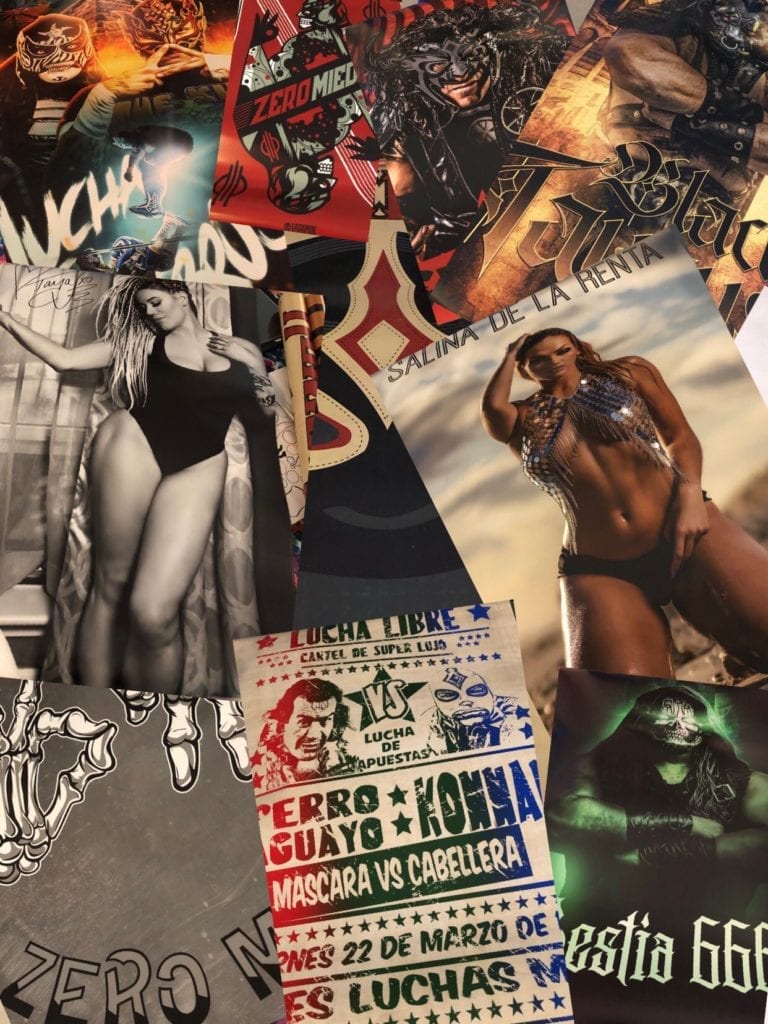 NERDS Clothing Collab: NERDS Clothing recently dropped their 90s inspired collection starting with New Japan Pro Wrestling Tees and now The Lucha Brothers, Penta Zero M and Rey Fenix, have joined the lineup as well. Get their shirts now and look for more 90s inspired luchador tees soon. NERDSclothing.com.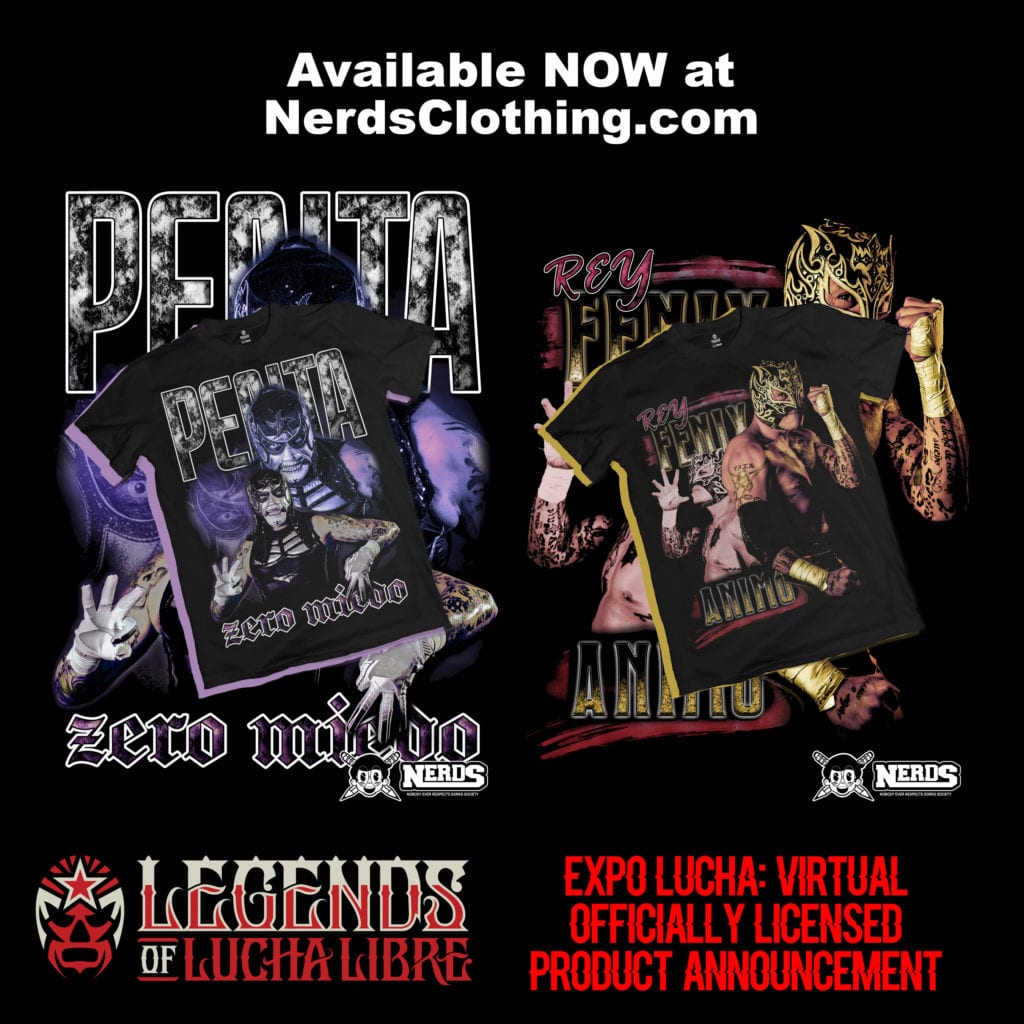 Exclusive Rey Fenix Futbol Kit: LuchaCentral.com's shop made waves earlier this year when they released an exclusive Penta Zero M capsule collection including a soccer jersey. Selling out in less than 30 days, now a brand new Rey Fenix collection has dropped featuring a sublimated jersey and shorts. The kit is only available until November 10 and only at LuchaCentral.com/shop.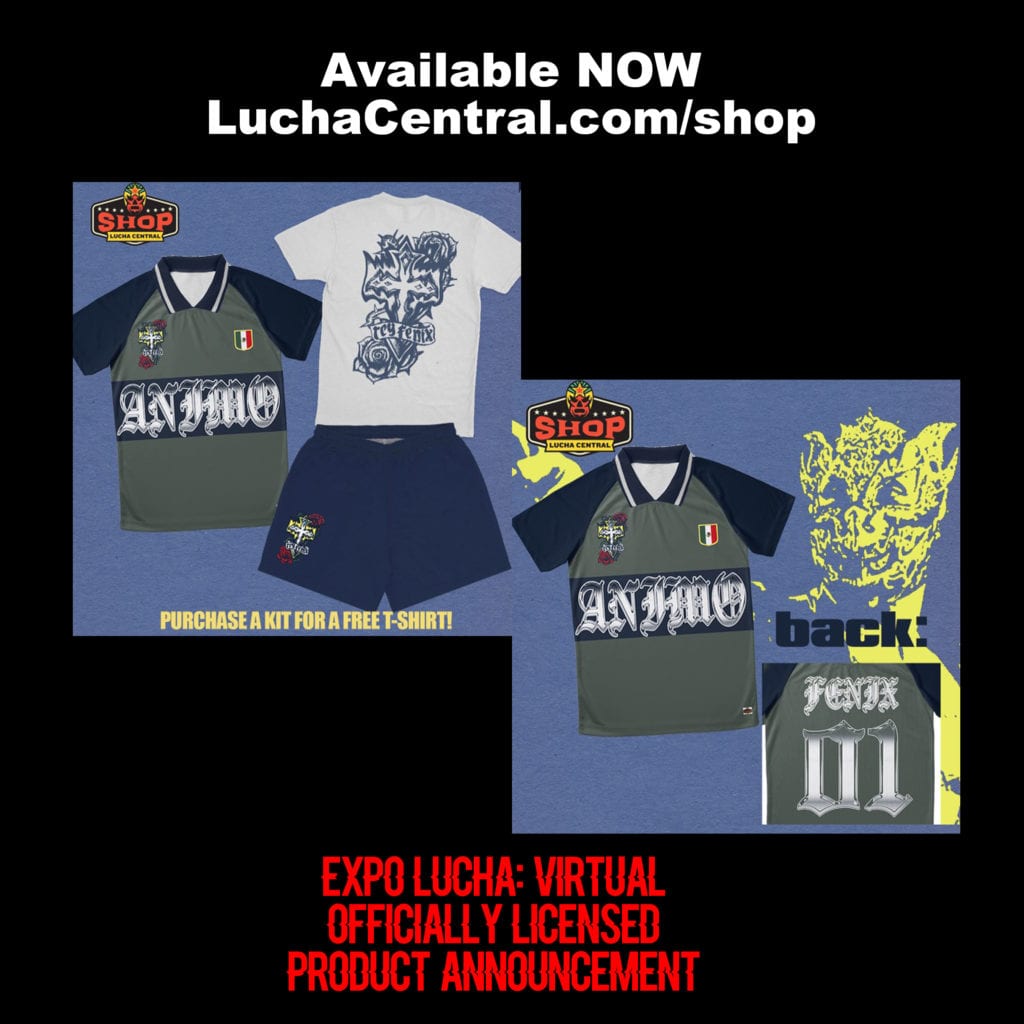 Tribe Socks at HotTopic.Com: Coming soon, not only will fans be able to continue to find awesome officially licensed lucha libre tees on Hot Topic's website, but Tribe Socks will be releasing pairs for The Lucha Brothers, Penta Zero M, Rey Fenix, Christi Jaynes along with logo socks for Masked Republic and the company's RUDA brand.
Officially Licensed Face Covers from Lucha-Masks.com: Nothing is more 2020 than a face cover, but Pro Wrestling Revolution staked a claim in making the best ones early on in the year when they teamed with a lucha libre mask maker in Guadalajara, Mexico to create officially licensed face covers out actual lucha mask materials. Having sold more than 1,000 between the two of them, The Lucha Brothers each released a new mask during Expo Lucha available on the site while they last! Lucha-Masks.com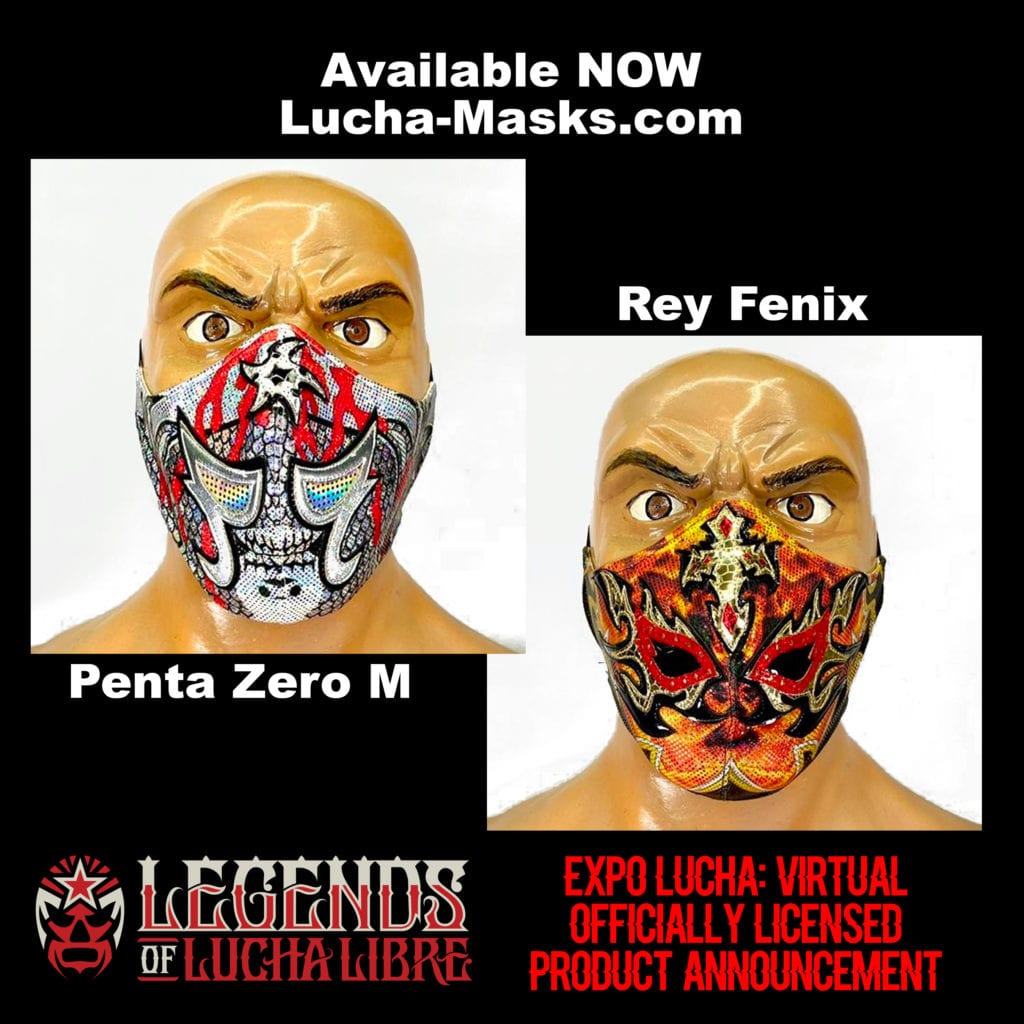 Eat Like A Luchador: The Official Cookbook by Legends of Lucha Libre and Mónica Ochoa from Running Press: On June 1, 2021, a cookbook like no other will be released. Packed into 300 pages are not only more than 50 recipes from lucha related stars and personalities and their families, but bios, stories and amazing photography.  Whether for the foodie of the lucha fan in your life, or yourself, this is going to be one book everyone will want on their shelves.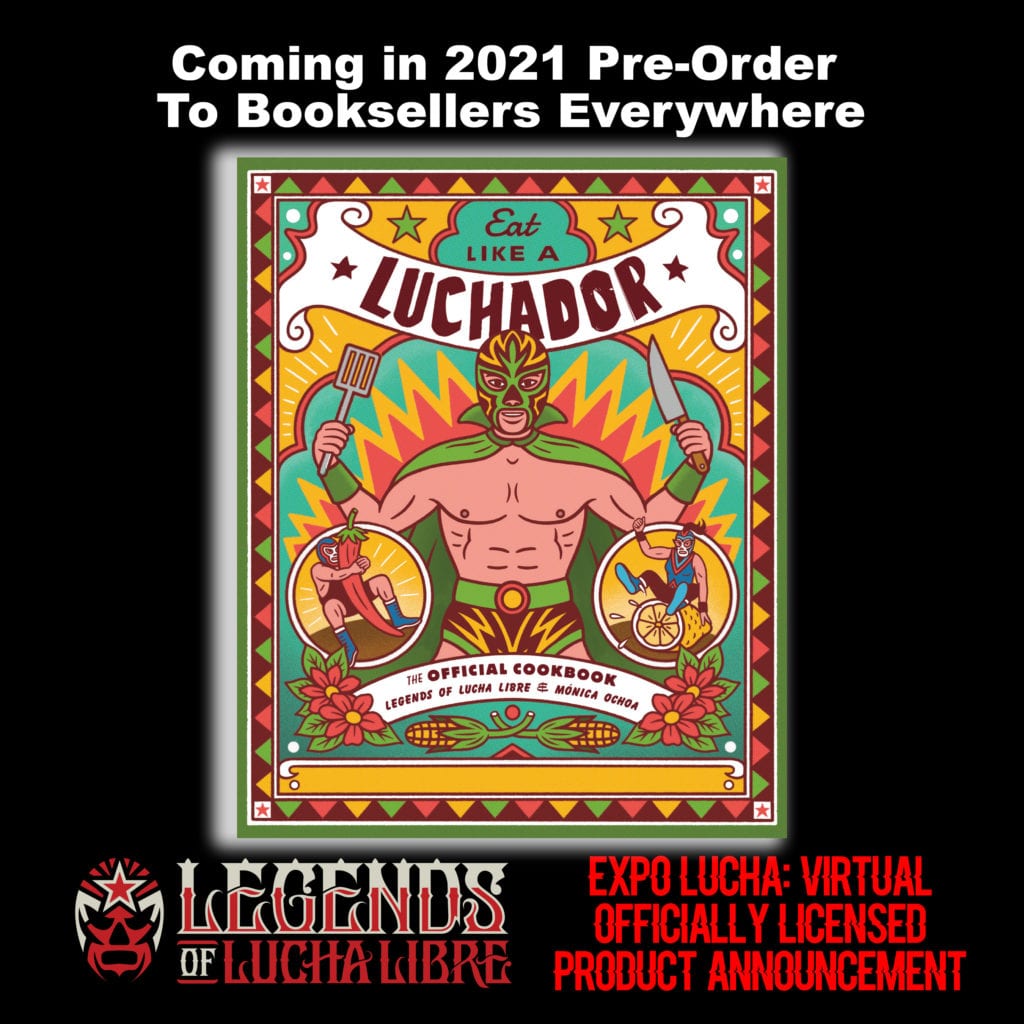 Recently released officially licensed products:
Pinfinity AR: Pinfinity creates collectible pins enhanced with patented Augmented Reality that reveal animation, music, exclusive content and more when scanned via their free app. Limited Edition Masked Republic Pins featuring Rey Fenix and Penta Zero M are now available online at http://pins.ar/masked with more stars to come!
Officially Licensed Apparel At HotTopic.Com: Searching "Legends of Lucha Libre" on the pop culture mega-site will lead you to over 150 options of styles, fits and colorway combos with tees for Psychosis, The Lucha Brothers and El Solar plus Legends of Lucha Libre logo apparel you won't find anywhere else. And, there are more stars and accessory items on the way. Plus, later this fall find Penta Zero M, Rey Fenix and Lucha Brothers tees in Hot Topic stores!
Expo Lucha will return as a live event June 12-13 at the 2300 Arena (ECW Arena) in Philadelphia. VIP packages which include ringside seats, autograph sessions and exclusive experiences are now back on sale at ExpoLucha.Com where limited tickets remain. Fans traveling from outside the area can book travel, hotel and event packages from WrestlingTravel.org.
Folks! We invite you to also follow us through our official social media accounts: 
© 2020 Lucha Central
RELATED NOTE: Expo Lucha: Virtual presented by Pinfinity