Lucha libre again receives unfortunate news, the exotico luchador Pasion Kristal passed away at 45. The news was confirmed by the Lucha Libre Acapulco promotion.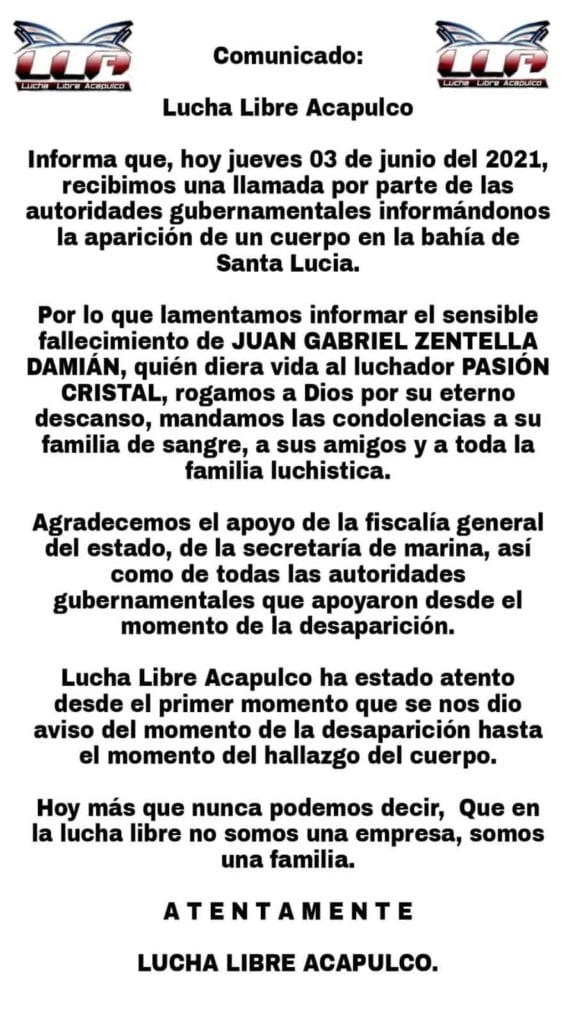 Press release

Lucha Libre Acapulco informs that, today, Thursday, June 3, 2021, we received a call from the government authorities informing us of the appearance of a body in the Santa Lucia bay.

So we regret to report the sensitive death of Juan Gabriel Zentella Damian, who gave life to the luchador Pasion Kristal, we pray to God for his eternal rest, we send our condolences to his blood family, his friends and the entire lucha libre family.

We are grateful for the support of the State Attorney General, the Secretary of the Navy, as well as all the government authorities that supported from the moment of the disappearance.

Lucha Libre Acapulco has been attentive from the first moment that we were notified of the moment of disappearance until the moment of the discovery of the body.

Today more than ever we can say that in the struggle we are not a company, we are a family.

Sincerely

Lucha Libre Acapulco 
On Wednesday morning, the news was released that Pasion Kristal disappeared on a beach in the Acapulco harbor after being swept away by a wave, on Thursday morning his body was located by local authorities.
Pasion Kristal are in Acapulco with Jessy Ventura and Diva Salvaje because he would appear with the Lucha Libre Acapulco promotion at the Bar Copacabana for a lucha libre show, in that show Las Shotas would face Atlantis Jr., Hijo de Octagon and Brazo de Oro Jr. in a 6-Man Tag Team Match.
Pasion Kristal began work in 1994 in Villahermosa, Tabasco under the name of the masked luchador Nemesis 2000, becoming part of the Lucha Libre AAA roster in 2008 being part of the Los Exoticos team with Cassandro el Exotico and Pimpinela Escarlata.
In recent years, he became a star on the Mexican indie circuit, mainly in IWRG.
Their last match was this past Sunday at the Arena Naucalpan in whose match Las Shotas advanced to the next round of the Estado de Mexico Trios Championship Tournament after beating Los Herederos.
Juan Gabriel Zentella Damian
1976 – 2021
Rest In Peace. 
Folks! We invite you to also follow us through our official social media accounts:
© 2021 Lucha Central
RELATED NOTE: Legendary Box and Lucha Libre Commentator Dr. Alfonso Morales Passes Away 
Legendary Box and Lucha Libre Commentator Dr. Alfonso Morales Passes Away