Pacific Northwest based DEFY Wrestling, who promotes primarily in Washington and Oregon states and recently expanded to Los Angeles is no stranger to great lucha libre talent. Over the years they have featured Penta Zero M, Rey Fenix, Rey Horus and Bandido among other great stars. But, now fans can expect even more great lucha action as Lucha Central has exclusively learned of plans for the company to expand both the luchadores who appear on DEFY Wrestling events along with being in discussion with Masked Republic to promote Viva La Lucha branded events in DEFY's PNW cities. To that end, DEFY is currently working to secure visas for a number of luchadores who they would work into DEFY and Viva La Lucha events.
"We've had a great relationship with Masked Republic since even before DEFY made its debut in 2017. It's like a family with shared goals and it's great to see our efforts to make authentic lucha libre more accessible to those in the U.S. come to fruition in this way", said DEFY founder and president Jim Perry. "It's going to be a tremendous collaboration and only the beginning of a DEFY initiative to bring the world to our fans". 
Masked Republic's Viva La Lucha brand first came to life with a 2008 TV pilot for the G4 network written and produced by the company's principals Ruben Zamora and Kevin Kleinrock. In the decade plus since then, the company has continued to use the Viva La Lucha name for special events including an upcoming December 11th event at Agua Caliente Casino in Cathedral City, CA which will feature Felino, Felino Jr., Psychosis, Super Astro Jr. along with NWA World Tag Team Champions Bestia 666 and Mecha Wolf.
DEFY's next event is on Thursday, December 16th in Los Angeles at the Lodge Room in Highland Park for "Defyant Nights" and features California natives including Christopher Daniels and Brody King. Then the "black and white brand" returns to its home in Seattle, Washington Hall, just two days later for "Dark Horse" on Saturday, December 18th. Tickets for all events can be found at DEFYwrestling.com.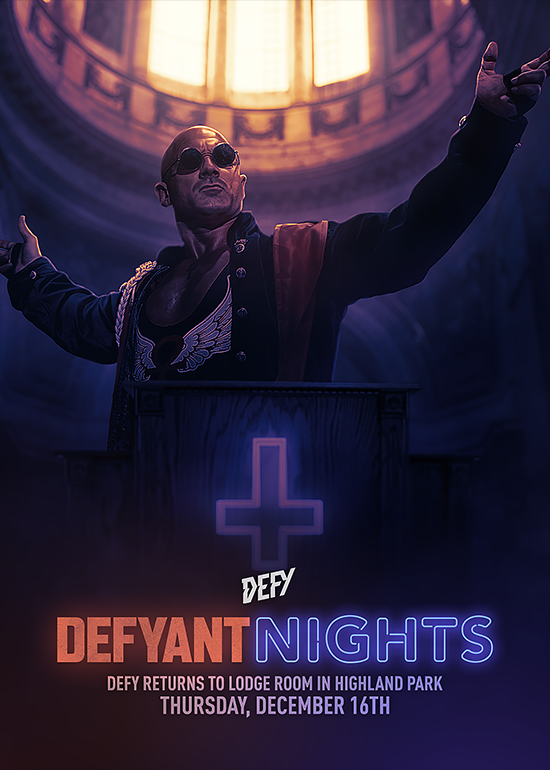 PHOTO: DEFY Wrestling
DEFY hopes that visas for new luchador talents will be ready in time to begin their expanded lucha libre integration in early 2022.
DEFY Dia De Los Muertos: The American Guns (Ethan HD & Mike Santiago) (C) Vs. Bandido & Flamita for the DEFY Tag Team Championship in a Title Match (10/27/2018 at Washington Hall in Seattle, Washington)
Folks! We invite you to also follow us through our official social media accounts:
© 2021 Lucha Central