CMLL held its traditional Tuesday Night Live Show at the Arena Mexico in Mexico City, in whose Main Event, Volador Jr., Mistico & El Valiente defeated Euforia, El Felino & El Terrible by pinfall with La Casita from Mistico on El Felino in a 6-Man Tag Team Match.
Stuka Jr., Fugaz & Star Jr. defeated Virus, Cancerbero & Raziel in a 6-Man Tag Team Match. At the end of the match, the team tecnico challenged Los Cancerberos del Infierno to a Title Match for the Mexican National Trios Championship.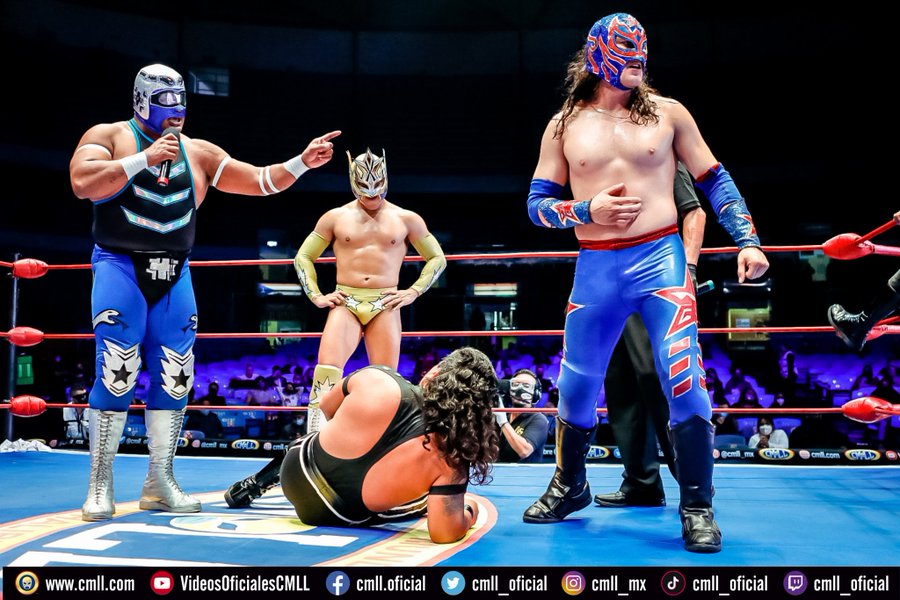 PHOTO: CMLL / Alexis Salazar
El Sagrado, Universo 2000 Jr. & Hijo del Villano III defeated Flyer, Magia Blanca & Panterita del Ring Jr. by submission in a 6-Man Tag Team Match.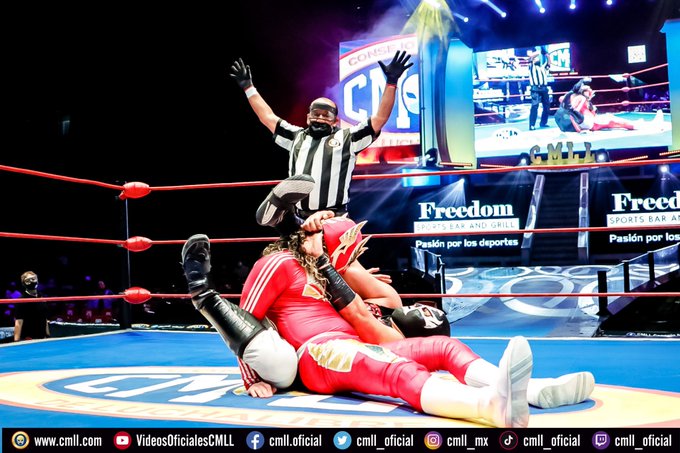 PHOTO: CMLL / Alexis Salazar
Results:
– Main Event Match: Volador Jr., Mistico & El Valiente defeated Euforia, El Felino & El Terrible (6-Man Tag Team Match)
– Fourth Match: Stuka Jr., Fugaz & Star Jr. defeated Los Cancerberos del Infierno (Virus, Cancerbero & Raziel) (6-Man Tag Team Match)
– Third Match: El Sagrado, Universo 2000 Jr. & Hijo del Villano III defeated Flyer, Magia Blanca & Panterita del Ring Jr. by submission (6-Man Tag Team Match)  
– Second Match: Diamond, Robin & Sonic defeated El Coyote, Grako & Hijo del Signo (6-Man Tag Team Match)
– First Match: Apocalipsis & El Cholo defeated Retro & Sangre Imperial (Tag Team Match)
Folks! We invite you to also follow us through our official social media accounts:
© 2021 Lucha Central 
RELATED NOTE: CMLL Tuesday Live Show at the Arena Mexico Results (07/27/2021)
CMLL Tuesday Night Live Show at the Arena Mexico Results (07/27/2021)