The two-time WWE champion Alberto el Patron and Fernando Robles announced the arrival of Robles/El Patron Promotions to Mexico with the Hecho en Mexico show, which will take place this coming August 26 at the Pepsi Center in Mexico City.
The arrival of Robles / El Patron Promotions to Mexico will have three presentations in Mexico City, one in August, one in November and another for January 2022. The August 26 show will feature the participation of Legends of Lucha Libre's Penta Zero M, L.A.Park, Cinta de Oro, Carlito, DMT Azul, La Mascara, Averno, Estrellita, Sexy Dulce, Diosa Quetzal, among others. In addition, the arrival of the two-times Lucha Libre AAA Megachmapion Texano Jr. and Maximo was announced as new elements of Robles / El Patron Promotions.
Alberto el Patron pointed out that Robles / El Patron Promotions will seek to give relevance to the championships belts in Mexico, for which it will only have 4 titles, World Championship, Women's Championship, Cruiserweight Championship and Tag Team Championship. For the first show at the Pepsi Center, theTag Team Championship will be online to crown the inaugural champions.
Robles/El Patron Promotions Hecho en Mexico Card: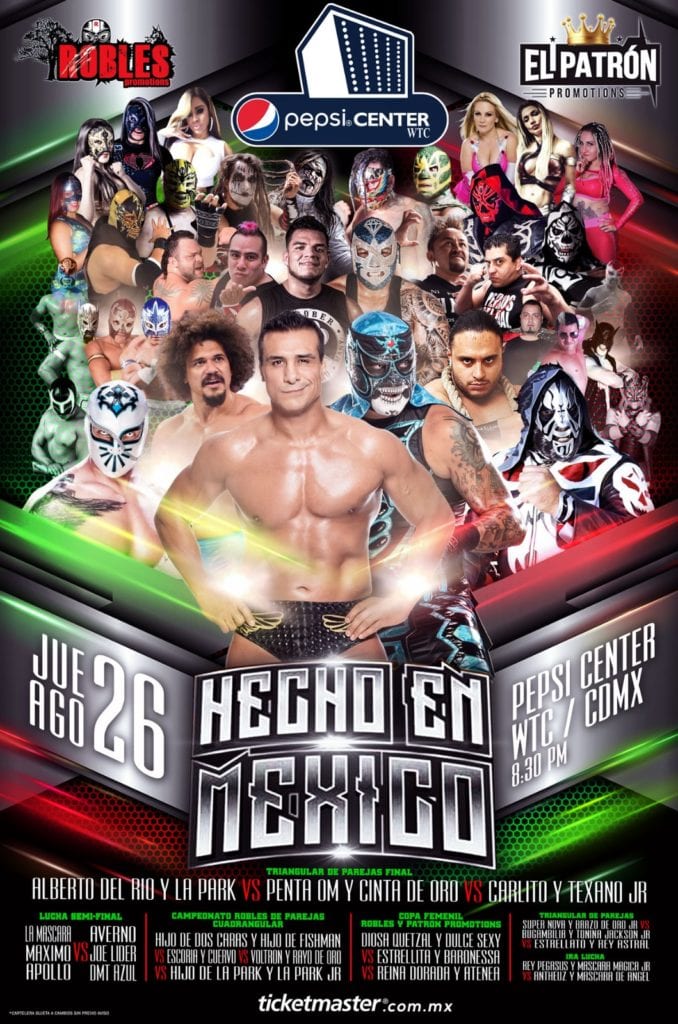 Alberto el Patron & L.A. Park Vs. Legends of Lucha Libre's Penta Zero M & Cinta de Oro Vs. Carlito & Texano Jr. (3-Way Tag Team Match)
La Mascara, Maximo & Apollo Vs. Averno, Joe Lider & DMT Azul (6-Man Tag Team Match)
Hijo de Dos Caras & Hijo de Fishman Vs. La Secta (Cuervo & Escoria) Vs. Voltron & Rayo de Oro Vs. Hijo de L.A. Park & L.A. Park Jr. (4-Way Match for the Robles Promotions Tag Team Championship)
Diosa Quetzal & Dulce Sexy Vs. Estrellita & Baronessa Vs. Reina Dorada & Atenea (3-Way Tag Team Match for the Robles/El Patron Promotions Women's Cup)
Super Nova & Brazo de Oro Jr. Vs. Bugambilia & Tonina Jackson Jr. Vs. Estrellato & Rey Astral (3-Way Tag Team Match)
Rey Pegasus & Mascara Magica Jr. Vs. Antheuz & Mascara de Angel ((Tag Team Match)
Folks! We invite you to also follow us through our official social media accounts:
© 2021 Lucha Central