Hold up; is this an AEW Dark: Elevation review? You're damn right it is sports fans, if only because I want to review something and tomorrow I'll probably be missing Dark on account of either a) dinner or b) driving home from a dog sitting gig so I can then make dinner. Thus reviewing Elevation seemed like the right call. And hey, it worked out well because this show had a ton of good wrestling and one outstanding sprint. Read all about it over the next thousand or so words!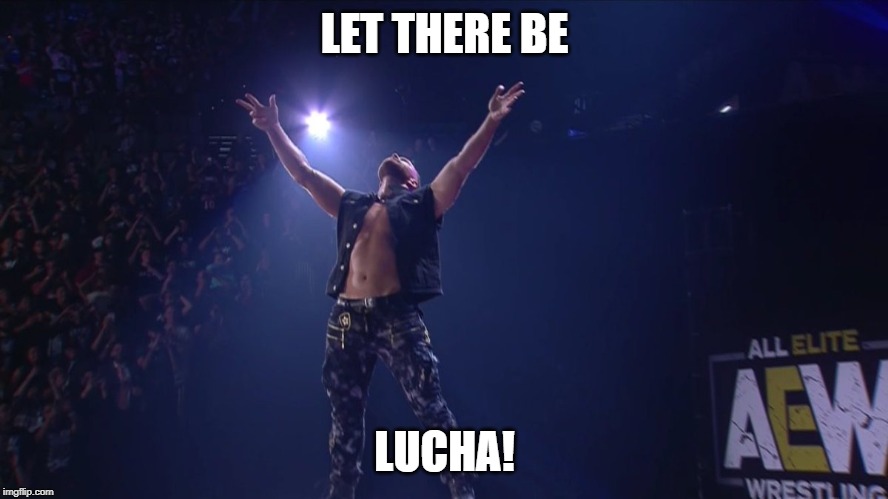 Thunder Rosa defeated Kaia McKenna after pinning McKenna with the Fire Thunder Driver. This match wasn't good, which saddened me because I like Rosa and I've heard good things about McKenna, an indie worker who has the unique gimmick of being a witch. I don't know if this just wasn't her best night or if some of her inexperience got to her (she has only been working for a year) but she just didn't have it, with some of her corner strikes in particular looking below snuff. Rosa worked hard to try and cover it and had a good outting because, let's face it, Thunder Rosa could look good dragging my ass around. In the end though it wasn't enough to keep this from being skippable. * ¾ 
Austin, Billy and Colten Gunn (The Gunn Club) defeated Anthony Bennett, Leon St. Giovanni and Ray Jaz after Austin pinned St. Giovanni with the Colt .45. We finally got the return of Ray Jaz sports fans! And if this result is any indication, this match is what hell must be like for him. Negative One knows what I'm talking about.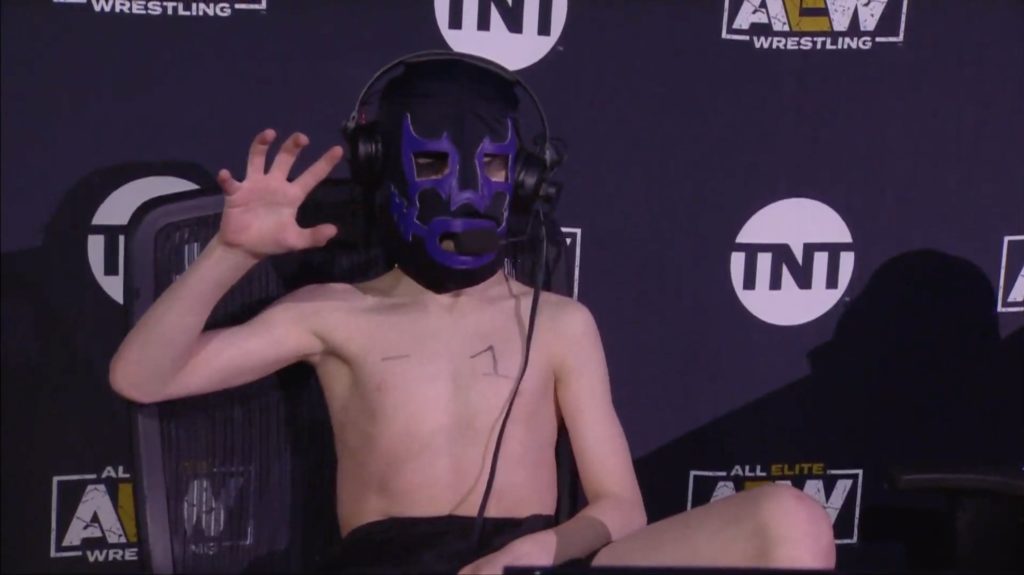 A semi-squash match that got out of full squash territory thanks to a run from St. Giovanni, a Ring of Honor regular who had a really strong hot tag. You can see why ROH likes him so much; he's got good size, good agility and looked really good with the time he got. His teammate Bennett, a decent indie worker, also showed a lot just from selling. Alas that left poor Ray Jaz in his own private hell, doing very little. The Gunn Club also did very little, which was fine because they're mostly doing character stuff and the heel stuff seems to be working for them. We'll only know for sure when they get that big match, but at least they're on the right path. It wasn't quite a squash, but it was too one sided to really stand out, so we'll go solid. The bare minimum of solid mind you, largely thanks to St. Giovanni. **
Five & Ten (The Dark Order) defeated Colt Cabana & Evil Uno (The Dark Order) after Five pinned Uno with the Jackknife Pin. Remember that Uno-Five match from a few weeks ago where the fans were distraught over them wrestling? This match was like that, except the fans were even more distraught and the match was somehow even better! That's a combination of this story being really good and all four of these guys being really good. They all worked hard, they played their roles perfectly (Uno as semi-heelish, Angels as the fiery babyface, Cabana as peacemaker, Ten as, well, Ten) and the crowd reactions once again were a huge help. The only issue I have is that this story continues to suggest that Uno is the bad guy destroying the Dark Order, when in reality Five, Ten, Alex Reynolds and John Silver (who were at ringside) all seem like massive dicks who don't realize that Uno was just doing what Hangman Page told him to do! Am I the only one who sees this? Hopefully someone soon figures it out because as good as these matches have been, this story needs to end. I don't want the Dark Order to fight anymore and neither do most people it seems. *** ½ 
Orange Cassidy defeated Mike Verna after pinning Verna with the Orange Punch. They had just enough time here for Cassidy to do some comedy, Verna to play along and then Cassidy to punch him out just in time for the hug from Big Dust and STATLANDER. A squash if there ever has been one. Hey at least Verna got another booking again. Between him and Ray Jaz it's like the Daily Place era AEW is invading post Daily Place era Dynamite. * ½ 
Isaiah Kassidy & Marq Quen (Private Party) defeated George Santi & Teddy Goodz after Kassidy pinned Goodz following the Gin & Juice. A second straight squash, but a good one. Private Party has really grown as a tag team over the past year, with the heel turn in particular playing a big part. They still get all their high flying stuff in (this was actually one of their more fly heavy performances in recent memory) but they just come across as more well rounded overall, especially in the personality department. This was an impressive performance from there, while Santi did very little and veteran Teddy Goodz looked decent in his highest profile appearance outside of Beyond Wrestling. A very strong squash. * ¾ 
Hikaru Shida defeated Masha Slamovich after pinning Slamovich with the Katana knee. I was watching this match lying down, and by the end of it I was sitting up because this shit was good. It looked something like this.
But yeah, this was top notch work for the amount of time they got here. Slamovich looked really good in her first Dark/Elevation appearance in Pittsburgh and she was even better here. This match did play more to her strengths than the one with Penelope Ford though; that was more about building to a Penelope-Thunder Rosa match, where this was about Slamovich (a hard hitter) trading blows with Shida. The result was some really snug strikes, some nice back and forth and Hikaru Shida once again proving why she really should be on Dynamite more than she has been recently. I'm not the only one who finds that odd right? It was too short to be great but boy was it something for the time it lasted. *** ½ 
Sonny Kiss defeated Joey Janela after pinning Janela after reversing a Flying Elbow Drop into a Crucifix Pin. One could be forgiven for mistaking this match with Konosuke Takeshita vs. Danny Limelight, because like that bout this ended up being one of the greatest matches in AEW Dark: Elevation. Tell 'em Farley.
Apparently this match only lasted five minutes long, which quite frankly makes it greater! It felt like they fit everything into this match; we had brainbusters on the floor, moonsaults, piledrivers, blood and I think at one point Allie Katch chased Paul Scheer with a knife. Wait that was the GCW this weekend. Other than that it had everything else! This match also goes to show how deep this roster is that you can have talents like Joey Janela and Sonny Kiss on Elevation, having a decent feud leading to a hot match like this. You won't find this shit on Main Event or the CMLL Tuesday show. Janela was just magnificent here (the heel role is really working for him) and this was the best I've seen Sonny Kiss look since those matches with Jack Evans in Lucha Underground. It's definitely a bout that should hopefully give these two more to do, and maybe get this feud a higher platform considering it's not over. Oh I didn't mention that? Yeah, despite Sonny winning, the post match clearly set this up to continue when Janela laid Sonny out with a chair shot, followed by Kayla Rossi (Janela's second) hitting A STANDING MOONSTOMP ONTO SONNY'S BACK! That's not a typo sports fans; it was a gorram moonstomp. STANDING! No wonder Janela decided to roll with her. That's the sort of finish that makes you excited for more, as if the greatness of this match didn't do that already. A must see experience. **** ¼ 
Ortiz & Santana (The Inner Circle) defeated Avery Good & JT Dunn after Ortiz pinned Dunn following a Santana Shining Wizard. Easily the most disappointing match on the show, mostly because it was a squash match where Santana and Ortiz squashed JT Dunn and gorram Dasher Hatfield! How on earth do you do that to A Very Good Pro Wrestler?! HOW I ASK YOU?! I'm not even sure Dasher (Avery Good for those who haven't figured it out) got anything to do in this match; Dunn (a New England indie wrestling legend) got most of the work, and even he didn't get a ton of offense. I get what AEW was going for here and Santana and Ortiz can always use more dominant victories (while looking good) but man was I hoping for something a bit more competitive here. Dunn and Good are capable of having a really good match, and instead they were just here to be cannon fodder. * ½ 
Dustin Rhodes defeated QT Marshall after pinning Marshall with the Final Reckoning. I had only two issues with this match; Janela vs. Sonny should've been in this spot and it's going to be weird to watch Dustin Rhodes matches going forward after that Dark Side of the Ring: Plane Ride From Hell episode from last week (and the lawsuit which has even more details on Dustin's activities on that flight). Maybe something will change in that regard at some point, but it's hard not to think of that while watching him work. All that aside, I can't deny this was a really good wrestling match, dare I say borderline great if we just keep it to workrate standards. Dustin is the ultimate pro (in the ring), QT is severely underrated and they just went out there and worked a really good match as only they can. Frankly this match probably should've happened months ago before Cody and QT wrapped their beef up, but better late than never I suppose. A weird experience for the obvious reasons, but grading strictly on wrestling it was nearly great. *** ¾ 
And with that I'm off to play some more Spider-Man, than watch Notting Hill. What? I have layers! TILL WE MEET AGAIN!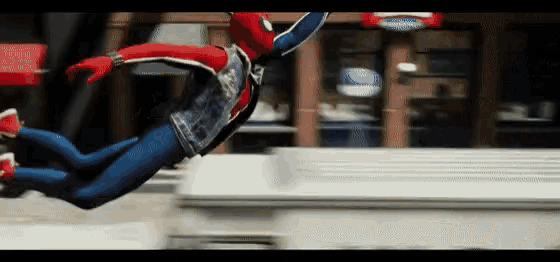 Please change disks to continue…
Folks! We invite you to also follow us through our official social media accounts:
© 2021 AEW
RELATED NOTE: AEW Dark: Elevation Episode 29 (09/20/2021)