Tonight's AEW Dark: Elevation can best be described as an easy show to review. You wouldn't think so given that it was two and a half hours long, and yet it was. Why? Because it a ton of fun. With the exception of maybe one match, everything on this show was worth watching, more than half the matches were very good or better and all the promo segments were strong. This was a top notch episode of Elevation, and the only thing keeping it from being on the level of Dark was that we didn't have Taz and Excalibur corpsing every few minutes. That's really the only thing missing from Schiavone and The Giant at this point; oh well, always room for improvement. But let's discuss that another time. For now, let's review so I can get back to Arkham City.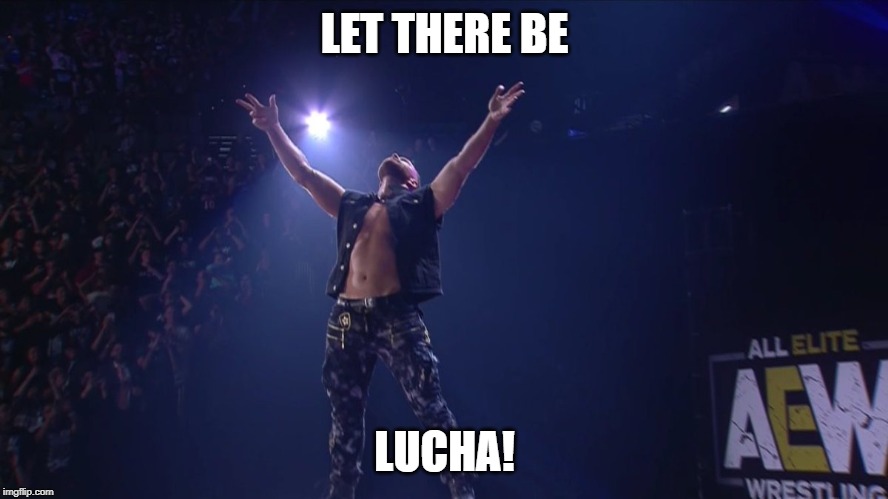 Jungle Boy defeated Adrian Alanis after submitting Alanis with the Snare Trap. Good match, which is surprising only to people who have never watched Jungle Boy. He actually flew around a bit more than he has recently, which is nice because he's really good at that stuff, while also incorporating his more overall style and some nice uppercuts. Alanis was a game opponent, selling well and getting some decent offense in, including this Sling Blade Backbreaker move that is easily the best thing about the dude. If Alanis were to spam that in every match, he'd be getting the "ADRIAN ALANIS IS ALL ELITE!" graphic faster than you could say "Cody, I think this promo is a bad idea." Anyways, that move is cool, Jungle Boy is cool and this was a good match. ***
Dustin Rhodes defeated Aaron Solow after pinning Solow with the Final Cut. After the match Nick Comoroto prevented Dustin from doing Shattered Dreams by nailing poor Dustin with the cowbell, with Lee Johnson coming out with a chair to make the save. Big Shotty Lee and Dustin Rhodes vs. Nick Comoroto and QT is change I can believe in. Especially if there's a bullrope involved, amirite Dusty?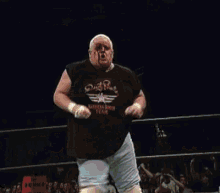 This was a match between two absolute pros. I can't say everything was smooth, especially at some points in the beginning, but this was the type of match that just got better and better as it went along. Did you know that Dustin Rhodes is 52 years old? You wouldn't know it by watching him while he's doing Code Reds like he's Darby Allin. It's such a shame that Dustin and Yuji Nagata didn't cross paths during Nagata's brief stay; that would've been a super fun match between two 50 year olds who still rule. Of course Dustin couldn't do this all by himself and Aaron Solow showed once again why he's one of the most reliable talents on the roster, delivering in every facet of the game. Props to him for pulling out that gnarly Double Stomp and to Dustin for actually taking it. If there's any flaw it's that Dustin has that Code Red and he's using a Bulldog as his finish, but I can't complain then because how can you not respect a man trying to bring the Bulldog back as a finish? Man has balls of solid rock I tell you. A borderline great match. *** ¾ 
Eddie Kingston & Jon Moxley defeated Danny Limelight & Royce Isaacs after Eddie pinned Limelight after the Violent Crown. We're going to need a name for the Eddie/Mox alliance. Lethal Weapon? No? We'll brain storm on it. This was a borderline good match that would've been good if Isaacs and Limelight had gotten more offense. When they did get offense they were very good. Isaacs, who's been around AEW before, looked better teaming with Limelight then he did Jorel Nelson and Limelight, as he is wont to do, was spectacular at several points. The Mox/Eddie team is an absolute delight; they're basically a buddy cop film transformed into a wrestling tag team, complete with the bickering and comradery that goes with it. With a few more minutes this would've been even more fun. ** ¾ 
Jake Roberts and Lance Archer said some stuff about Archer's match with Bear Bronson tonight and about new TNT Champion Miro. Needless to say Archer is coming after him! There was also stuff about Archer bringing up Sting, which Jake didn't like. A turn coming?!
Lance Archer defeated Bear Bronson after pinning Bronson with the Blackout. Bear Bronson is a giant ass dude and Archer, it should be noted, hit him with the Blackout like Bronson was Marko Stunt. All hail Lance Archer! And all hail this delightful match. You look at Lance Archer vs. Bear Bronson and you'd expect big beefy dudes throwing down and that's what you got. They hit hard, they threw each other around, they showed off their athleticism that guys their size shouldn't have; if you wanted more than this then your expectations may just be too damn high. It's the type of match that makes you thankful for these shows because if this happened on Dynamite, Archer would've run over Bronson into minutes. Instead it happened here, Bronson was able to get a long in and look really good and this turned out to be a really fun match. *** ½ 
Paul Wight sat down with Lil Ziggler and my Grodd even Lil Ziggler couldn't bring this segment down! I kid I kid; if anything this segment helped make Ryan Nemeth seem like someone worth investing in. They talked about his Hollywood career (he legit has done quite a bit of acting) and his stable with Cezar Bononi, JD Drake and Peter Avalon. I'm not sure about Nemeth's goal of being the face of AEW but it's good that he's setting the bar high; if more people had that attitude more people would be top stars. Great segment.
Leyla Hirsch defeated Natalia Markova after submitting Markova with the Cross Armbar. Good extended squash here. Markova, who is the current SHINE Nova Champion, didn't get a ton of offense in but judging by her bumping and selling she is a keeper. She was ANNIHILATED by Leyla here, taking some gnarly German Suplexes and a brutal knee (among other moves) and made them all look good. Then again it is Leyla so they were going to look good anyway. They're really building Leyla up well right now (she's even got a new entrance video!) so I wonder if maybe something big is coming up. Leyla and Britt's first challenger? Am I trying to will that into existence? MAYBE! * ¾ 
Ethan Page & Scorpio Sky defeated Jaylen Brandyn & Traevon Jordan after Scorp submitted Jordan with the Heel Hook. Right after that Ethan Page hit the Ego's Edge on poor Bradyn, so it's like Bradyn and Jordan lost twice. I thought that dubious honor was only reserved for the New York Jets. 
This was solid stuff. I was actually more impressed with Bradyn or Jordan than Scorp or Page. They were fine, but as has been the case with most of their Dark matches it feels like they're spinning their wheels. Bradyn and Jordan meanwhile, as they did last week, really jumped off the screen to a degree. Bradyn bumps really well and Jordan to me has some serious potential; he's a big guy who moves well, comes off as naturally charismatic and is pretty polished for a guy that's relatively unknown. This was a nice get for AEW on this circuit and hopefully we get to see more of them. They did their job here in making Page and Scorp look good, while also impressing themselves. ** ½ 
Matt Hardy and The Bunny cut a promo hyping up Bunny's match with KiLynn King. This was short but a strong reminder that when it comes to promos and character work, The Bunny is really, REALLY good. 
The Bunny defeated KiLynn King after pinning King with a Loaded Punch! Ah the good old loaded punch; haven't seen those since the "POWER OF THE PUNCH" William Regal days. Big Swole came out to make the save after the match so Swole vs. The Bunny is coming up. This was borderline good. I don't know what it is but ever since joining Matt Hardy's stable The Bunny has been a lot better in the ring. She was on point again here with some good heel work, and the always dependable KiLynn King was strong again. I liked the finish too; that sort of protection for King goes to show how much AEW values her. There wasn't a ton of wow moves here but they told a nice story, the work was smooth; a match that was better than solid and just a smidge below something else. ** ¾ 
Anthony Bowens & Max Caster (The Acclaimed) defeated Kevin Bennett & Kevin Blackwood (The Kevins) after Platinum Max pinned Bennett with the Mic Drop. Good match, although again, it was overshadowed by Platinum Max EVISCERATING the Kevins prior to the match. You cannot stop Platinum Max, YOU CAN ONLY HOPE TO CONTAIN HIM! Just as good as Platinum Max's rap was the Acclaimed's nice teamwork; they're starting to add more to the repertoire and judging from this match its looking good. Bowens in particular just looks great; he has some serious potential to be a great wrestler sooner than later. On the other side Kevin Bennett (making his debut) showed some nice moves and Kevin Blackwood (who we've seen before on Dark with Daniel Garcia) looked really good. It always kind of surprised me he and Garcia didn't get more looks…so naturally they're both on this show! Blackwood actually did so well here that the story was that he had the match won before Bennett inexplicably tagged in, leading to their defeat. Wonder if they do a singles match next week where Blackwood gets a W over Bennett. We'll see. ***
Ethan Page and Scorpio Sky cut a promo making fun of Darby Allin's lost to Miro. Good stuff from these two, especially from Page. They still need a strong match to establish them as a team to reckon with, but if nothing else the promos have been strong.
QT Marshall defeated Baron Black after pinning Black with a Diamond Cutter. I have to ask; why do people not like QT Marshall again? He's got a bad ass group, he's got tremendous theme music and he just keeps having bangers out there. This was another one of them! Another borderline great match on this show. Lots of nice back and forth, especially in the back half of the match, good heel work from QT and Baron Black continues to be one of the biggest unsung heroes on the AEW Elevation/Dark circuit. This was two guys that just clicked really well, leading a strong match that again has me asking; why do people not love QT?! It boggles the mind honestly. *** ¾ 
Joey Janela defeated Daniel Garcia after ending Garcia with a Death Valley Driver for the ages. He hit Garcia so hard with this that I'm pretty sure Garcia thought he was back in the Grey Sweatpants Battle Royal when he came to. 
This was a Beyond Wrestling match and I mean that in the best possible way. Janela and Garcia hit each other hard, they went back and forth throughout, they were completely smooth; just really, really good wrestling. It was nice to see this Garcia on Dark or Elevation. He didn't leave a huge impression on me in his earlier AEW appearances and it wasn't till I saw him on some of the Mania weekend shows did he come off as a star to me. This was a complete in ring performance from him, from his offense to his immaculate selling (look at how he sold Janela's Brainbuster and the DVD; top notch stuff. Janela was just as strong, as that Death Valley Driver showed, and I continue to hold out hope that one day AEW will give him a decent push. I dare say another borderline great match and goodness I hope we see more of Garcia. There's a potential star there. *** ¾ 
The Factory cut a promo on Cody Rhodes. Or should I say Anthony Ogogo cut a promo on Cody Rhodes and it was a hell of a promo. He talked about his disdain for America, which is due to people dying on the streets due to not having healthcare, childs being in cages on the border; all good points! He said he was going to cave Cody's ribs in, said he was different than guys like Doug Williams, PAC and Will Ospreay and said he would leave Cody under his flag again at Double or Nothing. Exquisite stuff!
Isaiah Kassidy & Marq Quen (Private Party) defeated Alex Reynolds & Five (Dark Order) after Quen pinned Reynolds following a Twist of Fate from Matt Hardy. Hardy, Private Party and Blade all attacked Reynolds and Five afterwards before the Dark Order ran out to make the save. This was a good match, though it did feel like it dragged at times. Private Party definitely has the heel act down personality but while they're still good in the ring, being heels does mean toning down what they're great at (flying) and definitely does slow the match down a bit for my liking. That's a preference thing though; overall both Quen and Kassidy were solid, Reynolds and Five were good and the finish made sense to continue this angle. At some point The Dark Order does need to get one over on the HFO though; they've been beaten a ton here and as the act with more potential it be nice if we got to the blow off so they can get that big W. ***
Kris Statlander was being interviewed about wrestling Diamante tomorrow when Britt Baker and Rebel interrupted. That prompted Hikaru Shida to come in as a complete badass to send the Doctor and Rebel for the hills, but not before Baker said Rebel would wrestle Shida! Boy if Shida can get a great match out of Rebel then we may have to give her wrestler of the year immediately. 
JD Drake & Ryan Nemeth (Pretty Picture) defeated Derek Pisaturo & Roman Rozell after Drake pinned Pisaturo with a tremendous Moonsault. Also, Nemeth is now calling the Rude Awakening the Hot & Bothered. Not bad! This was a squash match through and through. Pisaturo and Rozell, Elevation first timers, looked fine but didn't really get to do a lot as Drake and Nemeth just steam rolled them. At least this allowed Drake to finally hit that moonsault and boy it's a great moonsault. More of that please. * ¼ 
Tay Conti defeated Kiah Dream after pinning Dream with the DDTay. This was a match where you could describe Tay Conti as "feeling herself." She was having the time of her life out there, to the point she even got Bryce Remsberg to dance! Prior that that she just annihilated Dream, who to her credit looked pretty polished for a girl only a year into the business. Of course most of what she did in this match was sell for Conti, who obliterated her with kicks, more kicks and then even more kicks, with the highlight being a kick on the apron that rocked me sitting at home watching. The only thing missing was that awesome senton Tay does, but hey; can't use everything at once. In any event, this was a high end squash and Tay Conti, in case you didn't know, is really friggin good. **
Matt Hardy cut a promo on the Dark Order, specifically focusing on John Silver. I guess maybe that's the singles match coming up soon. That's good but what we really need is the multi-man with Dark Order going over!
Penta El Zero Miedo defeated Robo after pinning Robo with the Package Piledriver. More importantly, before he hit that move he actually got the arm breaker on Robo and he didn't end up getting beat immediately afterwards. A PENTAGON ARM BREAKER WORKED OUTSIDE OF LUCHA UNDERGROUND! Oh happy day.
This was yet another good match on this show. I'm pretty sure almost every match on this show has been good on some level now that I think of it. Robo, another Beyond Wrestling product, looked really good. He seemed to be saving some stuff as he and Pentagon mostly kept it to the basics, but he was very well rounded, his look his great and I liked his presence. Yet another guy AEW would be wise to keep around. And you know you're always getting quality from Pentagon, a man who falls out of bed the most charismatic individual in the room. I particularly liked his running tree of woe dropkick; there was a lot of force on that and it came off a lot better than that tree of woe double stomp move Pentagon has used before. So yeah; good stuff yet again. *** ¼ 
Thunder Rosa defeated Robyn Renegade after submitting Renegade with the Peruvian NeckTie. A surprisingly good match! I normally don't say that about Thunder Rosa matches but I had no idea who Robyn Renegade was going into this match and figured this would be a squash. Instead it was a 70/30 match in Rosa's favor, and the 30% Renegade got on offense came off really well. She's another talent that has something; the polish isn't all the way there yet but there's some serious potential the more she continues to work. You have to be a sound talent to work well with a world class performer like Rosa, who was on the ball from the word go here, even baptizing Renegade with that glorious corner dropkick of hers. Maybe it's because my expectations were low but I liked this. ***
We had a Pretty Picture promo where Ryan Nemeth thanked all his agents, JD Drake said he was happy Nemeth found his mean streak and then they touched tips. AEW truly has done the impossible; they have made me care about Cezar Bononi and Ryan Nemeth. Get Tony Khan that Booker of the Year award yet again. 
Brian Cage defeated Mike Sydal after pinning Sydal with the Weapon X. Man first the Pentagon Arm Breaker and then Cage breaking out the Weapon X; if there was one more match I'd have expected Angelico and Jack Evans vs. Marty the Moth and Famous B! It's only fitting this show with a lot of fun matches ended with another fun match. I thought we were heading for a squash early with Cage absolutely dominating but Mike Sydal got some momentum in the middle and this turned into something worthwhile. Poor Mike may not ever be his brother, but he's proven to be a very good worker in his AEW tenure and I thought this was his most exciting, smoothest performance since coming into the promotion. Once again a ton of credit should go to Cage. He is a really giving performer as we've seen on Dark and Elevation recently, and he's great and making his opponents look good while also remaining dominant. This was another example tonight and I having a feeling that match with Hangman at Double or Nothing is going to be top notch stuff. A strong close to this show. *** ½ 
That'll do sports fans. See you when I see you. TILL THEN!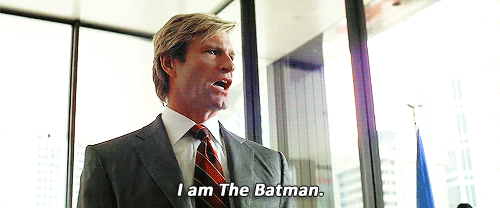 Please change disks to continue…
Folks! We invite you to also follow us through our official social media accounts:
© 2021 AEW
RELATED NOTE: AEW Dark: Elevation Episode 10 (05/17/2021)