So you loyal readers out there (all ten of you) may have noticed that I did not, in fact, review the ChocoPro shows this past weekend. I will now tell you why; it was my birthday weekend! As it turns out, getting older makes you less likely to review shows and more likely to do a bad movie marathon with your younger brother where you watch Flash Gordon, the 1976 King Kong, Moonraker and First Blood Part II back to back to back to back. I don't make the rules here! Fear not though for I am back and ready to go for AEW Dark: Elevation tonight, a show with many three star matches, a few really good things and otherwise not much else. Let's review!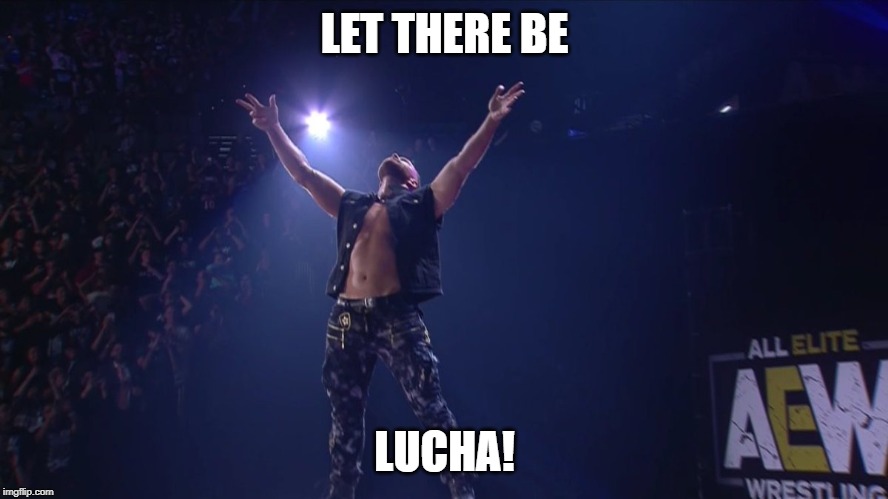 Hangman Page defeated Bill Collier after pinning Collier with a Buckshot Lariat. Exactly the kind of simple, well worked five minute match you'd expect. You can tell AEW is really high on Collier; he had a solid performance with Jon Moxley last week and got to do even more with Hangman here. I'd still like to see a little more sizzle from his work but his work is very smooth and he does the little things really well. Hangman meanwhile did his usual stuff and I liked the story of him having to chop the tree down (as it were) in order to win. If you looked up a three star match in the dictionary you'd find a still shot of Hangman hitting that top rope rana on Collier. ***
Brian Pillman Jr. & Griff Garrison (Varsity Blondes) defeated Carlie Bravo & Dean Alexander after Garrison pinned Bravo after a Powerbomb/Dropkick combo. The most memorable part of this match was Paul Wight pointing out that Garrison appeared to be trying to hide a leg injury. Beyond that this was the first time that guys like Bravo and Alexander looked like dudes in their first few matches. They brought very little to the table, leaving Pillman and Garrison only their few spots to make this into something. Alas it wasn't to be. It's still good in the long run Bravo and Alexander got this match in but this was entirely forgettable. * ½ 
Dr. Britt Baker DMD defeated Alex Gracia after submitting Gracia with the Lockjaw. The match lasted MAYBE twenty five minutes and followed the Doctor cutting yet another fantastic promo putting herself over as a deathmatch legend, a greco-roman legend and so on and so forth. Then she invited Gracia to wrestle her greco-roman style, Gracia took the bait and there was tapping abound. I absolutely adored this! Gracia has been largely forgettable on AEW unless she's paired with Ivelisse, so keeping this short and making Baker look dominant was a great call. Obviously not a great match but an overall tremendous segment. * ¾ 
Ten defeated Danny Limelight after submitting Limelight with the Masterlock. Between Ten and Chris Adonis now being a big deal on NWA it seems like we're experiencing a Masterlock renaissance. I haven't seen a comeback this strong since M. Night Shyamalan made Split. You know what's coming next!
This was a solid match but in terms of Danny Limelight matches on Dark or Elevation this was on the lower end. Part of the problem was Ten isn't as spry as some of the other guys Limelight has worked with; the other issue was that the match focused on Limelight working over Ten's arm. Not a bad idea, except when it grinds the pace to a screeching halt like it did for most of this bout. It did lead to some good submissions from Limelight (who is talented at everything he does) and Ten sold it all pretty well. Alas I would've preferred something with a little more spirit and pace than we got from here. Not terrible, but another forgettable bout. ** ¼ 
Big Swole defeated Jazmin Allure after submitting Allure with the Texas Cloverleaf. THE RETURN OF SWOLENKO! You love to see it, especially when I was getting worried that Swole had retired the Cloverleaf since she had returned. This was significantly better than the last few true matches. Big Swole is a polarizing in ring performer but I can't imagine anyone thinking she hasn't looked impressive since returning a few weeks ago. She was with the very inexperienced (but promising) Allure in this one and honestly had a really strong performance; everything looked smooth, she sold well for Allure and she just came across as really well rounded. Perhaps my expectations were low but I'd characterize this as a borderline good match. ** ¾ 
Michael Nakazawa defeated Vary "hey; stop calling me Juventud Guerrera!" Morales after pinning Morales with a Tombstone Slam. Let the record show that Nakazawa, now called M.T. Nakazawa because why not, delivered what had to be the weakest laptop shot in the history of time. This made the Lance Storm chair shot look like the scene in Goldeneye where the satellite falls on top of Sean Bean. 
This was fine. The good thing about Nakazawa matches, aside from they do generally turn out to be semi-funny, is that it allows his opponent to get a lot more offense than usual. Morales, who has been a steady and reliable presence on Dark, thus actually was allowed to do stuff and looked good! The Juice would've been very proud of his son (I kid Morales, I kid!). Nakazawa was fine too; I'm not sure I like this "Kenny's assistant" persona better than the old one but it does at least allow him to work a bit more than when he's taking his thong out. Nothing earth shattering but I enjoyed this thanks to Morales getting some shine. ** ½ 
Lance Archer defeated Baron Black after pinning Black with the Blackout. Aside from Black getting demolished (the man is too good for that spot!) this was an effective squash, as only Archer can do. The real story though was the post match, where Jake Roberts (doing a good job at the booth during the match) came to ringside and teased a confrontation with Paul Wight before handing the mic to Archer. Archer then cut one hell of a promo on Sting to further that program along, once again bringing up how Sting was his hero and how he felt since returning the Icon was trying to steal the spotlight from guys like him. I still have no friggin clue how that match works but Archer on the mic has at least been money. * ½ 
Ryo Mizunami defeated Tesha Price after pinning Price with a Spear. Remember a year or so ago when Hikaru Shida was having great matches with the most unlikely of candidates? Ryo Mizunami has now taken over that position. Two weeks ago it was Leyla Hirsch, last week it was the best match of KiLynn King's career and this week she got easily the best performance of Tesha Price's career. To be fair to Price she has certainly worked hard in the past, has potential and an interesting gimmick. But this was Mizunami's show from the word go, leading Price into working her match with some nice strikes, emphasis on personality and some nice counters. If I were AEW I'd do this match several more times; the more reps Price gets against someone like Mizunami the better she's going to be. A legit good match and a hell of a performance from Mizunami. Get her back on Dynamite POST HASTE. *** ¼ 
Max Caster defeated Colt Cabana after pinning Cabana with a Schoolboy following a Drop Toe Hold onto the boombox. I thought the best part of this whole thing would be Platinum Max's pre-match rap where he blasted The Art of Wrestling ("your podcast sucks Colt. I tried to listen to it!"). Instead I have to give the honors to Evil Uno kissing the back of Colt's head in the post match. It just slayed me! Sorry Platinum Max.
This was a really good match! In fact I dare say it got better as it went along and succeeded despite the fact that it was relatively simple. We got another story of someone selling the arm here, with the difference being Colt Cabana is a pro's pro who can sell the arm really well. He did and thus the match never felt stale, though Caster being on the ball more than usual and being really charismatic didn't hurt. The last few minutes were strong too (nice offense from Cabana) and the finish was another clever way of getting Caster a win. Very enjoyable match. *** ¼ 
Isiah Kassidy, Marq Quen, The Butcher and The Blade (HFO) defeated Adam Priest, D3: The Mighty Ducks, Fuego Del Sol and Ryzin after Blade pinning Fuego after the Drag the Lake (Powerbomb/Suplex Combo). Fun squash, especially in the back half after Fuego was able to get in and do some cool stuff with Private Party. He got beaten immediately afterwards but that happens every week anyway so I'm used to it. Kassidy and Quen both looked really good dominating most of the bout, Butch and Blade were imposing and Priest, D3 and Ryzin…were also there. Honestly I'm not even sure Priest or Ryzin got tagged in during this match. Tough break. In the end it was for the best; they got in quick, there were some nice things and the guys who needed to look great looked great. A successful segment. * ¾ 
Paul Wight interviewed John Silver as part of this new Elevation: Showcase interview segment. Really, REALLY good segment. Silver details his entire backstory, from forming the Beaver Boys with Alex Reynolds, getting recruited by The Dark Order, Brodie Lee and his tremendous match with Darby Allin. A must see segment.
Matt Hardy defeated Five after submitting Five with The Leech, a Double Arm Guillotine submission. That's a new one. This was a good match but would've been even better with a few less minutes. The longer it went the more Matt Hardy started to look like 2021 Matt Hardy, who is a wrestler where the mind is still all there but the body just isn't quite on the same level. The first half though was really strong. Hardy worked very hard and within his limits and Five was really good. This would've been a hell of a match just a few years ago; alas it was today. Still a good match overall and Hardy's promo afterwards calling out the Dark Order and Darby Allin were really strong. ***
Ethan Page & Scorpio Sky (SCNorth) defeated Matt & Mike Sydal after Page pinned Mike with the Ego's Edge. Somewhere Christopher Daniels, Frankie Kazarian and Josh Alexander all got really upset and aren't sure why. Actually Daniels and Kazarian were probably backstage for this so they know why they're upset. By the by; are we ever getting Scorp getting confronted by those two? Or are we saving that for the tag title match SCU gets (and loses) so Scorp can be responsible for the split? I HAVE TO KNOW!
This was another three star match in a show loaded with them. I credit Matt Sydal for that. All four guys were good and there may be something with the Sky/Page team but they were strangely just okay for a first outing where you want to make a good first impression. Sydal meanwhile was awesome; he always is to be sure but there was an extra spring in his step tonight, especially when he got the hot tag late in the match. Mike Sydal also had a good night and sold his knee really good; for a guy a lot of people weren't entirely high on he's done really well since showing up in AEW. This would all be fine…but again it was a case where the losing team was more impressive than the winning team that's getting a push. Not sure what that says but it says something. In any event it was still a good close to the show so can't complain too much. ***
And with that it's Uncharted 4 time! I'll see you soon sports fans. TILL SUCH OCCASION!
Please change disks to continue…
Folks! We invite you to also follow us through our official social media accounts:
© 2021 Lucha Central 
RELATED NOTE: AEW Dark: Elevation Episode 4 (04/05/2021)