Tonight was AEW Dark: Elevation! You probably don't really care because the La Sombra shoot interview dropped during the show and you've been re-reading the transcripts to that for about a good hour and a half now. That's alright because I have been too! But in between I also reviewed this show, which was very VERY long but also pretty good. I think I'll stick to reviewing it from now on and just watching Dark for fun so not to drive myself insane. And on that note, let's review!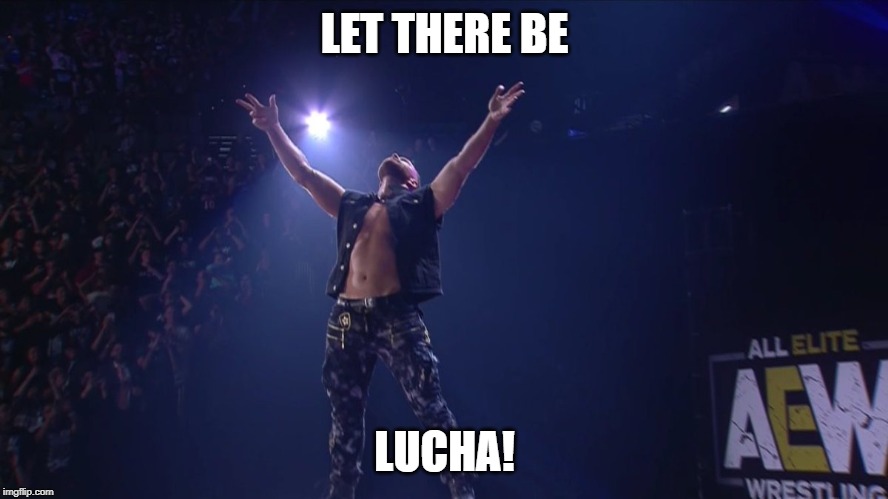 Chuck Taylor & Orange Cassidy defeated JD Drake & Ryan Nemeth after Cassidy pinned Drake with the Beach Break. PLAY THE PIXIES SONG SOUND GUY! That's right; Orange Cassidy comes out to "Where is My Mind?" by The Pixies now. It's no "Gigantic" but it also fits Cassidy better so it all works out. You know what else works out; this match, easily the best thing I've ever seen Ryan Nemeth involved in. Granted he barely did anything but what he did looked good and that has, checks notes, never happened! Good for him. Everyone else was even better; JD Drake remains an AEW Dark MVP (PUT HIM AGAINST LIMELIGHT DAMMIT!) and Big Dust and Cassidy were predictably entertaining. Afterwards Miro and the Kipper came out, Miro threatened to "pull out their throats and RIP OUT THEIR SPINES!" and then after he and Kipper blindsided Cassidy and Big Dust. You have to love it. Good match, good segment. ***
Jon Moxley defeated Bill Collier after submitting Collier with the Bulldog Choke. A borderline good match here. Collier, a near fifteen veteran from Pennsylvania, was given a lot to do in this match and came off really well, at least in my view. He couldn't showed a little more excitement I suppose but his work was really smooth, he had nice athleticism for his size; in other words he was a capable veteran. And Mox was, well, Mox. I suppose that's why the match was more borderline than actually good but it was just fine and hopefully Collier gets more chances to show what he can do. ** ¾ 
Penelope Ford defeated Leila Grey after pinning Grey with the Fireman's Carry Kneebuster. Exactly what it needed to be; Penelope dominated, Leila got some (but not too much) offense in and did i mention that Penelope dominated? It also helped that she actually looked pretty good in doing so. Paul Wight's commentary while Penelope and the Kipper were practically recreating Basic Instinct in the post match was also pretty entertaining. I think that pretty much sums it up. * ¾ 
Austin, Billy and Colten Gunn (Gunn Clubb) defeated Brandon Watts, Randy Summers and Rex Lawless after Colten pinned Summers with the 3:10 to Yuma. This match took place when La Sombra started to unload on WWE during his interview with Hugo Savinovich, leading to those two becoming the newest version of these two. You know; minus the falling out and legal issues.
I was disappointed with this match. For once it wasn't because of the Gunn's either; Austin and Colten were fine and Billy was Billy. The issue was that they didn't give Lawless and especially Summers and Watts a lot to do. As pointed out by Schiavone and Wight Summers and Watts are a team known as Milk Chocolate in the Northeast; I've seen them as a team and as individuals and they're a really good team. They sadly didn't get to show that here as they spent most of the match selling. Hopefully they get to stick around because these guys could be a really good team on Dark. For this night though they had little to do and this match wasn't much because of that. * ¼ 
Thunder Rosa had an interview with Alex Marvez backstage where she talked about the match with Britt Baker and was asked what was next. Diamante interrupted (without Ivelisse) to cut a promo on Rosa, so it looks like that is, in fact, what's next for Thunder Rosa. 
Joey Janela defeated Chandler Hopkins after pinning Hopkins with the Flying Elbow Drop. Aside from poor Schiavone short circuiting at the booth and calling a Death Valley Driver a Canadian Destroyer (I think he may have also called a Shooting Star Press a Swanton Bomb) this was a really good match! Hopkins, who had worked for MLW in the past but is someone I hadn't seen, looked incredible at times. He has some nice kicks and he's a hell of a high flyer, pulling out one of those old school WCW lucha topes to the floor, an awesome Frog Splash and a great Shooting Star attempt. It didn't hurt that Janela is a great opponent for guys like him and Janela both fed for him well and also destroyed him with some moves (the Death Valley Driver in particular looked vicious). Janela slightly teased the heel turn but it wasn't overt, so maybe they are taking their time? All I can say otherwise is this was really strong. This best not be the last we see of Hopkins; there's potential all over him. *** ¾ 
Dasha Gonzalez interviewed Angelico and Jack Evans. PROMO TIME FOR JACK!
This was basically Jack building slow and then going FULL JACK as he ran down Jungle Boy, Luchasaurus and Mark Stunt (who I believe he called Marko Runt) and put over the coffee he was drinking. Meanwhile Angelico danced in the background. When asked why he was dancing with no music, he merely told Dasha "because the music is all up here." Excuse me while I put together my open letter to Tony Khan on why TH2 should be AEW Tag Team Champions. 
Thunder Rosa defeated Alex Gracia after pinning Gracia with a Fire Thunder Driver. Solid match but I kind of expected better. You really saw the difference in performers here. Gracia had one of her better performances in AEW for sure, but most of her performances have been so-so to okay (she had a good match with Ivelisse) and this was mostly the high end of okay from her. Rosa meanwhile was really good because of course she is; she's Thunder Rosa. She just needed a better opponent and a bit more time to have something more worthwhile. ** ½ 
Leyla Hirsch defeated Vipress after submitting Vipress with a Cross Armbar. This was a solid match that turned into a good match by the end. Leyla Hirsch was FANTASTIC in this match. Not only did she give Vipress a lot to work with but her selling of the left arm was really strong, leading to a nice finishing sequence where she German Suplex'd Vipress over and over again while powering through the pain. In case you didn't know how good Leyla was, this was a reminder. Vipress impressed as well; it's been awhile since she last appeared in AEW but I'd say this was probably her best work. I'd call this a borderline good match. ** ¾ 
Frankie Kazarian defeated Danny Limelight after submitting Limelight with a Crossface Chickenwing. Somewhere a chill just ran down Bob Backlund's spine and he started looking at his hands as if he attacked Bret Hart for no reason.
Really good match here. Shocker I know given who was involved. This was a tricky one to book given Limelight needed to come out looking strong despite defeat while Kazarian needed a definitive win going into his big match with Christian Cage on Wednesday. Both goals were accomplished. I'm still not even sure we've scratched the surface with what Limelight can do given how athletic he is. He didn't do half the stuff we've seen from him and he still jumped off the screen still did some innovative offense and sold his ass off for a game Kazarian, still one of the more underrated performers on the AEW roster. He didn't even do half the stuff he normally does either. When you think about that it's kind of scary how good this match was. Afterwards Christian Cage came out to stare down Kaz, building that anticipation for Wednesday. *** ½ 
Ethan Page defeated Fuego del Sol after pinning Fuego with one of the best Ego's Edge's you'll ever see. I've seen Tom Brady passes that didn't travel that far. This is exactly what you'd expect, and want, from this match. Page bulldozed Fuego most of the match (that Fuego bumped for beautifully), Fuego had some nice hope spots, they teased the Tornado DDT and then Page just killed him. In the words of The Academy Is…in that one song, what more could you ask for? A really strong extended squash. ** ½ 
Hikaru Shida & Tay Conti defeated Jazmin Allue & Tesha Price after Conti pinned Tesha with the DDTay. Total annihilation from Shida and Conti here. I actually thought Conti was the more impressive of the two if you could believe it. Some of that was because Shida didn't have a ton to do and some of it is also that Tay Conti is legit good now, especially with the judo style she employs. The AEW Women's Champion was good when she was in there though and I liked the teamwork she and Tay showed despite being first time partners. If I were Anna Jay I'd be a little concerned about this turning into a "SHIDA IS MY NEW BEST FRIEND!" situation. We can worry about it later though I suppose. Good squash. * ¾ 
Jungle Boy defeated Jack Evans after submitting Evans with the Snare Trap after catching a top rope Missile Dropkick from Evans. This feels like a good tie to remind everyone that a few weeks ago people were talking about how Jack Evans deserved to be fired because he, checks notes, didn't hit a Phoenix Splash correctly a couple of times. I have a word for those people, but you'll have to wait till the end of this gif to find out what it is.
This was even better than I thought it would be! Even with it not being the best of times for Jack Evans in the ring it doesn't change the fact that, nine times out of ten, he's a world class performer capable of awesome things. And he was awesome in this match, looking really smooth, using some nice submissions, bumping great for Jungle Boy and doing wild and crazy things like a space tiger flying elbow in the ring that sent him tumbling to the floor. The always game Jungle Boy was exceptional as well; I'm guessing AEW is saving his big moment for when crowds are fully back but sooner or later it be nice to see the dude get more to do. He's legit one of the most talented wrestlers in AEW and his lack of push is one of the few weaknesses the promotion has. This match was another example of why he deserves more. A legit great match. ****
Lee Johnson & QT Marshall defeated Aaron Frye & Adam Priest after QT pinned Priest with the Diamond Cutter. This was largely about continuing the "TENSION IN THE NIGHTMARE FAMILY!" story with QT and Lee accidentally colliding a few times and QT acting above Lee while bossing the youngster around. Thus the match was short, though we did get a nice German Suplex from Priest and some decent athleticism from Johnson. Nothing bad, but only essential if you want to see everything going on with this QT angle. * ½ 
Ryo Mizunami defeated KiLynn King after pinning King with a Guillotine Leg Drop. This was really good and the best match of KiLynn King's AEW career. It was also 100% a Ryo Mizunami match in that it featured some comedy (the rope spot and Mizunami tipping Bryce Remsberg before the match) and a whole lot of hard hitting. There were chops, there were more chops and then after that there were even more chops. And once that was done there were suplexes too! This was definitely up Mizunami's alley and KiLynn King showed a lot in hanging in with her every step of the way. Not a great match but really good and a ton of fun. *** ½
Five & Ten (The Dark Order) defeated D3 & Vary "OR THE LAST TIME MY NAME ISN'T JUVENTUD GUERRERA" Morales after Ten submitted D3 with the Masterlock. Yes I know it's technically just a Full Nelson now but I grew up in the era of the Masterlock SO THUS I AM CALLING IT THE MASTERLOCK! It's my review, I do what I want. And yes I just spent two sentences talking about that because that's all that really happened in this match. Five and Morales had a good sequence early on and after that it was just total annihilation by Five and Ten. Both guys looked impressive at least and Morales and D3 bumped well, and D3's selling of the Masterlock was really strong. A solid squash. * ½ 
Ethan Page was interviewed by Dasha and cut a promo as only Ethan Page can about already being overlooked in his short AEW stint. Nothing much to add about that other than Ethan Page is great at this promo stuff. Who knew?!
Bear Country got the Elevation Spotlight video this week and quite frankly this was the best of these thus far. Emotional video where Bear Boulder and Bear Bronson document their history as singles guys who then decided to team, the pandemic halting their careers and then AEW giving them the call to appear on Dark. Boulder in particular started to well up talking about how they impressed AEW enough that they were called back. An awesome video package. 
Isaiah Kassidy & Marq Quen (Private Party) defeated Bear Boulder & Bear Bronson (Bear Country) after Kassidy pinned Bronson with a Schoolboy Rollup. I was very curious at how AEW would have Bear Country lose after that great video package and they did it by having Marko Stunt come out to keep Matt Hardy from interfering, only to distract Bear Country and lead to their victory. This is coming on the heels of Bear Country eliminating Jurassic Express at the Revolution Casino Battle Royal.
This was another good match, particular from Bear Country. Maybe they watched the video before going out there? I kind of expected this to be back and forth and instead it felt like Private Party picking their spots in between Boulder and Bronson just tossing Kassidy and Quen around like they were Fuego del Sol and Bear Country were Ethan Page. There was one spot in particular where Boulder, while holding Quen on his shoulders, caught Kassidy and hit them with a GREAT Samoan Drop/Fallaway Slam combo that popped the wrestlers in the front row. Really good stuff. Between that and the ending, which was far better than I would've expected, this was an overall strong showing. *** ½ 
Scorpio Sky defeated Mike Sydal after submitting Sydal with a Grapevine Ankle Lock. Lots of submission finishes tonight huh? Yet another really good match too; it was like the night of submission finishes and good matches that won't really stick with me. I've enjoyed Mike Sydal since they brought him in to team with Matt and he was really good here; super smooth work, nice athleticism and great bumping. Occasionally I was worried he was too committed to bumping, though he confirmed he wasn't by not taking that German Suplex to the floor. Scorpio Sky looked really good in his new heel role; the technical style suits him and the submission (between this and the Darby match) came off well. Scorp certainly had good moments as a babyface but this may be what the doctor ordered for him to really get over the hump. Afterwards Matt Sydal came out to make the save, followed by Ethan Page coming out to take care of him. Page and Scorp left together, so it looks like that's an alliance. I won't complain, though maybe Kazarian and Daniels will. *** ½ 
And on that note I am off to play Uncharted 3! Will see you later in the week sports fans. TILL THEN!
Please change disks to continue…
Folks! We invite you to also follow us through our official social media accounts:
© 2021 AEW
RELATED NOTE: AEW Dark: Elevation Episode 3 (03/29/2021)