We're making this one short and sweet sports fans. My legs feel like jelly after walking the Cliff Walk in Newport, Rhode Island all day, I have Final Fantasy X to play and my new favorite hobby, CM Punk watch, to continue. Plus someone has to relieve Kleinrock of the duty before he starts hallucinating that Wrestling Society X has returned. And on that note, let's review AEW Dark!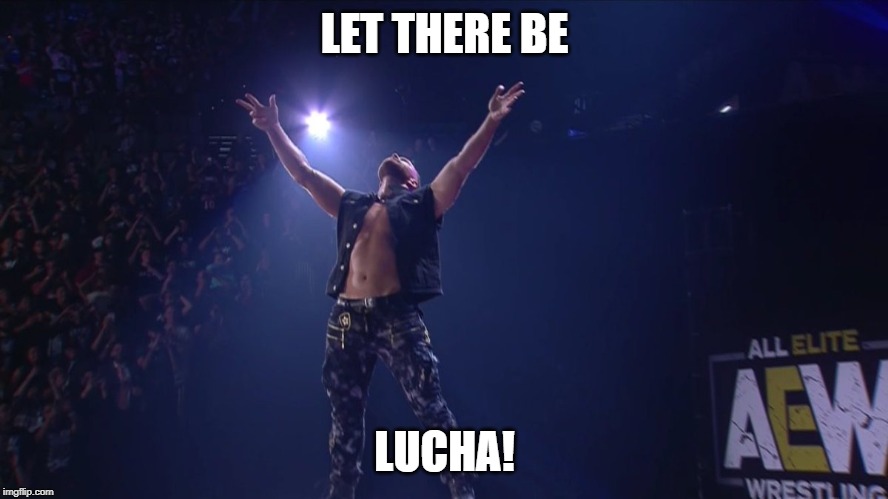 Red Velvet defeated Alejandra Lion after pinning Lion with the Final Slice (Running Overdrive). Solid stuff all around here. It was actually one sided in the favor of Lion, a Texas native who has worked a lot for Martinez Entertainment Lucha Libre Mexicana. Fortunately she's quite good (she's had good matches with Dani Mo, Facade's ally, on the indies) and Velvet sold a ton for her to give her credibility. Thus the match worked and Velvet's brief comeback to pick up the win was quite strong. Nothing that will reach the MOTY rankings but a very solid match. ** ½ 
Sonny Kiss and THE BAD BOY JOEY JANELA are back and better than ever. Unfortunately that means Joey is giving up the bad influences like Alex Marvez, the go go bars, the sausage factories and yes, BIG MOMMY MILKERS! In turning Janela face again AEW has unwittingly turned him heel by giving up BIG MOMMY MILKERS! This would be like Michael Jordan giving up basketball in his early 30's. Wait a minute, he did that didn't he?! Anyway, Joey and Sonny are gunning for the gold and called out the Young Bucks for the 100th episode of AEW Dark next week. I'll be watching it from Big Mommy Milkers, as Janela is now too good for the establishment.
Abadon defeated Killa Kate after pinning Kate with the Leg DDT. I was still sobbing over Big Mommy Milkers during this one but valiantly fought through just for you sports fans. This was largely a squash, though Kate, another Martinez alumni who had a decent following for a jobber, showed some nice fire and sold well. In the end though Abadon wiped her off the face of the earth and continues to show improvement in doing so. A match that did it's job, nothing more, nothing less. * ½ 
Diamante defeated Big Swole after pinning Swole by reversing a Sunset Flip Roll up with a cradle while grabbing the ropes. CONTROVERSY ABOUNDS HERE! Not only did Diamante very clearly cheat to win but it looked like Rick Knox was in position to see it…and did not. Looks like the Young Bucks aren't the only dudes paying off Rick!
This was a good match here. I knew the result coming in and I'll be honest, I thought it was the wrong call, but the finish gives me hope that there will be more to this that allows Swole to get her win. Even with the finish though the action the rest of the way more than held up. Diamante can be hit and miss, but when she's on she's quite good and she had an overall smooth performance. The real star however was Swole. She's always had charisma coming out of her ears but she's another one who gets better in the ring every time I see her, and she looked really strong here, with the crowd getting strongly behind her. All the more reason to make sure the program isn't left here and Swole gets the win back. Good stuff other than that. ***
Evil Uno & Stu Grayson (Dark Order) defeated Warren Johnson & Zack Mason (Fly Def) after Stu pinned Johnson after a Running Kick/Piledriver combo. I was very interested in this match because Johnson and Mason, two members of the Reality of Wrestling roster, have been praised to me by several people familiar with their work. They weren't given a ton to do here but they came off as a competent duo with some good double team work who sold well for Uno and Stu, who were so over I was expecting Negro Casas to be with them. Grayson in particular showed some great babyface fire and even did a dive; needless to say those two are hyped and ready for that five on five tomorrow night. I would've liked to have seen Johnson and Mason get more of a look but that was a tough sell in this situation. They made the most of their minutes though, had a solid match with a great team and should be a team to keep an eye on going forward. ** ½ 
Dante Martin, Brian Pillman Jr. and Griff Garrison (The Varsity Blondes) defeated Anthony Bowens, Max Caster (The Acclaimed) and Ryan Nemeth after Martin pinned Nemeth with the Flipping Stunner. Let's get the bad stuff out of the way first; Nemeth had a bit of trouble taking Martin's finisher, resulted in them doing a redo. Fortunately no one will remember this because for most people the match ended after Dante Martin did this.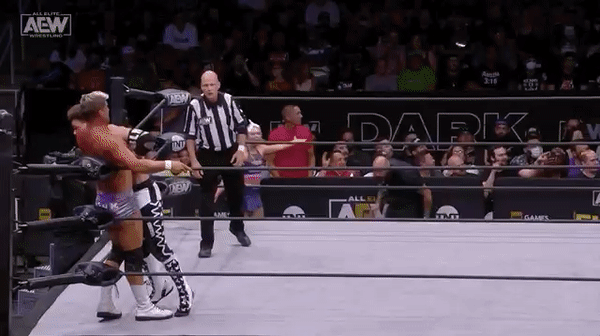 It was stuff like that and more that helped make this the best thing on the show. The more, by the way, included another winning rap from Platinum Max (let's just say the 2nd amendment, the Johnson & Johnson vaccine, Julia Hart and Ezekiel Eliot's dog may want to lay low for a bit), a swell Griff Garrison hot tag, some nice wiley veteran work from Nemeth and basically everything else Martin did. It says a lot that this match was built around The Acclaimed and Varisty Blondes feud and yet Martin still walked away with this match. He's basically what GCW believes Ninja Mack to be; an ultra athletic, ultra exciting prospect. The only difference is Martin actually knows how to wrestle whereas Mack knows how to flip and nothing else. It's why his GCW matches over the weekend were all over the place and why Martin looked like a star tonight. A strong close to the show.
That's it for me sports fans. I'll see you this weekend for a whole lot of ChocoPro reviews as I catch up. TILL THEN!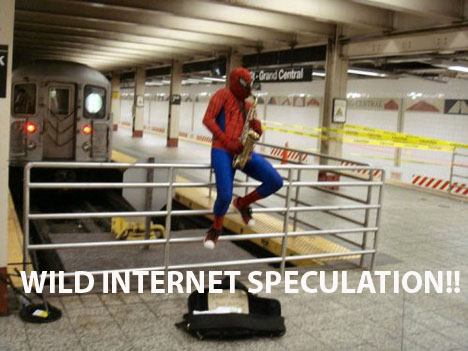 Please change disks to continue…
Folks! We invite you to also follow us through our official social media accounts:
© 2021 AEW
RELATED NOTE: AEW Dark Episode 99 (07/27/2021)