Well it's time! It's time! IT'S AEW DARK REVIEW TIME! I'm going to level with you sports fans; I was concerned about this one making the airwaves after I tried to do an AEW Dark: Elevation review last night and it, cards on the table, sucked. Like it was the Chicago Cubs after the trade deadline bad (hold on; I'm holding back tears here). It was bad enough that I was concerned I'd get halfway through this review and have to scrap it due to it similarly being below par. Fortunately it wasn't and thus you have a review of an AEW Dark show that was a lot of fun with a red hot crowd. In the words of, well, everyone, you love to see it. And on that note, let's review!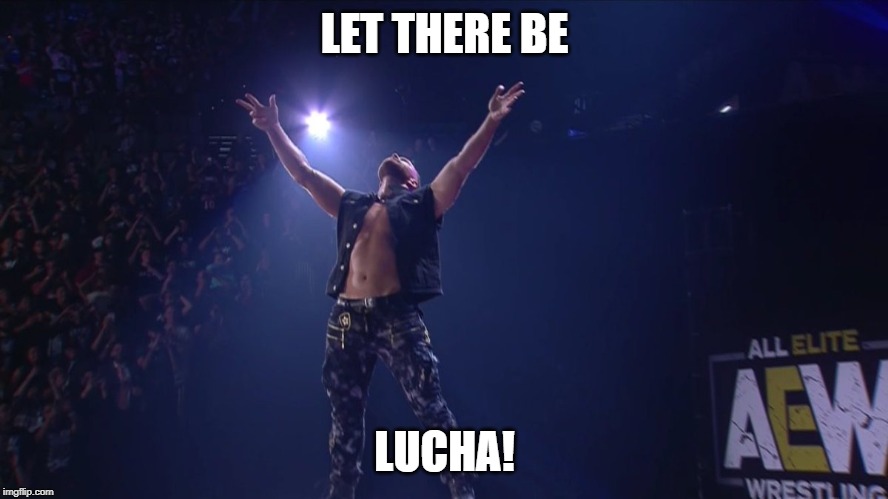 Jeff Parker & Matt Lee (2.0) defeated Sam Adams & Syler Andrews after Lee pinned Andrews after Two for the Show. You cannot stop 2.0 right now, YOU CAN ONLY HOPE TO CONTAIN THEM! This was another good performance from them in a squash situation. It wasn't overly flashy but you could once again see how fundamentally sound both Parker and Lee are and you have to love them mocking Sting prior to the Texas Tornado match tomorrow. Can you ever call it mockery though when Parker does such a sweet Stinger Splash? It's more of a homage really. It should be pointed out that 2.0 also got an assist from the crowd being into the babyfaces for the second straight night. On Elevation Duke Davis and Ganon Jones worked hard and got a god reaction and tonight it was Adams and Andrews' turn to do the same. When you get jobbers that are over, work that hard and sell this well, it's hard to miss. **
Tay Conti defeated Rebecca Scott after pinning Scott with the DDTay. Fun fact; I was watching old CM Punk matches today and I saw him do a DDTay! Clearly this means CM Punk saw Tay Conti being a huge star in the future and is coming to AEW just to learn her secrets. I'm just saying! This was a second straight fun squash. Tay was super over with Pittsburgh here and as she's wont to do she was out there trying new things and pulling them off well. She legit gets better every time we see her and I for one hope we get around to her vs. Britt Baker sooner than later. Scott wasn't much more than a body for her, but she didn't get away and sold well and in this case that's all you need. A good squash. * ¾ 
Brock Anderson & Lee Johnson defeated Joe Keys & Spencer Slade after Anderson pinned Keys with that Arn Anderson style DDT. Not much to say about this one. It was quicker than Speed Racer in the Gran Prix, with Keys and Slade getting a little bit of offense, Johnson selling and Brock getting the hot tag. I probably would've gone with Johnson getting the hot tag and Anderson did look a bit green here, but he has to learn somehow so it was probably for the best. Even still, this was forgettable and then some. * ¼ 
Matt Hardy defeated Wheeler Yuta after pinning Yuta following an illegal boot shot. I'm very disappointed in the finish. Why? Because it robbed me of saying Matt defeated Yuta while wrestling with his shoe untied. He legit wrestled the whole match with it untied, ONLY TO TAKE IT OFF! Totally ruined the Back of the Future joke I had. Guess I'll use the gif anyway.
Wheeler Yuta has looked really good in his brief AEW run but to me this was easily his best work. It showed because this match was very good. Matt Hardy is obviously not what he used to be but he can still have good stuff with the right guy and Yuta was the perfect opponent for him, providing nice energy and feeding well for Matt's offense (the way he took a Side Effect was gnarly). The crowd was surprisingly into this as well, which helped a ton. I normally would be iffy on Hardy winning this but it was a cheap win and Yuta got his revenge in the post match with the help of Orange Cassidy, who came out to save him and Chuck Taylor from a Hardy Family Office beatdown. So in the end it's all good. That possible complaint aside, it's hard not to come out of this thinking this was anything other than well worked and fun. *** ½ 
Penelope Ford defeated Masha Slamovich after submitting Slamovich with the Muta Lock. This is the first time I think I ever noticed Penelope does the Muta Lock while standing on her toes. That's friggin impressive, though not as impressive as her getting cheers in Pittsburgh when she's from Philadelphia. She legit got booed coming out and by the end was getting cheers. Impressive.
This was borderline good, and it was only that low because these two didn't get a ton of time. Overall though I was quite impressed. Masha Slamovich is a well regarded indie worker and while she suffered the most from the lack of time, what she got to do was mightily impressive. Like how many people can do a Half Nelson Suplex as well as her? Who I ask you?! Penelope was equally up to the task, even pulling out a gnarly new dropkick for the occasion. The only problem with this was the lack of time; a few more minutes and this would've hummed. In the end it was still pretty damn solid, and also it looks like we're getting a Penelope Ford-Thunder Rosa feud as Rosa came out to stop Penelope from a post match beat down. That'll be a fun match up and a good test for hour far Ford has come. ** ¾ 
Kris Statlander defeated Kiera Hogan after pinning Hogan with the Big Bang Theory. This was what the last match would've been with a few more minutes. In the unreleased review of Elevation last night I talked about how impressive Kiera Hogan was. She didn't stop with that performance as she was just as good here. Her kicks are lethal as holy hell and she was the perfect opponent for Statlander to show off her power game. I have no idea what Hogan's future with AEW is but like I said last night; if this was a job audition, I think she passed with flying colors. And it was another great showing for Statlander as well as she speeds towards her AEW Women's World Title shot. In the words of Yoda, good stuff this was. *** ¼ 
Pac, Penta El Zero Miedo and Rey Fenix (Death Triangle) defeated Cole Karter, Luther and Serpentico (Chaos Project) after Pentagon pinned Karter with the Fear Factor. This match was most notable for Andrade coming out to distract Pac, leading to Karter nearly picking up the upset victory with a roll up. It was all downhill for Karter after that; not only did he get beat but his partners walked out on him! As the kids say these days, that's tough sledding. Other than all that there wasn't much to this, unless you count Fenix going nuts at the end of the match with an insane cutter and a dive onto the departing Chaos Project. It was however nice to see Death Triangle again in trios action (I think this was only their second ever match in that situation) and as stated, all three looked good. But yeah; this was largely a squash. * ½ 
Nyla Rose defeated Tina San Antonio after pinning San Antonio with a Beast Bomb. I've seen coin spins that have lasted longer than this match did. Nyla basically speared poor San Antonio, hit a few moves, then a Beast Bomb and Vickie Guerrero was draping that t-shirt over San Antonio. Hey if it works, it works right? It's always good to keep Nyla Rose strong anyway and this match did just that. Afterwards Vickie Guerrero cut a promo that was largely drowned out by boos, basically saying Nyla would one day be coming for the AEW Women's Title again. When that will be? Find out on the next exciting episode of AEW Dark Z!!!!! * ½ 
Alex Reynolds, John Silver and Ten defeated Andrew Palace, Bill Collier and Rickey Shane Page after Ten submitted Palace with the Master Lock. This match can best be summed up by that NFL Network commercial that aired a long time ago. 
Boy did I have a great time watching this! You would've honestly expected this to be a squash match but instead Palace, hometown hero Collier and GCW legend RSP got a decent amount to do, with Collier in particular working like he was shot out of a canon (how about that apron spear?!). They did get their asses kicked a ton too but fortunately all three were great at that and the Dark Order was equally as good at dishing it out. John Silver was a locomotive in this one (dishing out some great suplexes), Alex Reynolds was super smooth, Ten continues his recent stretch of improvement and when these three were doing triple teams it was MAGIC. The last sequence in particular was off the charts and the hot crowd made it even better. The future of the Dark Order is still in doubt and it was notable Evil Uno and Stu Grayson, who Reynolds, Ten and the Meat Man have issues with over the Elite/Hangman Page beat down, weren't here. But those are problems for later; tonight the Dark Order was fine and this match was super fun. *** ½ 
Frankie Kazarian defeated Brandon Cutler after submitting Cutler with the Chickenwing. This was a straight up comedy match, with Kazarian playing the role of the no nonsense bad ass and Cutler playing the role of a side character in a classic National Lampoon film. Somehow it worked! It probably has to do with Kaz being really good in the silent bad ass role and Cutler just being phenomenal as the ultimate goober. I was in hysterics watching him do several dancing elbows (including missing the last one) and then the finish, where his cold spray malfunctioned and upon checking it he sprayed himself! This wouldn't have worked on Dynamite but on Dark, with Taz, Excalibur and Ricky Starks on the call, this fit like a glove. Kudos to Michael Nakazawa for his comedic work outside of the ring too. ** ¼ 
Brian Pillman Jr.,Griff Garrison (Varsity Blondes), Jungle Boy and Luchasaurus (Jurassic Express) defeated Cezar Bononi, JD Drake, Peter Avalon and Ryan Nemeth (The Wingmen) after Jungle Boy submitted Nemeth with the Snare Trap. This match fit right alongside of the theme of the evening, which is to say it too was serious fun. Once again the crowd a big help, cheering heavily for the faces, especially Luchasaurus, Jungle Boy and surprisingly Pillman Jr. All three looked good (with Jungle Boy bordering on great), Garrison was solid and the Wingmen were perfect as per usual, with some nice offense, great selling and the always entertaining facials. The really isn't more to add than that honestly. This was quick, it was well worked and you'll certainly be smiling when it was over. ***
Dante Martin defeated Lee Moriarty after pinning Moriarty with one of the best Sunset Flips you'll ever see in your life. First Dustin Rhodes tried to get the Bulldog over as a finisher and now we have Dante Martin trying to get the Sunset Flip over. The only difference is it'll for sure work because Dante Martin jumps like one of the dudes from Flubber and will be the most over man on the planet if AEW keeps his momentum from last week's Dynamite up. 
This was easily the most anticipated match of the night given Dante's performance last week and Moriarty's reputation from GCW, PWG and the indies, and it did not disappoint. It was for sure on the short side, which is unfortunate because at ten minutes I think people would be going onto social media to rave about this. For the time they had though I honestly thought this was borderline great. A lot has been made about how skilled youngsters like Wheeler Yuta and Daniel Garcia are, and Lee Moriarty is right there at that level and possibly even better. He only showed half of his technical/athletic ability here and he still came off as a big deal, helped by the hometown Pittsburgh crowd supporting him. And Dante Martin was sensational yet again. There was no big hurricanrana spot like on Dynamite, but he made up for it with that Sunset Flip, an incredible flipping dodge to the floor and one spot where he jumped from the floor TO THE SECOND ROPE IN ONE STROKE! Some day he will wrestle Rey Fenix on Dynamite and barring things going horribly wrong he will walk out of it the most beloved wrestler in America. He's that good and he's only 20. The universe isn't even the limit for this kid. In any event, this was what I'd call a borderline great five minute match and I hope we see more Moriarty in AEW and especially more Martin on all AEW programming. *** ¾ 
There you have it sports fans. Feels good to be back in the reviewing groove. I will see you all on Saturday for the AAA review, barring any setbacks. TILL THEN!

Please change disks to continue…
Folks! We invite you to also follow us through our official social media accounts:
© 2021 AEW
RELATED NOTE: AEW Dark Episode 103 (08/17/2021)