So remember how last week's AEW Dark was supposed to be an end of an era? PSYCH! Even with AEW Dark: Elevation debuting last night with some 13 matches, Dark was back at it again tonight with more Taz and Excalibur and more matches. On the one hand, it was a bit much and I think both shows overall suffered due to featuring cards where most of the matches were merely "fine." On the other hand it does at least mean Dark is staying as is and that is good news for me! Plus the show was still easy to watch so I can't complain too much. On that note let's get this started; I have podcasting to get to.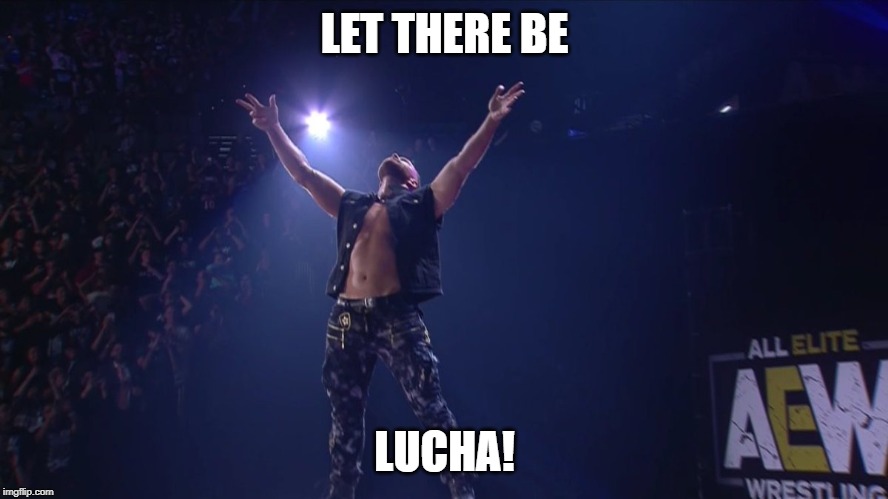 Luchasaurus defeated Cezar Bononi after pinning Bononi with the Standing Moonsault. The first minute and a half of this match had me looking on with horror, as if I was watching the theatrical cut of Justice League all over again. By the end I was breathing a sigh of relief the same way I did when I saw the reviews of the Snyder Cut. So it was a mixed bag, much like Bononi himself. He was all over the place with his timing early on but eventually worked his way into having an overall strong performance. Luchasaurus deserves a lot of credit for helping to lead him along while also working well within his own limitations. I probably would've been willing to say this was a good match with a better first few minutes, but they were so bad I can't go that far. Still, better than I expected given how hit or miss Bononi is. ** ½
Leyla Hirsch defeated Savannah Evans after submitting Evans with a Cross Armbar. Did you hear Leyla Hirsch was signed? No? Leyla Hirsch was signed. Now you know!
This was a really fun little hoss vs. big hoss match, aside from one camera cut where things seemed to go wrong. It's great to see Evans back; sh's really underrated and such a unique performer in the women's division given her size. She pulverized Leyla throughout this match and Leyla, in turn, hit her right back. Some of the spots could've been a bit smoother but overall I really enjoyed this. Nice back and forth exchanges, good power moves and Leyla wrestle this match like she just got signed. Which hey; she did! Afterwards she also confronted Vickie Guerrero, so I guess we're getting Leyla vs. Nyla Rose in the not so distant future. ***
John Silver, aka THE MEAT MAN, aka Johnny Hungie, defeated John Skyler after pinning Skyler with the Airplane Spin Powerbomb. Fun squash. Skyler actually got some offense in during the middle portion of the match but this was mostly about Silver getting as much of his cool offense in as possible. He did, he looked good and best of all Negative One's reaction to all the moves made it even better. Exactly what it needed to be. **
Penelope Ford defeated Tesha Price after pinning Price with the Handspring Cutter. Or as Ring of Honor calls it, the Lethal Injection. Solid match. I continue to like this new persona Tesha Price has where she's ultra intense and running around like she just downed two cans of Surge. The in ring work still isn't quite there yet; it's not bad but it's not quite fluid enough for her to have good matches consistently. Penelope looked far better here; we forget how capable she can be as a worker given how she's been sidetracked with that Miro/Kipper angle. Speaking of that, Excalibur and Taz made a point to bring up how Penelope is down on Miro due to him, you know, nearly injuring her at the PPV, so that split is definitely coming. I think I speak for all of us when I say it's about damn time. ** ¼ 
Luther & Serpentico (Chaos Project) defeated Fuego del Sol & Jake St. Patrick after Serpentico pinned Fuego with Creeping Death. This was largely a squash, except for the fact that Fuego HIT THE TORNADO DDT FOR A SECOND STRAIGHT WEEK! Parades were thrown, parties were held and I expect in 9 months we'll be hearing about a phenomenon about all the children conceived on the night Fuego hit the Tornado DDT a second time. Sadly he hit it with Serpentico standing right there to break up the pin so thus no victory. Give it time Fuego; it's coming! Other than that match was just there. Wish St. Patrick could've shown more after his good showing with Jack Evans a few weeks ago. * ½ 
KiLynn King defeated Jazmin Allure after pinning Allue with the Kingdom Falls. In the words of Yoda, good match this was. Yes it took me five minutes to come up with that.
But yes; this was highly enjoyable. Allure has been more impressive with each passing Dark outing and here she showed a nice combination of athleticism and fire. She also got in KiLynn King's face a lot, a nice added dimension considering you'd just expect Allure to try and avoid King with her speed. King meanwhile remains really good; she showed off great power, some nice kicks and bumped well for the smaller Allure. The finish, with King reversing an Allure cazadora attempt into Kingdom Falls was really well done; among the best things on the show even! Can you tell I really liked this? If Madi Wrenkowski isn't careful, Jazmin Allure may pass her in the "Best Thunder Rosa Disciple to Appear on AEW Dark" power rankings. *** ¼ 
Colt Cabana, Evil Uno, Five and Stu Grayson defeated Angel Fashion, Baron Black, Ryzin and Vary Morales after Cabana submitted Black with the Billy Goat's Curse. On the one hand, it pains me to see one of my favorites in Baron Black take the L and not get a ton to do. On the other hand I always pop for the Billy Goat's Curse. Must be the Cubs fan in me. Anyways, this was completely one sided. The jobbers got a few moments but the most memorable things about the match were the finish, Black taking several kicks and a Knightfall, Negative One reacting on the ramp and Stu Grayson having to hold Negative One upside down to restrain him from wiping poor Black off the face of the earth. Entertaining stuff, but not enough to make a memorable match. 
Austin, Billy and Colten Gunn (The Gunn Club) defeated Adam Priest, David Ali and Seth Gargis after Austin pinned Ali with the Quick Draw. Come on AEW; first Baron Black loses and then you follow it up with the Ocean State guy taking the pin?! What the hell man. Frankly that was the only thing that happened in the match; the Gunn Club jumped these guys at the bell and the next thing you knew it was over. Honestly it was for the best. Well other than David Ali taking the pin. #JusticeForWrestlersFromRhodeIsland. NR
Bear Boulder & Bear Bronson defeated Brick Aldridge & Dean Alexander after Bronson pinned BOTH Aldridge and Alexander after an Assisted Splash. Another match where the stars came, saw, kicked ass and got out of there. This was more impressive than the Gunn Club match though, mainly because (shocker of all shockers) Bear Country are a better act than the Gunn Club. They didn't get a long time but they took advantage, with Boulder having an impressive Double Powerslam spot and Bronson getting that sweet finish. A good squash. * ½ 
Nick Comorato defeated D3: The Mighty Ducks after pinning D3 with a Powerslam out of a Military Press. Short but fun for it's minute and a half run time. D3 was actually allowed to do stuff other than bump for his life, his offense looked good and Comorato sold well for him. Then after that was done Comorato wiped poor D3 all the way back to the Disney Channel so it all worked out. Excited to see where this whole thing goes with Comorato clearly taking the side of QT Marshall in this Nightmare Family split. I'd be down for some QT/Comorato vs. Dustin/Lee Johnson matches. **
Brian Pillman Jr. & Griff Garrison (Varsity Blondes) defeated Jorel Nelson & Royce Isaacs (One Percent) after Pillman pinned Nelson with a Flying Clothesline. Remember how Isaacs and Nelson were on Dark: Elevation last night and basically had nothing to do? Not the case tonight! With more room to work with Nelson and Isaacs got to show what they can do and looked really impressive. Nelson in particular is a really good athlete; hopefully AEW gives these guys more to do going forward. Pillman meanwhile was solid and Griff Garrison is really starting to put it together. He didn't even show half of what he can do here and he was still jumping off the screen. Not quite good but a borderline match. ** ¾ 
Madi Wrenkowski defeated Vertvixen after pinning Vertvixen with the Scissors Kick. A big moment for Thunder Rosa here; her student went over…her student. Alright maybe not that big a deal now that I think it over, other than Madi Wrenkowski now has two more wins than the legendary Fuego del Sol. Poor Fuego. You'll get there man!
This was a match where the effort was at a high level and the match just didn't quite match it. Both Wrenkowski and Vertvixen tried hard, but watching the match it was pretty clear that Wrenkowski is at least a level ahead of Vertvixen. Not that she was awful, but watching her you could tell there's a few things that need to be smoother from Vixen, and will be as she gains more experience. She did work hard though and Wrenkowski remains a very intriguing performer when she a) isn't saying dumb things on Twitter and b) being thrown to the wolves against Britt Baker on short notice. Other than that she continues to impress. Solid match with strong effort from both. ** ½
Christopher Daniels & Frankie Kazarian (SCU) defeated Aaron Solow & Carlie Bravo after Daniels pinned Bravo after the Best Meltzer Ever. This was three pros and one impressive rookie having a good match. It's amazing to think Bravo's first match was back in December; he doesn't have it all together yet but watching him you wouldn't know he's only been wrestling for months. That's how far along he is and working with guys like Daniels and Kazarian consistently can only help. Solow meanwhile was his always reliable self and SCU remain at a high level as we get closer and closer to their inevitable collision with the Young Bucks. The result was predictable (as has every SCU match recently) but the action was good. ***
Brian Cage & Ricky Starks (Team Taz) defeated Joey Janela & Sonny Kiss after Starks pinned Sonny with a Spear. A LOT going on with this one after the match sports fans. First we had Cage being upset Ricky Starks blind tagged himself in to get the win, followed by Janela getting mad at Sonny Kiss for taking the pin. Janela did apologize after that but still; trouble in paradise for both the Jersey Boyz and Team Taz.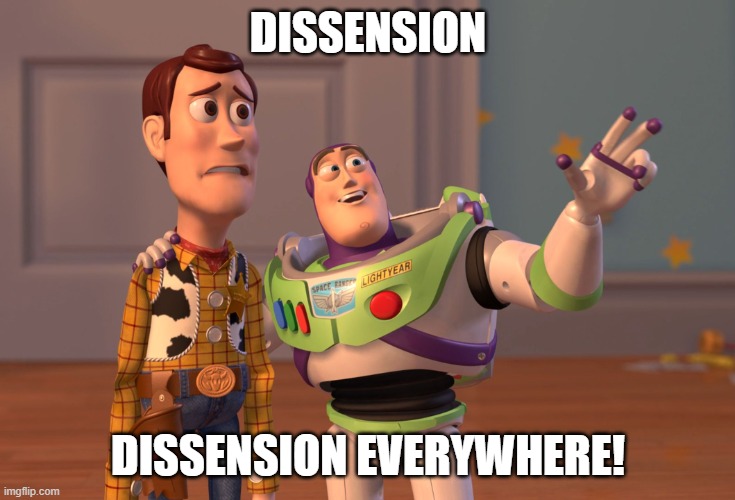 There was no trouble in this match though, easily the best thing on the show to this point. Cage and Starks are stars and worked like stars, while Joey Janela sold well as the babyface in peril and Sonny Kiss was absolutely tremendous. This honestly might've been Sonny's best work in AEW, especially once he got the hot tag and got to go toe to toe with Cage in a mini Lucha Underground reunion. Great chemistry between those two. Will be interesting to see where all these issues between the teams go but at least for this night this was a strong performance from both. *** ½ 
Ten defeated Jack Evans after a referee stoppage after Ten put Evans in the Master Lock. Somewhere Chris Masters wiped a tear from his eye and nodded in approval. There were some moments that could've been smoother but the combination of Evans' performance and Negative One at the booth made this my favorite thing on the show. If there's two things I love in wrestling its Jack Evans and Negative One shooting at the booth, and this match had both in spades. Jack had some really great stuff in this one, including the Ode to Blitzkrieg and an absolutely fantastic Phoenix Splash that may have broke poor Ten's face. Meanwhile Negative One said Jack Evans was going to gettle killed in this match. If only AEW would let these two have a promo battle; it be the best thing in TV history. Ten meanwhile was a little less consistent than Jack but he was still good, got better as things went along and the Master Lock is a great submission finisher for him. Good close to the show! *** ½l
And with that it's podcast time sports fans. I'll see you at the next ChocoPro. Till then!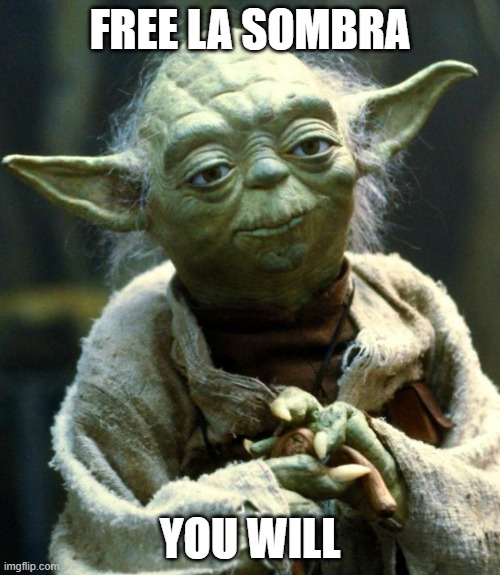 Please change disks to continue…
Folks! We invite you to also follow us through our official social media accounts:
© 2021 Lucha Central 
RELATED NOTE: AEW Dark Episode 80 (03/016/2021)