It's Tuesday and you know what that means; -1 was back in the booth for AEW Dark and thus the show was hotter than Bikini Kill's "Rebel Girl" when it first blasted through the radio. Actually it would've been anyway because this was a second straight Dark that bordered on being great. It didn't feature the singular great match that we got last week in Fenix vs. Baron Black but other than some squash matches no match was worse than solid and most matches were borderline to very good. And of course Taz, Excalibur and -1 were awesome and we had a Dr. Britt Baker segment which, let's be real, was gold the moment it was announced. Have you ever known there to be a bad segment with the good dentist? I didn't think so. But enough of that; I've got a review to finish! If you missed this shindig, catch up now.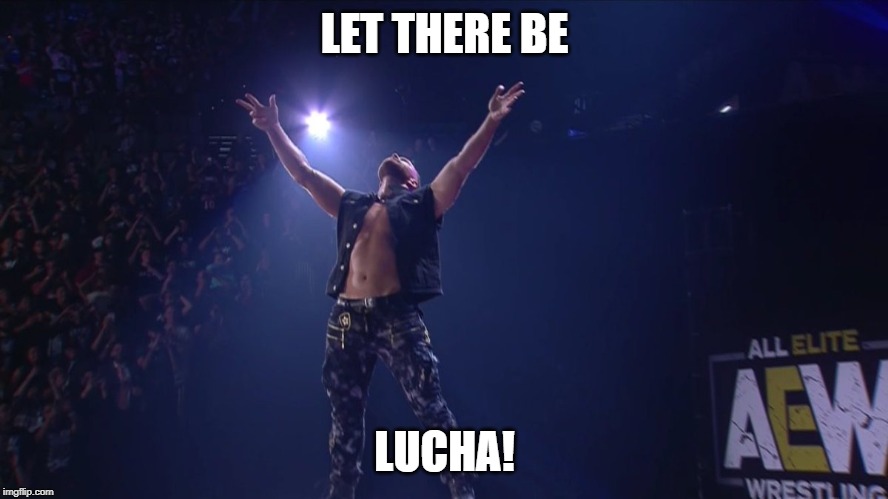 Dustin Rhodes, Nick Comoroto and QT Marshall defeated M'Badu, Terrell and Terrence Hughes (TNT) after Comoroto pinned M'Badu with the old Goldberg style Military Press into a Powerslam. Comoroto's first win! You love to see it. This match was pretty good too! Hard not to be with Dustin and QT in there; they work well with everyone and proved that once again with TNT. Granted TNT are pretty good too so…I don't know what the point I'm trying to make here. All of it built to Comoroto getting the hot tag and throwing people around, and he not only did that but did it with ease. That's especially impressive considering M'Badu is a big boy, yet there was Comoroto doing a Hangman's DDT/Military Press combo towards the climax. You read that right. I have seen everything; I had not seen that before. Incredible stuff. The rest of the match wasn't that great but it was very strong. *** ¼ 
Rey Fenix defeated KC Navarro after pinning Navarro with a Frog Splash. I have good news for Baron Black; his match with Fenix last week was the better of the two recent Fenix Dark matches. That isn't to criticize this match because it was quite good. Fenix is really enjoying giving guys a ton to work with these days and Navarro, like Black, made the most of the opportunity. He doesn't possess the technical skill Black has but he makes up for it with tons of energy and athleticism, which made him an ideal opponent for a guy in Rey Fenix who lives by the lucha and dies by the lucha. Don't we all though? As such we got a ton of really athletic, really well paced sequences, several cool moves, the best work we've seen from Navarro on Dark and another otherworldly performance from Fenix going into his main event match tomorrow. Another good match. *** ½ 
Tay Conti defeated Tesha Price after pinning Price with the Tay-KO.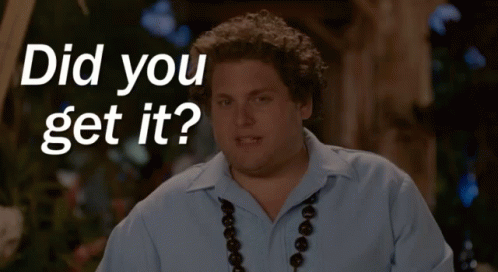 This wasn't as good as the previous two matches but given the matchup it was far better than I expected. I've said it before and I'll say it again; Tay Conti is SO MUCH BETTER than she was just a few months ago. I don't know if she just needed the platform or if QT Marshall is the Wrestler Whisperer but she is quickly going from promising young talent to legit good worker if she keeps this up. This was another strong performance, especially considering Price has been very hit or miss in her Dark tenure. She worked well here though and that was all Tay needed to carry the rest. A legitimately borderline match. ** ¾ 
The Waiting Room with Dr. Britt Baker DMD featuring Ricky Starks was, as expected, money. The Reba laugh was on point, Starks' turtleneck was so strong that 1998 Rock was jealous and the flirting between Baker and Starks was enough that I half expected Adam Cole to rip up his contract and drive on over to Jacksonville to put a stop to it. This was good, then Tony Schiavone came along to put a stop to it all because he's secretly jealous of Ricky and it was even better! More Waiting Room please. 
Thunder Rosa defeated Dani Jordyn after pinning Jordyn with a Fire Thunder Driver. There was an edit at the beginning of the match when Rosa and Jordyn (apparently) messed up a go behind spot. After that this was hard hitting goodness. Rosa is one of the best and Jordyn, though she's not appearing as much as she has in the past, is one of the more polished female workers on Dark alongside Red Velvet and KiLynn King. As a result these two meshed well together, with the striking in particular standing out. Other than the opening moment this was really strong and set up Rosa well for the war with Britt Baker tomorrow. I do wish we may have gotten some interaction between them though. ***
Ortiz & Santana (Proud N' Powerful) defeated Fuego del Sol & El Hijo del Juventud Guerrera (or as he calls himself, Vary Morales) after Ortiz pinned Fuego after a Death Valley Driver/DDT double team. This was quick, it was vicious and it was enjoyable. Ortiz and Santana are continuing their run of just pummeling guys, though they did give Fuego and Not Juvy a lot more than their last opponents (who were gone so fast I can't even remember who they were!). Alas today was not the show for Fuego to finally hit that Tornado DDT. There's always next week, perhaps against Not Juvy when the Lucha Powers EXPLODE! And this is why I'm not allowed to book Dark. * ¾ 
Leyla Hirsch defeated Katalina Perez after submitting Perez with a Cross Armbar. Another short, easy to watch squash. Perez was the perfect punching bag for Hirsch, who remains one of the most dynamic performers in the AEW Women's division. They should put her against Tay Conti one day so we can see the most athletic match in history to not feature any dives at all. Well other than the inevitable Hirsch moonsault. Other than that though no dives. * ½ 
We got an Acclaimed music video where they ran down every single team they're going against in Tag Team Battle Royal tomorrow. I laughed! But I didn't laugh nearly as hard as I did when…
Anthony Bowens & Max Caster (The Acclaimed) defeated Danny Limelight and Ryzin after Bowens pinned Ryzin with A Claim to Fame just before Limelight could break up the cover. The music video was good, but the pre-match rap, which featured Caster stopping to mock Limelight's tattoos, Limelight legit corpsing while Caster was dropping bars and Taz popping right as Caster pointed out they "make Taz pop" was somehow even funnier. Legit the best thing about this match that didn't involve Limelight breaking out the Soberano tornillo again. 
Rap and dive aside this was a borderline good match. There were a few wonky moments at the end (some of which by design, as they were doing a "Ryzin costing Limelight a victory by tagging in when he shouldn't have" thing) and Ryzin continues to just a dude, but the other three guys were money. Bowens and Caster have been good since they came in but they're also getting better (scary) and Limelight is just great. Truly he is the king of AEW Dark these days between his performances and the fact that he actually wins matches. When Limelight was in with either Bowens or Caster this match hummed. Get Danny a new partner, run this back and this should be even better. ** ¾ 
Bear Boulder and Bear Bronson (Bear Country), Joey Janela, Sonny Kiss defeated Aaron Solow, Baron Black, Mike Verna and Shawn Dean (THE CAPTAIN) after Janela pinned Verna with a Flying Elbow Drop. Surprisingly good stuff here. I expected a straight squash and…well it was mostly that but it fortunately featured a lot of strong work along the way, especially from Sonny Kiss and Janela, the latter who is on a hot streak coming off this match and his matches at GCW's Fight Forever. Bear Country was in only for bursts but they were strong bursts and another win never hurts. Their opponents weren't bad either; Shawn Dean had some really strong dropkicks, Baron Black (limited compared to his great performance last week) was fine, Mike Verna…was also there and Aaron Solow was simply tremendous. He had the most in ring action for his team, sold tremendously and when on offense looked positively crisp. Yet again you can see why he's become a trainer at the Nightmare Factory. It just got over the line but I'd call this a good match, largely due to Janela. ***
Diamante & Ivelisse defeated Jazmin Allure & Vertvixen after Ivelisse pinned Allure after what can only be described as a sequence where Ivelisse and Diamante went full "burn it down and salt the earth" on poor Allure. It's basically what was supposed to happen to The Initiative at the end of Buffy season four, only this time it did happen because AEW keeps their promises, unlike the US government in the Buffyverse. 
Solid match. Allure and Vertvixen have improved a ton since we first saw them and Vertvixen showed a lot more confidence here working with Ivelisse, who I believe she's worked with a bit since coming to AEW. It showed; this was her best work in Dark yet and Allure wasn't far behind. Diamante and Ivelisse delivered the usual, and that ending sequence in particular was straight fire. Exactly the type of violence you want to see from this team. Excalibur once again talked up the women's tournament and Ivelisse and Diamante's participation in it, so I am now officially holding AEW to them being in it. Otherwise there will be hurt emails being sent AEW's way from yours truly. ** ½ 
Billy & Colten Gunn (The Gunn Club) defeated John Skylar & Ray Jazz after Colten pinned Skylar after 3:10 to Yuma. Or at least an attempt at it; Billy was a little late getting in to hit the double team! Austin Gunn, who has the chill of a horny high school junior on his first date, was on commentary here and was predictably enthusiastic and silly alongside Taz and Excalibur. His family members, finish aside, were even better. Colten Gunn showed nothing the first time I saw him and now looks like a kid with promise; he's limited, but he showed nice athleticism here and his dropkicks are on point. Billy was good too, but it's Billy Gunn; even at his age he's always going to be solid. The story here was actually Skylar, making his first Dark appearance in months after suffering an ACL injury. He was very impressive here, looking really good working with Gunn, hitting a nice slingshot spear and just overall not missing a beat. Ray Jazz…was also there. I'll be honest; whenever I see the guy all I can think about is -1's "This is what hell is like…for Ray Jazz" line from Dark last week. Tremendous. Also unfortunately for Ray Jazz his legacy. At least he can say this was a solid match though. ** ¼ 
Red Velvet defeated Alex Gracia after pinning Gracia with the running kick to the head. One day Red Velvet will have a different finisher. But it was not this show; THIS SHOW SHE KICKED! She kicked well too, even on the finisher (though I still am not huge on it). There were a couple iffy moments towards the end, with Velvet overshooting a standing moonsault, but overall this was very solid. Gracia had one of her better performances, had a nice new move in the form of a crucifix hold in the ropes out of a 619 and just looked much smoother than usual. And Velvet is always quality, but you knew that because AEW wasn't just going to put anyone against Shaq and Jade Cargill. Solid match! Third in a row last I checked. ** ½ 
10 defeated Jake St. Patrick after pinning St. Patrick with a Dead Lift Powerbomb. For the second straight week -1 was back in the booth and for the second straight week -1 stole the show. Among the highlights were him collecting his five dollars from Excalibur (who fortunately avoided paying that compound interest), intimidating Excalibur so much that poor Ex had to retreat to the back and delivering a Beavis and Butthead inspired "hehehe…I love violence" line. Somebody get Pro Wrestling Tees on the phone for the "I Love Violence" on the front, "This is hell for Ray Jazz" on the back. As Cody's future opponent would say, put that on a t-shirt. 
Another streak that continued was 10 inexplicably having good matches while -1 is on commentary. Must give him some extra motivation or something. Whatever the case he was on point again here; the power game has looked especially explosive the last two matches and while the Ripchord Clothesline to the back of the head is a nice idea, it can't be overstated how much better the Spinebuster or Dead Lift Powerbomb are just better finishers for Vance. Stick with them dude. St. Patrick didn't get to do much but he sold well and he has some nice athleticism that I think he's probably saving for a more appropriate time. Either way there seems to be more there than previously seen. We'll see going forward! I'm going to call this good and yes I'm doing it partially because it was and partially because I don't want -1 to come for my ass! ***
Christopher Daniels & Franke Kazarian (SCU) defeated Luther & Serpentico (Chaos Project) after Daniels pinned Serpentico after Celebrity Rehab. Good main event, though pretty much exactly what you'd expect from these two teams. Daniels and Kaz were predictably reliable, Serpentico was really good, Luther was really funny, the Luther/Serpentico dynamic remains a delight and there was absolutely no way on earth Daniels and Kaz were losing this match so it was tough to get too invested. The action was good though and it does continue Daniels and Kaz' run to glory (unless they lose; then they're just done like dinner), so on that end it was a good close to a good show. ***
There it ends sports fans. I'll see you in a few days for hopefully some more talk on AAA's return. Well that and you'll see me on the podcast, WHICH YOU SHOULD TOTALLY WATCH OR I WILL BE SAD! Till whenever.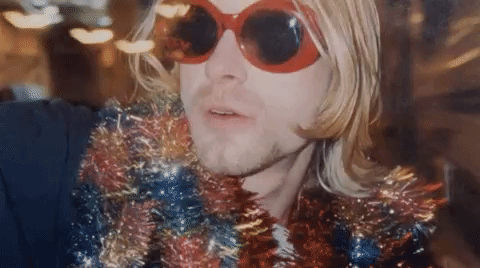 Please change disks to continue…
© 2021 AEW
Folks! We invite you to also follow us through our official social media accounts:
RELATED NOTE: AEW Dark Episode 73 (02/02/2021)