Tonight's AEW Dark was so fast I almost confused it for an episode of The Flash. One of the episodes from before the recent seasons of course. This wasn't a bad Dark by any means but it went through the twelve matches so quickly (I believe at least half of the bouts were squashes) that it definitely felt like it lacked the meat of some of the longer Darks we've gotten over the past year. Alas it's impossible for this show to not be fun, and even shorter we still got several good matches, the squashes were well done and, as per usual, Excalibur and Taz were gold. Plus now I can get the podcast done early so on the whole, no complaints. If you missed this because you were offering only a 50% discount to the employees you're not giving bonuses or raises too in the near distant future, here's the low down.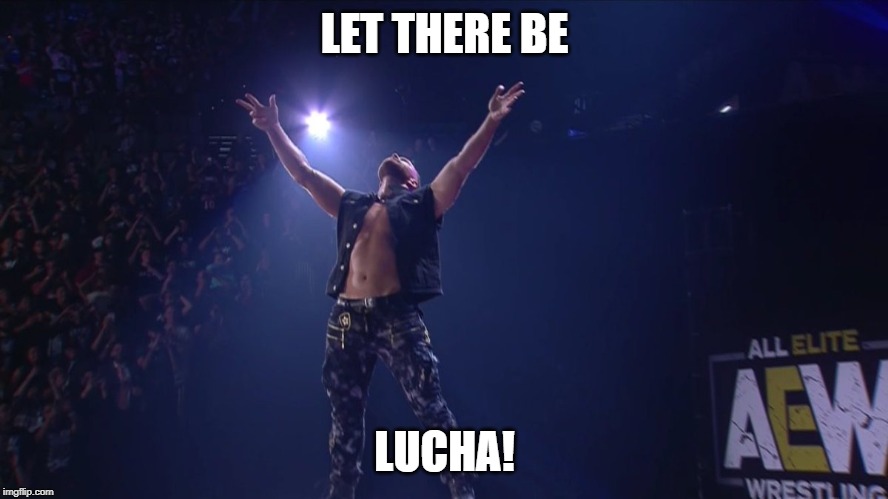 Jon Moxley defeated Jon Cruz after knocking Cruz out with a Guillotine Choke. That's right; he owned poor Cruz so bad that he didn't even need to pin or submit him; he put him in a choke, lifted him up and Cruz was done like dinner. Somewhere Serpentico is applauding as a single tear rolls down his face. Moxley is so great that this one sided squash was actually fun. Mox worked hard, did some cool stuff while Cruz bumped like a mad man and even let Cruz get some offense; sure it was just an eye rake and three punches but that's more than Michael Nakazawa got against Mox! In the end it served its purpose and was enjoyable. * ¾ 
Bear Boulder & Bear Bronson (Bear Country) defeated Luther & Serpentico (Chaos Project) after Boulder pinned Serpentico after a Bear Splash by Bronson. It was the best of times and worst of times for Serpentico. He went from the top of the world after Jon Cruz lost to Richard Strailey at the end of the Angel episode "The Bachelor Party." That's right Joss; I'm still referencing your shows despite the fact that you're somewhere between scum and vermin. YOU WILL NOT TAKE MY FAVORITE SHOWS FROM ME!
Anyways, this was a borderline match. I enjoy Luther and Serpentico's dynamic, I enjoy Bear Country and I especially enjoyed that AEW let Bear Country win this, something I wasn't sold on when this match started. Clearly AEW is high on this duo and it's easy to see why when they're so agile at their size. They mixed well with Chaos Project, Luther and Serpentico's shtick remains enterating, Bear Bronson (who is REALLY good in his own right) sold his leg well throughout; just solid stuff all across the board. ** ¾ 
The Butcher & The Blade defeated Jake St. Patrick & Sage Scott after Big Butch pinned Scott after Full Death. This was such a dominant win that Butch wrestled the whole match WITH HIS TRENCHCOAT ON! Not even Crow Sting ever accomplished that. Obviously there wasn't a ton to this but like the Moxley squash I enjoyed it. Butcher and Blade looked great (Butcher is such a different performer since he slimmed down) and despite having no offense for the most part I saw something in this Sage Scott guy. I'm not sure what it was but he impressed me; maybe it was the way he took a beating? Who knows; hopefully he comes back so I can find out if I was seeing things or not. Good squash. * ¾ 
Shanna defeated Renee Michelle after pinning Michelle with a release Tiger Suplex. Solid stuff here. It's always nice to see Shanna, one of the most underrated workers in AEW, and she was impressive yet again here with a decent opponent in Michelle. You may remember Renee Michelle from a few appearances in WWE in the past (in a non wrestling capacity more or less) so it's kind of surprising to see her on Dark. I wouldn't call this a mightily impressive performance (there were a few slow spots from Michelle at times) but she was fine, got some offense in and sold pretty well. Nothing earth shattering but the work was solid overall. ** ¼ 
Alex Reynolds & John Silver (The Dark Order) defeated Eric James & VSK (Adrenaline Express) after Silver pinned VSK after a Dark Destroyer (double flipping DDT). As if AEW didn't have enough teams they then went and got the Adrenaline Express. Granted it's been awhile since they've teamed (2018 to be exact) but I doubt those two forgot how to team in just three short years. As a matter of fact I know they haven't because I watched this match! It wasn't long enough to be good but for the time they got it was something out of Beyond Wrestling (where all four guys are vets). Lot of smooth, well worked sequences, John Silver going absolutely heywire, a great Alex Reynolds hot tag sequence and James and VSK getting enough in to warrant another look. Solid stuff all around; it just needed more time. ** ½ 
Jungle Boy & Luchasaurus (Jurassic Express) defeated Baron Black & John Skyler after Jungle Boy pinned Black after that Assisted Powerbomb move he and Luchasaurus do. This match was somehow an even bigger squash than the Moxley match! AEW pushed hard Jurassic Express having a new attitude following all their interactions with FTR and as such they proceeded to just wipe Black and Skyler off the face of the earth. As someone who has enjoyed Baron Black a ton the past few weeks (he's quietly been AEW Dark MVP) it was disappointing to see, but I get the storyline reasoning behind it. NR
Tay Conti defeated Vertvixen after submitting Vertvixen with the Brazilian Pretzel. MORE SQUASHES! This show at this point was moving faster than Sammy Guevara out of the Impact Zone a week ago.
Like the other squashes though this was effective. Tay Conti, as I've said before, rules. She gets better every week and this week was all about her showing off how great her knee strikes are. First there was a corner knee strike that was so impressive CM Punk quietly admitted he was ashamed he once did the move. Then there was just a regular knee strike which was somehow even better! Pretty soon we're going to need a contest between Tay Conti and Kenny Omega where they just knee fools till we determine who's strike is better. One day it'll happen, but it is not this day; THIS DAY WE RIGHT! So yeah; good squash. * ¾ 
Eddie Kingston defeated Aaron Solow after pinning Solow with the Backfist to the Future. This is what the kids call good shit. I kind of expected another squash given how the rest of the night had gone but they instead had a competitive match that saw both guys click. Kingston is such a captivating worker (even if he isn't the flashiest) and Solow is a trainer at the Nightmare Factory for a reason. They went back and forth, worked a nice, steady pace and complemented each other really well between Solow's technical style and Eddie's All Japan influences, at least in my opinion. Good stuff all around. *** ¼ 
Ricky Starks defeated KC Navarro after pinning Navarro with a Spear. This match was so short I can properly recap it for you; Navarro jumped into the ring, Starks ran through him like a Dion Phaneuf hit, the end. AEW was loving the squash matches this week I guess! The match accomplished what it needed to do but you have to feel for Navarro, who is really good and probably could've had a good performance with the always reliable Starks. I'm guessing AEW wanted everyone in Team Taz looking strong going into whatever Sting does with them tomorrow, and thus this had to be done. NR
Brandon Cutler defeated Misterioso after pinning Misterioso with a Springboard Elbow Drop. Boy did this match sneak up and surprise me. And I'm a lucha guy!
I take it I wasn't the only one caught off guard by this match. Misterioso, the son of former AAA star Misterioso (and not to be confused with the very lame Misterioso Jr. in CMLL), is a good worker (as anyone who's watched Pro Wrestling Revolution or New Japan Strong can attest) but I don't think anyone expected him to get much of an opportunity here. Instead AEW gave Misterioso and Cutler plenty of time and they delivered a really nice sprint. There were a few moments Misterioso probably would've liked to have gone smoother (his Lionsault into a moonsault spot needed a bit more spring) but overall both guys looked great. Cutler had probably his best performance that didn't feature Peter Avalon (he did a hell of a job keeping up with Misterioso in the athleticism department) and this was precisely the type of performance that should get Misterioso more bookings on Dark going forward. Very good match! *** ½ 
Powerhouse Hobbs defeated Ryzin after pinning Ryzin with an Emerald Frosion. I guess Team Taz were having a competition to see who could finish off their opponent the fastest. I believe Starks won but barely; he also doesn't do an Emerald Frosion so I'm tempted to award Hobbs all the points anyway. Obviously nothing major but did its job. NR
Nick Comoroto defeated Fuego del Sol after pinning Fuego with a pop up Powerslam. And not just any pop up Powerslam; he countered a Fuego Tornado DDT, then lifted him up with one arm, CAUGHT him and drove him down. Talk wiping a man off the face of the earth! This was actually a far more competitive match than you'd expect; Fuego got some offense in (maybe he was motivated with QT being at ringside?) and he and Comoroto showed some nice chemistry. In the end though Comoroto still took most of the action and once again looked awesome. I'm glad AEW saw something in him after that Moxley performance (granted, there was something there before that but that was the "coming out" performance if you will) and he is poised for big things. If AEW is actually going to do this Lee Johnson-QT feud I wouldn't mind seeing Comoroto branch off with QT as his heavy. That could be a good combo. In any event this was a solid, if quick, match to close a lightning quick Dark. ** ¼ 
There you have it sports fans. I'll see you somewhere around the bend. TILL SAID BEND!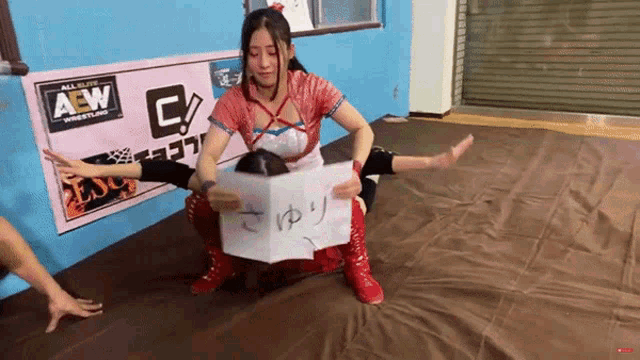 Please change disks to continue…
Folks! We invite you to also follow us through our official social media accounts:
© 2021 Lucha Central
RELATED NOTE: AEW Dark Episode 75 (02/16/2021)