It's Sunday night, I'm exhausted and, I'll be honest, I'd rather be doing something else. After a long week of covering some pretty shitty wrestling stories, preparing for TripleMania, and previewing TripleMania, I'd much rather just call it a night and put some Batman: Arkham Knight on for a few hours before the week starts. But I can't; I have to do this. Because last night's TripleMania XXX: Tijuana deserves to be talked about. A lot of us went into the show with no expectations beyond "the five-way may be good and Joe and Larry will call a fine show." By the end many really liked it. Me? I loved it. Perhaps it was the difficult week, perhaps it was the lower expectations, but a day later I still find myself thinking this is one of the best Lucha Libre AAA shows I've ever watched, as well as one of the best TripleMania events I've ever seen. No, it wasn't flawless, yes it was longer than Wim Wenders' Until The End of the World and as we'll discuss, I don't know what Dralistico was thinking either. But there was also nothing truly terrible (alright, maybe one thing but it lasted a minute) and there was plenty of great, including an emotional tribute, several great performances and, I shit you not two of the greatest TripleMania matches in history (and maybe the greatest match in Lucha Libre AAA history). Matches were set up, jaws were dropped, new Hardy Boyz appeared, Heavy Metal came out to "Rainbow in the Dark" and a son settled a debt for his late father to set up the main event of TripleMania XXX: Mexico City later this year. It was exhausting, it was exhilarating, it was endless, it was joyous; it was everything Lucha Libre AAA should be. And so, here we are, ready to review this bad boy. Why wait any longer?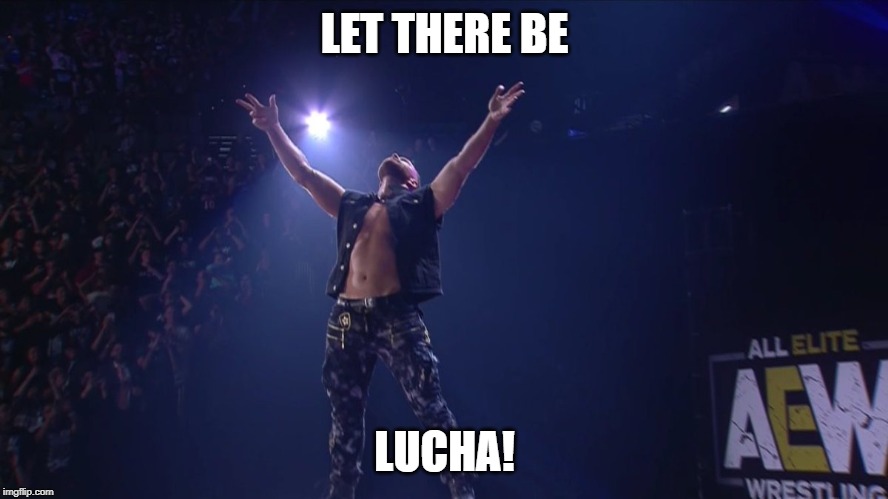 La Hiedra, Lady Shani, Maravilla, Reina Dorada, and Sexy Star defeated Chik Tormenta and Flammer in a steel cage match after they all escaped the cage. As Tormenta and Flammer were the last two, they moved on to the mask vs. mask match later in the show. You'll be shocked to hear this, but this was a lucha libre cage match! It was, however, a high-end version of it, minus El Hijo del Tirantes a) inexplicably being in the cage despite no pinfalls or submissions being legal and b) screwing with Lady Shani. All seven women worked hard, most of the work was surprisingly pretty smooth, and a few sequences really clicked, like a "your turn, my turn" sequence of big moves in the middle and Las Toxicas going from a well-oiled unit to "EVERY WOMAN FOR THEMSELVES" when it came down to the final four. It didn't hurt either that the cookie sheets and light tubes got involved at times. The biggest problem with the match was Lucha Libre AAA getting the English and Spanish feeds crossed, and they, fortunately, got that turned around by the end. Again, it was a lucha cage match, it went WAY too long (I think it went over 20 minutes) and I am so over Hijo del Tirantes, but all things considered, this went as well as it could've been a lot worse. If nothing else, it also set up an unexpected mask match too in Tormenta vs. Flammer. ** ½
Nino Hamberguesa defeated Abismo Negro Jr., Bestia 666, Charly Manson, Cibernetico, Dulce Kanela, Heavy Metal,  Mamba, Mecha Wolf, Mr. Iguana, Pagano, Rey Xolo and Vamprio after eliminating Mamba to win Copa TripleMania Tijuana. Just as we all drew it up! This win makes Hamburguesa the first man to ever win Copa TripleMania twice; remember he won Copa TripleMania Regia back in 2019. Naturally, his win was overshadowed by Cibernetico and Pagano having the worst brawl ever following both getting eliminated, culminating with Ciber putting Pagano through MULTIPLE windshields. What can I say; Pagano knows only one way! Other than that brawling and, once again, this match going way too long, it was actually okay. The match was greatly helped by the performances of Abismo, Bestia, Dulce, Iguana, and Mecha Wolf, who all worked hard and had some good moments. Hell, even Vampiro looked good, looking lighter and moving better than he has in years. The others at least didn't mess anything up…well other than Ciber and Pagano. It was certainly the worst part of the show, match quality-wise, but it was also nowhere near bad. And it was also the turning point, as the event went from ho-hum to full-fledged supernova. ** ¼ 
Fenix defeated Taurus, Laredo Kid, Hijo del Vikingo, and Bandido after pinning Taurus with a Double Foot Stomp to unify the for the Lucha Libre AAA Latin American and Lucha Libre AAA World Cruiserweight Championships. Honestly sports fans, I'm tempted to just leave it at that write-up and let you go out and watch the match for yourselves, something you should do IMMEDIATELY! Because this match is the type of thing that can only be described by the following images.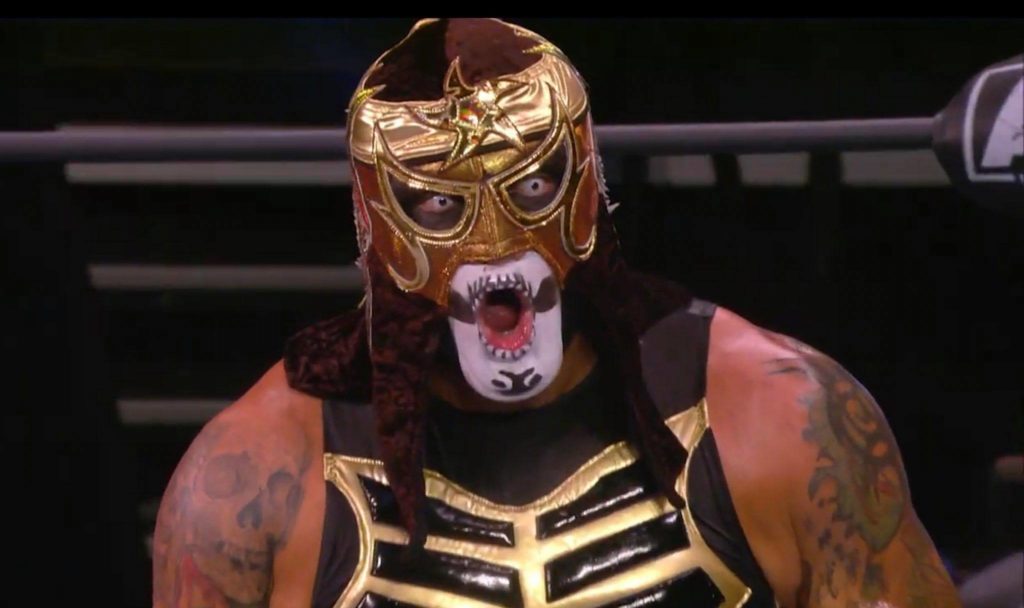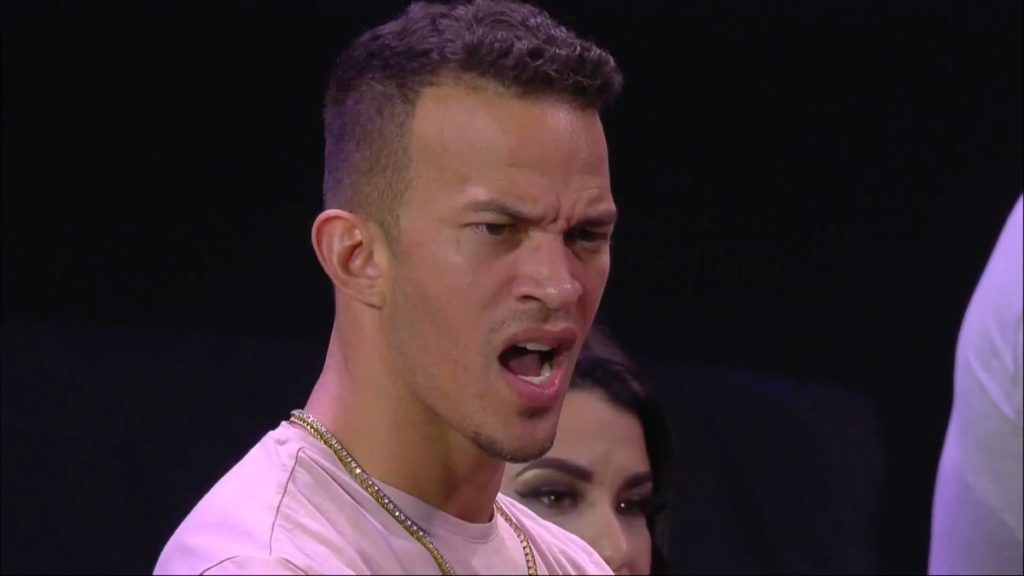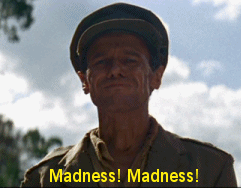 I'm not going to go into full details on the stuff these five extraordinary talents did in this match because that is something you should discover yourself, not from a write-up or some gifs. Just know that this bout featured things that defied the laws of nature, including what may have been the greatest individual spot I've ever seen. It featured five of the greatest luchadores in the world today all performing at their peak level; everyone pulled their weight and then some. And best of all, they got the time to show what they could do. There were only two things going into this match that could've possibly kept it from being great; a) injuries (which nearly did happen to Bandido) and b) Lucha Libre AAA giving them only 9-12 minutes instead of 15-20. They got both, and here we are with a match that exceeded even the wildest of expectations going in. I cannot stress enough; WATCH THIS MATCH IMMEDIATELY! This match was a Match of the Year candidate in Lucha Libre AAA and beyond, and it instantly joins Mesias-Wagner, Sagrada-Black Cat, Wagner-Demon, and Omega-Laredo among the greatest TripleMania matches of all time. And oh yeah; it also set up Hijo del Vikingo vs. Fenix, winner take all, somewhere down the road. Like Paul Kariya off the floor and on the board, this match didn't miss. *****  
Speaking of setting things up, out came Taya! The Lucha Libre AAA Reina de Reinas Champion cut a great promo, in both English and Spanish, talking about her loyalty to Lucha Libre AAA (even though she was with WWE) and how she wanted to show the respect to Lucha Libre AAA that the former Reina de Reinas Champion Deonna Purrazzo didn't show. That all would've bee tn enough there, except Taya decided to then announce she would give a title shot to the winner of Chik Tormenta-Flammer later in the show, followed by her calling out Thunder Rosa. Yes, THAT Thunder Rosa. So I guess we can look forward now to Rosa and Taya reliving their Reptile Tribe vs. Worldwide Underground feud from Lucha Underground sometime soon. Taya's strong delivery made it a worthwhile segment anyway, but her throwing down the gauntlet to the AEW Women's World Champion certainly was a bonus.
In case the Taya segment wasn't enough for you, out came Konnan for a segment celebrating, well, Konnan. And if you thought this was going to be a strong exercise in self-indulgence, you be wrong because this segment also kicked ass! For one, we got another great video package showing highlights of Konnan's career, followed by the Lucha Libre AAA higher up, who was very visibly moved, cutting a promo thanking Lucha Libre AAA and Marisela Pena. To keep things dusty, Damian 666, Bestia 666, Mecha Wolf, Rey Horus, Taya, and Fenix all then came down to embrace Konnan and give him a plaque honoring his career. Konnan then said a few more things to close it out. I would've thought two promo segments in a row, coming off that long intermission earlier, would've been a bad idea for this show, but the real-life emotion from Konnan and the great work by Lucha Libre AAA production made this another hit. And also, we got no interference! I guess Cibernetico was too busy getting arrested for breaking those car windshields earlier. That's not something to sneeze at you know!
Blue Demon Jr. defeated Pentagon Jr. after pinning Pentagon with an Avalanche Canadian Destroyer through a table. With the loss, Pentagon Jr. moves on to the finals of the Ruleta de la Muerte tournament at TripleMania XXX: Mexico City this October. I feel I was more bullish on this match going in than most people, mainly because I figured they'd turn it into a brawl, which both men excel at (hell it's largely the only thing Demon excels at). Lucha Libre AAA did indeed do that…and then also let Demon do TWO CANADIAN DESTROYERS! Even more shocking, they were excellent, which means you are now living in a world where Blue Demon Jr. does a better Canadian Destroyer than Adam Cole.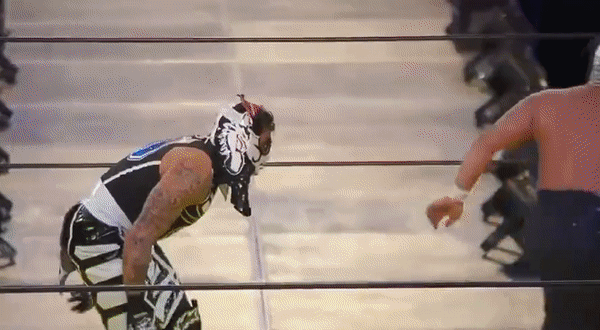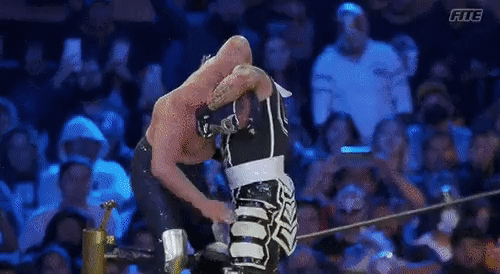 Now to be fair, this wasn't on the level of some of the more memorable moments of the show. There was a lot of stalling, perhaps too much, during the match to set up other spots and there probably should've been a bit more brawling than we got (and certainly more hammer. How can you have Demon bring out the hammer and only use it once or twice?!). But you can't knock the effort here from either guy. Demon for sure was trying to show people he could do certain moves in this match (his Tornado DDT attempt was less successful than the Destroyers, in that it was more a reverse Tornado DDT) and he succeeded by the end. And Pentagon should be commended for getting as much out of Demon as he did in a match where they were trying to wrestle. There will be many more memorable matches in the AEW/Lucha Libre AAA's star career by the end, but this may have been his best work since the Vampiro match in terms of him getting the most out of an opponent. Probably why he'll now be getting that big mask match in Mexico City this October! For a match that had mid-level expectations at best, this match exceeded them and finished strong thanks to the shock of Demon's Destroyers. *** ½  **** 
After the match, Matt Hardy cut a promo revealing that Johnny Caballero would be his partner tonight against Dragon Lee and Dralistico and that he'd be taking on the name Johnny Hardy because it's Johnny *Insert Name Here* and of course, he'd do that. On the one hand, Johnny has a history with the Hardys, is a decent name, and given all the realistic options wasn't a bad pick. On the other hand, I was told people in the arena groaned at this so there is that. On a third, secret hand though, the match did wind up being good so it was a good pick. But on yet another secret fourth hand, if you will, it didn't end up working out for Matt and oh good Grodd, this terrible bit nearly led to spoilers. ONTO THE NEXT MATCH!
Flammer defeated Chik Tormenta in a mask vs. mask match after pinning Tormenta with a Rolling Fireman's Carry through a table. As a result, Chik Tormenta was forced to unmask. This match was somehow both a tribute to Faby Apache vs. Mary Apache from TripleMania XVI and Dr. Wagner Jr. vs. Mascara Ano 2000 Jr. from TripleMania XX, in that it featured great wrestling and so much overbooking that Vince Russo expired prematurely. Everyone here got involved, from Flammer and Tormenta's husbands The Tiger (of Llave a la Gloria fame) and Reycko to Tormenta's Los Vipers stablemates Abismo Negro Jr., Latigo and Toxin to Maravilla's Las Toxicas stablemates La Hiedra and Maravilla, and once they were involved, they didn't stop getting involved. The only shocking thing was that Cibernetico didn't get involved. I guess he doesn't care about his subordinates that much; either that or he was out looking for more windshields to destroy. NO, I WILL NOT STOP TALKING ABOUT THE WINDSHIELDS!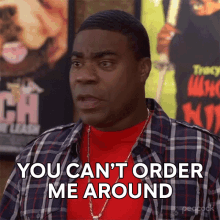 It was a level of interference that I'd normally say would be a turn-off…but in this case, I thought it worked great. Part of it is because Tormenta and Flammer worked their asses off here, especially in the early sequences when the wrestling was excellent. The other part is that the booking just worked. Yes, Tiger and Reycko interfered, but then they immediately got their asses kicked by Tormenta and Flammer, and were then sent back to the floor. Yes, the Vipers interfered, but they were then thwarted by an all-female stable. Every action made sense (why wouldn't the significant others/stable mates of Tormenta and Flammer get involved in a match when their masks were on the line?) and the booking, at least to me, reinforced how the luchadoras could hold their own just fine, which I dare say was highlighted clearly when the match was won by the woman helped by her all-female group. Throw in the fact that Flammer and Tormenta worked hard and had some great moments, and I thought this worked like a charm. And of course, the post-match was excellent (as most post-matches for mask matches are), with both women showing a lot of emotion as Tormenta unmasked and Flammer celebrated with her friends and family. You can never be sure with unmaskings (some performers thrive, some fall), but Tormenta is a tremendous talent, and I have no doubt she'll continue to be great going forward. And the victory should be a big boost for Flammer, who has largely been a trios worker that finally got to strut her stuff here. I understand some won't love this due to the interference, and I'll admit it held the match back from being truly great in my view. Even still, the storytelling was great, the booking was great, and the wrestling was strong, and as such, I thought this was a success. *** ¾ 
Psycho Clown defeated Villano IV after pinning Villano with an Air Raid Crash onto thumbtacks. With the loss, Villano IV Psycho Clown moves onto the finals of the Ruleta de la Muerte tournament at TripleMania XXX: Mexico City this October to take on Pentagon Jr. in a mask vs. mask match. We are six months into 2022 sports fans and 58-year-old Villano IV has not only turned into a Pro Wrestling NOAH shoot style worker but he's not had two back-to-back TripleMania classics. Mario Lemieux and Michael Jordan can't believe how great this comeback is.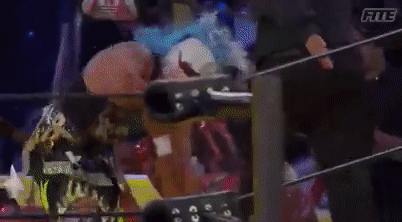 So yeah; this match was sensational. It did have a lot going for it coming in between Villano's strong work in Monterrey, the Ace being the Ace, and the rich history between Villano and Psycho stemming from the former unmasking the latter's father and uncles years ago. But even separate from that backstory, these two went out there and kicked all sorts of ass by kicking each other's ass! They were definitely following the LA Park-Villano blueprint from Monterrey with a lot of brawling, a lot of mask tears, and some blood. And yet it worked even better for me because the action, while still chaotic, was also more controlled. Some of that is because Park wasn't involved, but it's also just that Psycho Clown is a better overall performer than Park (Grodd, please don't strike me down for that!) at this stage of the game. We saw that when he got a passable match out of Canek in Monterrey, and he proved it again here by wrestling Villano like he was an Lucha Libre AAA regular, not an older legend. And credit to Villano as he responded in kind. We can no longer say the Park match was just Park carrying him; this match is proof of that, and it's frankly remarkable to see this man, thought to be broken down and finished, delivering on this stage. In a way it's almost like Oliver Queen in the last season of Arrow; he knows he's doomed, and he knows time is short. But he keeps fighting. He keeps going. And as a result, he has delivered two incredible TripleMania bouts in 2022 and is poised to join his brothers Villano III (vs. Atlantis) and Villano V (vs. Blue Panther) in delivering a legendary mask vs. mask match come October, with Pentagon on the other side. Even still, it'll be tough to top this one. The five-way earlier was objectively a bit better and certainly more spectacular. But this old-school brawl got closer than it had the right to. **** ¾ 
Dragon Lee & Dralistico (Los Faccion Ingobernables) defeated Johnny Hardy (aka Johnny Caballero) & Matt Hardy after Dralistico pinned Hardy following a moonsault. Of course, this being Dralistico, that moonsault of his was unnecessary as Dragon Lee already had Hardy pinned. So why did Dralistico do the moonsault?! I guess he thought things were going too well and felt Lucha Libre AAA couldn't end the show on that great of a note. Even still, it wasn't enough to keep even this match from overdelivering. I think we can all agree Johnny "Hardy" wasn't the greatest replacement for Jeff Hardy in this situation, but barring a miracle, it was always going to be someone of this caliber. And hey; Johnny is really good, and he was having the time of his life here essaying Jeff's role before turning on Matt at the end (which he paid for with his troubles). Except for Dralistico (and really, he only sucked at the end), I thought that was the same for everyone else. Matt Hardy may not be what he once was, but by Grodd does the man work his ass off. He's been doing it his entire AEW tenure and did it here, and I thought it was among his best performances of recent note. And Dragon Lee was just a tour de force; his tope onto Johnny was one of the best things on this show, and even beyond that he was looking like a guy capable of matching skill with those dudes in the five-way earlier. Was it a super match? No. Was the finish silly? Yes. But in the end, this was still a good match and its only true crime was that it should've been the semi-main event instead. And even then, you can do far worst than Hardy, Lee, and Dralsitico celebrating at the end of the show, all while Lee asked his brother just what he was thinking. Don't worry Lee; I'd have been asking too! *** ½
And that, sports fans, is how the song ends. I'm now going to relax for the rest of my Sunday evening, but I shall return someday soon. Till that time.
Please change disks to continue…
Folks! We invite you to also follow us through our official social media accounts:
© 2022 Lucha Central