Alright sports fans; I'm not going to waste your time here. If you're reading this you watched AAA's Rey de Reyes, you know it was a great show, yada yada yada. There's no need to set it up with a long intro when we should be getting right to the good stuff. You know, like Deonna Purrazzo coming in and that other guy who's name I won't mention because we don't want to ruin the surprise for the one person who missed this show. The point is; no long intro! Let's just leave it at Rey de Reyes was a great show, the first two matches were bonkers great, the Rey de Reyes match itself was really good and a couple of the surprises really delivered. And with that, let's review!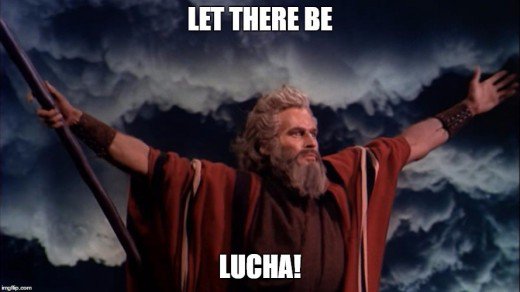 Latigo defeated Aramis, Arez, Dinastia and Toxin after pinning Aramis with a Lariat. The Lariat finish was funny because a) you never see it in lucha and b) I'm pretty sure it was the calmest move in a match that couldn't have been more insane if it was a Batman villain. AAA IS BACK BABAY! I mean they never left entirely but let's just go with it; AAA IS BACK BABAY!
This was incredible. I'm not sure you'll see a better opening match anywhere else in the world this year. The pacing was as expected (nonstop) and there were innovative moves up the wazzoo (among the highlights was Arez doing a Campana while standing on the ropes, Arez backbreaking people over Toxin, pretty much everything Arez did). What was surprising was that the match was overall really smooth and, at least to me, it felt like they got more time than usual. As a result they were allowed to do more while go full Fury Road and my Grodd what more can you ask for? All six men were excellent; each  had a stretch in this match where you'd have thought he was the best luchador alive, followed by everyone else coming along and topping each other in succession. Dinastia had an incredible stretch in the middle of the match, Aramis was electric, Toxin (probably the most underrated performer in this bout) did stuff that shouldn't have been possible (yes I'm talking about the tornillo where he stuck the landing), Latigo was flawless and Arez once again proved why he's one of the five best luchadores alive. You couldn't have gone wrong with the winner of this match (who gets a shot at Laredo Kid by the way), and Latigo getting the W was well deserved and should lead to one hell of a singles match. You couldn't ask for a better start to this show. **** ½ 
Taurus defeated Octagon Jr. and Villano III Jr. after pinning Villano III Jr. with an Awful Waffle to win the vacant AAA Latin American Championship. AAA going from Daga to Taurus for the Latin American Championship.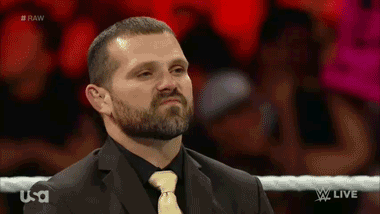 This match was somehow even crazier than the opener! That was almost to the detriment; at times it seemed on the verge of careening off the tracks, especially when Villano III Jr. (back after leaving seven months ago. Short sabbatical!) was taken to the back after taking a kick to the head from Octagon Jr. He returned later and then proceeded to continue his search to die in the most insane way. There were hurricanrana's off the apron, Taurus just flat out murdering people as he always does, Villano taking bumps on moves he was hitting and at one point there was even an Octagon Jr. Super Poison Rana on Villano that led to Villano hitting a moonsault on Taurus at the same time! Amazing stuff. I can't say it was as good as the opener, mainly because the opener always felt in control, but this was exciting stuff. Taurus was brilliant as always, Octagon Jr. worked his ass off and probably saved this match at certain points, and it's always good to see Villano III Jr. And of course Taurus as champion of any kind is a great decision. This was a great match, but I was terrified for most of it! ****
Faby Apache defeated Chik Tormenta, Lady Shani, Sexy Star, Lady Maravilla and Flammer in an elimination match to win the vacant AAA Reina de Reinas Championship. The finish came after Apache pinned Tormenta following a Superplex. There was a lot going on here. First you are reading correct; Sexy Star was in this match. The good news is it's not Dulce under the mask; this is a new Sexy Star portrayed by La Hija de Gatubella, a Mexicali, Baja California luchadora. Second, Deonna Purrazzo, Impact Knockouts Champion, was here doing commentary during the match and afterwards attacked Apache to set up the two for a Triplemania match, title vs. title. Like I said; stuff was happening! It's insanity, it's madness!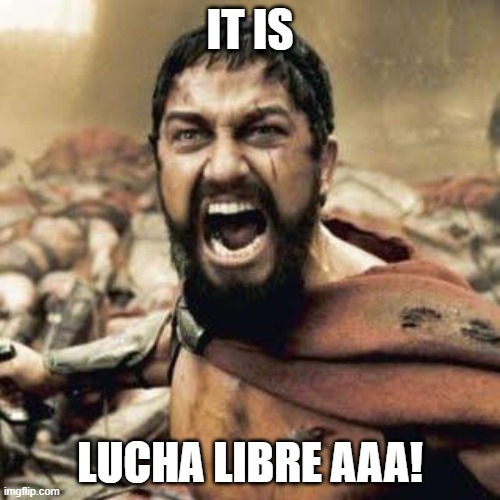 Honestly that was a bit of an issue at first; I was so busy getting over the shock of AAA actually bringing the Sexy Star gimmick back and then trying to figure out who it was that I couldn't initially get into the match. It seems like that was an issue for several other people as well, which thus put a damper on things. Once the shock wore off and I focused on the action though, this match came off really well, significantly better than the women's match we got at Triplemania. The action moved along well, like in the opener everyone got some shine and the layout of the match helped make several performers standout. The new Sexy Star is definitely an improvement over the old one and while the gimmick is a tough sell, her performance gave a good first impression. Flammer was the first one out but looked really good with the time she got, while Lady Shani put on a strong technical performance and Chik Tormenta looked like the Chik Tormenta of old, going all out and having a strong performance all the way till the end. Only Lady Maravilla kind of got lost in the shuffle, and she was still good overall. Faby winning isn't the most exciting option (and honestly, Deonna vs. Shani would've been a better mix of styles in my opinion), but she's as safe an option for the Reina de Reinas title there is, she had her usual strong performance (with no Tirantes shenanigans thank Grodd!) and her and Deonna should be a strong Triplemania match. There was a lot going on here, but overall this was a good match that set up some good stuff going forward. *** ½ 
Laredo Kid defeated Texano Jr., Murder Clown, Abismo Negro Jr., Hijo del Vikingo, Drago, Aero Star and Myzteziz Jr. in an elimination match to win the 2021 Rey de Reyes. One giant sword for Laredo Kid coming up! The finish came after Laredo pinned Texano with the Laredo Fly after Rey Escorpion tried to interfere on Texano's behalf, only he hit Texano with a cookie sheet instead. Those are, in fact, the breaks! This was a good match, though it peaked at the beginning and the end. The first minute of this match was Laredo and Vikingo and they just went nuts; they packed everything they could into a minute of action and it was among the best stuff you'll see all year. If only they had been the final two as well! After that we got the ring filling up, everyone getting their stuff in and an overall good but not great match until it came down to Laredo and Texano. The final few minutes between them was very strong; Texano has been working his ass off ever since the AutoLuchas shows and he proved worthy of this spot by hanging with Laredo the entire way. And of course Laredo Kid is incapable of having anything other than a great performance; he truly has become one of the three biggest deals in AAA and with him winning this match instead of Vikingo (a minor shock quite honestly) I think it's time to wonder if AAA is going to give him Omega again and this time have him win the Mega Title. I guess we'll see at Triplemania! If nothing else this is another feather Laredo can add to his cap in a remarkable last few years. Not a super match but a damn good one overall. *** ¾
Pagano & Psycho Clown vs. Chessman & Sam Adonis ended in a no contest after a debuting Diamante Azul and a returning Puma King interfered and took out Pagano, Psycho and Chessman. They are now the stable La Empresa, a CMLL invading stable that is in no way shape or form similar to El Consejo (HA!). There's a lot to unpack here. Sam Adonis was the surprise guy and, given he was great in CMLL a few years ago, I was happy to see him. The match itself was okay; all in all it was pretty basic, mainly because the big stuff was coming up afterwards. I'll always be happy to see Puma King back as he's quite good. Diamante Azul…isn't, but every group needs a Bestia del Ring I suppose. It is pretty funny to see him here given that Federacion Wrestling seemed to be his destination; maybe the presser scared him off. The CMLL Invasion idea is a little tired, but I like Sam, I like Puma King and I'm willing to see where it goes. An unique ending, if not a totally inspired one, to a match that was the weakest on the show by design. ** ¼ 
Of course things weren't done because LA BAH GAWD SOMBRA IS IN AAA! Yes Andrade, in addition to appearing in Federacion Wrestling, is now also with AAA, appearing in a pre-taped promo that this time did have sound! AAA 1, FW 0. A lot of people seem to be under the impression he is leading the La Empresa stable, though that was less clear to me. In any event all of that is less important than this; Sombra brought up the AAA Mega Championship being on a Canadian was a disgrace, and then proceeded to challenge the champion, Kenny Omega (who may or may not have other belts at the moment) to a match at Triplemania. So yeah; WE'RE GETTING LA SOMBRA VS. KENNY OMEGA AT TRIPLEMANIA! The only thing that could be bigger than that is if AAA also booked Rush vs. Park, hair vs. mask for the same show. And with that I have now created an impossible scenario that will not happen but MY GRODD DO I WANT IT TO HAPPEN!
And on that note I am off to celebrate this show. AAA is back! Till next time, proof that this actually all happened!
Please change disks to continue…
Folks! We invite you to also follow us through our official social media accounts:
© 2021 Lucha Central
RELATED NOTE: Lucha Libre AAA Lucha por la Identidad de Mexico Show in Tonatico Results (04/24/2021)
Lucha Libre AAA Lucha por la Identidad de Mexico Show in Tonatico Results (04/24/2021)