It's Wednesday, which means we're only a few hours away from another new episode of AEW Dynamite/AEW Wednesday Night Dynamite/All Elite Wrestling: Dynamite/whichever of those names you prefer the most. Believe me when I say this is big news for lucha libre fans. For one we have Pentagon Jr. and Rey Fenix looking to make it into the finals of the AEW Tag Team Championship tournament as they take on Private Party. Just as important; the AAA Mega Champion will be there! Granted the AAA Mega Champion was there the first several weeks anyway but that was when the champ was Fenix. He is no longer, as Kenny Omega won the Mega Championship from Fenix this past Saturday at AAA Heroes Inmortales XIII in a match that was so great it overshadowed the Antonio Peña hologram that appeared on the show. Although I'm not sure it could beat Omega taking a picture with his newly one titled while some random dude relieved himself in the background, a picture that I strangely cannot find right now on the internet!
So yes; Omega is Mega Champ and we all want to know now what that means. Omega insinuated in an interview with Hugo Savinovich that you'd see the AAA Mega Championship on AEW Dynamite and Dave Meltzer reported last night that the victory will be mentioned on TV. Beyond that is anyone's guess. Given how things generally go in pro wrestling, my immediate thought is to not expect a whole lot from this so to avoid the crippling disappointment you only get when another year goes by without a My Chemical Romance reunion tour. But this is a wrestling site, and more importantly a lucha libre site; what would it be without wild internet speculation?!
So after a suggestion by my good friend and AEW fan Joe Brown, I thought we'd dive into a hypothetical world where AEW not only reminds us weekly that Kenny Omega is the AAA Mega Champion, but also has him defend it against AAA talent. Who could be potential challenges? Who could be put on the map with a great match against the Omega Champion (see what I did there? DID YOU SEE?! I am so lame)?  Luckily I've got twelve AAA luchadores who I think would make great challengers for Omega. And I'm not talking the easy answers like Pentagon and Fenix (obvious challengers), Angelico and Jack Evans (former AAA guys who make a ton of sense) and even the Luchasaurus (you can't have a guy named Luchasaurus and not have him challenge for a lucha title! That's like having a pizza without sauce). I'm talking twelve AAA talents that the AEW world is either completely unfamiliar with or only has a passing knowledge of, who could instantly get on the map with a great match against Omega. Who are these twelve lucky luchadores? Let's find out, in alphabetical order because I'm smooth like that.
Aerostar
Aerostar makes it for a few reasons. One, like Hulk Hogan is for Troy Aikman, Aerostar is my guy. Two, I'd be very worried he'd be offended if I left him off like he was when AAA forgot to put him in the cafeteria picture that one time. Finally, and most importantly, because Aerostar is AWESOME! I know he gets a reputation for just being a guy who jumps off high things but that's just the tip of the iceberg with my main man Aerostar. A normal night for this dude is doing double jump springboard codebreakers and a suicide dive that finds him in the fourth row, and this is sometimes with talent that is nowhere near as good as Kenny Omega. Can you imagine Aerostar's innovative style paired with a guy like Kenny Omega? Has Aerostar ever even encountered someone like that? I'd love to see it for that alone. And if that doesn't convince you, just remember that Aerostar has still yet to receive any sort of reward for saving Dario Cueto's life. And seeing as Lucha Underground is deader than the reputation of the Houston Astros assistant general manager, I'm thinking this is the next best thing for bringing our beloved El Jefe back from the dead.
Aramis
Truthfully I'm not entirely sure Aramis counts as an AAA talent (I don't believe he's actually signed) but he's appeared semi-consistently this year and just a few weeks ago took a Superplex off a ladder and through a table during a TLC match with Cíclope and Miedo Xtremo. If you do that in AAA, you basically are in AAA. Thus Aramis qualifies here, and if you think he's good doing ultimately pointless TLC matches, wait till you see him against a guy like Omega. There's a great possibility that a match between Aramis and Kenny may be the fastest thing to happen in a wrestling ring since the Volador Jr. vs. Masato Yoshino match I once day dreamed about while playing TEW 16. It also doesn't hurt that Aramis has some buzz in the US now following a great showing at Pro Wrestling Guerilla's Battle of Los Angeles tournament last month, where he just so happened to have a great match with Rey Fenix. Aka the guy Omega just beat for the Mega Championship. Do you see how this all connecting?!
Arez
What's not to love about Arez? He employs face paint in a much cooler way than Finn Balor. He's got that GCW indie cred following a balls out performance at GCW/Black Label Pro's Two Stuffed Cups event back in August. And oh yeah; he's one of the most talented, innovative luchadores on planet earth right now. You will never get the same match twice with this guy, as anyone who watches AAA's frequently great opening matches can attest. He is capable of terrific submission style wrestling, incredible high flying feats and inventing moves that are so mind blowing we still haven't come up with names for them. Occasionally he will do all this in one match, in between some basing and sizzling back and forth sequences with guys like Dinastia.  Some of the talent listed here are likely to only have a one dimensional match with Omega; a great one dimensional match but still. With Arez, AEW and Omega would have an opponent who could do whatever they wanted and likely still deliver a great match that fans will love.
Australian Suicide
There are some people out there who will tell you that Australian Suicide is basically Jack Evans with an Australian accent and a closest full of Descendents t-shirts. Even if that were true, who cares; who wouldn't want a Jack with a bitching accent and a better taste of music?! I kid Jack, I kid. But seriously, it doesn't get more insane (with one possible exception) than an Australian Suicide vs. Kenny Omega match. The king of Lucha Capital commentary only knows one mode, and that is loud and out of control; look no further than his classic Lucha Capital match with Laredo Kid where he took a Canadian Destroyer on a picnic table and then washed that down with a sideways shooting star press off the top. A match between him and Omega would be a nonstop roller coaster filled with incredible action, Mad Max: Fury Road esq thrills and at least one near death on a spot you've never seen before. The only downside is there'd have to be a name change, as there's no way TNT is running with Australian Suicide as a name. Can we put him in the Blitzkrieg mask and turn him into Blitzkrieg Jr. maybe? Someone call Jeremiah Ross!
Hijo del Vikingo
If there are any more lists out there similar to this one, Vikingo will be on them. It's not a state secret or anything; we all know that Vikingo is the hot name in AAA right now and is also the guy AEW has wanted ever since he and Laredo Kid knocked it out of the park in Monterrey back in June. The only question has been whether he could get a visa and, at least in the last month or so, whether he'd be healthy. We know now he was at least healthy enough to win Copa Antonio Peña this last Saturday so it's just a question of whether that visa is ready to go. If it is, and AEW is willing to do Mega Championship title defenses, this will be at the top of the list. There isn't a more exciting talent in lucha libre right now than Hijo del Vikingo, and a match with Kenny Omega would merely confirm that for the part of the wrestling world that hasn't seen what this kid can do yet.
Laredo Kid
Another easy call. For one, Laredo Kid is one of only two non Lucha Brothers AAA talent to actually appear on an AEW show thus far. And who was one of his opponents in said match? You guessed it; Kenny Omega! I personally thought those two looked great against each other at Fyter Fest and then again at Triplemania, where it actually felt like Laredo could get a pinfall victory over Kenny. If their performance against each other in trios matches were good, imagine what they could do with twenty minutes to themselves. In a way Laredo may even be the perfect lucha opponent for Kenny. Some of these other guys may be more explosive or more exciting, but in terms of being able to work Omega's style at the highest possible level, only Fenix comes close to matching Laredo Kid in the year 2019. Now if only he and Myzteziz Jr. could escape off Exatlon Island! What is it with these reality shows in Mexico needing all the good luchadores? First Dragón Lee, now Laredo and Myzteziz. Hey Exatlon; do us a favor and take Vangellys and Dave the Clown next year instead, okay?
Octagón Jr.
I originally had Myzteziz Jr. in this spot, mainly because he's been the biggest mover in the AAA undercard this past year besides Hijo del Vikingo who hasn't had a recent name change (Myzteziz' took place last year). But the more I thought about it, the more I just felt Octagón Jr. was a better fit. Yes he hasn't quite rounded into full form as the new Octagón ever since moving away from his old persona, Golden Magic. But here's the thing; Golden Magic was EXCELLENT in AAA this year before the name change. I'd argue he's been one of the most exciting performers for the promotion, he proved to be a terrific replacement for Laredo Kid in the Los Jinetes del Aire stable, he found a level of consistency his work had been lacking and, most importantly, he's a proven big match luchador. Remember last year in Lucha Capital when he got singles matches with Fenix and Pentagon and absolutely killed it? This is a talent who knows how to get it done in a big spot, and I think he'd have a better chance of impressing against Omega than a Myzteziz Jr. would at this point. Plus, the change from Golden Magic to Octagón Jr. may help him. After all, he does have the name of the luchador who was in the legendary When Worlds Collide match.
Psycho Clown
Let's be real; Psycho Clown could be a 50 year old chain smoker who looked like his father, "Super Porky" Brazo de Plata, and a match between him and Omega would be enticing. How could it not be; IT'S ACE VS. ACE! It's not every day you get to see the top star of one promotion against the top star of another. The closest I can think to it happening was when Hulk Hogan wrestled Ric Flair at Bash at the Beach 1994, and that was when both guys were in WCW, so it wasn't a true "WWE Ace vs. WCW Ace" match. This would legit be AEW's biggest star in Omega (give or take Chris Jericho) against AAA's biggest star in Psycho Clown. It's too good to pass up. And as a bonus, Psycho Clown just happens to be ultra charismatic and really, REALLY good! I can't even tell you how many times the dude has been put in hopeless situations this year and has managed to turn it into gold; look no further than Saturday's Heroes Inmortales main event, a cluster of all clusters that was still respectable because Psycho managed to do things like a plancha off the very top of the cage. He's terrific, AEW knows he's terrific because he teamed with Cody at Triplemania, and a match between him and Omega would be terrific. The only negative about it happening in AEW is that it would, frankly, be an even better match in AAA. Can you imagine Psycho, who has never won the AAA Mega Championship, defending the honor of AAA and Mexico by trying to win the title off Omega? The only thing better than that would be Rush vs. LA Park, hair vs. mask, in the main event of the same show. Put this in your idea bag for Triplemania XXIV AAA!
Puma King
Puma King and Kenny Omega have a lot in common. Omega was a guy who CMLL could've potentially had access to for years and never bothered to even inquire about; meanwhile Puma was a guy CMLL had for years who they never did anything with. Now Omega is AAA Mega Champion and Puma is a bonafide AAA upper midcarder/main eventer who's become quite popular in the states to boot. The lesson as always; CMLL is a dumpster fire these days. Beyond those similarities Puma is also a guy who is a great all around worker, who like Arez should be able to adapt to any situation Omega wants while also getting the crowd involved due to his great charisma. In fact, given Puma King's charisma and his and Omega's connections to cult Japanese promotion DDT, I'm pretty sure these two could come up with a match that may be the most entertaining out of any of these potential matches.
Rey Escorpión
There is no greater unsung hero in AAA than Rey Escorpión. For years he was the best luchador you weren't really paying attention to in CMLL and since joining AAA two years ago (back when the promotion as still in the dark ages) he's done the same thing. And he's done it all while taking the reins of AAA's best rudo stable and turning it around following a rough start thanks to the inclusion of La Máscara. You need someone to be a base for the young high flyers? Rey Escorpión is your guy. Need someone to have a bloody out of control brawl? Get Rey Escorpión on the hotline. Need someone to surprise everyone with their athleticism by hitting an unexpected dive and super rana? Bring me Rey Escorpión! He's so great at every facet of the game and has really just needed a platform to show the world how great he is. He would be an outstanding foil for Kenny Omega, and maybe even the perfect guy to take the title from him if AAA is serious about eventually paying off Escorpión's issues with Psycho Clown.
Taurus
Here's the only other luchador on the list that will make other people say "Hijo del Vikingo is awesome…but if I had to pick, I'd rather have Taurus in AEW first!" Frankly AEW may feel that way too; it's no coincidence after all that Taurus was the guy matched up with Cody in angles and matches during Cody's AAA appearances, and it's even less a coincidence that each of Cain Velasquez' matches succeeded largely because Taurus was his opposite number. The dude just has a gift for getting the most out of his opponents, all the more impressive because he's usually turning them into mulch while doing so. Whether it's basing, mat wrestling, power moves, brawling and yes even flying, Taurus is at a world class level and it feels like he only needs one match to really break out. What match would be a better showcase than one where he gets Kenny Omega to do even more than he usually does while dismantling Omega at the same time? This is a no doubt about it choice, much like Vikingo and Laredo Kid.
Villano III Jr.
Remember when I said Australian Suicide could have the craziest match with Omega, save one other luchador? Villano III Jr. is that other luchador. He's the son of one of the greatest luchadores of all time (Villano III) and yet is almost the complete opposite. Villano III was a great all around worker whose best stuff came in emotionally charged, storytelling style matches (think the legendary Atlantis vs. Villano III match). Villano III Jr. is cocktail of Mountain Dew, Surge and an eight ball, seemingly on a never ending quest to do the craziest moves, bumps and dives possible. He also loves to use the entrance ramp as a weapon, because why be unique when you can be Villano III Jr. unique, amirite? It kind of surprises me that the young Villano hasn't gotten as much publicity as some of the other people we've talked about; in many ways he's had just as strong a year as Taurus, Vikingo, Laredo Kid and others despite not being in a heavily featured position. All I know is he would go as far as possible to make this match with Omega great and in the process would make himself a star. It's fitting he's the last name on here, because Villano III Jr. is the dude you'd never think would be a choice to face Kenny Omega…until you saw him tear the house down and realize he was a great choice all along.
There you go sports fans; twelve AAA luchadores who would be great challengers for Kenny Omega's AAA Mega Championship. Whether we'll ever see even one of those matches is something for Tony Khan and the Four EVPs to decide but hey; at least you now get to sit back and day dream about them happening and isn't that just as good? No? Good thing I didn't run with my fantasy booking column idea of Omega holding the title until Rey Mysterio Jr.'s WWE deal is up! Anyways, see you guys later tonight for Lucha Capital.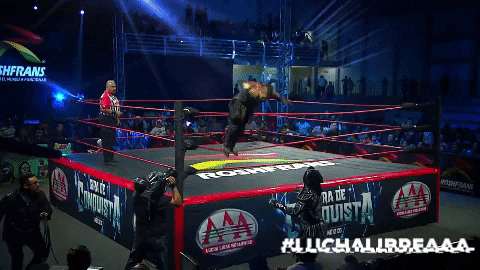 Please change disks to continue…