Triplemania XXVII has been in the books for about an hour and a half and only now have I finally gotten around to finishing the review. So what's the verdict on AAA's biggest show of the year sports fans? With the exception of AAA not plugging the Madison Square Garden or Los Angeles shows, it's safe to say this show was a 100% success. Almost every match tonight was worth watching, three of the undercard matches either delivered exactly the high quality we expected or, in match's case, over delivered, Cain Velasquez' debut went better than anyone could've possibly imagined and the main event was a triumph in booking, heat and storytelling. Perhaps the biggest success of tonight's Triplemania was that it featured the first ever great performance from an English commentary team. Indeed, the combination of Matt Striker and Joe Dombrowski in the booth proved to not only be professional but well informed, excited and into the show, finally giving José  Manuel Guillén and Hugo Savinovich a run for their money. Quite frankly the only issues I had with the show were a) it didn't feel like the highs were as high as Triplemania XXVI last year and b) there's been other AAA shows this year (the February 10th show in Tepic and the June 9th show in Monterrey) that were possibly just a bit better. But one of those is a nitpick and the other just goes to show you how great AAA has been this year. Either way tonight's Triplemania will not only avoid the Botchamania treatment, but should further drive home that AAA has been one of the best promotions in the world in 2019. Now let's review it so I can finally calm down and get some sleep!
Arkángel Divino, Astrolux, Dragón Bane defeated Aramis, Arez, Toxin
I feel like this opener can be summed up best by that famous Michael Keaton scene in Batman.
Boy did that happen and then some in this match sports fans! The only issues I had with this match were a few iffy Arkángel Divino moments and Arez taking the pin. Beyond that this was the perfect Triplemania opener, nonstop barrage of dives, craziness and sometimes both at the same time! I get the feeling this match was designed to be a Dragón Bane showcase and while he was really good, the superstars to me were Aramis, Arez and Toxin. The latter seemed a little iffy early but he grew into this match something fierce, and owned the middle section with a series of impressive moves (including a step up Poison Rana). And Aramis and Arez were simply world class; you could go a thousand miles and not find the creativity, the smoothness and the craziness those two showed in this match. I mean Aramis did a Double Blue Thunder Bomb on Astrolux and Dragón Bane for crying out loud, following a sequence where he did everything but wipe Astrolux off the face of the earth with all sorts of moves! You don't see that every day. Those guys were the standouts, but in the end everyone else had standout moments as well; even Arkángel Divino had the best night he's had without Último Maldito to back him up. We couldn't have asked for a better opener to Triplemania, whether this was the pre-show or not.
Four Way Tag Team Match for AAA Mixed Tag Team Championships
Lady Maravilla & Villano III Jr. defeated Big Mami & Niño Hamburguesa, Scarlett Bordeaux & Sammy Guevara and Vanilla & Australian Suicide
The 770 plus day reign of Mami and Hamburguesa is over! And so is love after Lady Maravilla low blowed Hamburguesa to get the job done. It's not the ending I wanted (I was dying for Maravilla and Hamburguesa to run off together) but it makes total sense; Maravilla has been presented as trying to manipulate Hamburguesa since day one and the only questions were whether Hamburguesa would see through it (like Big Mami did) or if Maravilla would legit fall for him. Turns out Hamburguesa never saw through it, Maravilla never liked him and bam! That's how you get new champs. I'm sure some will despite the low blow finish but I thought it was fitting given the storyline and now we can move to the next chapter. As for the match, it was superb outside of a botched Maravilla/Villano double team attempt early. Mami and Hamburguesa were over as per usual and worked their asses off to have some great performances. Meanwhile the two new teams of Scarlett/Sammy and Suicide/Vanilla were the highlights; Guevara and Scarlett looked like a team that had been working together for years and Suicide and Vanilla were doing crazy things left and right. Suicide in particular had some jaw dropping moments that make you hope AAA gives him a huge push during the rest of the year. Really the only weak participants were, surprisingly, Maravilla and Villano, and Villano still found a way to do crazy things like Deadlift Samoan Drop Hamburguesa. All in all it was very well done and a solid start to the main show, even if it wasn't the insanity of the actual opening match.
Silver King Hall of Fame Induction
A few things happened here. We got a brief Konnan promo, a video tribute to some of the big names in lucha libre who passed away recently (with Perro Aguayo Sr. being highlighted) and then the Hall of Fame introduction of the late Silver King. This was tremendously emotional stuff; we got a great video package for Silver King, one last time hearing his theme song (Nirvana's legendary "Smells Like Teen Spirit") and a great speech from one of Silver King's son. Somehow AAA even found time to pay tribute to Paco Alonso of all people during this segment, a really classy touch. It won't go down as the biggest thing on this show but this was a nice moment.
Three Way Match for the AAA Trios Championships
Golden Magic, Hijo del Vikingo, Myzteziz Jr. defeated Carta Brava Jr., Mocho Cota Jr., Tito Santana and Mamba, Máximo, Pimpinela Escarlata
If ever there was a sign this show was Triplemania, it was in this match where Máximo, a man who hasn't tried since 2017, suddenly looked like the former CMLL World Heavyweight Champion all over again. He even did a rope walk moonsault. A ROPE WALK MOONSAULT!
So yeah; this match was TERRIFIC in all caps. We all had our doubts given the involvement of Mamba, Máximo and Pimpinela but as it turns out the occasion brought out the best in them. All three worked their asses off and all three had their best performance in a long time, with Máximo (as noted) looking like the guy who was once a superstar. Everyone looked great though. Poder del Norte was excellent as always, combining their brawling with some more high flying than usual, with Tito Santana and Mocho Cota Jr. extending beyond their usual moves. Golden Magic and Myzteziz Jr. were as good as advertised, with Myzteziz having a smooth night and Golden Magic proving he'll fit right into the spot he got from Laredo Kid. But in the end this was the Hijo del Vikingo show from start to finish. It was clear he was not going to let things go poorly like his last spotlight match at Verano de Escandalo, and he was nonstop excellence from beginning to end. I can't even begin to describe some of the stuff he did; just know it was mostly stuff we hadn't seen before. Most importantly he got the big win at the end, the perfect call on AAA's part. If nothing else from this match AAA needed to have the new Los Jinetes del Aire come out looking great and Vikingo come out as THE guy. Both things happened and the match was super to boot. A complete success and the best match on the show to this point.
Copa Triplemania
Pagano defeated Chessman, Aerostar, Averno, Daga, Drago, Eclipse, Impostor La Parka, Konnan, Monsther Clown, Murder Clown, Pagano, Puma King, Super Fly and Vampiro
This was the weakest match of the show sports fans. The good news is it was far better than the last Copa Triplemania and was only the weakest match because a) everything else was that much better and b) the coolest thing about the match happened afterwards! It was pretty solid overall besides that. I could've done without the Impostor Parka sequences and some of the action was lethargic. But there were a lot of cool things as well. I enjoyed the hell out of the Konnan-Vampiro angle, mostly because the crowd was super hot for it and because it was quick. Aerostar's entrance was tremendous, and Puma King's overall performance was almost just as good. There wasn't much stand out work besides that but it was almost always solid and it was never bad. And most importantly, it set up Pagano winning, which then set up the surprise return of LA Park! That's right; when CMLL doesn't give the Chairman what he wants, LA Park merely goes back to AAA to wreck shit up. He, Hijo de LA Park and LA Park Jr. delivered a tremendous beat down on Pagano post match (which featured Park breaking the Copa Triplemania trophy) and it looks like we'll have an extreme Park vs. Pagano, mask vs. hair match, to look forward to in the future (MSG PLEASE!). For that alone this match was worth it. Then again you could put LA Park in a sequel to the LL Cool J Rollerball and it be worth it for me. IT'S FRIGGIN LA PARK!
Seven Way TLC Match for the AAA Reina de Reinas Championship
Tessa Blanchard defeated Ayako Hamada, Chik Tormenta, Faby Apache, La Hiedra, Lady Shani and Taya
There was a lot going on in this one sports fans. First Keyra was forced to relinquish the title prior to the match due to that injury she suffered a few weeks ago; they wrote her off by having Chik Tormenta beat the snot out of her on stage. Second, Ayako Hamada is back, returning to replace Keyra in this match. And third, Tormenta may have seriously injured herself taking a bump off the turnbuckle and to the floor; she was supposed to hit a ladder and instead missed. In between all that was a good match, though they didn't get quite the time to have the near classic I thought they could've. It was still a lot of fun, with the expect hard hitting, some great spots from Hamada (who looks to have lost nothing in her long absence), Faby Apache looking like an absolute terror and Lady Shani having some really cool sequences. In the end it concluded as most thought, with Tessa thumbing Taya in the eye to knock her off the ladder and claim the AAA Reina de Reinas Championship. I have no qualms; Tessa is great, the ending was great (with the commentators wisely playing off Faby, Hiedra, Shani and Hamada being too distracted with their own fighting to notice Tessa winning) and we got Faby vs. Tessa and Taya vs. Tessa set up going forward. I just wish they had given these seven five more minutes for some more wild and wacky stunts. Otherwise this was quite good.
Cain Velasquez, Cody Rhodes, Psycho Clown defeated Killer Kross, Taurus, Texano Jr.
Here are a few things I never thought I'd say sports fans; the only flaw in the match featuring Cain Velasquez was that it was too short. Well that and the Rey Escorpión post match beat down we didn't need but that's semantics. Take that away and this was, given the pressure and the spotlight, probably the most impressive lucha libre debut I can remember. The only one I can think of that's close is Super Astro Jr…I think you can get the picture based off that one.
Now let's be clear here; a big reason Cain Velasquez succeeded in this match was because AAA wisely paired him up with Taurus and Texano. Those two were tremendous foils for Cain in this match in terms of basing, and they were a big help in making Cain look impressive. At the same token…HOLY SHIT, CAIN VELASQUEZ IS PRETTY GOOD! He looked smooth, he did things like tricky arm drags and hurricanranas, he never looked lost and he did all of this while in his first match and at a size where you shouldn't be able to do the stuff he did. It was an absolutely outstanding performance and along with Taurus and Texano's work it was the highlight of this match. You could argue that was part of the problem (the match really should've gotten more time) but at the end of the day the whole point was for Cain Velasquez to get the spotlight while the other guys supported. So while Psycho Clown didn't get to go crazy and Cody Rhodes was largely just the third guy on a trios team, they fit their roles well, they had good moments and they didn't get in the way. Neither did Killer Kross, who by just selling how scared he was of Velasquez did his job, although he did it even better with his over the top "CAIN!" yelling at the end. I had no idea what to expect going into this match and coming out of it, I think AAA got exactly what they wanted other than a few more minutes. For the time it got, this was exactly what it should've been and one hell of a debut for Cain. Well done Vinnie Massaro. Now you just got to get him ready for MSG and LA!
Fenix, Laredo Kid, Pentagon Jr. defeated Kenny Omega, Matt Jackson, Nick Jackson
I feel like this has been a night of me saying "the only issue with this match was…" and well, we're continuing the trend here! The only issue with this match was that the crowd, for the bulk of it, was unsurprisingly not that into the Bucks and Omega. Of course they did wind up getting into them by the end of the match so was it really that big a deal when they were mostly hot for Fenix, Pentagon and Laredo? In the end this match was a slightly more exciting version of what we got at Fyter Fest. AAA threw in a few ref pull outs and some enticing near falls to add to the drama, but beyond that this was full throttle, all action spectacle from six guys who know how to deliver this kind of match. The Young Bucks had a few iffy moments early but were generally really good. Fenix and Pentagon were awesome. Kenny Omega was SENSATIONAL; you don't really get to appreciate how good he is until you see him in environments you're not used to and everything he did really stood out as a cut above what you'd get from someone else in the same situation. And Laredo Kid basically hung with Omega all the way; another top notch performance in what might be one of the best years a luchador has ever had. I do wish he had gotten the pin on Omega, but that was always unlikely and he still looked great in victory anyway. You wish the crowd was hotter, but this was a fantastic match and right there with the three way trios match for the second best thing on this show.
Mask vs. Hair Match
Blue Demon Jr. defeated Dr. Wagner Jr.
I think we all knew going into this match that we would at least be getting spectacle. And boy did we get it to start this match, as Demon and Wagner entered while being lifted up on cranes, never taking their eyes off each other as entourage members swarmed below and video packages played on the titantron. This entrance immediately made this feel like a larger than life event, a match bigger than almost anything else out there. Then the match happened and holy shit was that proven correct.
Now in terms of work rate there were better matches on this show, and this match will always have the slight black cloud of a finish that saw a clearly not ready Hijo del Blue Demon Jr./Blue Demon III/whoever blow a couple of spots with a lack of timing. But holy hell was the emotion, effort and storytelling just world class. Much like they have this entire feud, Wagner and Demon over delivered, initially by both bleeding buckets (Demon in particular may have bled two buckets) to get this match to another level. Then they took it a step farther by doing things like Demon breaking Wagner's hand with a hammer. That's right; BLUE DEMON JR. SLAMMED A HAMMER INTO WAGNER'S HAND ON MULTIPLE OCCASIONS! That would've been epic enough there, but Demon then had to go and put Wagner in several Fujiwar Armbar submissions, each more intense than the last as Wagner fought to not give up. These were submission spots done to perfection, and the last one produced a Wagner near fall that was so close I'm pretty sure some hearts skipped a beat. It was the type of drama you could only get with two lucha libre legends of this stature, a show like Triplemania and a crowd like tonight's Arena Ciudad de Mexico audience. It was truly something to behold and even after Demon's son screwed up part of the ending Demon and Wagner were able to get things back with a finish that saw Demon break a cinder block over Wagner's head and a post match head shaving where Wagner actually vowed to retire. I'm not sure I buy Wagner retiring (and honestly I hope he doesn't; he's still so good, especially in situations like this) but the emotion of it all only added to this mammoth of a match. I think the stuff with Demon's kid was just enough to keep this from being a true Match of the Year contender. But even with that, the spectacle, the effort, the storytelling and the emotion from the crowd and performers helped make this an all time Triplemania main event and one of the best matches I saw in Mexico this year. A match everyone should see once.
And with that sports fans I am off to get some sleep. I'll see you soon.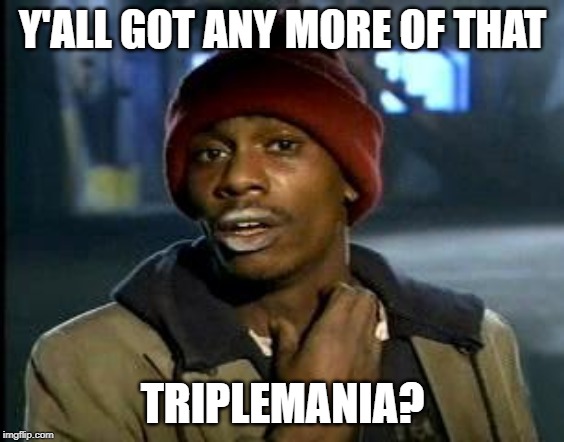 Please change disks to continue…