Can you smell it sports fans? That is the scent of Triplemania season alive and well. We are just two days away from AAA's biggest show of the year and I am just (checks clock) a little more than eight hours away from driving to New Jersey for the day to visit my great aunt Dolores. It's quite difficult to preview a show while on a road trip so I had a thought; why not do the preview before you leave? And that's why you're getting the Triplemania preview early sports fans. Don't worry; it's a good one, though I'm not entirely sure the quality will be as good as the show itself, which looks to be potentially as good, if not better, than last year's strong Triplemania XXVI. There are still a few things we don't quite know yet of course. A pre-show match is being rumored and no one yet seems to know who is commentating this show in English. But that's stuff to worry about tomorrow. For now let's just preview the seven matches we know. And with that, welcome the Triplemania XXVII preview sports fans. Let's get the party started.
Four Way Tag Team Match for AAA Mixed Tag Team Championships
Big Mami & Niño Hamburguesa (c) vs. Lady Maravilla & Villano III Jr. vs. Scarlett Bordeaux & Sammy Guevara vs. Vanilla & Australian Suicide
What to Expect: This is a four way match but it's really all about two teams sports fans. You know the story by now; ever since late last year Lady Maravilla has been slowly seducing Niño Hamburguesa in order to…I guess work her way up the ladder? To the AAA Mixed Tag Team Championships? Only she can tell you. That has obviously gotten on Big Mami's nerves and the two have been fighting over Hamburguesa, who seems torn between long time partner Mami and the beautiful Maravilla. And that sports fans is why this four way tag team match is about more than just the Mixed Tag Team Titles.
That doesn't mean that the Scarlett/Sammy or Vanilla/Suicide teams are meaningless. Both teams are here to both give the Mami/Hamburguesa and Maravilla/Villano teams someone to play off, as well as to keep the action going when those teams aren't involved. But in the end we're all going to be watching this to see who Hamburguesa chooses. Does he turn his back on Mami and go with Maravilla? Does he stay with Mami? Does he end up walking away from both, a possibility given his frustration with both Mami and Maravilla after the last two shows? And most importantly, do we find out that Lady Maravilla has gained feelings for Hamburguesa (YES PLEASE!)? All questions will be answered here, in between some cool moves from Suicide and Guevara, a Hamburguesa dive and Villano III Jr. killing himself/his opponents. May Grodd help everyone if there is a ramp in this match.
Winners: My heart is telling me to predict a double turn that sees Mami turn rudo, Maravilla turn face and Hamburguesa siding with Maravilla to form a new power couple while Suicide and Vanilla win the belts. Life is not that good, so look instead for Hamburguesa and Mami to fix things and continue their never ending reign as Mixed Tag Team Champions by pinning Maravilla and Villano to win the match. I just hope AAA's next lower card angle is as good as this one has been.
Three Way Match for the AAA Trios Championships
Golden Magic, Hijo del Vikingo, Myzteziz Jr. (c) vs. Carta Brava Jr., Mocho Cota Jr., Tito Santana vs. Mamba, Máximo, Pimpinela Escarlata
What to Expect: I'm pretty sure this wasn't supposed to be a Trios Championship match, but then AAA decided it was time for Laredo Kid to move on from Los Jinetes del Aire, replace him with Golden Magic…and thus here we are. The good news, as wonky as the switch of Los Jinetes del Aire members was, is that Golden Magic is really good and has been really good ever since the spring, finally finding the consistency to go with his great talent. He's proven to have good chemistry with Myzteziz in tag action and he should have no problem meshing with Poder del Norte or his other partner Vikingo, who could mesh well with a red solo cup at this point. The bad news is that this isn't just a regular Los Jinetes del Aire vs. Poder del Norte match. For some reason the exoticos are here too and while they've been better with Poder del Norte than anyone else, the work Mamba, Máximo and Pimpi have provided over the last few months gives me no hopes they'll contribute much of anything to this match. The hope is they step up big, Poder del Norte does what they usually do and the trios champions deliver the electrifying performances they're capable of. I'm just not sure the exoticos will hold up their end, and thus I'd expect this to merely be fun, but not as worthwhile as it could've been.
Winners: The switch from Laredo Kid to Golden Magic has some people thinking the Trios Titles are leaving Los Jinetes del Aire. I don't buy it; that trio (even with Magic) is still capable of producing great matches and the best way to establish that they're not losing a step is to give them a win here. Thus I'm going with the champs to retain, with Golden Magic getting the pin to prove his worth.
Copa Triplemania
Aerostar vs. Averno vs. Chessman vs. Drago vs. Eclipse vs. Impostor La Parka vs. Pagano vs. Puma King vs. Super Fly vs. ????????
What to Expect: Let's pretend for a second to not care about who the rest of the participants are for this match. I have a pretty good idea who will be considering luchadores like Daga, Killer Kross, Monsther Clown, Murder Clown and Rey Escorpión aren't booked but that frankly isn't important. The bigger question is what the format for this match will be. The way I see it there's two ways this can go; we can get a match like we got at Rey de Reyes (a Royal Rumble/Aztec Warfare style match that was really good) or we can get a clusterf**k like we got at Triplemania XXV. If we get the former, I think this match could be something, even with Impostor Parka and Pagano likely conspiring to create at least two terrible sequences. If it's what we got at Triplemania XXV, it may be time to get into the fetal position and sob until it's all over.
Winner: Unless he's going to be in the Cain Velasquez match later (and he really should be) Rey Escorpión not only makes sense to be in this match but to win it. Thus I'll be predicting him to get the W, eliminating Puma King to get the job done.
Seven Way TLC Match for the AAA Reina de Reinas Championship
Keyra (c) vs. Chik Tormenta vs. Faby Apache vs. La Hiedra vs. Lady Shani vs. Taya vs. Tessa Blanchard
What to Expect: On the one hand, I want to be cautious in my optimism for this match because the last time I got excited for a multi-woman Reina de Reinas match at Triplemania it ended with Sexy Star losing her gorram mind. On the other hand, LOOK WHO IS IN THIS MATCH! Alright I'm giving in; take the wheel Anakin!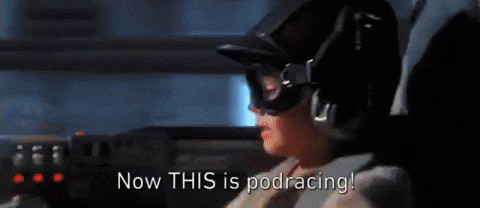 I mean come on; LOOK AT THIS MATCH! It's a TLC match (always a fun time) featuring arguably the seven best luchadoras in AAA right now. MAYBE you could argue Lady Maravilla or Star Fire could be in this compared to La Hiedra but a) Maravilla is already busy and b) Hiedra is better than Star Fire so there! Beyond that I can't see how this isn't a sure fire winner. You know it will be hard hitting given that all seven luchadoras know how to throw one hell of a strike. You know there will be some risk taking given that Taya, Tessa and Tormenta are involved. You know there will be some crazy shit because, once again, this is a gorram TLC match! I haven't even gotten to the part where I mention this match features world class talent like Keyra, Tormenta, Faby, Taya and Tessa, and it's not like Shani and Hiedra are pushovers either. Throw in the fact that the Tessa-Taya issues will be played up and the likelihood of us getting at least one protégé vs. mentor sequence between Shani and Taya and…yeah I'm sold. Maybe something goes wrong but I predict this match will be awesome and quietly may be a Match of the Night contender. I'm that high on it!
Winner: It be a little weird for Keyra to lose the title so quickly but we do have AAA in MSG coming up quickly and Taya vs. Tessa seems to be a lock for that show. I'd bank on one of those two winning and seeing as Tessa is undefeated in AAA she makes the most sense to pick up the Reina de Reinas belt. And so she shall, doing something dastardly to cost Taya the title in order to set up Taya vs. Tessa in the Garden.
Cain Velasquez, Cody Rhodes, Psycho Clown vs. Taurus, Texano Jr., Luchador Sorpresa
What to Expect: Demon vs. Wagner may be the marquee match for Mexican fans, but the true crossover match for Triplemania is this one. And it's all thanks to Cain Velasquez, the former UFC Heavyweight Champion and Brock Lesnar conqueror who jumped into lucha libre after some quotes back in February riled up some of AAA's luchadores. Cain debuting on this show alone would've been big; the fact that he's teaming with one of the top stars of All Elite Wrestling and the ace of AAA makes this Avengers: Endgame sized.
Truth be told there's a lot of stuff to be interested in regarding this match. Reports are saying that Cain has shown tremendous potential in his training but that's still training; how will he do the first time he ever has to wrestle in front of a huge crowd?  What is the next step in the budding Cody vs. Taurus feud? And who exactly is the third man to team with Taurus and Texano? Rey Escorpión (who just so happens to be the leader of Los Mercenarios, a stable featuring Taurus and Texano) would make the most sense, but many seem to believe it'll be Killer Kross, which would also be fitting given his undefeated streak in AAA and his mysterious training meeting with Velasquez not too long ago. Whoever it turns out to be, it'll just be another interesting wrinkle in a match that is hotly anticipated. I don't know how Cain Velasquez will turn out as a performer but given that he'll be in there with at least Taurus and Texano (two really good workers) and will be teaming with complete pros in Cody and Psycho, there will be a comfort zone there that most debuting talent thrown into this situation wouldn't have. Thus I do think Cain will surprise to a degree and I think this match, while not likely to be the best thing on the show, will be a lot of fun.
Winners: Kross will be the third man and that will be bad for him because it means he'll be suffering his first defeat at the hands of Cain Velasquez. I mean come on now; unless Cain is turning or Psycho/Cody are turning on him, it only makes sense for Velasquez to score a big win in his debut and pinning Kross to end the unbeaten streak qualifies. So I'm calling it now; Velasquez pins Kross with whatever his finisher is and starts his wrestling career in style.
Fenix, Laredo Kid, Pentagon Jr. vs. Kenny Omega, Matt Jackson, Nick Jackson
What to Expect: Do I really need to say a whole lot about this match sports fans? I mean you saw these two teams at AEW's Fyter Fest right? You saw the Bucks vs. the Lucha Brothers at AEW's Double or Nothing AND Verano de Escandalo right? You have seen what Laredo Kid, arguably the best luchador in the world as we live and breathe, has done this year right? This match is a sure fire hit and that's before I bring up that Kenny Omega, only one of the best wrestlers alive right now, will be wrestling his first match EVER in Mexico. The only way this won't work is if the crowd is just completely dead due to not knowing who The Elite are, and I'm pretty sure Pentagon, Fenix and Laredo are over enough to cancel that all out. And even if they don't we've seen quiet AAA matches that have been spectacular. Whatever way you slice it, there's every reason to believe that this match will be the best thing on the show, one of the best AAA matches of the year and AT LEAST equal to the match these teams gave us at Fyter Fest. And yet you just know there will still be people saying The Elite are ruining AAA afterwards, unlike all the shitty booking and terrible English commentating over the last several Triplemania's. That was fine. The Elite in AAA though; THE END OF THE PROMOTION AS WE KNOW IT! As you can see, that really grinds my gears.
Winners: The pattern seems to be that the Elite guys win against the luchadores at AEW events while the luchadores win at the AAA events. I see no reason for that to change here, so look for Laredo and the Lucha Brothers to avenge their Fyter Fest loss by picking up the win here after Laredo pins one of the Bucks after a Laredo Fly. That'll give the Bucks plenty to think about going into that ladder match at All Out.
Mask vs. Hair Match
Blue Demon Jr. vs. Dr. Wagner Jr.
What to Expect: After all that wackiness we have now arrived at the main event and a match that may be legitimately be the biggest match we see in Mexico this year. It all dates back to last year's Triplemania when Dr. Wagner Jr. came out after the main event to challenge…LA Park to a mask vs. hair match. You may notice that LA Park has nothing to do with this match; that's because he bounced in the fall while Wagner was feuding with Jeff Jarrett, leaving a slot open for this match. Enter Blue Demon Jr. who betrayed Wagner at Heroes Inmortales in October to begin their feud. Since then Demon has attacked Wagner's family members, both guys have bled a lot, Wagner has added hair extensions and did I mention both guys have bled a lot? That sports fans is how we got a Triplemania headlined by Blue Demon Jr. and Dr. Wagner Jr., two of the biggest names to ever walk lucha libre's mortal coil.
So yeah; this is a big deal. It will be treated as a big deal by the Arena Ciudad de Mexico crowd, who loves Wagner and who knows the significance of Blue Demon Jr.'s mask (how significant is it; Demon's legendary father never lost the mask and was only buried in it. IT'S KING OF A BIG DEAL!). But what can we expect from a quality standpoint? Honestly, I think we can expect more than normal. There is no doubt that Dr. Wagner Jr., once one of the most talented wrestlers in the world, has slowed down in the last few years while some would argue Blue Demon Jr. has always been more presence than he has been a worker. But against all odds this feud has been surprisingly fun, and did produce a really good singles match between the two in Tepic back in February, a match that didn't have the heat this match will have. Throw in the higher effort level both guys will bring to this bout and this definitely has a shot to be a good match. They will need some help; both guys will need to bleed (as they have countless times during this feud), brawling will have to carry the early parts of this match and Wagner will have to at least attempt some of his old tricks to make this stand out. In the end I think all those things happen, and that coupled with the heat will be enough to make this match a good Triplemania main event and possibly even the best match on the show given the stakes. If nothing else I'm definitely excited to see what they can do, and that was not something I would've said about this match as a Triplemania main event before Tepic. These guys have earned the main event and I'm looking forward to what they give us.
Winner: If I were booking this, Wagner would be winning this match every day of the week and twice on Sunday. Not only is he the better performer at this point, but his whole arc in this angle has been him fighting in honor of his late brother Silver King, who you may remember just passed away a few months ago. To have Wagner dedicate this match to his brother (and father) only to lose just doesn't feel right. Alas I am not the booker of AAA and most importantly I am not the guy who'd have to pay Blue Demon and outrageous amount of money to drop one of the most famous masks of all time. Thus, at the end of it all, Blue Demon Jr. will keep his mask by beating Wagner, thus shaving off his hair extensions until Wagner is bald.
That is your Triplemania preview sports fans. Be sure to check out Lucha Central on Saturday for a review of what should be a really good show. In the mean time you can check out my review of CMLL tomorrow night if you're into that sort of thing. TILL THEN!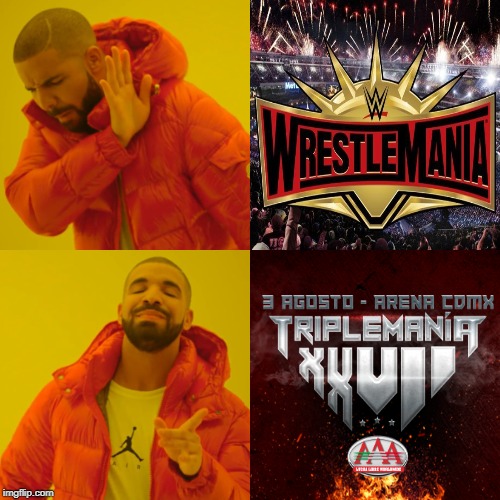 Please change disks to continue…