It's time! It's time! It's Triplemania time! Yes sports fans, in just three minutes (potentially?) the pre-show for Triplemania will begin, which means Triplemania may as well begin as there will be matches on the pre-show! I'm counting it at least. I cut it a little close but I'm all set to go. I've got my Buffalo Bites, my Pepsi, a Kit Kat bar, Twitch up on the PlayStation 4 and this Live Review all set to go. What are we waiting for sports fans? Let's dive into Triplemania XXVI!
Llave a la Gloria Trios Match
Astrolux, Dragon Bane, Freelance defeated Aramis, Drastik Boy, Latigo
Sports fans, I don't know how the rest of Triplemania will go. But I am deathly afraid for all the new time viewers tuning in and thinking that everything is going to be as awesome as this match. Batman, sum it up for us!
If it's not clear that this match continued the trend of off the chart AAA openers then I don't know what I can say to make it more apparent. The amazing thing is it was, at worst, on the same level as that amazing Tijuana match back in April. There was maybe one slip up in the match, where Freelance mistimed an arm drag early in the proceedings, and I barely even remember that spot at this point. Everything else was fast paced, full throttle action with wondrous dives, big spots, people catching moonsaults perfectly (looking at you Latigo), Aramis looking like a full blown superstar, Dragon Bane looking like a full blown mega star and Freelance redeeming himself in the end with a Super Poison Rana off the top rope. Yes sports fans, it happened, it was done perfectly and it was the greatest thing I've ever seen in my life not counting Yvonne Strahovski. Holy shit. This match was borderline perfect sports fans and it may be the best match of Triplemania when all is said and done. If you missed it, I shed a tear for you.
Four Way Match for the AAA World Cruiserweight Championship
Sammy Guevara defeated Australian Suicide, ACH and Shane Strickland
In retrospect, this match really needed to go first. That opener was such a barnburner that anything following it was going to suffer by comparison, and this match, which was very similar in pace and style, did just that. This isn't to say I didn't enjoy it because I did. They kept the pace going throughout, Australian Suicide finally got a chance to rub shoulders with big names (and looked good doing so) and some of the spots were absolutely sick, like Strickland escaping a top rope poison rana, only to then get caught with a poison rana by Suicide immediately after. Tremendous stuff. Maybe there should've been more time and I think the spot where Strickland unfortunately lost his balance on the ropes going for a springboard rana (which he handled very well with his reaction) will stick with people more than it should. But I liked the match overall, I thought Guevara winning was the correct call (and not just cause I predicted it!) and even the Kevin Kross interference worked after because a) it makes it less likely he'll do the same on the main show and b) it played into Australian Suicide's problems with AAA and hints that he too will be joining MAD. Can't complain about that. So yeah, solid match overall that probably would've been liked more if it wasn't following an awesome contest.
Four Way Match for the AAA Mixed Tag Team Championships
Big Mami & Niño Hamburguesa defeated Angelikal & La Hiedra vs. Dinastia & Lady Maravilla vs. Hijo del Vikingo & Vanilla
We were already off to a good start…but just in case you didn't count the pre-show, bah Grodd we're off to a good start! I thought this match would suffer a bit with Vanilla and Big Mami's involvement, but instead it thrived because of Big Mami and despite of Vanilla! Hijo del Vikingo's partner was the weakest part of the match but overall AAA did a good job of hiding her and letting the others work their magic. And work it they did! Vikingo, as expected, was the star of the match and delivered such excellence like a springboard imploding 450 to the floor. La Hiedra, Lady Maravilla and Angelikal were supporting players, but they were strong when their moments arrived and Angelikal had an awesome triangle tornillo to the floor towards the end of the match. Dinastia was majestic and maybe the second best guy in the match after Vikingo. But even though they were the most impressive, the stars where Mami and Niño Hamburguesa, who worked their asses off and got over huge on their natural charisma. I was super impressed with them and their effort, and they deserved to retain the titles based off that (something I didn't expect them to do). The only thing to decide is whether the match was very good or great; I would personally go with great. A super fun way to kick off the main show!
Four Way Ladder Match to Become #1 Contenders for the AAA World Tag Team Championships
Bandido & Flamita defeated Aerostar & Drago, Andrew Everett & DJZ and Golden Magic & Laredo Kid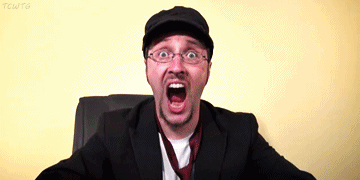 HOLY BALLS! I couldn't believe people were doubting this match going in and I'm even more perplexed now that it's over. This was insane in the greatest way possible. It appeared to be about 20 minutes of nonstop, full blown action with some of the craziest stuff you've ever seen. We're talking sunset powerbombs off of ladders, insane dives, moonsault fall away slams off the top, hurricanrana's off of ladders and to the floor; that's just the stuff I can remember. Absolutely nuts. Every guy in this match looked like a superstar, most notably Bandido, Flamita, Aerostar and especially Andrew Everett, an amazing worker who might've had his defining performance tonight. I don't even know what else to say. You have to see this match. The best match AAA has had this year in my opinion and one of the craziest matches you will ever see.
Three Way Trios Match
Carta Brava Jr., Mocho Cota Jr., Tito Santana defeated Mamba, Máximo, Pimpinela Escarlata and El Hijo de LA Park, Puma King, Taurus
First off, there was a promo segment prior to this match where Konnan and Vampiro agreed to face each other one on one in a Loser Leaves AAA match. No word on when it will be but you have that to look forward to (or not). At least the heat was good! Now to this match. I enjoyed it, but damn did I think they short changed these six on time. They had their working boots on from the start, kept the pace quick and produced some cool stuff, particularly Puma and Taurus, who did a very nice Tiger impression for Puma's sake. Even Pimpi was pretty good; there's still only so much he can do but he was up for the occasion in this match and even pulled of a few moves he normally didn't. Throw in the always consistent Poder del Norte looking like bosses and getting the big win to boot and this was a lot of fun. It just felt like they had a little more in them and suddenly AAA put a stop to it. Still pretty good, and Hijo de LA Park can now look forward to completing the lucha libre cycle in a few weeks when he's on the Aniversario.
Lumberjack Trios Match
Averno, Chessman, Super Fly defeated Jack Evans, Juventud Guerrera, Teddy Hart
And we have our first misfire of the night sports fans. What a weird match this was. I thought it was fine for the first little bit, especially when Jack, Juvy and Teddy were in control. The problem was the stipulation for this match and the fact that, much like last year's Pagano-El Mesias match, AAA didn't utilize it. I have no problem with that; lumberjack matches are pretty stupid overall. But that was clearly what the crowd wanted and the fact that the lumberjacks involvement was few and far between quickly bored the crowd. As such it allowed things to really go off the rails in the end when Poder del Norte suddenly ran out, leading to a weird confrontation between them and the OGT's, followed by Averno quickly pinning Teddy Hart while Jack Evans looked to be literally trying to knockout Chessman. And then there was more OGT's/Poder del Norte brawling. I'm all for more of that feud but what a strange way to get there. Overall the match just didn't work with the stipulation they had, the crowd wasn't into it and the bizarre finish just made things weirder. Definitely a match AAA should've just made into a regular bout.
Trios Street Fight
La Máscara, Rey Escorpión, Texano Jr. defeated Joe Lider, Murder Clown, Pagano
I may have to start cutting Batman a check for all the work he's doing tonight!
How about AAA delivering the best ladder match I've seen all year and the best hardcore match I've seen all year all in the span of two hours? Amazing! This match was without question dumb at some points but it was also thoroughly amazing. They used everything. There was Pagano going through a flaming table, Pagano getting powerbombed into a shopping cart, an endless supply of light tubes, chairs, dives, trash cans, beers, Murder Clown getting powerbombed onto a jenga tower of chairs, Joe Lider bleeding a second into the match and, in what might be the greatest hardcore spot of all time, Texano winning the match by whipping Joe Lider with a FREAKIN FLAMING BULLROPE! And that doesn't count some of the tamer stuff. This was the apex for Joe Lider and Pagano; the match was right up their wheelhouse and they delivered outstanding performances as only they could. Murder Clown was tremendous and made me happy I had believed in him all this time. I'm not sure I've seen La Máscara be as big a bad ass as he was here. Rey Escorpión was Rey Escorpión, which is great thing. And Texano. FRIGGIN TEXANO! All the weapons used in this match and by the end Texano walked out with just a tiny scratch on his arm. LEGEND! I will never say a bad thing about Texano again. Nor will I say a bad thing about this match. Absolutely tremendous. This show is like Mad Max: Fury Road right now.
Mask vs. Hair Match
Lady Shani defeated Faby Apache
Upset city baby! I was not expecting Faby to lose this match going in but a Matt Striker mess up on the pre-show (he said someone would be losing their hair) got me curious and what do you know; Faby is currently getting her hair shaved. Personally I would've gone the other way booking this match than AAA did. There was a little too much interference from Taurus, Niño Hamburguesa (at the beginning), one of the referees and Imposter La Parka and not enough one on one battling between Shani and Faby. The match was really strong when they were going at it and fifteen minutes of that might've resulted in a killer match. Alas they went the other way. It was still fine; I can't think of a better role for Imposter Parka than this (especially since Taurus did a hell of a job selling his offense), the crowd was into everything and the referee skirmish was pretty damn cool all things considered. I just would've preferred the other way. In any event the right person won in Shani, Faby did get all her hair shaved off and this was a memorable match at the end of it all. It just won't go down as as memorable a bout as some of the others on this show.
Four Way Match for the AAA Mega Championship
Fenix defeated Jeff Jarrett, Brian Cage and Rich Swann
Have you ever seen a movie where the first two thirds was good and then the climax was so awesome it pushed it over the top? This match was one of those movies. I was sitting there thinking this match would be good with a hint of average most of the way, and then the ending came along and AAA paid off the finish to Verano de Escandalo in a way that had to have Antonio Peña marking out wherever he was.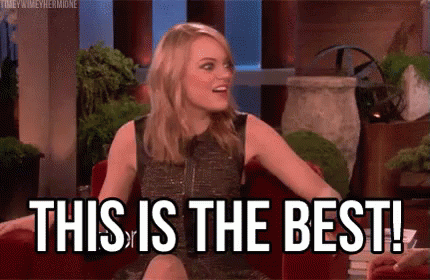 Let's begin with the journey though. As stated, the match leading up to the conclusion was fine if not quite great. Fenix was great as per usual and I appreciated the effort from Swann, Cage and even Jarrett, who treated this match like a big deal. At the end of the day though there's only so much Jarrett is capable of doing and the crowd didn't entirely care for Cage or Swann, leaving the match a little cold. And then came the finish. With Cage, Swann and the referee laid out, Jarrett had Fenix pinned and motioned for a ref. La Parka's music hit and out came someone who clearly wasn't La Parka (my guess was Konnan, seemingly to play off the Verano de Escandalo finish. Indeed it wasn't Parka but it also wasn't Konnan; it was Dr. Wagner Jr., the same man who was screwed over at Verano de Escandalo by this finish. This time he did the screwing (phrasing!) and that is how Fenix will now be competing at the CMLL 85th Aniversario as the AAA Mega Champion! Amazing stuff, only topped by that finish. Not only did it justify what happened at Verano de Escandalo but it paid off everything that happened there and since in a massive way, while also making sure Fenix was the biggest benefactor. I cannot applaud that finish enough. Throw in Marisela Peña Roldan eating a Fenix crowd dive and the back half of this match was just tremendous. I'm not sure the first part was enough to make it as good as the other matches lower on the show but who cares? They accomplished what they needed to and by Grodd that ending! What a show this has been!
Poker de Ases: Four Way (Cage?) Mask vs. Mask Match
Pentagon, Psycho Clown, LA Park defeated El Hijo del Fantasma
We arrived at the destination we all expected sports fans. But holy shit did we take a different route than we all thought. The cage match went according to plan at first; decent if unspectacular action with Pentagon unsurprisingly escaping the cage first. Just as everyone but the people who actually bought into the "Pentagon is leaving" rumors drew up! All was going to plan…and then Psycho Clown escaped the cage, leading to a final two of LA Park vs. Fantasma.  Anyone claiming to have them as the final two needs their bracket checked immediately.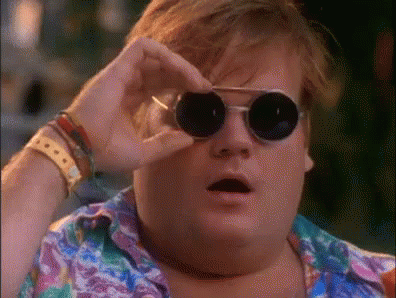 From there it was a tense one on one between Park and Fantasma that had me sweating like that Jordan Peele gif. I do wish Tirantes hadn't been as involved as he was (my Grodd was that man everywhere in the latter stages of this show) but even his presence couldn't hold down the greatness of Park and Fantasma. Fantasma held his own in there with the legend and went beyond his usual work (that Frog Splash off the top and through the announcer's table was AWESOME) and Park…well what more can be said? He's LA Park; everything he touches these days turns to gold, and he turned this to gold just a day after working a fifteen minute match in CMLL where he was doing dives and throwing beer bottles. He truly is the GOAT and him taking Fantasma's mask is definitely something no one will complain about due to his stature. But what's next for Park, besides a future match with Fantasma's son (who did a throat slash towards the Chairman after the match in a glorious moment)? It appears to be old foe Dr. Wagner Jr.! The Good Doctor came down in a bad ass fur coat after the match and challenged Park to a mask vs. hair match at Triplemania XXVII next year. Park…kind of accepted I guess. I'm not entirely sure; most of what I caught was him owning Wagner like me owning noobs in Arkham City, going on about how he'd show Wagner how to protect a mask. It was great stuff. Whether it's leading to something beats me; that's for AAA and possibly CMLL to figure out (don't think they and Rush weren't breathing a huge sigh of relief after Park won this match). The only thing that is clear right now sports fans is that this lucha libre world is LA Park's; the rest of us are just allowed to live in it. Alright maybe it's LA Park's and Fenix'; that dude is after all going to be at the Aniversario with the AAA Mega Championship!
And so the odyssey that is Triplemania XXVI has concluded. What an unbelievable show. There were two things wrong with this show sports fans; the lumberjack match and the split screen guy screwing up in the main event and missing Pentagon Package Piledriving Fantasma through chairs. Everything else was good to amazing. The pre-show opener was off the charts. The Cruiserweight Championship match was fun, if out of place. The main show opener was terrific. The ladder match was one of the best matches I've seen all year, an absolute masterpiece. The three way trios match was fun if short. The street fight was just a few notches below the ladder match and one of the best non ECW/Lucha Underground death matches I've ever seen. Shani vs. Apache was overbooked but had high drama. The four way title match was good with a great ending and a historic result. And the main event was edge of your seat tension with a great battle between Park and Fantasma and an even better post match. Some things need to be toned down (less interference, less Tirantes) but it's minor quibbles when it comes to a show like this. This was one of the best shows I've ever watched, the best AAA show I've ever watched live and some of the most fun I've ever had covering a wrestling show. It never felt like five and a half hours. Tremendous work by AAA. It's amazing; back in March I didn't know if this promotion would ever have a good show again. The turnaround has been remarkable and this show solidifies what we've all been waiting for. AAA is back. Praise be.
I'm off to contemplate what to do with my life next sports fans. I'll see you soon.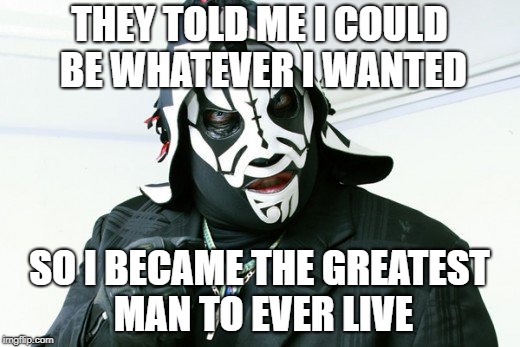 Please change disks to continue…