We are officially a little more than two days away from All Elite Wrestling's Fyter Fest show, a show that will take place in the same arena WCW's legendary 1996 edition of Bash at the Beach and, like that show, will feature a very notable six man tag. The difference is, unlike that legendary Hostile Takeover contest, this six man will be very lucha centric. A big reason for that is the presence of the Lucha Brothers, Pentagon Jr. and Rey Fenix, who will once again tangle with The Young Bucks in a feud that has crossed over from AEW to AAA and back again. But to hardcore lucha nerds like myself the real interest in this match isn't with the Bucks and Lucha Brothers going at it again, nor the rare chance to see Pentagon and Fenix square off with world class wrestler Kenny Omega. Instead, the interest lies in the Lucha Brothers' third man Laredo Kid, AAA's current Cruiserweight Champion and a luchador poised to break out on the biggest stage of his career.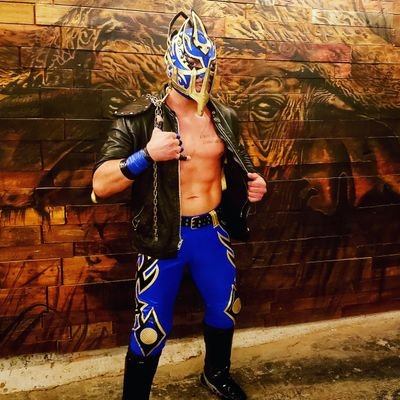 It's all very exciting; both because, as a lucha fan, it's always great to see the ultra talented guys you watch get an opportunity, and because THIS WASN'T SUPPOSED TO HAPPEN! I couldn't be more serious sports fans. Not even a month and a half ago was this possible; back then international superstar Pac was supposed to be the Hollywood Hogan to the Lucha Brothers' Nash and Hall, while Laredo Kid was just Laredo Kid, world class AAA luchador. A million things would've needed to happen for AEW to go from Pac to Laredo Kid for this match, and that may even be a stretch. Not only would Pac have to suddenly be unavailable for those shows, but Laredo Kid himself would need to explode onto AEW's radar very, VERY quickly. Somehow, some way, everything that needed to happen happened; Pac got pulled from all AEW events until further notice and Laredo became the talk of the wrestling world after a June 9th AAA classic in Monterrey against friend and trios partner El Hijo del Vikingo. Naturally that match also wasn't supposed to happen; it was originally a triple threat match with AAA/AEW star Jack Evans involved and while Evans is great, it's likely the match would've been totally different. Instead Jack missed the show, Laredo and Vikingo tore the house down with the best match (in my opinion) of 2019 and here we are, two days away from Laredo wrestling the Young Bucks and Kenny Omega in the likely main event of a big show for a big time American promotion.
It's all very tremendous and even more improbable; you could run this situation 100 times and you'd never again get the perfect storm of Pac suddenly being unavailable, Jack Evans missing the Monterrey show, Laredo and Vikingo having the match of their lives and Vikingo then having visa issues that prevent him from working in the states. All of that needed to happen to give Laredo the opportunity of a lifetime and it somehow all came together. And yet it's only part of a tremendous story of one luchador's unlikely journey to the big time. Why; because just a little over a year ago Laredo Kid was barely on AAA's radar, let alone one from a major American promotion.
Like almost every other luchador in history, the 32 year old Laredo Kid comes from a lucha libre family; his uncle Muerte Subita wrestled in Mexico for many years and would later train Laredo and his brothers, the late Super Laredo and Cronic, to wrestle. Initially debuting in 2003 at the age of seventeen, Laredo wrestled as The Exterminator on the independent scene (mostly teaming with his brother Super Laredo, then called Oscuridad) before signing a contract with AAA; he would debut for the promotion at the 2005 edition of Verano de Escandalo, adopting the Laredo Kid name as a tribute to his home city, Nuevo Laredo. He bounced around the undercard until early 2006, when AAA booker Antonio Peña made Laredo the leader of his newest creation, Real Fuerza Aérea. Designed to be a stable of young, exciting high flyers, Real Fuerza Aérea would ultimately turn out to be an Empire Records sort of deal, shining a spotlight on guys like Laredo, future CMLL stars Rey Cometa and Pegasso and future AAA stars Aerostar and Super Fly early in their careers. But while all the guys looked like potential superstars, Laredo looked as though he'd be the biggest star of the group. And why wouldn't he when he was a) the leader and b) he was already one of the smoothest, most consistent high flyers AAA had in their arsenal.
Of course, as is typical with something that looks to be a certainty, Laredo's ascent to superstardom didn't exactly happen. A big reason for that was a major injury Laredo suffered in 2007, right as he appeared to be gaining steam following a Verano de Escandalo victory over X-Pac in trios action. At the first Antonio Peña Memorial Show (now known as Heroes Inmortales) in October of 2007, Laredo competed in a gauntlet match for the Copa Antonio Peña and was doing pretty well, having eliminated former WWE star Kenzo Suzuki. Unfortunately his night came to an end during a Super Hurricanrana attempt on Ron Killings (WWE's R-Truth); while Laredo would hit the move correctly, Killings would wind up landing directly on Laredo's right leg taking the bump. The result of the accident was a fracture in Laredo's leg and he would miss the remainder of 2007 following a surgery that saw a steel rod inserted into his leg. Laredo actually recovered enough to return in February of 2008 (likely in order to keep any momentum he had in AAA prior to his injury) but by June had re-injured his leg, causing him to lose another four months. As it turns out, the steel rod inserted into Laredo's leg hadn't been inserted properly, thus leaving Laredo vulnerable to another fracture. By the time he returned to AAA full time in the fall, both Aerostar and Super Fly had become the central focus of Real Fuerza Aérea and Laredo entered midcard purgatory, despite retaining a high level of performance even after his injury. And that is where Laredo remained until the summer of 2011, when Laredo left AAA to both wrestle on the independents and promote Texican Championship Wrestling with his brother.
And so began what wound up being a seven year odyssey for Laredo back to prominence. He never altogether disappeared, keeping busy on the independents in both Mexico and the US (where he caught on with Cleveland, Ohio indie promotion AIW), briefly returning to AAA in 2015 and even working a WWE tryout match that same year as an unmasked Tony Guevara, which briefly led to some reporters claiming Laredo could be WWE's next Rey Mysterio (hilariously, Laredo's partner during the tryout match was his future AAA co-worker Sammy Guevara. More on him soon!). But by the time Laredo showed up in a Konnan backed Crash in 2017 and then later Impact Wrestling that same year, he felt less like someone who could still break out and more like a journeyman destined to wander the indies like Cain from Kung Fu. It didn't matter that he had grown into an even better performer than he had been in his younger days; all that mattered was that neither AAA, CMLL nor any big US promotion wanted him, and unless The Crash took off or Impact regained momentum he seemed destined to be "that really talented guy that never got that opportunity." And then it all changed when Konnan left The Crash, rejoined AAA and brought Laredo Kid back with him as a member of Lucha Libre Elite just a year ago.
Now we've talked about how improbable Laredo's journey in the past few months to get into this AEW main event was. We've seen how difficult it was for Laredo just to get back to AAA after his unfortunate injury. It still doesn't take into account just what Laredo needed to do this past year to even put himself in the position to be in the right place at the right time. When Laredo returned to AAA at last year's Verano de Escandalo, in a match where the power failed no less, he was still clearly positioned as a midcarder who you were probably going to see every once in awhile. At first that was true; following Verano de Escandalo Laredo only made two appearances for AAA in a two month stretch, with his most notable match actually taking place outside of AAA (a singles match with Fenix in Monterrey's MDA promotion). He was still able to secure a spot on Triplemania, teaming with Golden Magic in a four way ladder match that tore the house down, and a few weeks later had an impressive showing with Fenix and Brian Cage in three way action. But despite his solid performances and AAA teasing a Mega Championship match with Fenix, Laredo still felt like he was just another talented dude alongside AAA's other talented dues as the fall pressed on.
And then along came Los Jinetes del Aire and the Lucha Capital tournament at the same time. Only AAA can tell you whether it was a one off or not, but on November 11th Laredo found himself teaming with young high flyers Angelikal (who would become Myzteziz Jr. during this time) and the aforementioned Hijo del Vikingo to take on AAA Trios Champions Poder del Norte (Carta Brava Jr., Mocho Cota Jr. and Tito Santana). The trio, later dubbed Los Jinetes del Aire (The Air Raiders) won a really fun match…and then won an even better rematch eight days later, earning them a shot at the Trios Championships at Guerra de Titanes in December. It was there they completed the hat trick, defeating Poder del Norte for a third consecutive time in a third consecutive great match (the best of their trilogy) to win the AAA Trios Championships, the first title for Laredo, Myzteziz or Vikingo in AAA. That alone would've been an accomplishment, except as that was going on Laredo Kid was also tearing it up in AAA's Lucha Capital competition. The Facebook Watch show, run out of a BBQ restaurant of all places, offered a rare chance for AAA luchadores to work singles matches, and the opportunity led to Laredo having one of the strongest individual performances in the entire tournament. Even better, AAA was so impressed with his work that they ultimately booked Laredo to win the whole thing, which he did on December 19th, defeating Golden Magic, Psycho Clown, Pentagon Jr. and Killer Kross to do so. Just like that, in the span of two months, Laredo reversed his fortunes as the guy who won an exciting (if slightly incoherent) competition and became the leader of an exciting new trios team. And it's been all uphill since then.
To say that Laredo Kid is in the running for the title of Best Luchador in the World right now would be underselling it; for my money, only Fenix, Pentagon and Barbaro Cavernario of CMLL belong in the conversation with him. Since the start of 2019 Laredo has only added to his accomplishments. As already stated, he's AAA Cruiserweight Champion addition to being one third of the AAA Trios Champions, and he was the AAA Rey de Reyes runner up, losing to former Real Fuerza Aérea friend Aerostar. His bookings in the US picked up, with Laredo working dates for Pro Wrestling Guerilla, Major League Wrestling and Impact over the last several months, with more bookings to come in the form of appearances at Expo Lucha 2019. But more impressive than all that is how Laredo has gone from a great worker to a world class worker, one whose abilities have gotten him over with the AAA audience. Since the start of Lucha Capital, Laredo Kid has more great matches than anyone I can think of short of Will Ospreay. His tournament matches with Drago, Vikingo, Texano and Australian Suicide were all tremendous, with the Suicide match in particular standing out (I thought it was the best match of the tournament). In 2019 alone he's had great matches with Taurus, Drago, Flamita, Daga, old friend Sammy Guevara (who he won the Cruiserweight Championship from) and of course Vikingo, the latter of which may go down as one of the greatest matches in AAA history. And none of that accounts for his work with Los Jinetes del Aire or other multi-man matches.
But while it all looks great and no individual performance has topped what he and Vikingo did, nothing sums up how great Laredo Kid has become like the stretch he had from February 8th to February 16th. During that time he had what many thought at the time was the AAA Match of the Year with rising star Taurus, a tremendous three way with Drago and Flamita, an outstanding performance with Psycho Clown and Puma King against Rey Escorpión, Killer Kross and El Hijo del Fantasma in another AAA Match of the Year candidate (as well as Fantasma's last match in AAA) and then his title victory in an excellent match Guevara. That's a great stretch over the course of two months and several shows. For Laredo he did it all in eight days between three shows, and oh yeah, the three way match and trios match all took place on one show WITHIN THIRTY MINUTES OF EACH OTHER! It's hard enough to have two great matches and two great performances on back to back nights; Laredo Kid accomplished both within a half an hour. That is special, and it's something I haven't seen any other great wrestler be able to pull off this year. It's also why we're two days away from Laredo Kid getting the chance to show a whole new set of fans just what he's capable of doing.
It's all, quite frankly, the stuff you couldn't even find in a screenplay written by George Miller. A year ago Laredo Kid was just starting to work with AAA again. Six months ago he was just a guy in that very promotion. And now he's one of the best wrestlers in the world, one of the biggest stars in AAA and will be wrestling with five of the biggest stars in all of wrestling in just two days. And that may just be the start; it's possible he may even get a big money deal with AEW or another wrestling promotion. The odds of all this happening at the beginning of the year, coupled with all the other breaks that needed to go his way, weren't just low; they were nonexistent. And here we are all the same. There are certainly other stories in wrestling, ones that involve more personal than professional hardship, that were more dire than what Laredo Kid went through. But it doesn't make his rise any less of a great story, and one I've been honored to witness. Now all that's left is Saturday night. And sure, those in the Ocean Center in Daytona Beach or watching at home may come in talking about Omega, the Bucks and the Lucha Brothers. Why wouldn't they? But if the last year is any indication, when the dust settles and the match is over, those same people will have realized what many lucha fans already know; there's nothing else in wresting quite like the Laredo Kid.
Please change disks to continue…