Today is the 35th Anniversary of the death of El Santo, a name that still resonates across the lucha libre world. Born Rodolfo Guzman Huerta on September 23, 1917, Santo is the reason you're reading this article on Lucha Central right now. Well not the only reason but a big one, as there would be no lucha libre without him. Over his near half a century career Santo was the biggest draw in Mexico, the man who made a lucha libre a nationwide phenomenon while turning CMLL into one of the biggest promotions in North America. When he wasn't doing that he was a box office draw in Mexico multiplexes (creating a new avenue for luchadores to make money), a comic book character and in some cases even a folk hero. There's a reason Rikidozan is considered the only wrestler in history to be comparable to Santo's star power. By the end of his life he had legitimately done it all; twelve title reigns of six different championships, a 37-0 record in Lucha de Apuesta matches, numerous CMLL/EMLL Aniversario main events, 52 films, a 35 year run as a comic book hero, one Mystery Science Theater 3000 appearance and one of the best gifs you'll ever see. Some of those accomplishments may have been more important than others.
The weird thing about Santo is how he's remained so much larger than life while being someone modern day lucha libre fans, and even older lucha libre fans, haven't really seen. It's forgotten that the bulk of Santo's career took place during the 40's, 50's and 60's, during a time when television/video was either nonexistent or in its infancy. Thus, if you do a quick YouTube search for Santo, the best you will find of his in ring work from that time is a brief 4 minute clip of a match with Espanto and some in ring sequences from some of his movies. Otherwise the only documented video of Santo wrestling is from later in his career when he was older. That's completely wild; it would be like if US wrestling fans weren't able to watch Hulk Hogan during his peak. So, today being what it is, I thought it would be a fitting idea to look back at ten Santo matches, sort of a road map to how he became the iconic figure he is today. You can call it the 10 Most Essential Santo Matches of All Time, you can call it the 10 Santo Matches We Wish We Could've Witnessed; whatever works for you. Either way it's time to take a closer look at the matches that helped turn an ordinary man into a legend.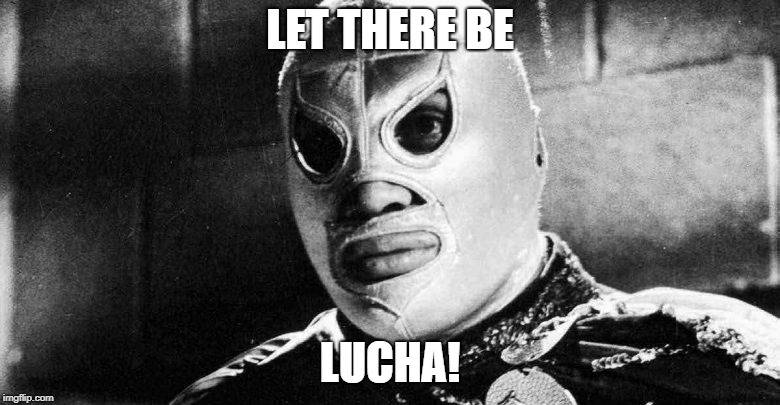 Santo vs. Bobby Bonales vs. Lobo Negro vs. Gorila Macias vs. Bobby Rood vs. Murciélago Velazquez vs. Pavilivsky vs. Ciclón Veloz (Santo Debut, July 26, 1942)
Hardcore lucha historians will know that Santo's career began long before he donned the silver mask; in fact he wrestled eight years under various names (including his own) before becoming El Santo at the suggestion of his manager, Don Jesus Lomeli. Wearing a cheap silver mask, he debuted in this 8 man Battle Royal and wound up going all the way to the end along with Ciclón Veloz. Veloz would win the match but only by Disqualification after Santo attacked the referee for trying to stop his relentless assault. And just like that Santo was one of CMLL's (then EMLL) hottest rudos. Oh yeah; did I mention he began and spent most of the first half of his career as a bad guy? Hard to believe Mexico's hero started off as a dastardly villain.
Santo vs. Murciélago Velazquez (January 1943)
Remember when I said Santo went 37-0 in Lucha de Apuesta matches? It all began with this match against an opponent that couldn't have been more fitting. Not only had Murciélago Velazquez been involved in arguably the first big Apuesta match in history (a loss to Octavio Gaona in July of 1940), but he had once forced Santo to drop a gimmick he was using, El Murciélago Enmascarado II, back when Santo was trying to jumpstart his career (Velazquez had previously used the name and made a complaint to the local commission). If you can think of a more satisfying first Apuesta victory than beating the man who pioneered the match AND made your career harder for a time, I'd like to hear it.
Santo vs. Ciclón Veloz (Santo's First Title Win, February 21, 1943)
If you look at Ciclón Veloz' Luchawiki page, the only factoid of interest is that he was the uncle of popular 80's/90's luchador Kung Fu. None of that changes that Veloz was one of EMLL's first big star and, along with Bobby Bonales, Santo's first big rival. The two would collide several more times after Santo's vicious attack on Veloz during his debut and in this match Santo would foil Veloz once more to win the Mexican National Welterweight Championship. While Santo would become more known for holding the Mexican National Middleweight Championship during his career, the National Welterweight Championship victory would be the first title he'd hold, as well as the first of two reigns with the title. By the by, the Mexican National Welterweight Championship is still around today and is still under the CMLL umbrella. Who holds it? The guy who had this t-shirt made.
Santo vs. Tarzan López (First Arena Coliseo Headliner, April 2, 1943)
When Arena Modelo proved too old and too small to handle the demand for lucha in Mexico City, EMLL owner Salvador Lutteroth (arguably the only man close to Santo in terms of importance in lucha libre) built Arena Coliseo; to this day the arena stands, hosting a CMLL show every Saturday night. The first show in the building took place on a Tuesday and featured Santo going up with top technico Tarzan Lopez. It was a match fitting of the time; the young up and coming Santo put up a valiant effort before losing to Lopez, arguably the Santo before Santo. But the fact Lutteroth trusted Santo enough to co-headline the first show in his brand new palace was yet another piece of evidence in how much potential EMLL saw in the budding superstar.
Santo vs. Bobby Bonales (EMLL 10th Aniversario, September 24, 1943)
Here's a quick reminder that Santo debuted under the Santo name on July 26, 1942. Just a little over a year later he had won two championships (the Mexican National Welterweight Championship and the Mexican National Middleweight Championship), won his first major feud (against Veloz), headlined the first show of EMLL's brand new, state of the art building and headlined the 10th Aniversario against top technico Bonales. Considered by some sources to be the innovator of the Tope Suicida (the suicide dive), Bonales was Santo's second major rival and to this point had been the only luchador to best Santo on multiple occasions. It was this match where Santo would turn the tide of the career long rivalry for good; he would defeat Bonales to shave his head, the first of two occasions Santo would do so in his career.
Santo vs. Pete Pancoff (May 15, 1946)
It really is amazing to think back on Santo's early years and realize that he was actually a rudo! You think anyone imagined back then that he would go onto become one of the most beloved heroes in Mexican culture? There are many points where you can argue Santo made the shift from villain to legend but the first example is a little known match with Bulgarian grappler Pete Pancoff. The two crossed paths in the finals of a tournament to determine the first ever NWA World Middleweight Champion. The fact that Santo won (with a Boston Crab) wasn't surprising; the fact that Arena Coliseo reacted with rapturous applause was. Well maybe not entirely; Pancoff was a foreigner after all and Santo was seen as the hero winning the gold for Mexico. Whatever the case, this match (described as "legendary" on Luchawiki) could be seen as one of the first matches that started to transition Santo from his villainous roots into the guy who remains so big in death he could be seen in Coco.
Santo and Gory Guerrero vs. Emilio Charles Sr. and Tarzan López (January 24, 1947)
La Pareja Atómica! There is perhaps no tag team in history as underrated as The Atomic Pair, the duo consisting of Santo and lucha libre pioneer Gory Guerrero. Today the name La Pareja Atómica is mostly remembered for the short lived tag team featuring Santo and Guerrero's sons, Hijo del Santo and Eddy. But in their time no team was wilder than Guerrero and Santo. This actually not their first listed match if you'd believe; that honor goes to a May 1946 match where they lost to two dudes named Jack and Tuffy Truesdale. You can't make that up. This match was however their first major victory, coming against a respectable team in López and Charles, two legends themselves.
Santo vs. Blue Demon (EMLL 20th Aniversario, September 25, 1953)
To quote Mission: Impossible II, every search for a hero must begin with something every hero requires; a villain! Batman had the Joker, John Cena had CM Punk, Sheldon Cooper had Will Wheaton and Santo had Blue Demon, who just so happens to be the second biggest lucha libre star in history behind Santo. Demon had been a rudo most of his career at this point, but he turned technico after Santo unmasked Demon's friend/tag partner Black Shadow, in a match we totally won't be talking about in a few minutes. The feud between the two was the only match that could headline EMLL's 20th Aniversario (then the biggest show in company history), where Demon avenged his friend by ending Santo's second reign as NWA World Middleweight Champion (it would be the last time Santo held the title). The two legends would eventually become friends and co-stars, appearing in several movies together. Legend has it though that Santo never got over his defeat to Demon, the only luchador that was ever able to truly best him.
Santo vs. El Gladiator (EMLL 23rd Aniversario, September 21, 1956)
By 1956, EMLL business was booming at such a rate (largely thanks to Santo and his popularity) that Arena Coliseo could no longer accommodate the demand for lucha libre. And it was only 13 years old! So Salvador Lutteroth once again went to the well and emerged with Arena Mexico, the 17,000 plus seat "Cathedral of Lucha Libre" that will host yet another lucha show that I'll watch this evening. Only El Santo could've headlined the first Aniversario in that building, which he did by winning his 24th Apuesta match against El Gladiator, a two year veteran who had upset Santo just a year prior. While Santo's drawing power didn't subside for at least another decade, this match in many ways may have been the peak of his power given the sellout crowd and the fact that his movie career took off just a year later.
Santo vs. Black Shadow (November 7, 1952)
Every great luchador, every great wrestler has "The Match"; the one that everyone remembers forever, the one that cements them. It's easy to argue that Santo's battle with Blue Demon was that match for him, but for my money it's this match, still perhaps the biggest match in the history of lucha libre. It was so big that EMLL was forced to turn away thousands of fans, leading to Lutteroth constructing Arena Mexico. It launched the Santo-Blue Demon feud. It solidified the already popular Lucha de Apuesta match (particular mask vs. mask bouts) as the biggest match in lucha libre. On a smaller scale it was the culmination of a fantastic feud between Santo and Black Shadow that ended with a critically and commercially acclaimed match. Whatever way you want to slice it, there's no bigger Santo match than this one. It is "The Match" as far as it concerns him, and any Santo movie or TV show in the future that doesn't build to this moment as a big deal is as worthy of your time as that weird Blue Demon show that used to exist.
There are your ten matches of Santo sports fans. Hope you enjoyed getting an inside peak at some of the biggest stars biggest bouts, even if we can't see them for ourselves. And with that I'm off. Till later tonight!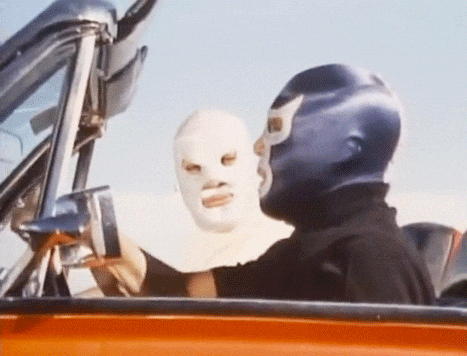 Please change disks to continue…