Tonight's Lucha Underground episode was terrific…unless you don't like Jake Strong. Then maybe it was so-so? Sucked? I don't know; your mileage may vary. I myself didn't mind Strong going into tonight (though I thought he needed more to get me to care) and I came out of this liking him quite a bit. Throw in a nice trios match, a nice main event, several cool angles being set up and I had a damn good time watching this show. Well other than the opening part but alas, all good things must come to an end right? And on that sour note let's get started!
Matanza wipes Jack Evans off the face of the earth
I think I went through the numerous stages of…something during this match. At first I was excited because Jack was out there and that meant he'd be doing something. Then he cut a promo and I was happier. Then he claimed he would've ripped Matanza's head off if he had been at Johnny Mundo's wedding and I was all "NO JACK NO!" Then Papa El Jefe came out and I was all "THERE'S A BOAT JACK!"…bad time for Titanic to pop into my head I know. Then Jack ran into Matanza as he tried to escape and well, this picture sums it up very well.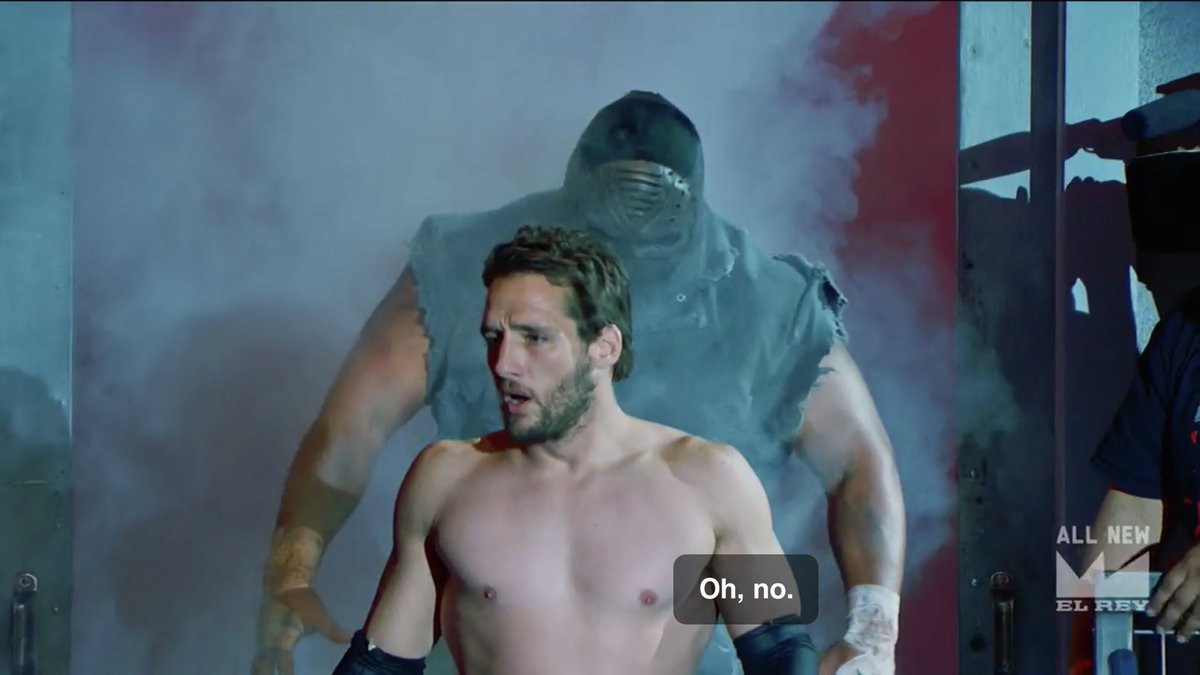 I'll give Jack this much; he fought valiantly and probably bested the late Joey Wrestling in having the best match Matanza has had during his sacrifice era. Yes it was still a one sided beat down but between Jack's attempts to escape, Antonio tripping him with his cane (I laughed), Jack's facial expressions and then Jack's comeback it came off as very entertaining. I actually thought Jack may even get a reprieve after he hit that 630, either by lucky pinfall or by Johnny Mundo and the gang suddenly returning to help their Worldwide Underground comrade. Alas Matanza merely sat up after that 630 and now Jack is off to tag with Angelico in LU's great beyond. We shall miss you Dragon Slayer/Star Destroyer/Inventor of Modern Lucha Libre/FIFA Champ/Man, Myth, Legend/holy shit Jack how many nicknames do you have?! In any event we will miss you. And hey, you can take comfort in the fact that you died as you lived; loudly and gloriously.
Lucha Underground Trios Championship Match
Daga, Jeremiah Snake, Kobra Moon defeated Ivelisse, Joey Ryan, XO Lishus
Boy they crammed a lot into this match. Things began with Paul London coming out to introduce El Bunny and Killer "YOU MEAN THAT CRAZY MAN IS THE WHITE RABBIT?!" Kross, who stood by the entrance to watch this bout. They got their money's worth I'd say. It could've gotten a little more time (seems to be a recurring theme for LU these days huh?) but I thought this was a lot of fun. Kobra Moon, after taking a backseat to the stuff with Fenix during the last Reptile Tribe defense, was a lot more active here and looked pretty good. Joey Ryan took quickly to the technico role and did a hell of a job with Daga, especially at the end when the rudo pulled off several amazing counters to tap out Ryan with a ridiculous armbar. XO Lishus was good, though I thought he didn't show as much athleticism as he did during his battles with the recently departed Jack Evans. The standouts were Ivelisse and Jeremiah Snake; both carried the match (when Daga wasn't around) and if I have any criticism it's that we didn't get enough of them together, as their one brief sequence was both good and fitting given their history (I really liked Ivelisse notably asking Snake "what the hell happened to you?" Really makes you think she was second guessing putting him that coffin, huh?) It was just a lot of fun, and the Rabbits coming down and laying out Team Ivelisse after was intriguing, if not a bit confusing. I would've thought they'd be going after the Trios Champions…unless they'll be doing that too and it'll involve all three teams. Or even another team! Either way it was interesting, the new Rabbit Tribe looks cool and the match was fun despite being shorter than I would've liked. But then again that may have been a good thing given what got the most time on this show.
Numchuks Match
Jake Strong defeated Aerostar and Drago
I wouldn't be surprised if I'm the only person reviewing Lucha Underground still that really enjoyed this match. Actually that's underselling it. There was only one issue I had with this match and it was Aerostar taking way, WAY too long to hit Jake Strong with the numchuks when Strong followed him up to one of LU's numerous platforms. Otherwise I thought this was one of the best matches LU produced this season. Finally it all came together for The Artist Formerly Known as Jack Swagger. I haven't minded Strong at all and there's no doubt he's gotten over, but the complaints of how little he's done to this point (and how hard he's been pushed on a lucha libre show) were valid. This match finally gave him a situation and the right opponents to sink his teeth into and he passed. He looked vicious, on point and even vulnerable; huge credit must be given to him and LU for letting Aerostar and Drago be as competitive as they were. And my Grodd some of these spots were genius, like Drago getting on Aerostar's shoulders to combat Strong with the numchuks, Aerostar's huge dive, and the tandem offense. My favorite part of the match (I'm a "little things" kind of guy) was Strong following Aerostar up to the platform instead of waiting, showing he learned his lesson from earlier this season when Sammy Guevara burned him with a moonsault off that same area. By the time it was over and Strong had submitted Aerostar (and snapped Drago's ankle) it was a complete, fulfilling experience. I absolutely loved it. Like Knives Chao loves Scott Pilgrim levels.
Now why will I be the only one who really did? I think the answer starts with Jake Strong. Replace him with someone like AAA's Taurus and I think this match is popular with everyone. The problem is Strong isn't Taurus and isn't a luchador…and maybe I'm being off base when I say this but that being a problem just feels weird to me. So what if Jake Strong isn't a luchador and is a former WWE guy? Mark Jindrak was both and yet he became beloved and accepted by lucha libre fans over his career as Marco Corleone. Hell Cage, who was not a commodity in Mexico when he first appeared in LU, did the exact same Strong is doing now back in season one and got very little flack (and this was during a season where the main event scene was dominated by American wrestlers for the first part). I'm not saying Jake Strong is Marco or Cage but let's not act like he's the late Thunder (CMLL fans will get this). He's good, and the only thing that matters when it comes to lucha libre/wrestling, at least for me, is whether a wrestler/luchador is a) good, b) can get over and c) is used in a way that makes sense by the promotion he or she is working for. I can confidently say having watched Jake Strong for eons that he's a good worker, the reoccurring "Strong" chants I hear every time he appears makes it clear that he's over, and a guy running over everyone beating two guys in a hard fought match makes sense. It would be one thing if this was a one sided squash; this was a competitive match where Aerostar and Drago got all the big spots and beat down Strong with the numchuks throughout. I thought no less of them coming out of this match (and as a massive fan of Aerostar, I'd like to think I'd be the first to call this match out if I thought it was screwing him over), whereas I thought LU finally gave me reason to care about a guy I had been waiting to care for. That's a success in my book. As usual its fine if you don't feel the same way, but I thought the match was great, I'd have it as one of the best from this season and at least for me, it makes me feel a lot better about whatever they're doing with Jake Strong going forward. It feels like he belongs now and I feel bad for him that it won't be the same with others.
#1 Contender Match for the Lucha Underground Championship
Pentagon Dark defeated El Dragon Azteca Jr., King Cuerno and Mil Muertes
Much like the second match, this main event did a lot in a short amount of time. Also like the second match I wish this had been a bit longer. These LU main events being a lot shorter than we'd all like is a recurring theme I could live without and hopefully something LU corrects whenever season five comes around. At least like the trios title match LU did a good job fitting everything in, with only King Cuerno looking out of place by how slow he worked. Mil Muertes was sharp. Pentagon didn't have a ton to do but he can get by on sheer presence and charisma alone these days and rightfully was the guy to pick up the victory to face Marty "The Moth" at Ultima Lucha IV. The show was stolen however by Azteca and Fenix. Yes the Bad Fenix was back again this week to stalk Melissa Santos at ringside; I'm not sure what he was trying to do but it seemed like Melissa was actually able to get through to him (as she sort of did last week) before she ran away so Azteca could take Fenix out with an unbelievable over the turnbuckle tope. I shit you not; this was so good it made Aerostar's earlier leap look merely decent. Might've had something to do with both guys nailing the announcer's table in the immediate aftermath.
In the end however, Fenix/Azteca's show stealing moment and Pentagon's victory got overshadowed by The Return of The Mack (HA!). Big Willie finally appeared for the first time since Mil Muertes neutered him in the Haunted House match and left the former Immortan prone with two stunners, allowing Pentagon to take advantage for the victory. But The Mack wasn't done; having survived the Haunted House match he had also overcome his fears of Mil and thus returned to challenge Mil to a rematch. And not just any rematch…a Death Match at Ultima Lucha IV!!! So nice it deserved three exclamation points. I don't want to get too far ahead of myself sports fans as LU has been in the habit of going shorter with matches this season but OH MY! The previous three LU death matches (and I'm not counting Dante Fox vs. Killshot by the way) were all excellent and featured unforgettable moments like Fenix going through a roof, King Cuerno getting wiped off the face of the earth and Azteca going through the Temple bleachers. Now the match will be returning with Mil Muertes, death match specialist, on one side and Big Willie, the guy who had two amazing Falls Count Anywhere matches with Cage at Ultima Lucha's Uno and Dos, on the other. This has all the makings of an LU classic and I for one cannot wait to see it. Maybe LU could've held off on Mack coming out till after the match to attack Mil, but that's a minor quibble; I really liked the set up for that bout, I REALLY liked the continued build for Fenix-Azteca (good Grodd that match looks like it could be special) and Pentagon getting the win was the right call. A successful main event all things considered, though I will say again it be nice if it got more time. WE NEED MORE TIME LU! I'll calm down now.
There you have it sports fans. I'm now off to play video games and wait for the "your Jake Strong take sucks!" comment that will never come. I'll be back tomorrow to preview what looks to be a decent CMLL Super Viernes show so there is that. TILL THEN!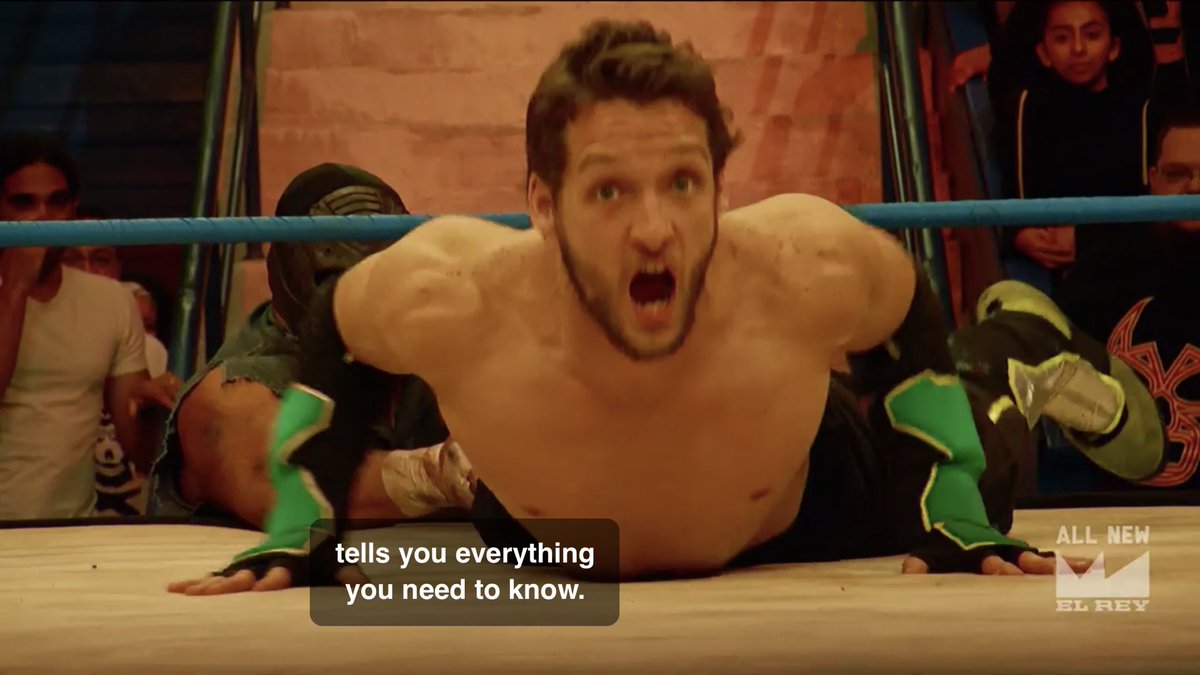 Please change disks to continue…