It's Tuesday, Tuesday, why the hell couldn't it be Wednesday?! Seriously why can't it be? If it were Wednesday I'd be one day closer to a Friday loaded with lucha (AAA vs. CMLL!) AND I'd be only a few hours away from watching a brand new Lucha Underground episode. Alas it's the day before which means I'm just previewing the LU episode. It should be a good one. I'm not entirely enthralled with it being a four match show again (three matches in an hour is perfect in the opinion of yours truly) but we will have the continuation of the Rabbit Tribe's search for the White Rabbit, you can tell some of the matches will be kept short and the one that won't, Cage vs. Mil, looks delicious. Like Pastryland cake delicious. Seriously, if you're ever in Rhode Island, find those people. You will never want to eat another cake again in your life. But enough about pastry; we have LU stuff to preview!
Match for an Aztec Medallion
Son of Havoc vs. The Mack vs. Luchador(a) Sorpresa
What to Expect: Wow; a complete and total mystery match! Who knows who is in this match. It could be anyone!
Alright it won't be a boat and, to be honest, it's not a mystery match any longer now that I've seen the picture of Son of Havoc moonsaulting onto Big Willie and whoever that third person was. I just had to leave that first part (that I wrote prior to that picture coming out) because the joke was too good. At least to me. Anyways, I can't figure out exactly who that third person is in there with Mack and Havoc but it doesn't matter; the other two guys are The Mack and Son of Havoc. They could put me in there and figure it out somehow. Expect very fun things from this one.
Winner: It definitely feels like Big Willie or Havoc's night…I'm just too torn to pick between them. So let's break out that good ole Canadian Dollar! Heads Havoc, Moose Mack…MOOSE! GET OUT THE WAY! Big Willie is getting one of them beautiful Aztec Medallions.
Match for an Aztec Medallion
Ivelisse vs. Joey Ryan
What to Expect: This has not been a good year for Famous Dick Wrestler Joey Ryan. First he was revealed as a penis pretender by Hangman Page. Then he was "murdered" by Hangman Page, Stephen Amell or someone else entirely after getting revenge on Page. Then he somehow popped up on Lucha Underground TV despite being dead; perhaps Fenix and Jeremiah Crane should ask what his secret his! Then no one (not even Joey's wife) came to his funeral. Now Joey is back from the dead again and he's facing the woman who just killed Jeremiah Crane with a hammer and is, on her worst day, a total bad ass. Not good Joey, not good. What should be good however is this match, because Joey (dead or alive) is generally a lot of fun and Ivelisse is GREAT. Like Luka Modric in the midfield great. They won't get enough time to really deliver something but this should still be an entertaining few minutes.
Winner: I want to say Ivelisse…and you know what, I will! Ivelisse wins this and the medallion. Now watch her lose because someone related to Jeremiah Crane appears looking to get revenge for his death.
Sacrifice to the Gods
Matanza vs. DEAD LUCHADOR(A) WALKIN!
What to Expect:
I rest my case.
Winner: Matanza. Doesn't matter who it is; Matanza will win and some poor soul will disappear, never to be seen again.
Match for an Aztec Medallion
Cage vs. Mil Muertes
What to Expect: I have racked my brain sports fans and I must confess; I don't believe these two have ever collided in a one on one match in LU! There was the confrontation during the infamous brawl back in season three, Cage beating up Mil backstage for sending Catrina to steal the power glove (which, after reviewing the play, remains so very, very bad) and the three way match for the power glove with Jeremiah Crane at Ultima Lucha Tres. But those were brawls, triple threats and backstage scenes, not one on one encounters. So yeah; for the first time ever, the Machine will meet the Man of a Thousand Deaths in an LU ring.
You'll never believe this but a lot will be one the line in this one, and not just the Aztec Medallion. You may remember a few weeks ago Cage came out and bulldozed Lucha Underground Champion (and ace) Pentagon Dark like he hadn't been since he won the title. Normal protocol would've given Cage a title shot soon after, but instead Antonio Cueto decided the best course of action was to put Cage in this match in order to prove himself worthy. I guess that means Cage can win a medallion AND a title shot against Pentagon with a victory, and perhaps Mil can do the same. It also means that Pentagon is probably going to get involved because you don't attack the ace and live to tell about it you know? Hopefully it's not till later in the show because I'm raring to go with this diddy. If they're given the time and the freedom to work their magic, Cage vs. Mil has the chance to be ultra violent, ultra cool and just as good (if not better) than the underappreciated classic Cage put on with Matanza in season two, before the monster decided to start sacrificing dudes. If nothing else, you will believe two men of significant size can fly by the time this is over.
Winner: It doesn't really make a whole lot of sense to me for Cage to win a medallion when he's already looking at a Pentagon title match one way or the other. So Mil is winning this one and he's winning it with the aces help after Pentagon comes down to give Cage a taste of his own medicine. That allows Mil to win the medallion, furthers the Cage-Pentagon issue and, unless Papa El Jefe is that much of a contrarian, gives Antonio the motivation to make Pentagon vs. Cage happen in the next few weeks.
And scene. I'm off till tomorrow night when I review this show. A good time will be had. See you then!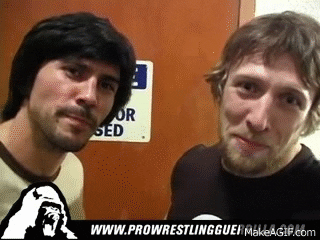 Please change disks to continue…