Nearly two and a half months after suffering a catastrophic neck injury, Jesus Alfonso Huerta Escoboza, better known to the lucha libre world as La Parka, has passed away. Though it hasn't been confirmed, it is likely his death was due to complications from said injury, which briefly left La Parka paralyzed and required him to undergo neck and cervical surgery. He had just turned 54 years old, his birthday a week ago today.
Born in Hermosillo, Sanora, Mexico, Escoboza made his lucha libre debut in 1987 under the name Bello Sexy; he would change his name to Maligno five years later and would also work under the names Crater and Santa Esmarela. He would finally get his big break in 1995 when he joined AAA (now Lucha Libre AAA Worldwide) under the name Karis la Momia, created by Antonio Peña as a tribute to the 1940's film series The Mummy. Escoboza wrestled under the gimmick for a year and had success, defeating Blue Demon Jr. for the Mexican National Cruiserweight Championship while also making it onto the Triplemania III-C, IV-B and IV-C cards. In late 1996 however Escoboza dropped the Karis la Momia gimmick in favor of one that would rocket him to superstardom.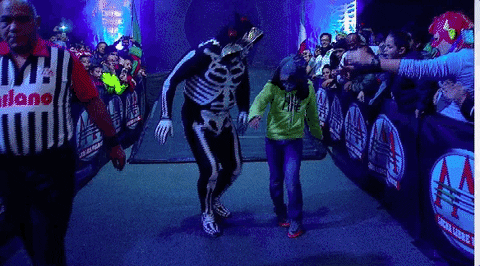 With Adolfo Ibarra Tapia, the original La Parka, largely preoccupied in the US working for WCW, Antonio Peña decided to put Escoboza under the La Parka mask, dubbing him La Parka Jr. When Tapia went on to compete for AAA's rival promotion Promo Azteca, the Jr. was dropped and Escoboza became La Parka, sometimes referred to as La Parka II. Though the move remains controversial, Parka was successful in the role; he would go on to headline seven Triplemania's (including four straight from Triplemania XII in 2003 to Triplemania XIV in 2006), won the Rey de Reyes tournament five times (a company record) and would remain one of AAA's biggest attractions for the rest of his life. He is widely credited for being one of the biggest draws for AAA during the mid 00's, with his biggest matches being mask vs. mask matches against Cibernetico at Triplemania XIII in 2004 and Muerte Cibernetica (El Mesias) at Triplemania XIV.
Despite all these accolades, La Parka will likely be best remembered for his legendary feud with Tapia, who returned to AAA in 2010 under the name LA Park. The feud culminated at Triplemania XVIII, where the winner would receive the right to the La Parka name; Park would ultimately emerge victorious following a schmoz finish involving the debut of Perro Aguayo Jr.'s Los Perros del Mal stable, which allowed Park to get the win while Parka would keep the name (Parka would later defeat Park in a rematch). Despite the finish, the match is widely considered one of the best lucha libre matches of the past two decades, and many consider it to be the defining performance of Parka's career.
While never known as a great worker, Parka remained as charismatic as ever in the La Parka role even as his career ran into this decade, and on brief occasions even showed glimpses of the ability that helped him get over earlier in his career. Unfortunately his final match was also his most tragic; as many will now recall, Escoboza was competing in a match for the Kaoz promotion in Monterrey (in match involving Rush and LA Park) when a suicide dive attempt led to Parka colliding head first into the steel barricade. As already stated, he was briefly paralyzed and after successful surgery it was hoped that he would be able to make some sort of recovery. Sadly it was not to be.
La Parka is survived by his family and friends, including his son Karis la Momia Jr., who recently made his debut for AAA under his father's second most famous gimmick. On behalf of Lucha Central, I offer my condolences to Parka's family and friends at this difficult time.