There are, what I'd consider to be, several big CMLL shows throughout the course of a year but two always stand out above the rest; the Aniversario (obviously) and Homenaje a Dos Leyendas, CMLL's annual spring show that honors founder Salvador Lutteroth, one lucha libre legend and features a big Apuesta match. I mention this because tomorrow is said Homenaje a Dos Leyendas show, which will honor lucha libre icon Mil Mascaras while sporting a pretty damn good card and a promising mask match between a young veteran and an upcoming star. Exciting stuff, and you know what I like to do with exciting stuff; I like to break out a preview where I make silly jokes that make one or two people chuckle. So why aren't we getting to that? Strap yourselves in, poor yourself an ice cold Pepsi and make believe that somewhere in the distance you can hear the opening rift of the most epic song of all time, "Achilles Last Stand." I don't care what they say; Achilles > Stairway to Heaven. FIRE ME! I'M ALREADY FIRED!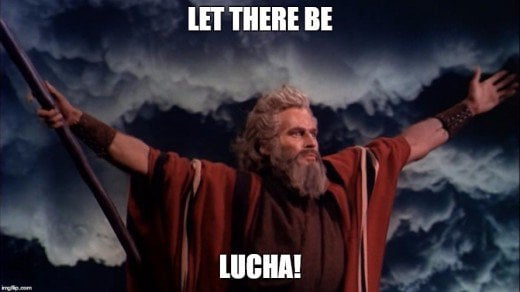 Audaz, Flyer, Star Jr. vs. Disturbio, Templario, Virus
What to Expect: A match hotter than post apocalypse Miami in that screenplay of mine that I'll one day finish and sell for a shit ton of money. I'm telling you, it's gonna happen! But yeah, this will be one of the best CMLL opening matches you'll ever see. It's arguably the biggest match of Audaz', Flyer's and Star Jr.'s respective careers, so they'll be doing a boatload of crazy shit and luckily they have the right group of rudos to play off of. I wouldn't even be shocked if it's the best match of the night honestly. Can you remember the last time we said that about a CMLL opener? You can't, because it's never been said about a CMLL opener. Hayden Christensen films have a better chance of success than these openers do generally.
Winners: I sense a happy start to this show, which means the technicos go over in three falls after Audaz pins Virus with some wacky move that I don't know the name to yet. Hell I may not even know it exists yet. That's the beauty of Audaz, as you'll soon find out.
Kaho Kobayashi, Marcela, Princesa Sugehit vs. Dalys, La Seductora, Zeuxis
What to Expect: Replace Seductora with Amapola and my hopes for this match would be so high that I'd quote Dashboard Confessional tunes throughout this column. Alas, it'll probably still be fine. I like all three technicas, Dalys has seemed to be on her game recently and you just know that Zeuxis is going to break out a dive and the top rope Spanish Fly in this match. It's a big show after all, and the Queen of Lucha Libre never fails to impress when the lights shine brightest.
Winners: Never under any circumstances do I bet against Zeuxis and her minions. They win in three falls after the Queen nails that Top Rope Spanish Fly on Kobayashi. Provided Kobayashi is still sporting her head of course; for all I know Zeuxis will knee it all the way into the restaurant at the end of fall two!
Dragón Lee, Mistico, Rush vs. Forastero, Máscara Año 2000, Sansón
What to Expect: My face when I saw Dragón Lee, Rush, Mistico, Forastero and Sansón in this match.
My face when I saw Máscara Año 2000 was also in this match.
Fear not sports fans; 2000 is long in the tooth, but he's not useless like a certain father of the technicos team is and, let's be real, he's only going to interact with Rush, who will cover for the legend by having them brawl anywhere and everywhere. That gives ample (Bane voice) opportunity for Lee, Mistico, Forastero and Sansón to give us a longer version of their very good tag match a few weeks ago, with flips galore, cool double teams and several "I really wish Dragón Lee was used more" utterances. So yeah, this will be good stuff.
Winners: Damn, too close to call. Let's see what the Canadian Dollar says. Heads Team Munoz, Moose Team Dinamitas…and its heads! Team Munoz takes it in three falls. Sorry Eve; there's always the main event for your other boy!
Atlantis, Matt Taven, Niebla Roja vs. Euforia, Gran Guerrero, Último Guerrero
What to Expect: Remember the last time Matt Taven was in Arena Mexico? Pepperidge Farm remembers. But just in case you don't, here's a gif of his last match that will make you recoil in horror at least two times.
Wild right? And he somehow managed to finish the match! I anticipate he'll have a much easier time this go around considering a) Mephisto isn't in this match and b) Big Euf, the GG and the UG are the safest workers this side of Bad Luck Fale. They're also better than Fale, which means this match should be yet another strong bout, especially if Niebla Roja is really allowed to show off and Atlantis gets paired with UG to hide his deficiencies. That or he finally went to Negro Casas' trainer and got injected with whatever made Casas come back even better than he was previously. Mexico; where the luchadors don't age and we love them for it.
Winners: I like this pattern where I alternate between the technicos and rudos winning. Let's continue it! Los Guerreros win when the UG sneaks in a foul on Taven behind the referees back, leading to Taven challenging UG to a big match on next Friday's show.
CMLL World Tag Team Championship Match
Valiente & Volador Jr. vs. Rey Bucanero & Terrible
What to Expect: Forget about how it makes no sense for Bucanero and Terrible to be teaming, how exhausted you are over all these tag tournaments CMLL has been doing and, most importantly, how the last time Bucanero was good the Marvel Cinematic Universe wasn't even a twinkle in Disney's eye. Alright maybe it wasn't that long ago, but you get the point. The fact is this match doesn't just have a chance to be good, it should be really good. Valiente will probably make a terrible fashion choice yes, but he's money on any big show. Volador Jr. remains one of the best workers on planet earth. Terrible is so hot, steam looks cool. And for all of Rey Rey Buc's flaws, the last two times CMLL has given him a big match (the hair match with Super Crazy at the 83rd Aniversario, his NWA World Historic Light Heavyweight Title match with Hechicero) he's stepped up his game and delivered. And hey, for all we know this is leading to Rey Rey Buc joining up with Los Ingobernables himself; never stopped to consider that did you? In any event, I expect him to try his heart out, Valiente and Volador to go balls out and Terrible to continue his great work, thus giving us a better than expected tag title match and even an outside contender for Match of the Evening.
Winners: This is probably the easiest match to predict. Remember, CMLL has their Universal Championship tournament coming up later this year, which means they need sixteen champions. They already have fifteen, with Volador and Valiente each holding titles while only Terrible has one on his team. In short, Rey Rey Buc is going to be the sixteenth champ, which means he and Terrible are your new Tag Team Champions, with Terrible beating Volador with the top rope splash in fall three to seal the deal.
Mask vs. Mask Match
Ángel de Oro vs. Cuatrero
What to Expect: This is the kind of match where I break out my "Leo in Titanic" in case of emergency meme.
On a scale from one to Atlantis-Villano III, this Apuesta match is a solid Gran Guerrero-Niebla Roja. Alright, maybe a bit higher because Cuatrero was more respected than either of those dudes before their mask match. I personally would've gone with something a little sexier and I can't say their first two encounters (at FantasticaMania and on CMLL's Tuesday show) left me wanting to see more, but let's be real; this is a big time show, it's a high stakes match and you're getting the best from both guys. And luckily for us and CMLL, one of those guys is a legit great performer (Cuatrero) and the other is more than good enough for this situation, and possibly better if the rise of his brother Niebla Roja is to be believed (Oro). I expect them to be given a lot of time, I expect them to make the most of it and I would be floored if it's not the Match of the Evening and possibly even one of the best CMLL matches of 2017. And that's quite the accomplishment, considering CMLL was on a Blade Runner 2049 level in January.
Winner: There's a little bit more doubt in this match but, if we're being honest, this isn't a tough call either. Cuatrero is a future mega star for CMLL. Oro meanwhile has gone as far as he can go with the mask on and has seen what losing the mask has done for his brother. The numbers don't lie and they spell an unmasking for Ángel de Oro on Friday night. Cuatrero takes it in three falls for the first big victory of his career, and I tuck away that Scott Steiner line I just nailed away for future usage.
And scene! Hope you had a good time sports fans; let's do it again tomorrow when I preview AAA's next show, as well as review Homenaje a Dos Leyendas. So much to do and so little time. Till later, THIS!
Please change disks to continue…